When sunlight filters through and the breeze feels perfect, the joy of embracing nature from your personal outdoor spot is unmatched. Be it a sprawling backyard, an intimate balcony, or a quaint patio, apt outdoor furnishings can elevate it into a serene retreat. Given the plethora of choices, picking ideal items might seem daunting. Enter our definitive guide on outdoor furniture selection, loaded with advice, current styles, and insights to fashion your dream alfresco sanctuary.
Cushionless Outdoor Furniture: The Modern Comfort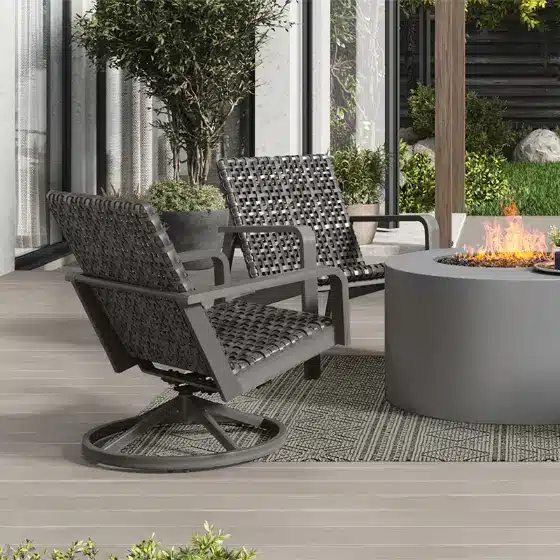 Picture this: you step outside, ready to bask in the sunshine, only to realize your outdoor cushions have been drenched by an unexpected rain shower. It's a scenario that many of us have faced. That's where cushionless outdoor furniture steps in to save the day. Cushionless furniture, featuring sleek lines and durable materials, has gained immense popularity in recent years. Here's why:
Low Maintenance: Say goodbye to the hassle of constantly removing and storing cushions. The best cushionless outdoor furniture eliminates the need for constant upkeep, making your outdoor experience more convenient and enjoyable.
Weather Resistant: Crafted with weather-resistant materials such as powder-coated aluminum and teak, cushionless furniture can withstand the elements without compromising on style or comfort.
Versatile Style: The minimalist aesthetic of cushionless furniture seamlessly blends with various design styles. Whether you're into a modern, Scandinavian look or a rustic, farmhouse vibe, these pieces can effortlessly complement your outdoor space.
Embrace the Trends: Mixing and Matching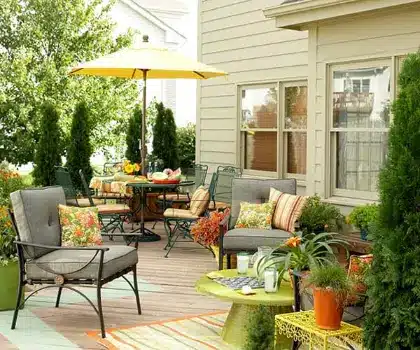 Gone are the days of uniform outdoor furniture sets that look like they came straight out of a catalog. The latest trend in outdoor design is all about mixing and matching. Experiment with different materials, colors, and styles to curate a unique and personalized outdoor area. For instance:
Material Medley: Combine a metal dining table with wicker chairs for an eclectic dining setup. The contrast between the industrial table and the organic texture of the chairs adds visual interest to your space.
Color Play: Don't shy away from vibrant hues. Mix bright-colored outdoor sofas with neutral coffee tables for a pop of personality. This approach adds a playful touch to your outdoor decor.
Step-by-Step Guide to Finding Your Ideal Outdoor Furniture
Assess Your Space: Before you start shopping, take measurements of your outdoor area. Consider the dimensions of your space to ensure the furniture you choose fits comfortably without overcrowding.
Define Your Needs: Think about how you plan to use your outdoor space. Are you looking for a cozy reading nook, a dining area, or a lounging spot for entertaining guests? Your usage will dictate the type of furniture you need.
Choose Quality Materials: Outdoor furniture needs to withstand sun, rain, and temperature changes. Opt for materials like teak, aluminum, or all-weather wicker that can endure outdoor conditions without compromising on style.
Test for Comfort: If possible, try out the furniture in person before making a decision. Sit on chairs, lounge on sofas, and assess their comfort level. Remember, you'll be spending a lot of time on these pieces.
Consider Storage: While cushionless furniture is low maintenance, you might still need to store certain items during harsh weather. Choose furniture that is easy to move or stack for storage.
Accessorize with Style: Just like indoor spaces, outdoor areas benefit from accessories. Think about adding outdoor rugs, throw pillows, and lanterns to enhance the ambiance of your space.
Final Thoughts: Designing Your Outdoor Retreat
Creating the perfect outdoor space goes beyond mere functionality; it's about curating an experience that reflects your personality and provides a tranquil escape from the hustle and bustle of everyday life. With cushionless outdoor furniture, the possibilities are endless. From sleek lines to weather-resistant materials, these pieces offer both comfort and style. Remember to keep trends like mixing and matching in mind, and follow our step-by-step guide to ensure you find the ideal furniture for your space.
As you embark on your outdoor furniture journey, consider the growing importance of eco-friendly choices. By embracing sustainable materials, you're not only investing in your outdoor haven but also contributing to a greener world. So, go ahead and design your outdoor retreat – a place where you can unwind, entertain, and create lasting memories, all while surrounded by the beauty of nature and the comfort of well-chosen furniture.