Flower Decoration Ideas – Floral arrangements are the perfect way to decorate your home. Not only are they beautiful and usually economical, but they're also known to improve your mood, and remove toxins from the air when kept alive. 
You can put them in a number of places around the house, like tabletops, the dining table, and your bedside tables. But if you're bored of keeping flowers at these places or want some creative ideas, you've come to the right place.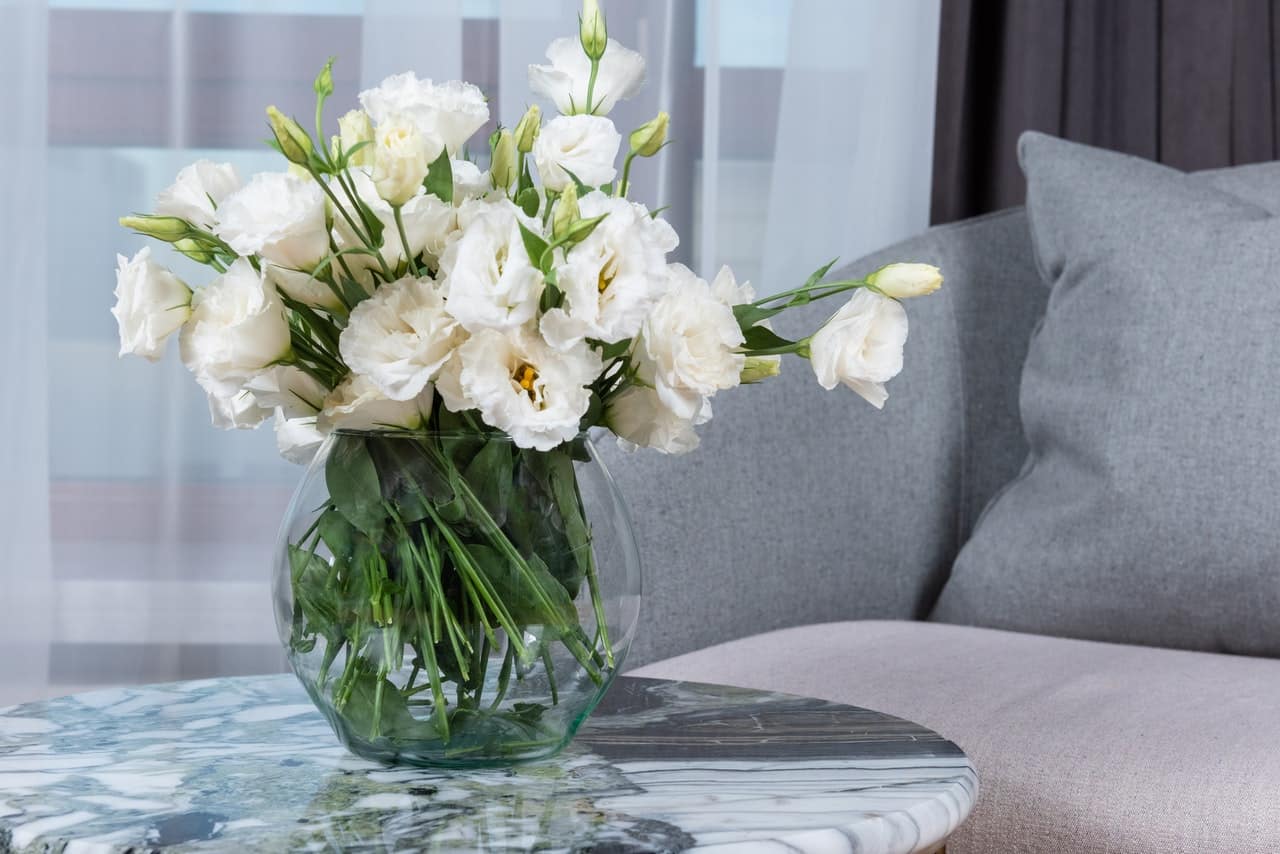 Keep reading to find out about some great and creative floral decoration tips, and then stick around to know how to keep your flowers from drying out too fast.
Flowers on the Walls 
If you don't want your flowers to take up extra space on tabletops, you can stick them with glue on a piece of string and hang them on a wall, either vertically, horizontally, or in any other fashion.
This is perfect for small apartments, where it would be easy to cover a whole wall this way. On the other hand, you can cover small sections of your home with colorful arrangements of flowers, or simple arrangements of red or white roses, etc.
These flowers can die out quickly though. This is because unlike flowers in a vase, flowers on the walls won't be kept in water mixed with floral preservatives to make them last longer. Make sure you order more in time with the use of local flower delivery, or by going to your local farmer's market once a week.
Single Flower Arrangements 
If you're a fan of cute, tiny things or minimalist decor, opt for single flower arrangements in small glasses or miniature vases. They can stand out and create a striking effect in a bare and minimalist interior, and you can try using colors that stand out against the furniture and the walls. For example, try getting blue roses for a room with yellow or green walls, or red roses for a white and black room.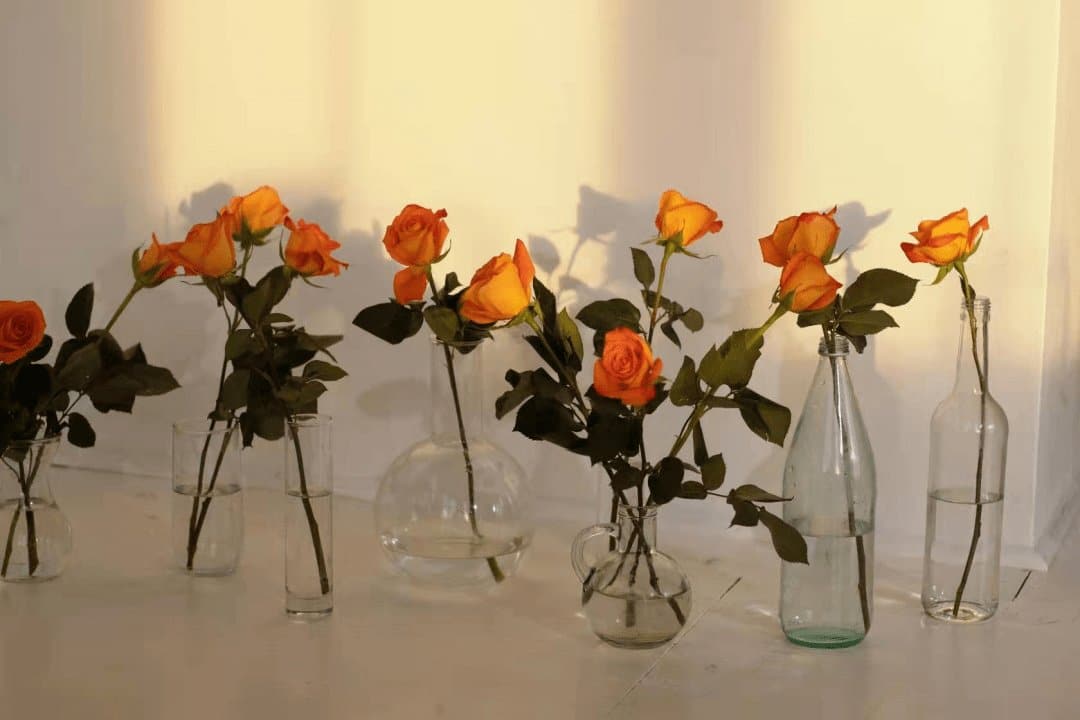 Creative Vases 
If you're letting the absence of vases keep you from filling your home with flowers, stop right now! You can keep flowers in pretty much anything, which is why glass containers, baskets, and even tin cans all can work.
Tin cans can be the perfect dull contrast to bright flowers, or add something unique to an autumn-themed bouquet. At the same time, you can put small flowers in a glass for a striking effect, and try a pretty and spring-themed bouquet in a small woven basket to bring a homely cottage-like effect to your home.
Natural Elements 
All your natural decor doesn't just have to be flowers. Add something to your home with the help of twigs, stones, dried flowers, and even weeds that you would find in your backyard.
With a little practice, you can learn to see the beauty in most natural elements that people don't look twice at, and you'll even be able to incorporate them into your floral arrangements for some truly unique designs.
Another advantage is that twigs and weeds don't wilt nearly as easily as flowers do, which means you can replace the flowers in the arrangement multiple times while keeping the theme more or less the same for anything you make with them.
Floating Flowers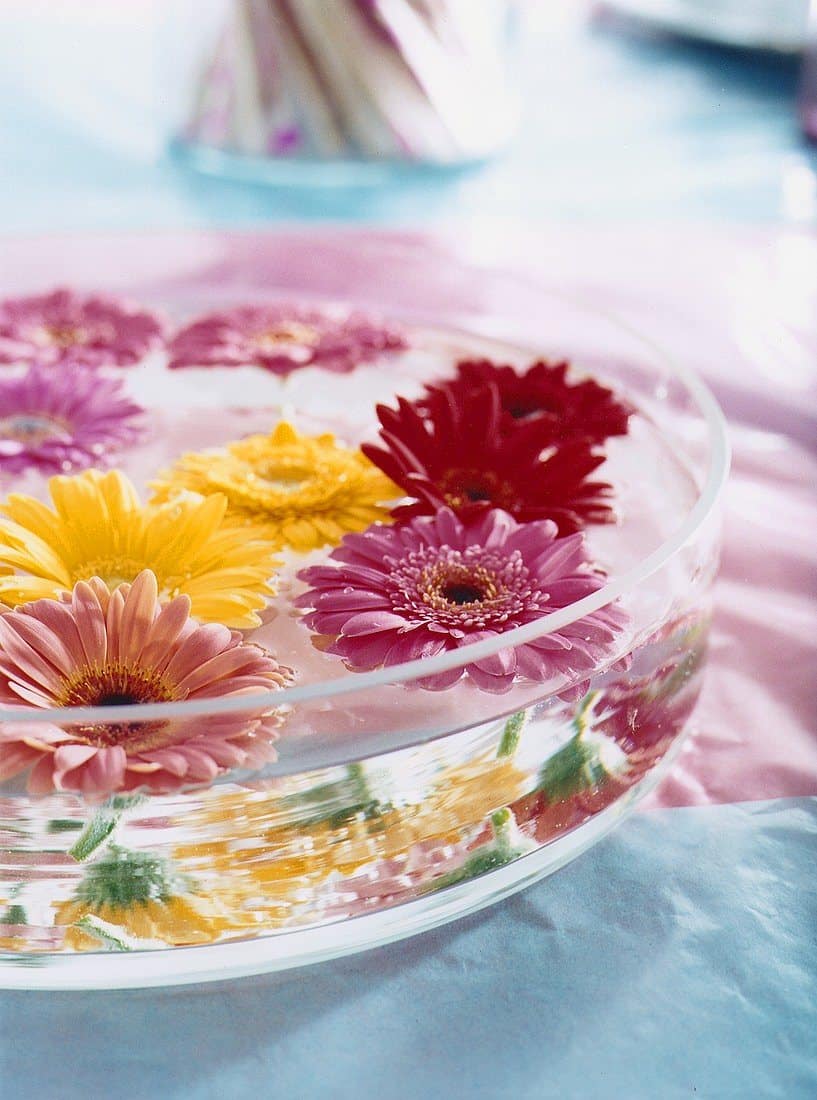 This arrangement can look great in the bathroom or even on a table in your bedroom – and especially anywhere you like to use essential oils or scented candles.
All you have to do is take a shallow bowl or dish, and put some flowers in the water and let them float. Add some essential oils, flower petals and leaves, and scented candles to the mix, and you now have a great decor piece that also makes your space smell amazing.
This is a great decor tip for your farmhouse, beach house, or holiday home. It's also a great decor option for when you want your room to smell amazing and have the time or energy to set this all up, but you can keep it reserved for those extra luxurious bubble baths in your daily life.
Ceiling Blooms 
If you have limited space for flowers in your home, consider adding them to your walls. We just shared a way for you to do this with strings, but you can also hang flower pots and light baskets full of flowers from the ceilings.
You can find the right decorative pieces at any furniture store, and you can also DIY some yourself. Be careful not to use too many, or it will make the ceiling look lower and the space smaller than it is. You should also avoid using too many dark or colorful flowers for the same reason.
If you want to choose flowers to hang like this, pick colors that are similar to those on the walls, or go well with the paint.
Glass Pressed Flowers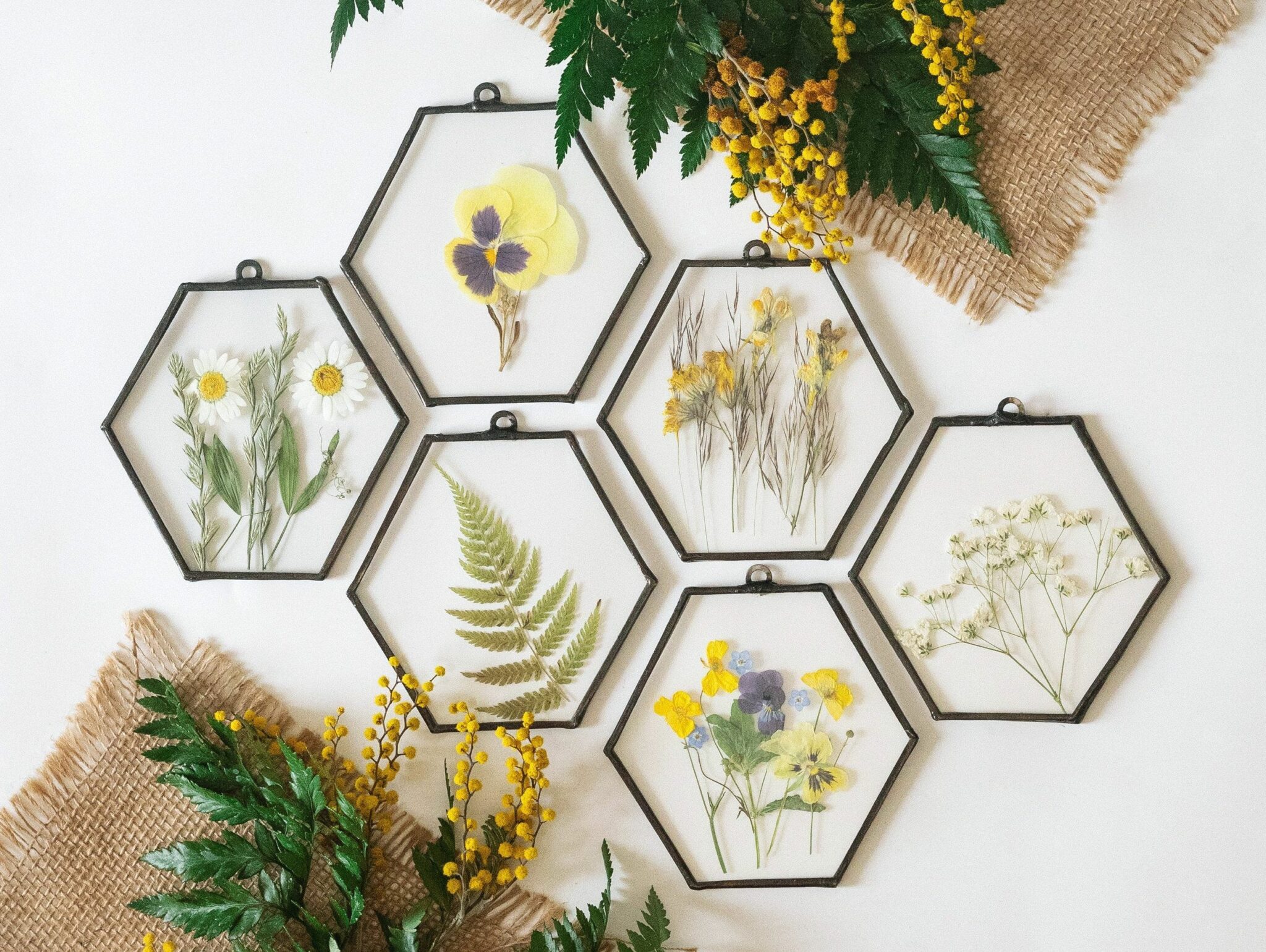 Glass-pressed flowers are a great option, mainly because while you will still add a little bit of nature to your home, the flower is going to last a long time. It will even look good when the flower wilts, which makes them an ideal choice for anyone who doesn't want to shop for flowers every week.
You can frame them and hang them on the wall, or you can place them on a table where they can be viewed from different angles for a cool effect.
How to Keep Flowers Fresh 
Keeping flowers fresh is easy with the right steps, and you will save a lot of money and effort too. Make sure your flowers last longer by following these simple steps:
Drain and thoroughly wash any containers you keep your flowers in when you change the flowers. This will prevent any bacteria left over from the last flowers to harm the new ones.
Use flower preservatives to make the flowers last longer.
Cut flower stems diagonally to allow more surface area for water absorption, the more water the flowers get, the longer they'll stay fresh.
Cut all leaves and extra stems from your flowers. The leaves will only consume water that could otherwise go to the plants, and your flowers will remain fresh for longer without them.