Farmhouse Living Room – In all likelihood, a living room is a focal interest in a house, the room that attracts impressions. Whether consciously or not, your living room calibrates the guests' mood that walks into the house. Also, you would want it to be a homely spot for quality time with your family.
Farmhouse style living room is a way to construct a hearty, ravishing frame-of-mind through a modest greeting. The blend of something old and something new is catchy and reveals delicacy when they meet the balance. The remarkable characteristic of farmhouses is that they are flourishing over time.
With that being said, you'll see how these ideas incorporate vintage and contemporary furnishings to be seamless almost effortlessly. Perhaps, you've meant to showcase your meaningful antique to your living room. Thus, this farmhouse style may help to bring the most of its appeal.
Farmhouse Living Room Decor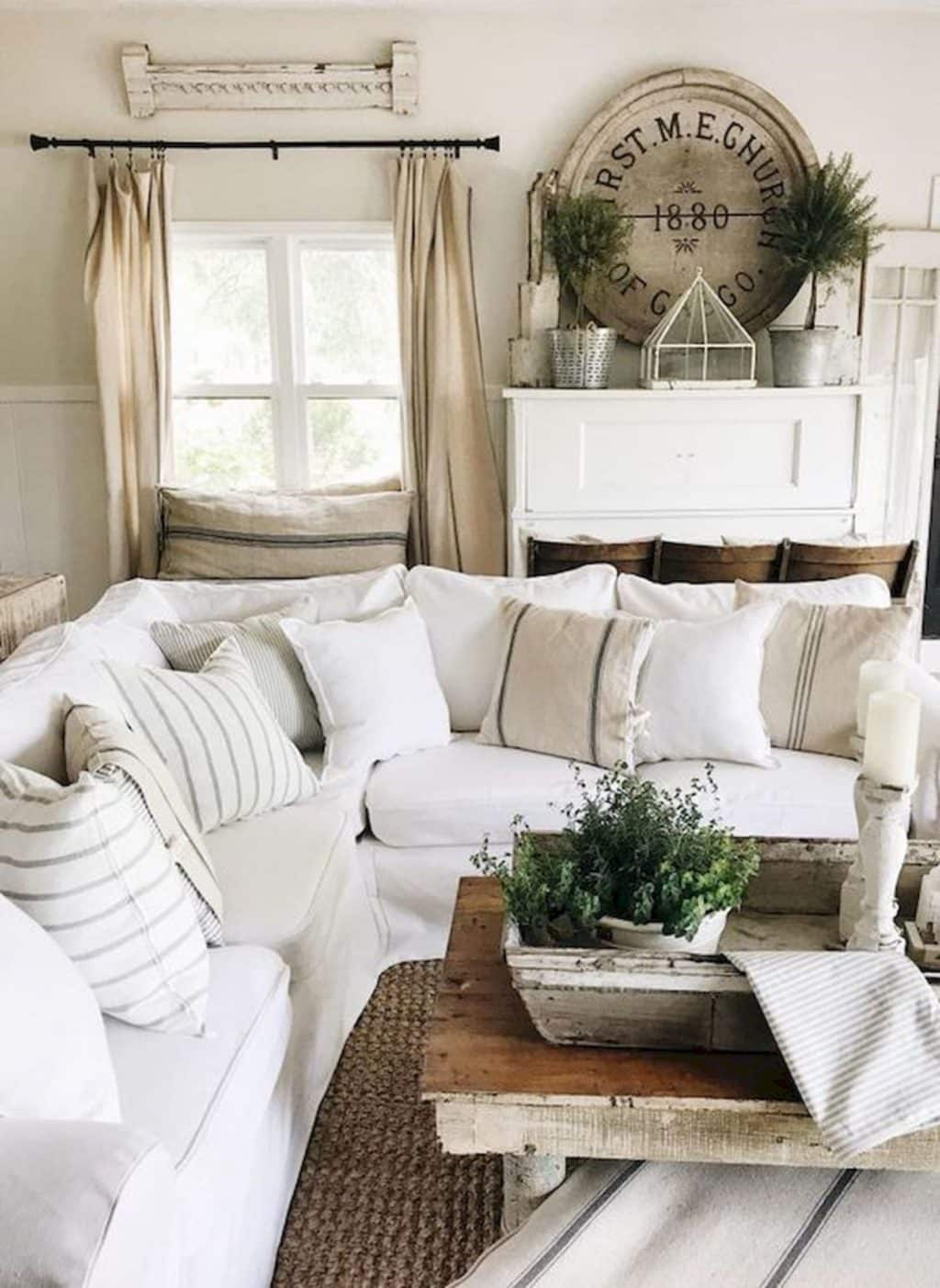 We'll see how farmhouse style gets the rave from people longing for a simple, clean, soothing view. Presently, the trend in house decor includes the farmhouse style with a nudge of modern concepts. Practicality takes up a significant role in deciding how to decorate a modern farmhouse living room. While still emphasizing natural materials, finding a proper balance between delicate and sophisticated is necessary. For example, you can combine a chic coffee table with your old flower vase.
The farmhouse living room set has a neutral sense that would make a pretty transition from something obsolete or traditional. For instance, a natural, unfinished wall in your living room may give an impression of a shabby character. That would call for rustic farmhouse living room decor for a fresh and chic touch. Here, adding a tufted sofa in a soft plain light color would be an impeccable rejuvenation.
Farmhouse Living Room Wall Decor Ideas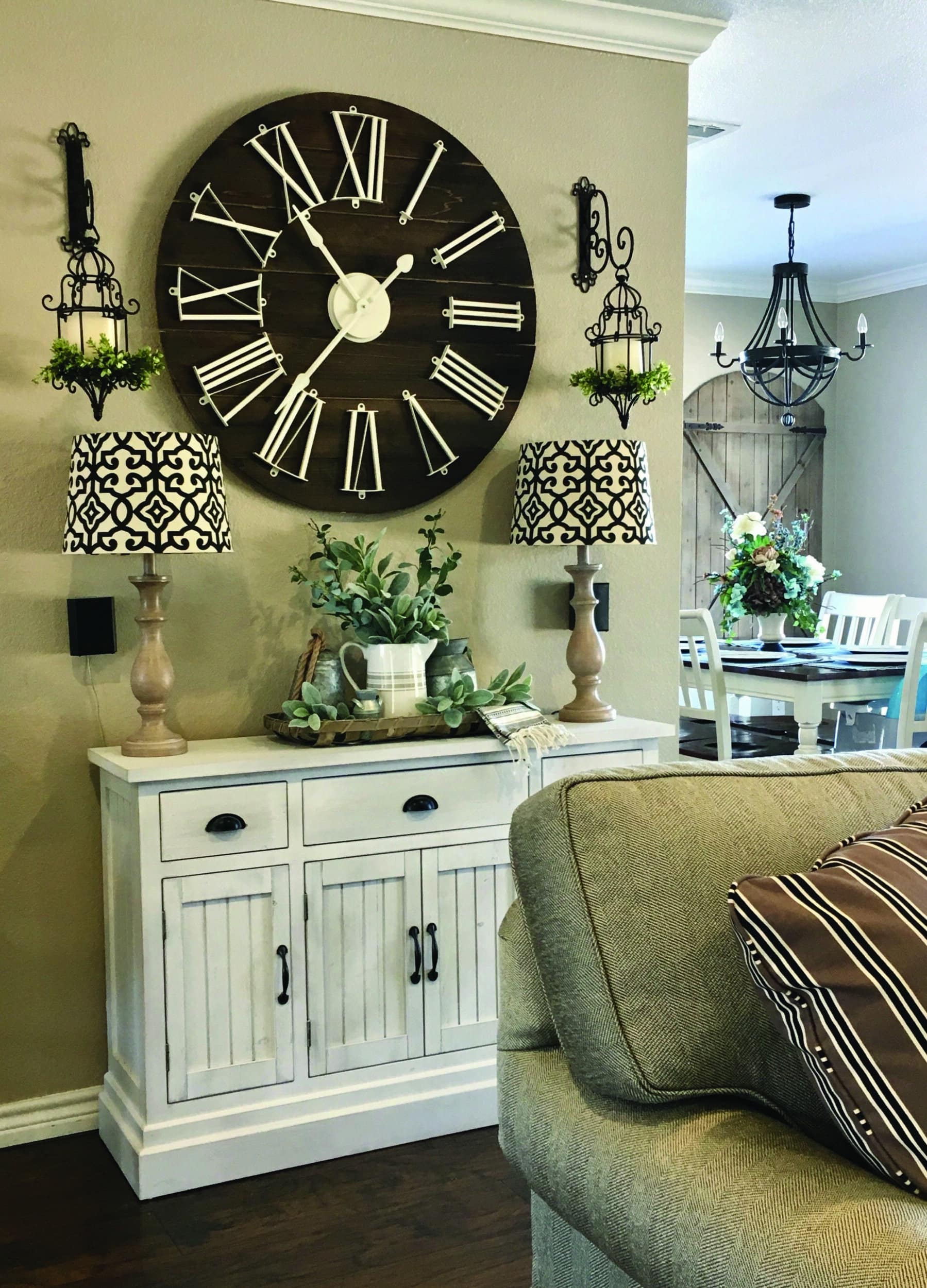 In general, farmhouses have a different appearance, particularly on the wall accent. As farmhouse style promotes the natural material, you would see much more of a wooden accent wall. Shiplap wall is very popular in farmhouse style since it displays a neat, traditional house look. It has tight interlocking boards that overlap. This shiplap wall is normally easy to install, simply using a nail to fasten the edges. Furthermore, you can choose whether to put it vertically or horizontally.
Usually, people let farmhouse walls accentuate the natural appearance in a smooth texture. It brings out a warm, cozy atmosphere by highlighting the neutral tone. You can amplify the charm in your living room by adding more natural outward tones, like a wreath, for example. Personalizing your area by hanging painting or photos in a simple plain white frame also works. Other wall accents in farmhouse style can also be arrow decoration and vintage clock. Additionally, you can spice up the tone using reclaimed woods for floating shelves in a rustic touch.
Farmhouse Living Room Paint Colors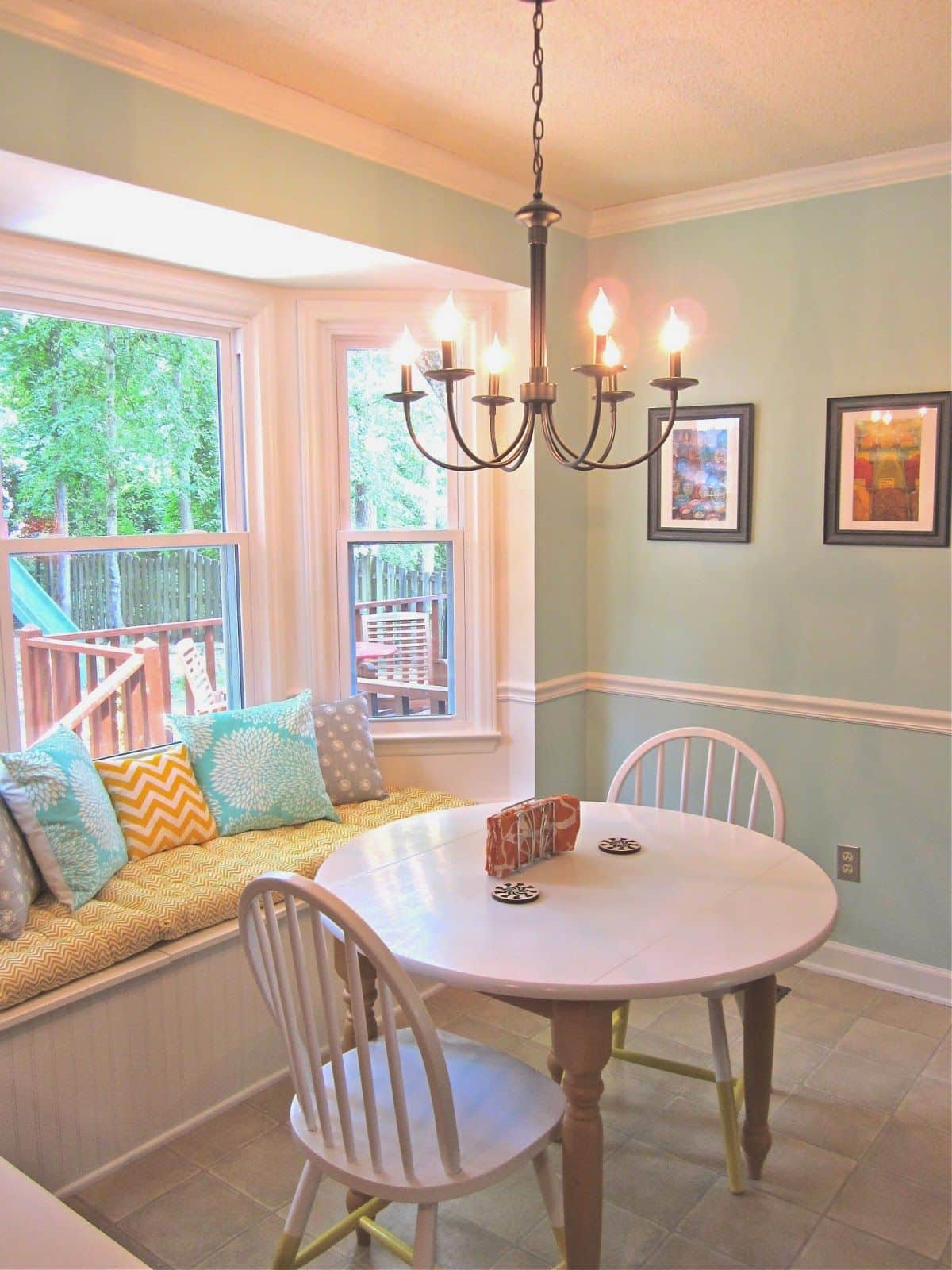 Neutral colors are the epitome of farmhouse decor. In general, you can style your farmhouse decor by having a mild and bold tone in it. Let's take a peek at house stylist Christina Maria's choices on the farmhouse living room colors. Taking a mild shade as a base paint, choosing a warm "greige" color is a great option. It is somewhere between grey and beige alternately under certain lights. You can try the Benjamin Moore Revere Pewter or Martha Stewart Sharkey Grey to get this fabulous greige.
Nevertheless, consider another mild tone that gives a natural soothing vibe. For instance, try the true grey in Repose Grey or the icy crisp Sea Salt for a lighter look. That should do well to combine with the reclaimed woods furnishings in your living room.
Moreover, it would help if you had a bolder shade than the base paint to accentuate specific decorations in your living room. A particular side on your living room wall may get a highlight from using a bold Hale Navy paint. Navy is a safe option as it is still looking neutral though it is bolder in tone. Or you can pick any bold neutral color for the couches or fireplace or door to match, such as Wrought Iron.
Farmhouse Living Room Door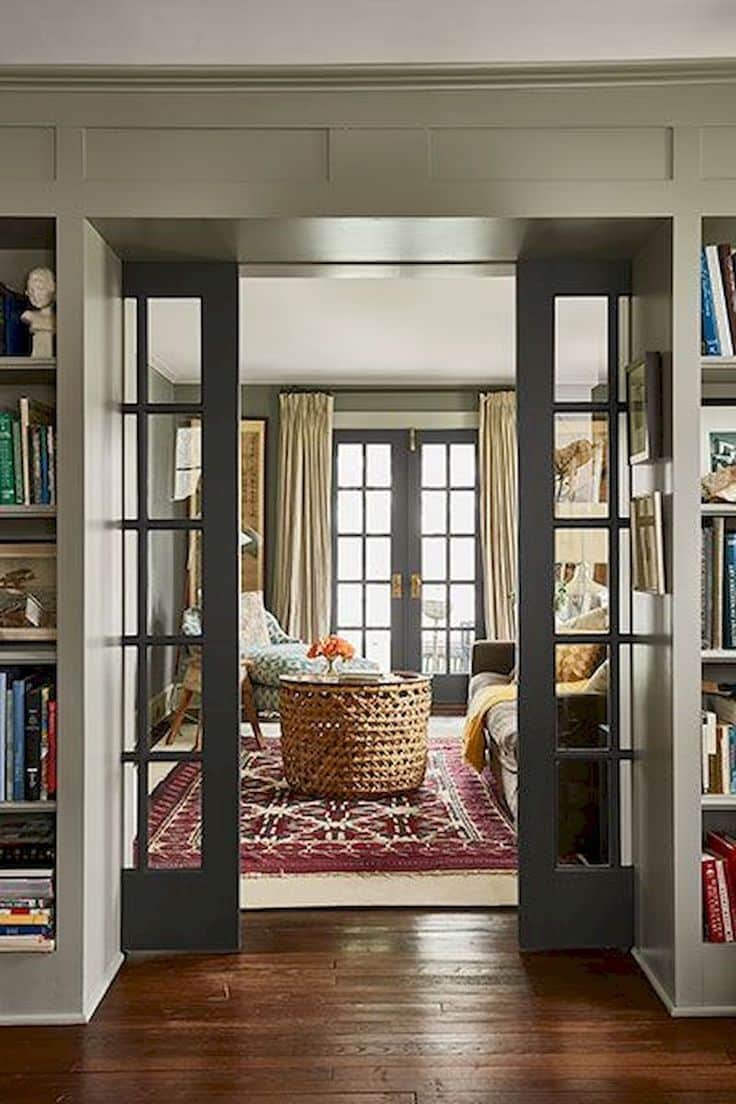 Typically, for enhancing the farmhouse style, people would use a barn door as one of the features. The barn door is the typical single or double sliding door which is notable for space-saving indoors. By and large, the wooden barn door adds a rustic touch to your living room. However, you can also shift to contemporary or industrial by using a metallic barn door. Aside from space-saving, it also serves for decorative purposes, with many barn door styles available nowadays. Ultimately, a barn door would be an inspirational match to your farmhouse living room.
Basic Farmhouse Living Room Furniture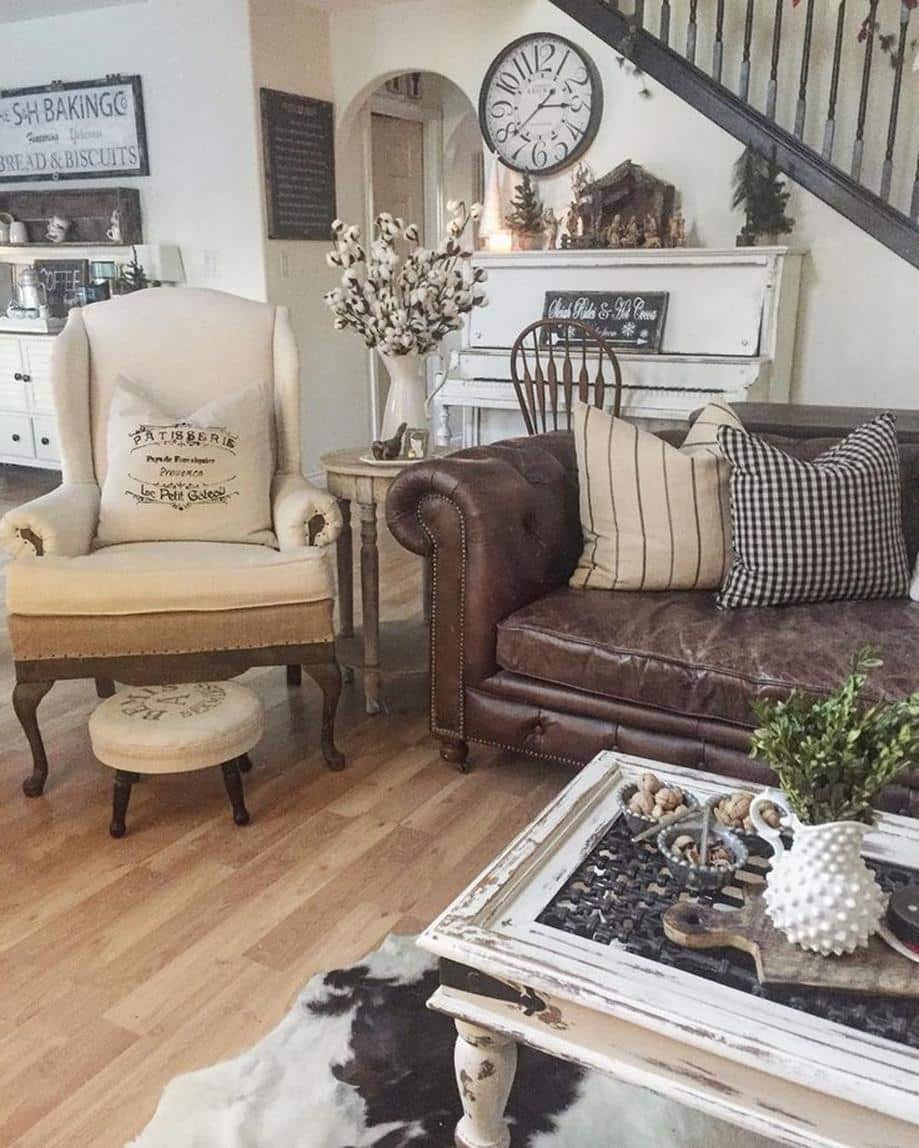 In order to create a distinct farmhouse character, don't try too hard to make your furniture match. Buying a furniture set is a no-no. Your farmhouse-style living room should look like it is going through a transitional phase. Create a classic farmhouse with some sturdy, rustic furniture; get them to look sharp as you accentuate it with a shabby-chic component. Then you can replenish your living room otherwise with some delicate, modern touches.
A distressed wood coffee table, for example, may match with your solid wood TV cabinet. Perhaps in the same tone of the wood, yet both have different finishes or textures. Then complete the look with a cozy, modern couch.
Farmhouse Living Room Couch
We're fully aware that a couch is the major part decision you take thoughtfully. Regardless, it is a substantial element in your living room. You can mainly take two roads, going for the traditional vibe or hitting on the modern turn.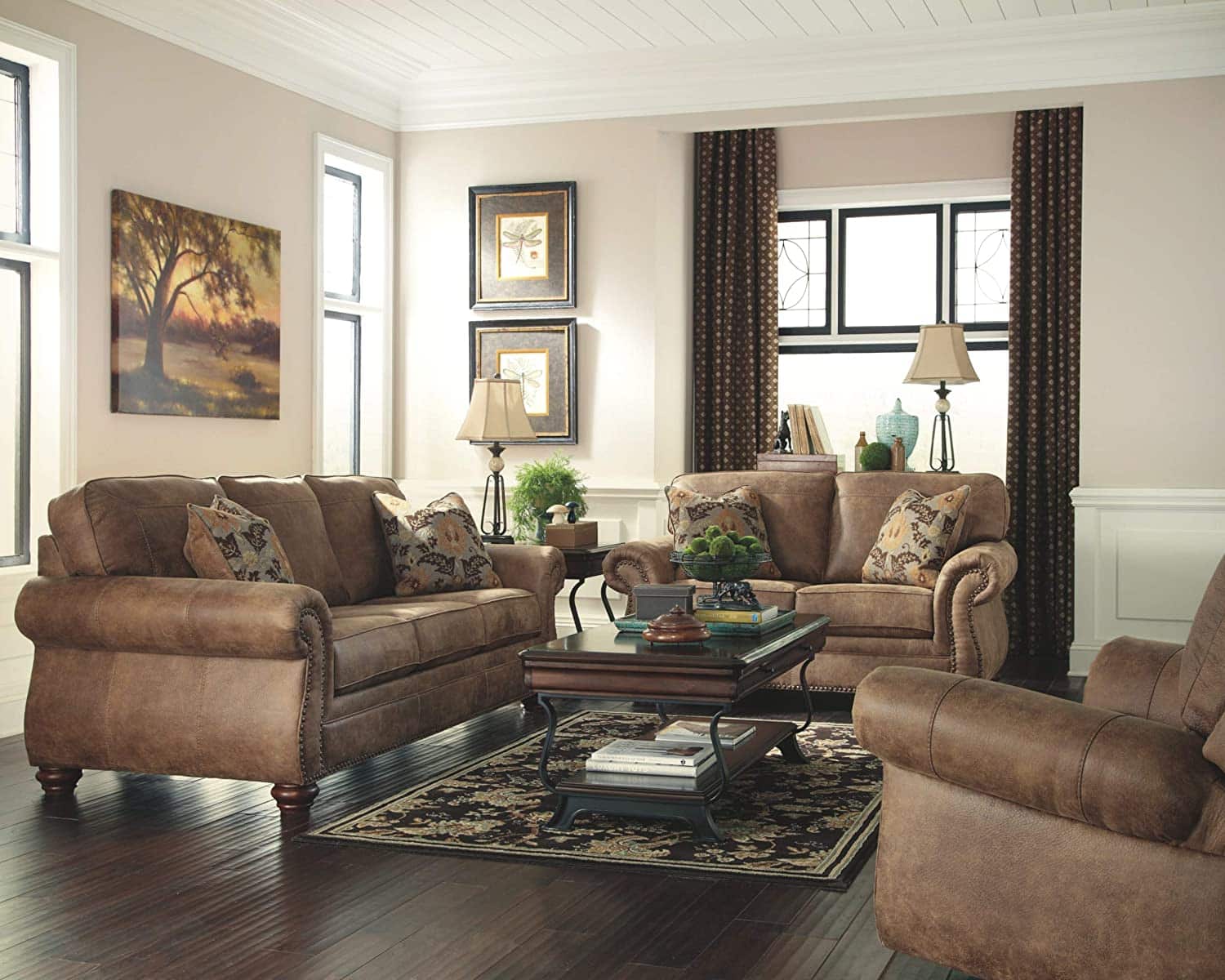 Farmhouse living room with brown couch can give you a bite of the classic charm and warm appeal. The faux leather with rich texture on its surface may go hand-in-hand with a dark wood tone element. Particularly to the naturally exposed beams, you have on the wall or the ceiling. As a result, it amplifies the earthy tone of your living room.
If you seek a light mood for your farmhouse living room, a modern couch will bring them to you. The off-white color and sophisticated design easily blend into any farmhouse setting. Alongside this couch, you can ornate your living room more lively and try more possibilities.
Farmhouse Living Room Chairs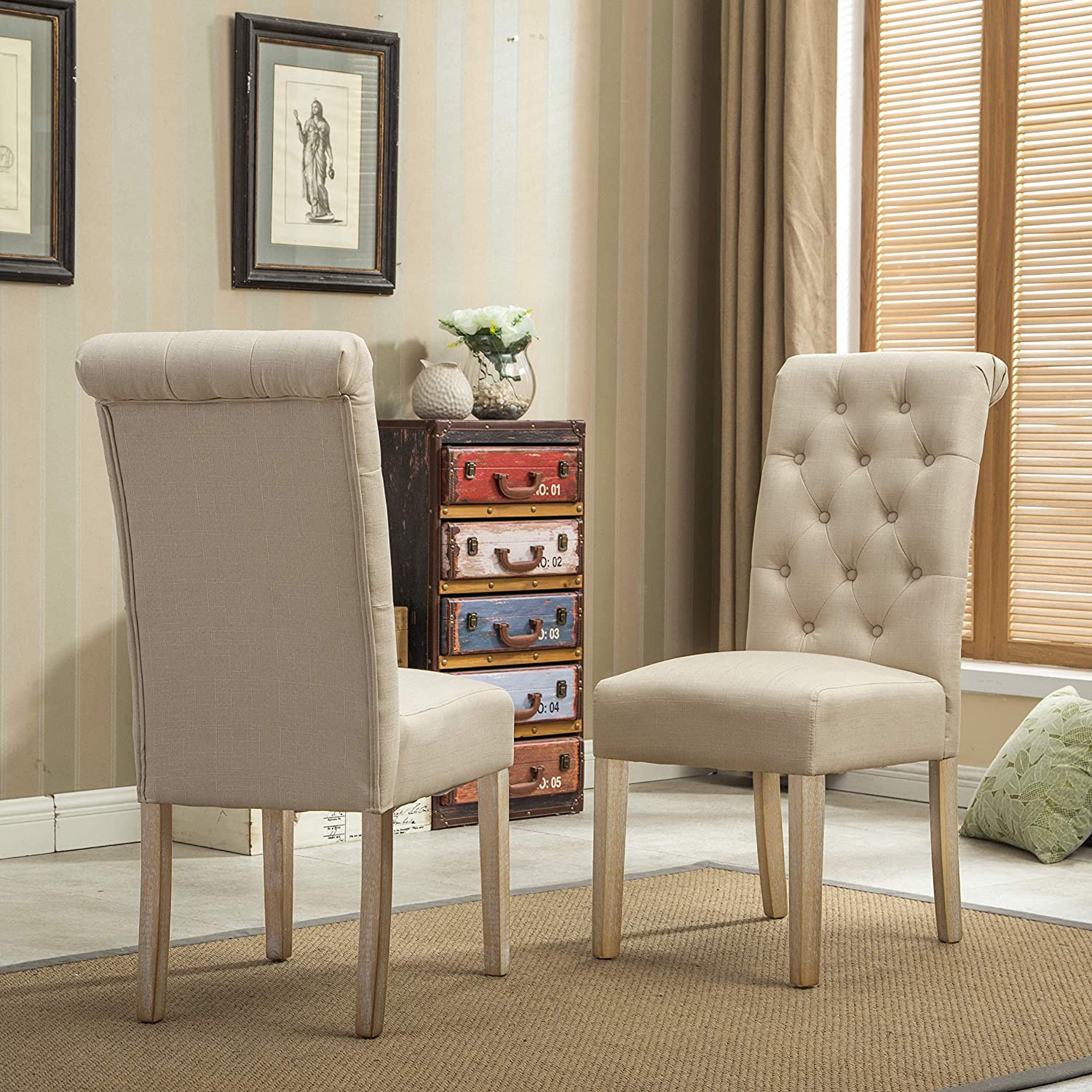 Tufted chairs are an elegant choice to make a seating arrangement in the living room. The high-back feature is great for the dining table, too. It is homely and convenient. Moreover, color choices such as beige and cream can help you achieve a relaxed mood.
Farmhouse Living Room Rug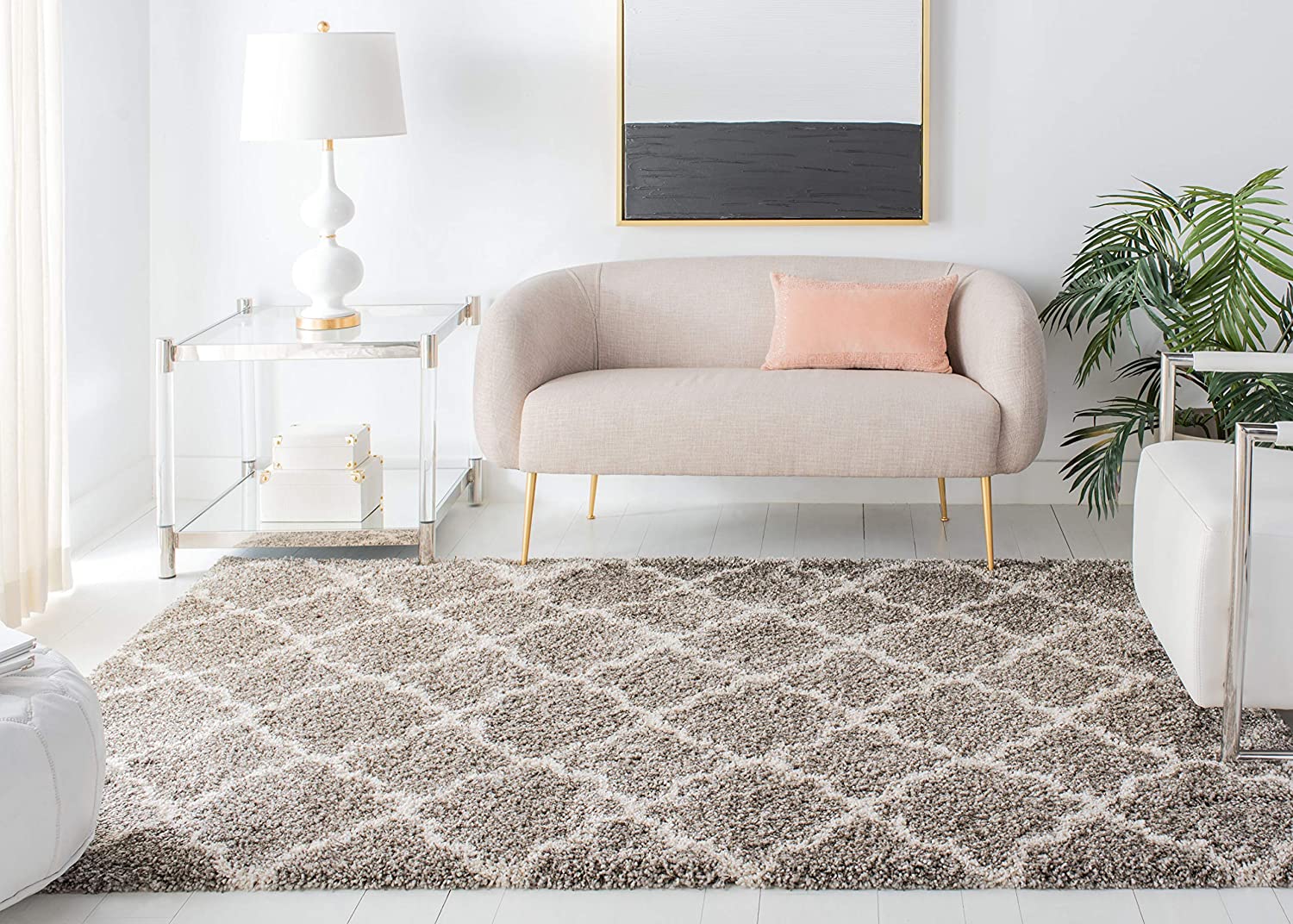 Talking indoor decor, you can't miss out on the rug. Laying one on your seating area adds more sweetness to the furniture. A Moroccan pattern rug is ideal and most common in a Farmhouse setting. The neutral shade of the rug is in tune with the floor and the couch. This idea smoothly bridges the color transition between the two-element.
Farmhouse Curtains For Living Room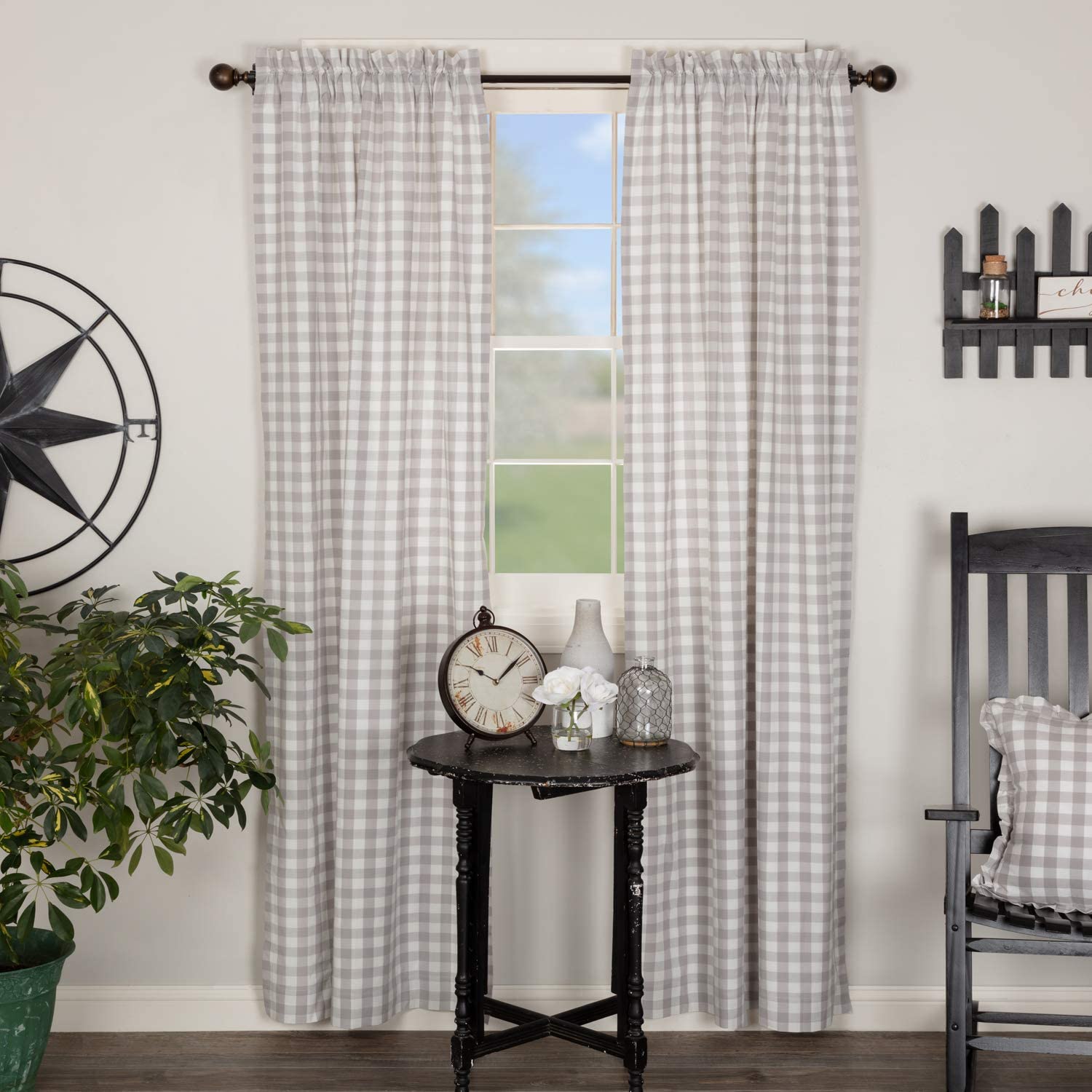 Let the sunlight gets in through a chic curtain to your living room. The buffalo check curtain accentuates your living room to a vintage dainty. With the grey hue, it pairs well with the window over the off-white wall.
Farmhouse Living Room Tables
As the centerpiece to the living room, a table doesn't just hold things. Farmhouse tables have a specific appeal regarding how it manages to pull other decorative elements together. Mostly, Farmhouse tables are solid wood. However, there are many choices of stains and finishes that make a Farmhouse table varies in general. Basically, living room tables differ into a coffee table and end table.
Coffee Table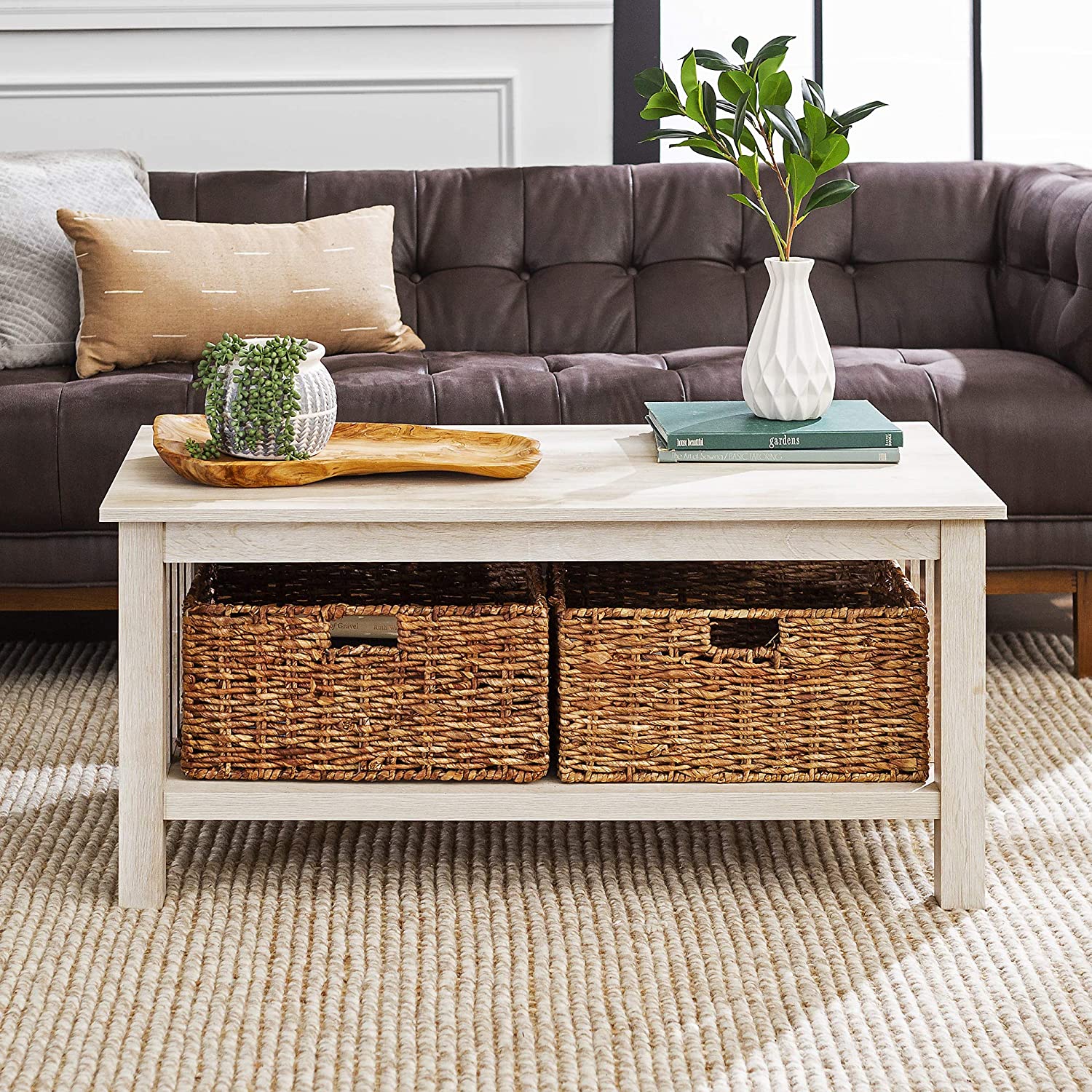 A coffee table is the one in front of the living room couch. This item is the particular table you use to hold your beverages or snacks while you watch TV. It is no higher than your seat yet the right height to your convenience when you sit on the floor. It is better if you can optimize the coffee table as storage. For instance, this white oak coffee table equips double baskets for additional storage.
End Table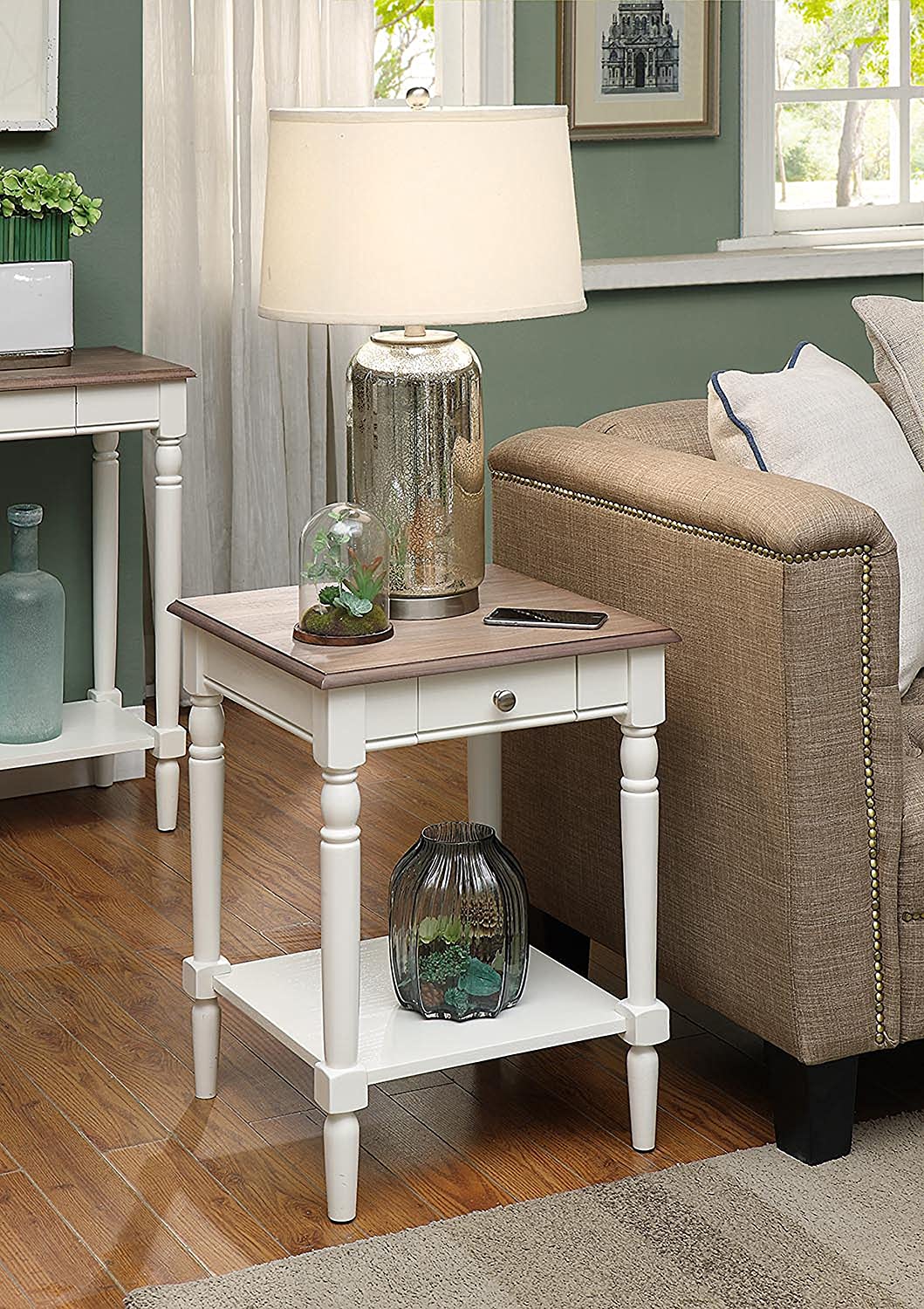 An end table is a small table beside the couch in the living room. As it is within reach from the couch, you use it to place a reading lamp, your phone, or a drink. This Farmhouse end table has a French country touch. It comes with the new driftwood square top that complements the white legs over the single drawer. It is adaptable to many other elements in your living room.
Related: Farmhouse Kitchen Ideas
Farmhouse Living Room Lighting
Arguably, proper lighting sets the whole mood in the room. The living room is one area where many activities take place. It is the communal space, the entertainment area, where the parties at. The mood may shift according to the occasion, so you'd better set it right.
Ceiling Lighting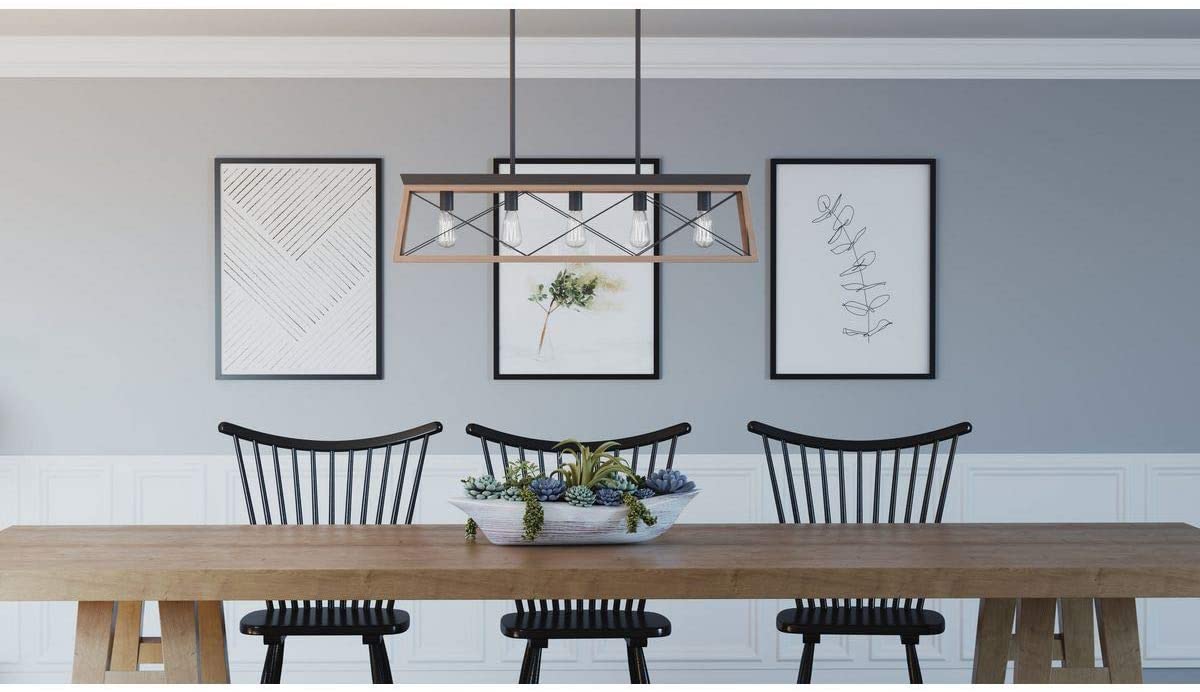 The lighting fixture on the ceiling is beneficial to save space on the floor. You can steal this idea on antique ceiling light fixtures. The metallic design is versatile for any concept you want in your living room. The x-braces may remind us of rustic barn doors, which then be perfect for the Farmhouse decor. It is an ideal choice for you who seek a ceiling light with a polished and refined look.
Table Lighting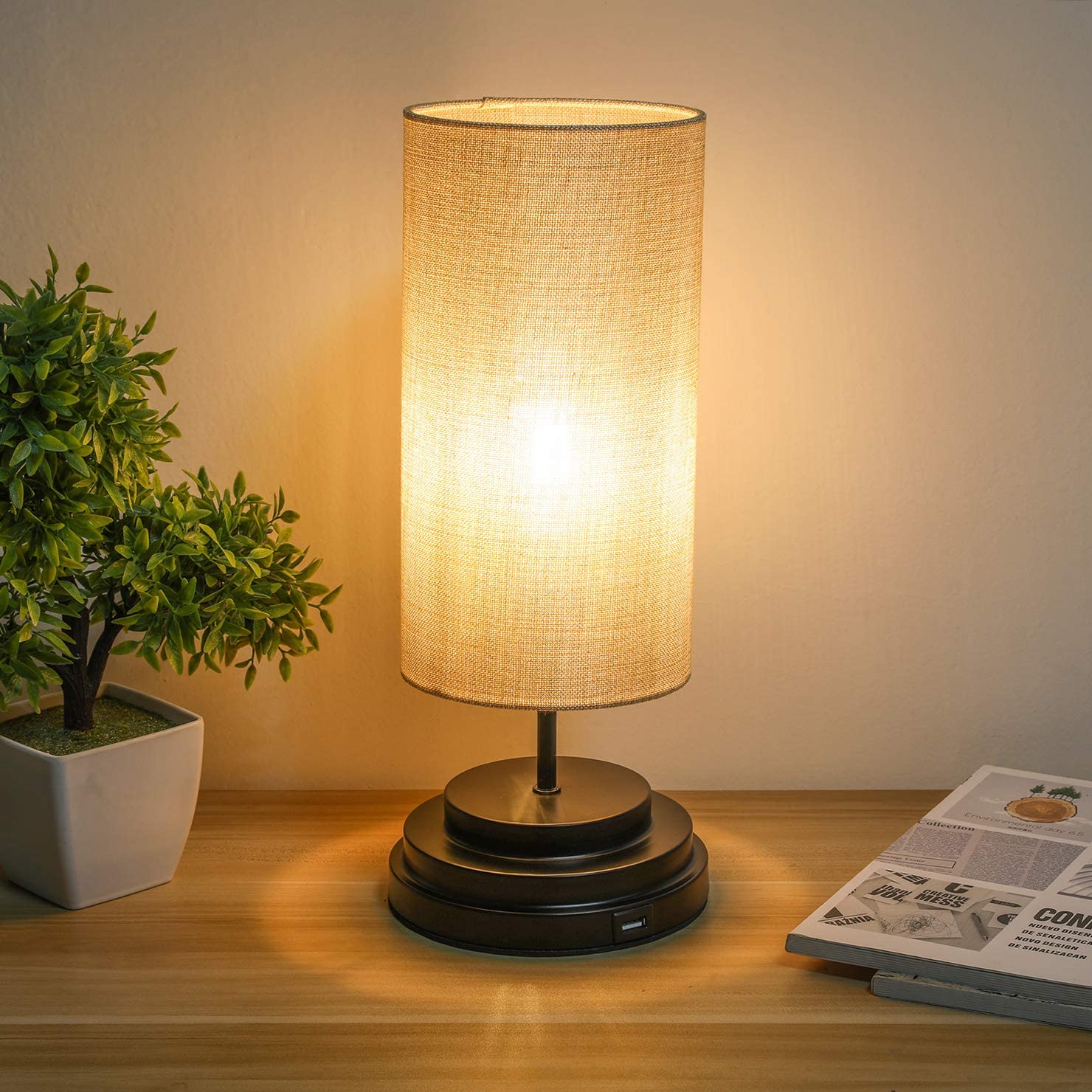 Placing a small lamp on the end table serves as a reading lamp or a soothing glow at night. This small lamp allows you to adjust the dim level. Moreover, this table light also offers a single port to charge your mobile device. Most importantly, it has a minimalist design that goes well with your table.
Floor Lighting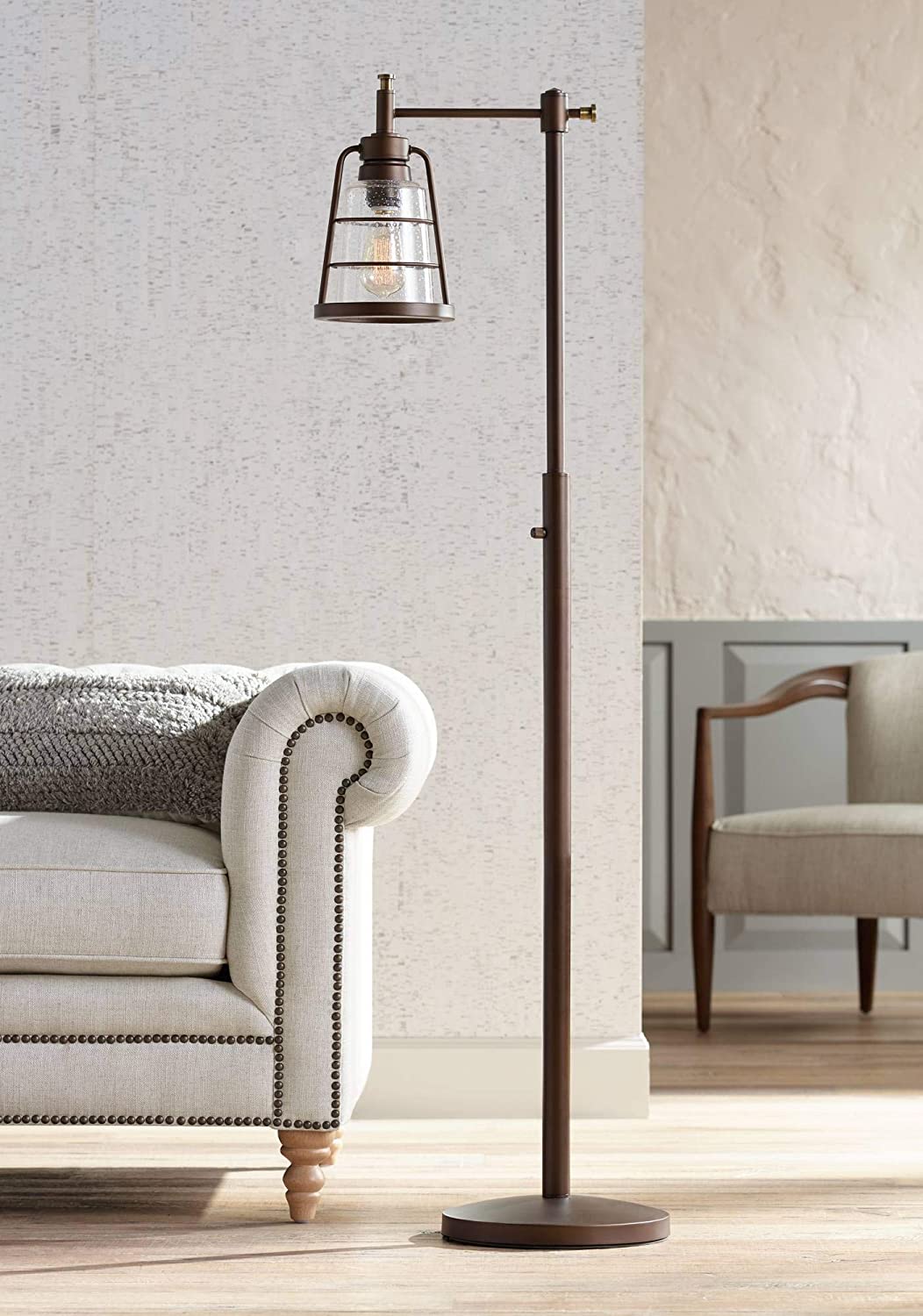 Another alternative to light your living room is floor lighting. It has a unique attraction that seems poised and elegant. The bronze-finish metal and Edison-style bulb give a rustic sense to the Farmhouse setting. Furthermore, the Industrial downbridge design has an adjustable height if you need it as a reading light. It is a considerable choice to add a picturesque spot for your living room.
Farmhouse Living Room Ceiling Fan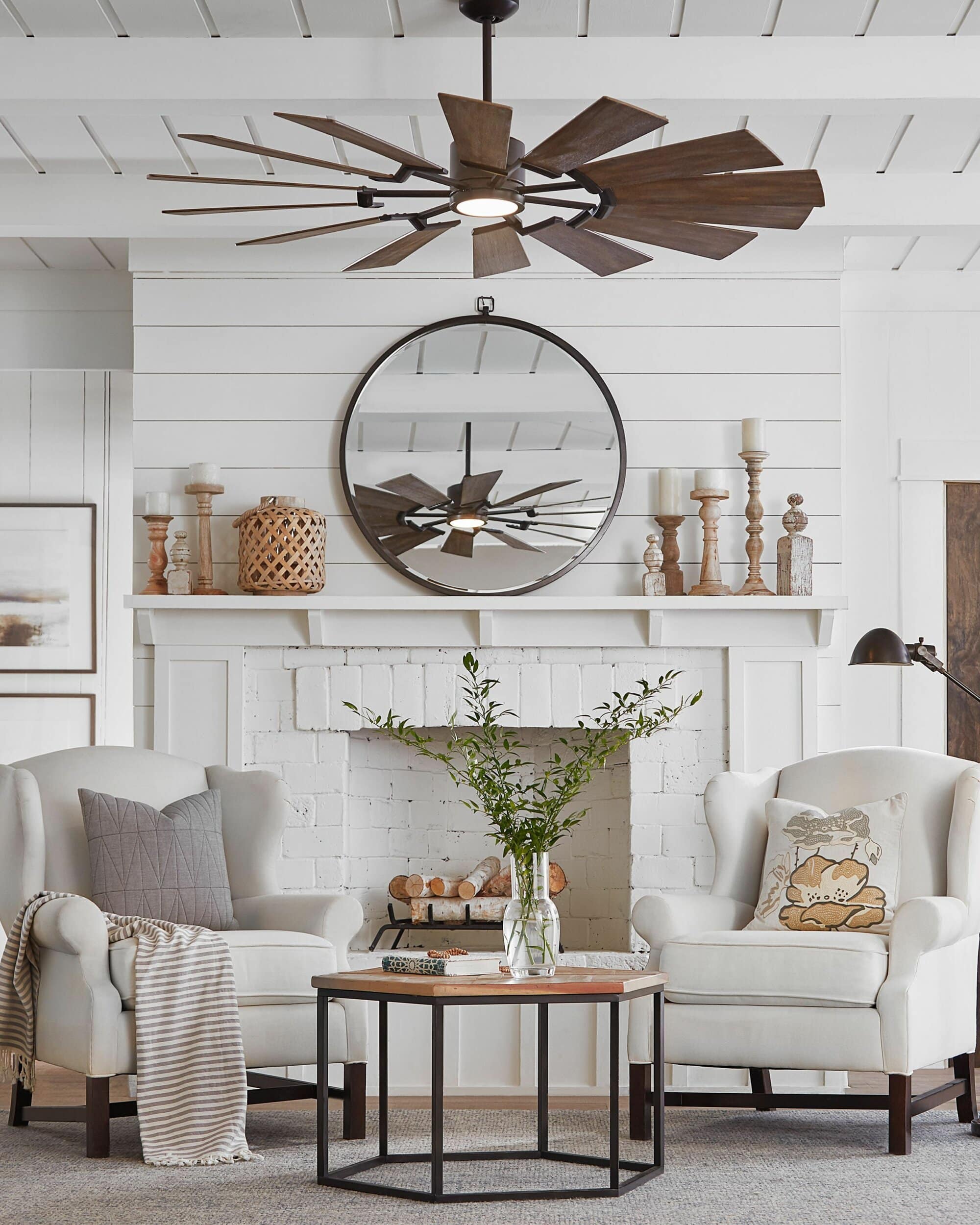 Adding a ceiling fan would be great to make your living room more enjoyable. This ceiling fan is excellent for your Farmhouse living room with a rustic design and a built-in cage light. The rough chestnut finish on the pinewood blade has a modern rustic touch. Most importantly, you can easily control the speed using a remote control.
Related:  Modern Farmhouse Exterior Designs
Farmhouse Living Room Accessories
Just as necessary to the furnishings, living room accessories are considerably handy to bring more depth to your Farmhouse ambient. You can add a spark of bold color or play a little with some patterns. Practically, the accessories prevent your Farmhouse living room from a dull atmosphere. So, here are some basic ideas you can try to mix into your design.
Table Centerpieces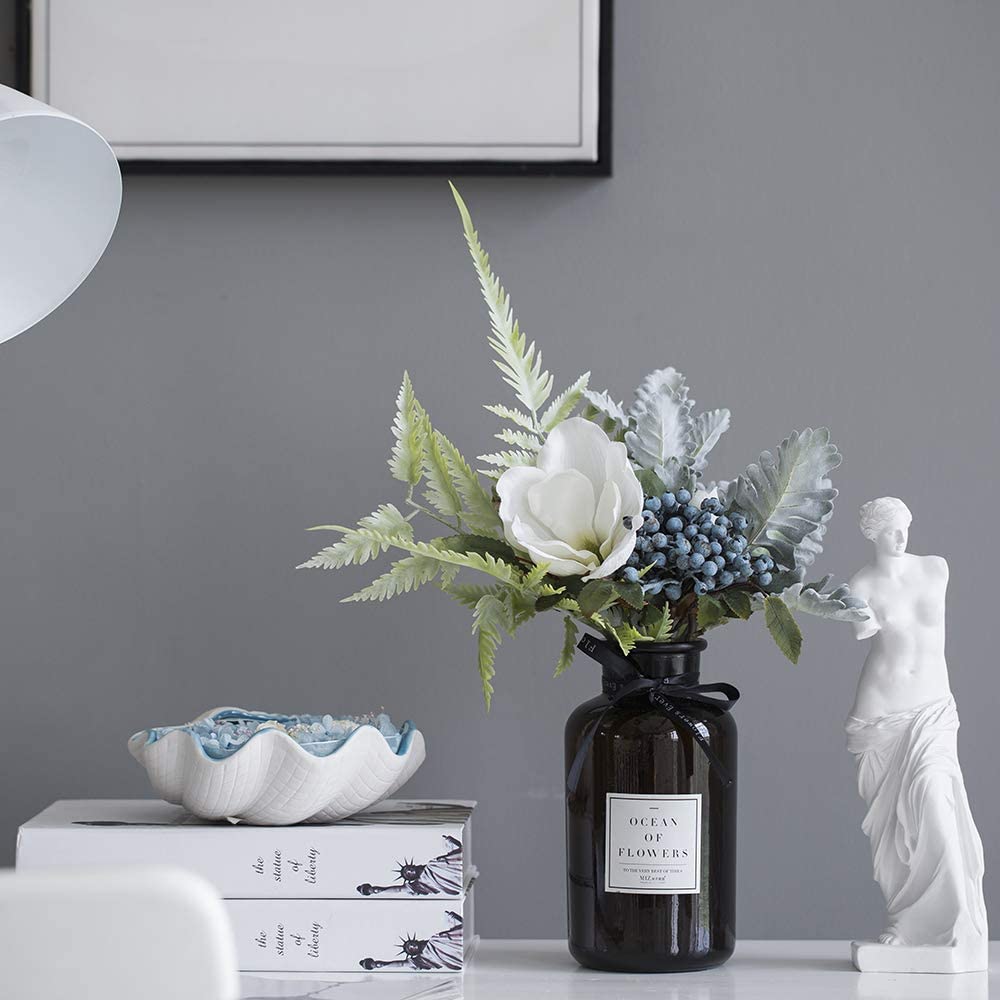 Flower arrangements make great table centerpieces. It brings home a piece of nature sense in the form of beauty. You can mix an artificial flower, leaves, and a plastic berry in a clear jar. You can try any color that matches your space, but the color gradation sure gives a character to the centerpiece. For instance, this flower arrangement has a spectrum from white to blue, with a green leaf for a natural touch. Then, the navy ribbon holds the jar to complement the look.
Throw Pillow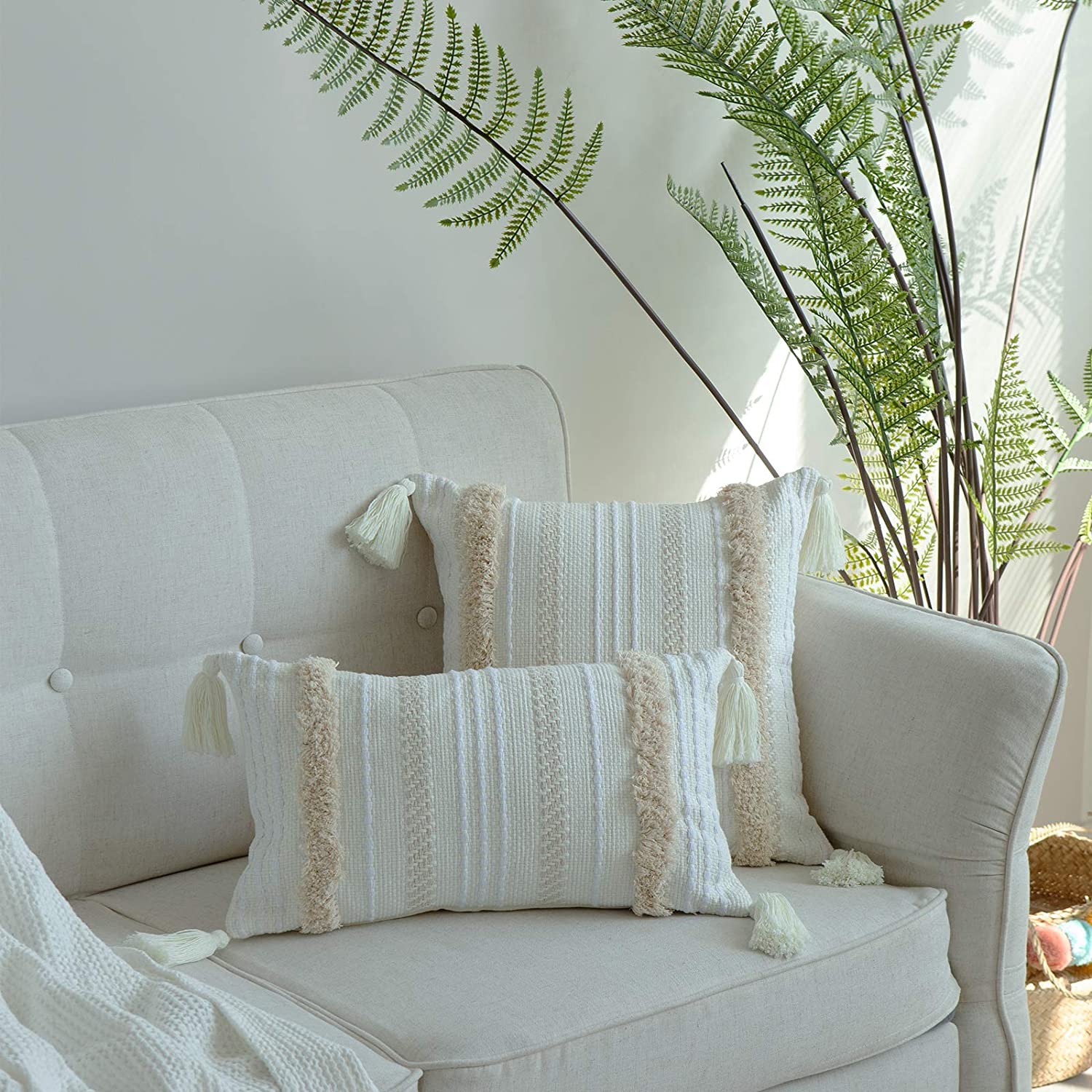 Throw pillows for the couch to increase the cozy level in the living room. You can customize your throw pillow covers that suit the mood of your preference. This throw pillow has a boho concept in white color with dangling tassels. Remember, you should not match all of the covers. Some plain covers are great to balance out the visual. Aside from a throw pillow, you can also decorate your plain couch with a knitted blanket. It can keep you warm, too, during a chilly night.
Farmhouse Living Room With Fireplace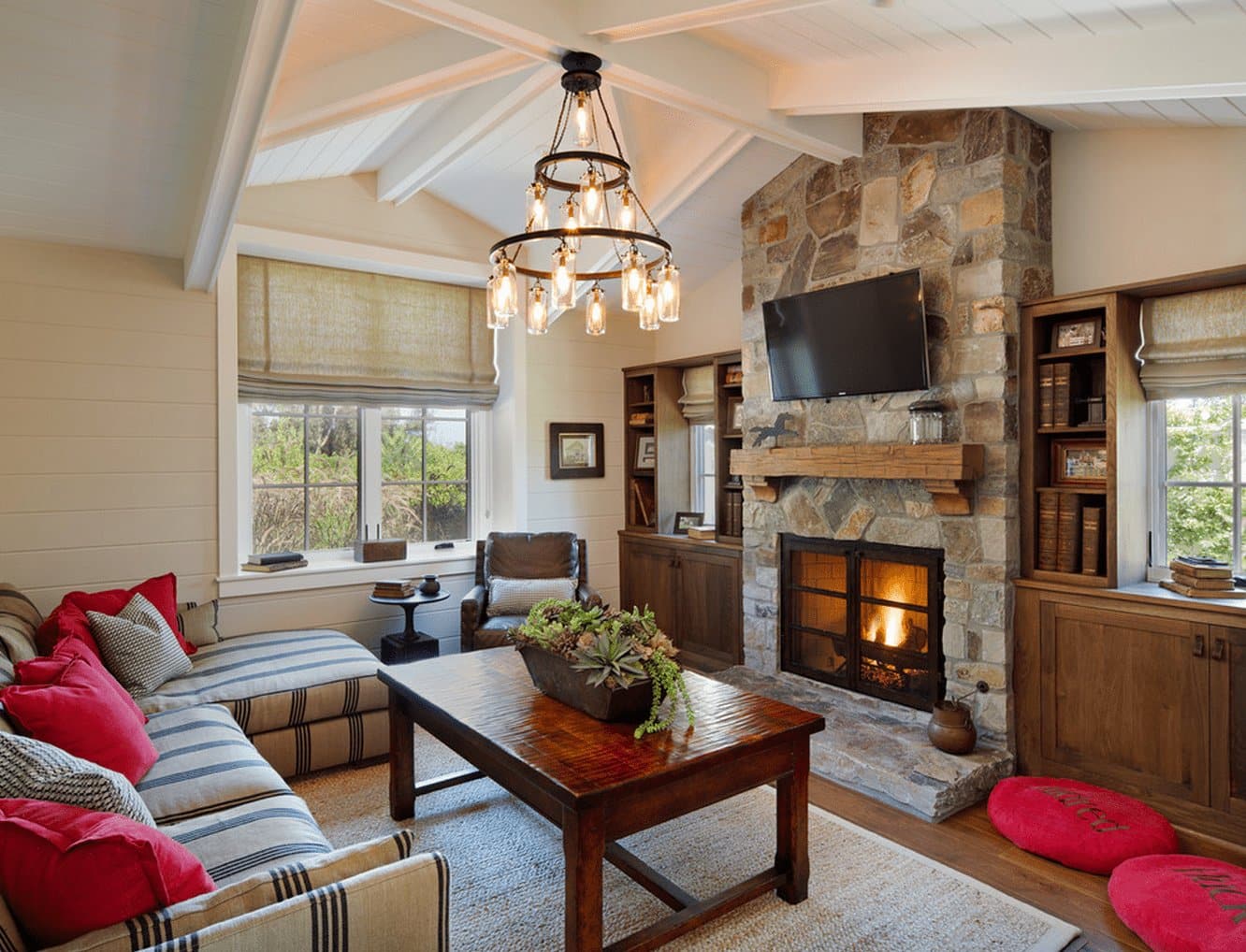 In this living room, the fireplace has special remarks other than to warm up the space. The white layered frame is protruding and in contrast to the shiplap wall. On top of the fireplace also serves as a decorative display to a metallic ornament. Furthermore, the inner of the fireplace has a chevron pattern which draws people's attention deep into it.
Related: DIY Home Decor Ideas
Conclusion
In summary, a Farmhouse living room is not merely a trend of decor. The farmhouse is the practical approach to making the most of what you have and combining it with other precious findings. The walls, colors, and furnishing style are modest yet not offhanded. Thus your living room represents a humbly, meticulous, down-to-earth charisma as your charm.