Pallet Shelf Ideas – Truly, home decor helps homeowners to squeeze out inspirations on making their house feels more like home. Most of the time, it is interesting yet puzzling for many people. The task is to make the most of their living space to be useful.
However, the challenge would be how to make it in a modest, cheaper way possible. A blank wall may seem to be the elephant in the room. On the other hand, ornaments scatter on every corner of the space.
Here's the thing: those are the two common issues homeowners deal with. A shelf is somehow an ultimate way for storage and decorative display on the wall. It should solve a blank wall while increasing functionality and personalizing a space. Even more, using pallet as main material, anyone can craft a sturdy shelf with little to no exact hassle.
Pallet Storage For Bathroom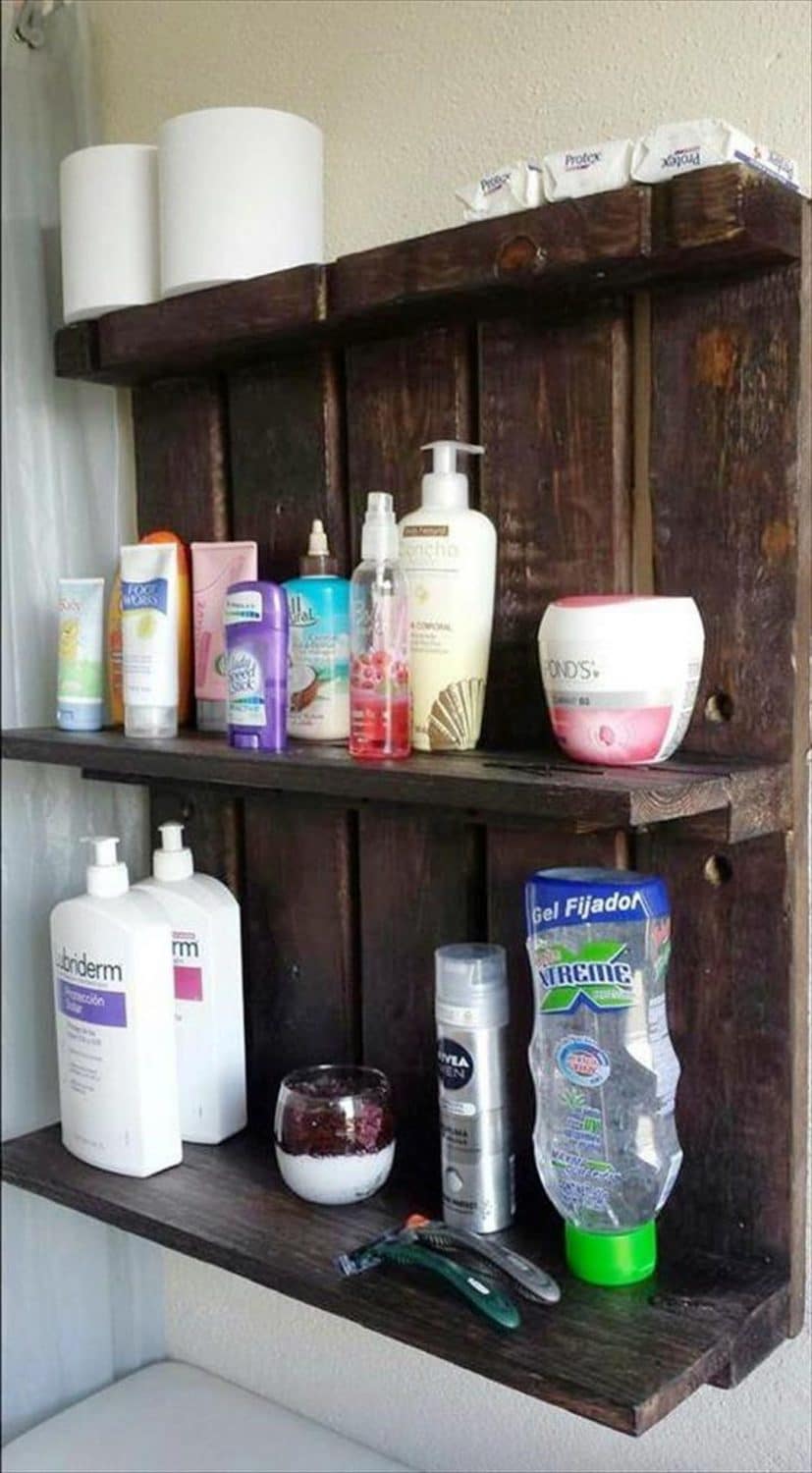 On the bathroom wall, pinning a pallet means to store bath necessities deftly. The width of the blocks and the space in between each blocks allow sufficient room for storage. They also support separator which homeowners can use to separate items by categories.
For instance, based on the weight of things, the top shelf are for tissues. The middle are the small size bath necessities. Whereas, the bottom goes for heavier items such as shower gel, hair treatments and aromatherapy.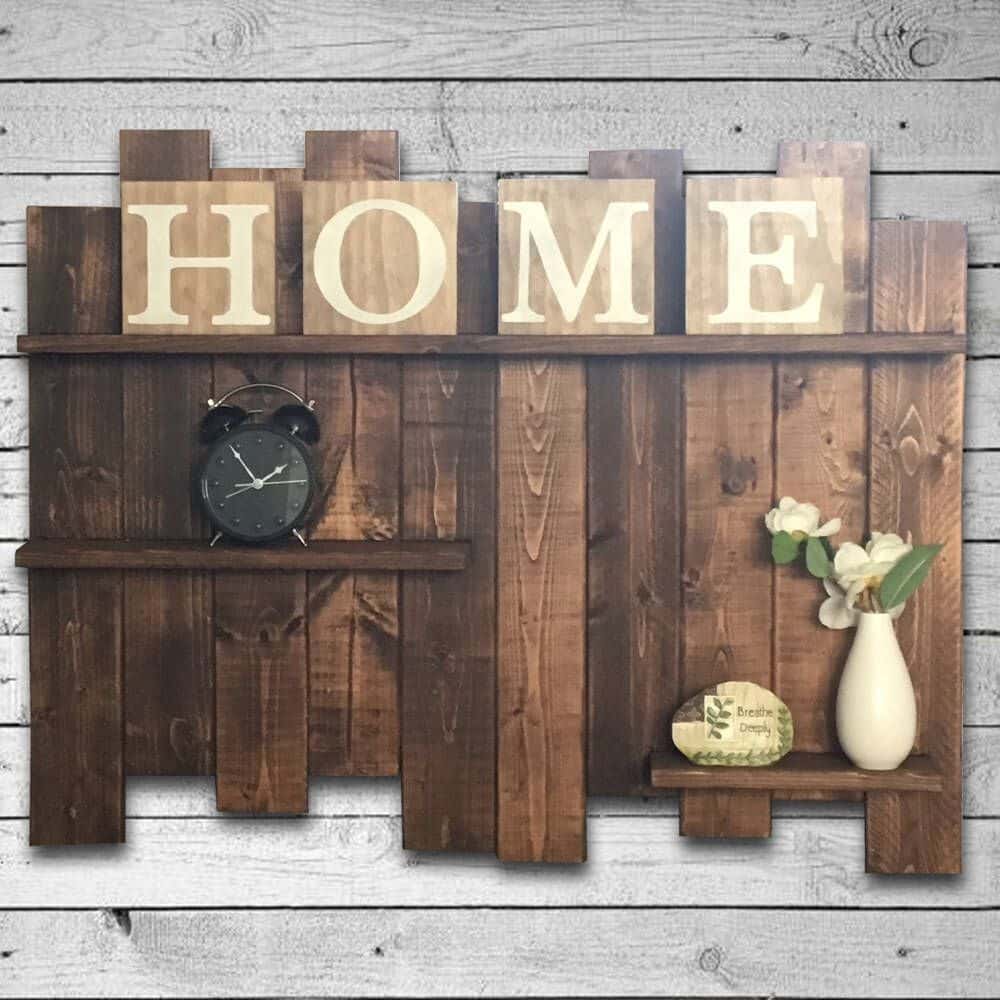 Best of all, pallets are easily customizable. To one's specific liking, they might want a wooden welcoming display on the first sight they open the front door.
In fact, personalized items emphasis the feeling of so good to be home. You can put a vase containing the flower of your choosing. Crafting several characters to compose a meaningful word also works great to put on the shelf.
Pallet Clothing Rack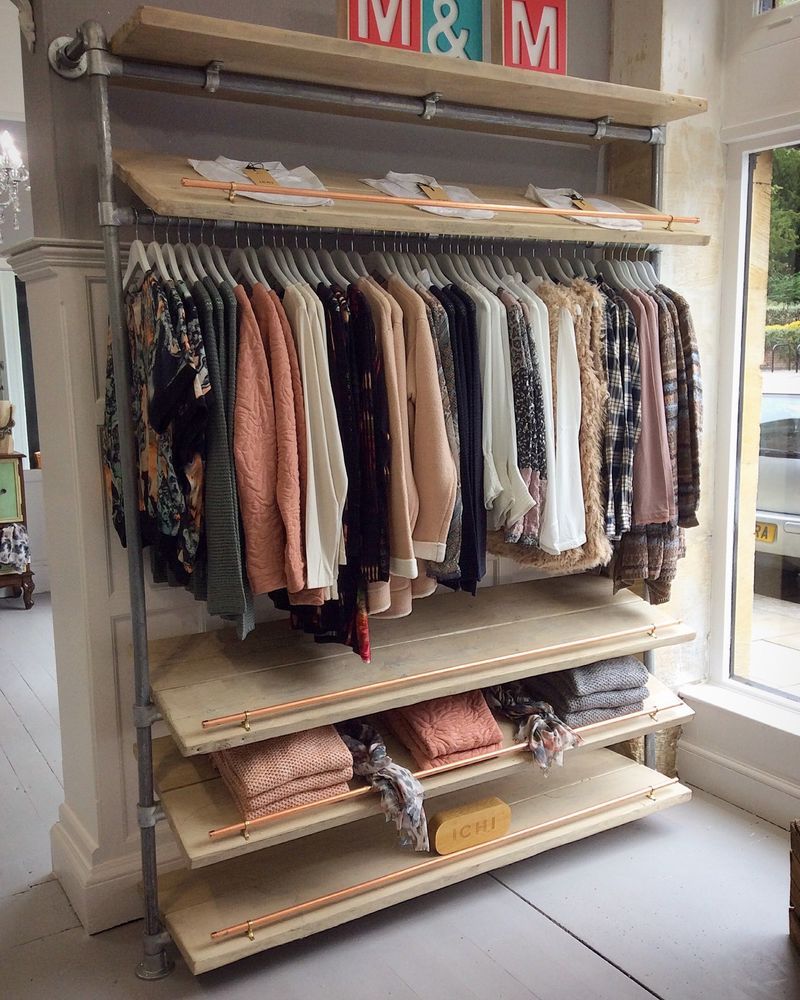 Either one's personal walk-in closet or the rack of clothings we can find at stores, the material matters. The soft shade of the pallet is suitable on the grey-ivory cold tone of the wall. In consequence, pallet helps intensify the warm tone to each pieces on display. Undoubtedly, it can never go wrong with the concept of visual simplicity.
DIY Pallet Shelf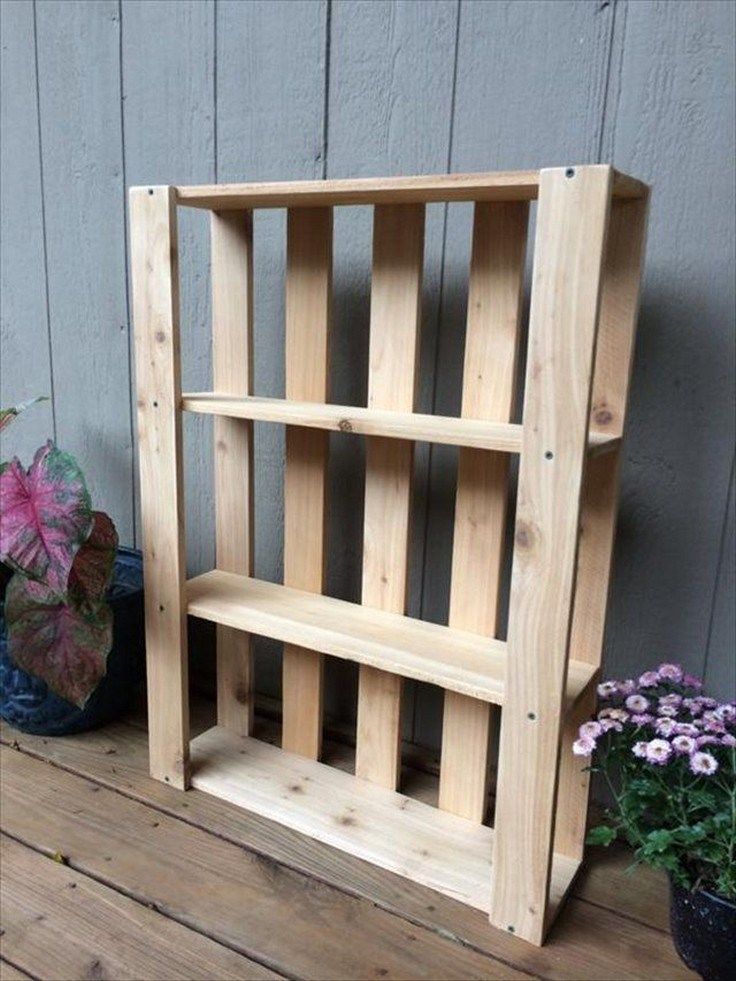 With no requirement of complex woodworking skill, you can try to build a shelf using pallets. Your DIY shelf can contribute to gardening. For instance, gardeners can line up the herb collections or flaunt small plants outdoor.
Pallet Coat Rack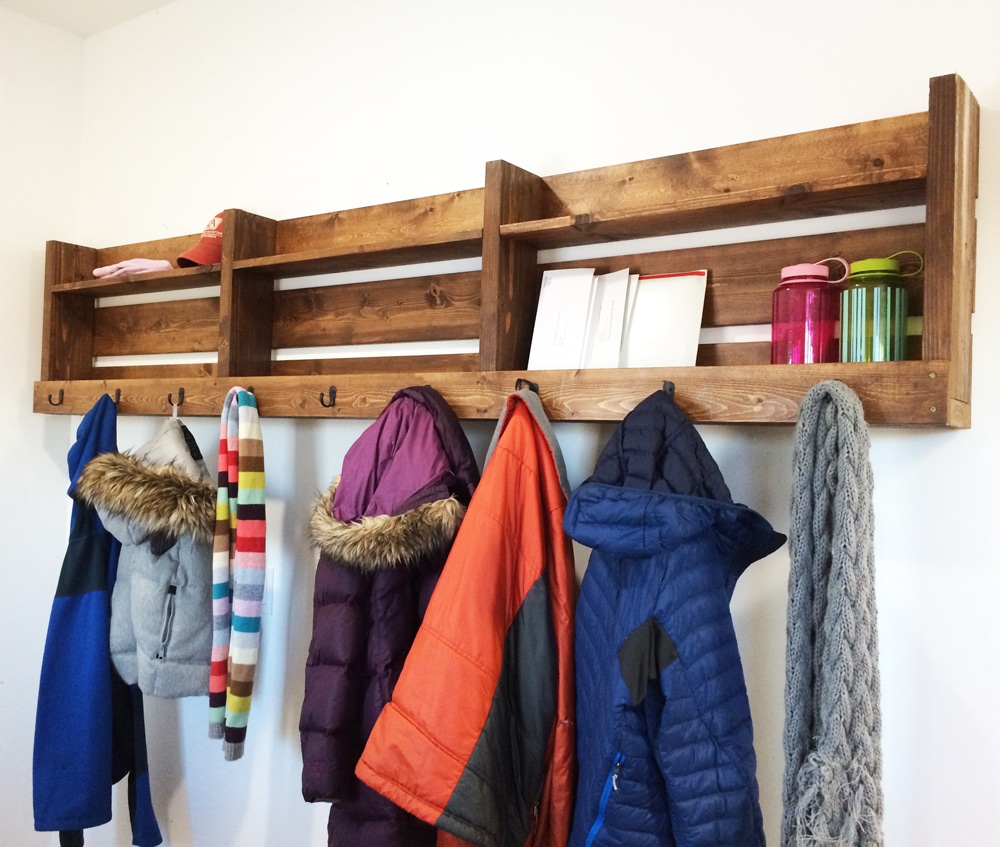 In addition to storage practicality. you can screw several hooks to the lower front of your pallet shelf. It applies for wall shelf adjacent to the front door. No worries over messy heap of coats, especially when you have guests coming over.
Diy Pallet Kitchen Shelf & Cabinet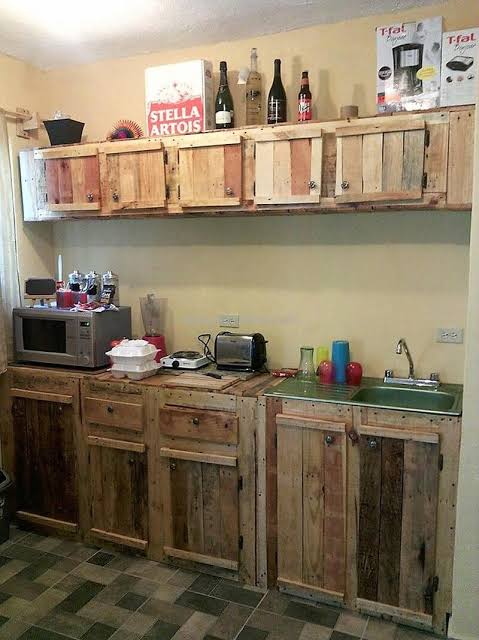 Needless to say, wooden furniture is irresistible. The classic style of wood paneling can give alluring remark to focal points at the house, including kitchen.
To achieve this style in small kitchen, pallet would be reasonable solution to build shelf and cabinet. It is fairly faster to build and budget-friendly. Sufficiently, pallets are robust to hold kitchen appliances over the cabinet and kitchen supplies in the shelf.
Pallet Corner Shelf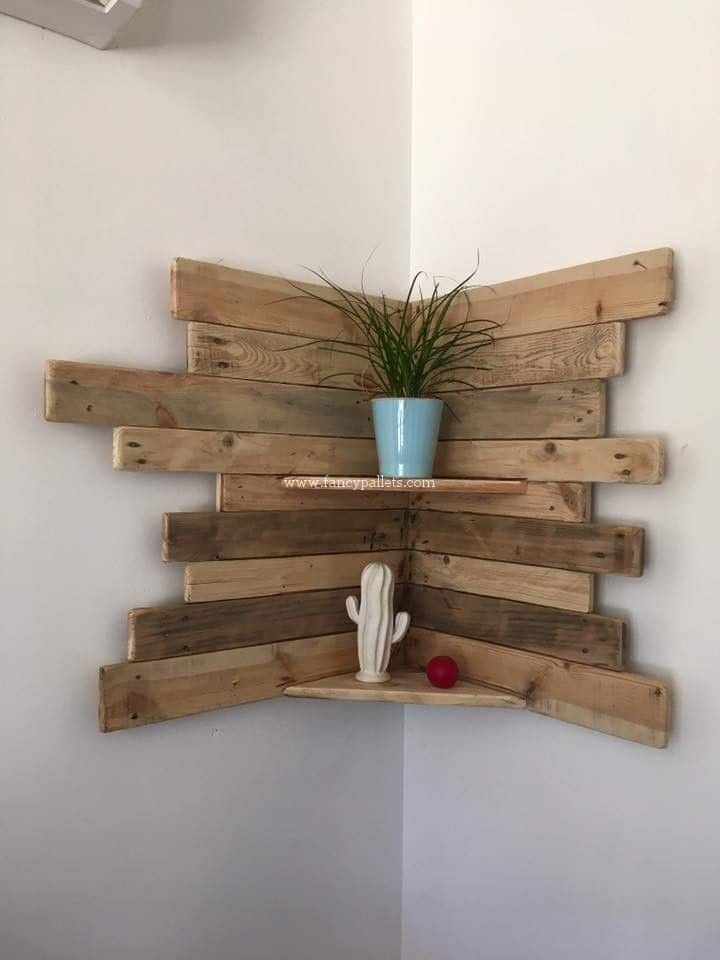 Thinking that wall shelf doesn't work for your style? Consider corner shelf to accentuate particular angle in the room. Pallets are workable material to conquer this distinctive look.
Importantly, choosing the right stain for the pallet would help create clearer visual for the display. Overall, this pallet shelf idea would be a great icing on the cake for the plain white wall.
Pallet Plant Shelf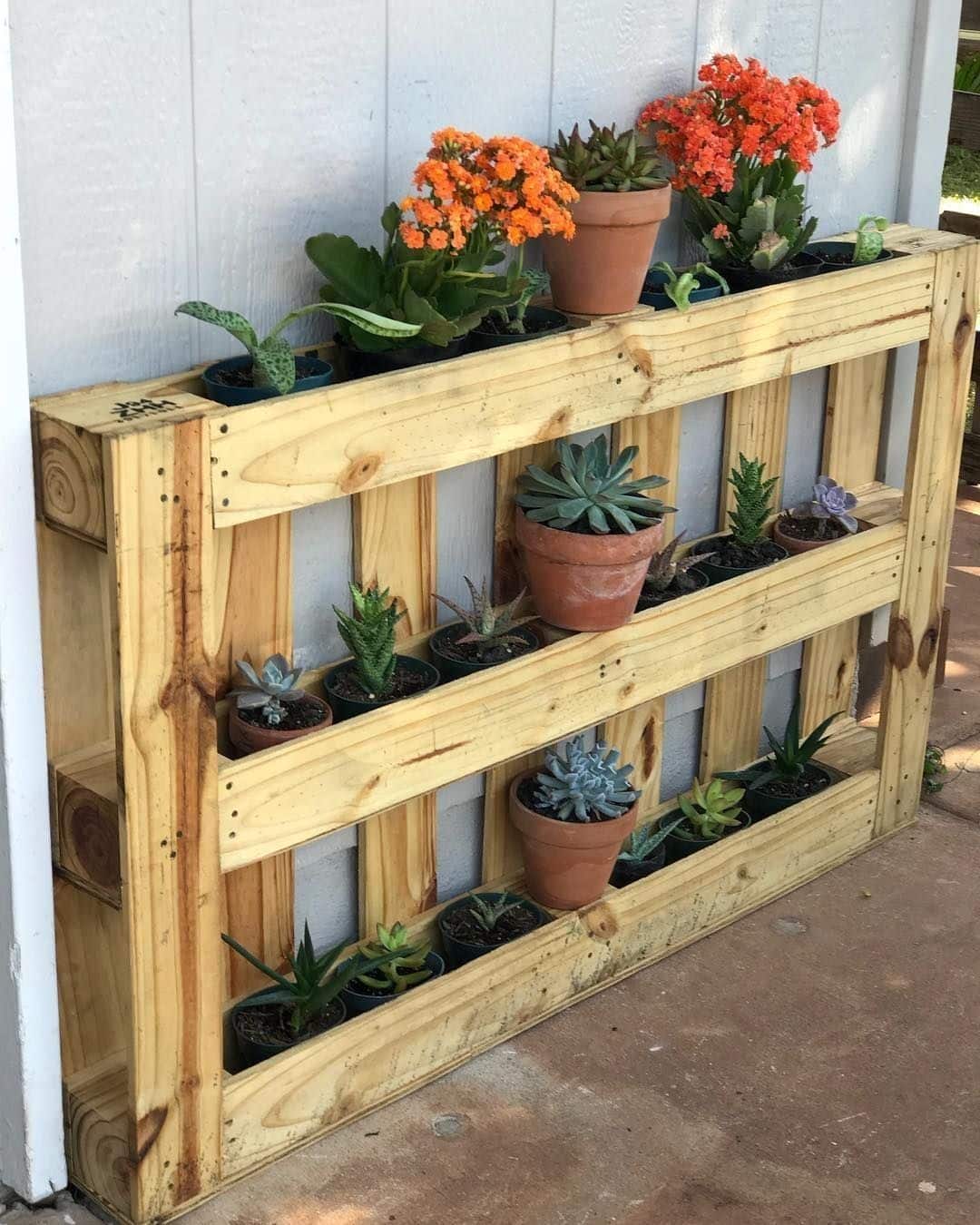 Small potted plants can take much space on the ground. Moreover, pets may spill the soil and cause disruption to the plants. Therefore, shelving plants in a repurposed pallet is ideal and immediately eye-catching.
Also, pallet ideas for garden contributes to vertical gardening. To homeowners with little to no space for gardening, pallet shelf works perfectly to contain the plants.
Pallet Bookshelf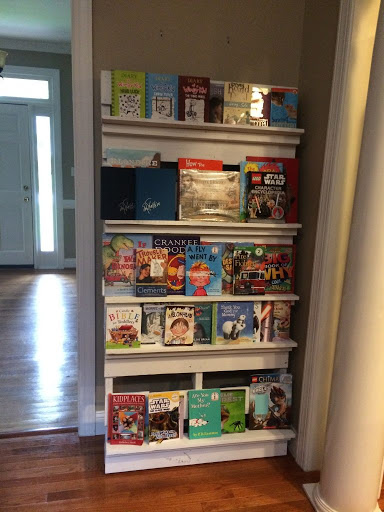 There's always one overlooked space that actually has potential for usefulness. This specific spot, for example. Stacked pallets, after you paint it white, works well to keep your all-time favorite books to occupy this very spot. Nevertheless, simple pallet bookshelf are the saviour to the overlooked spot.
Pallet Spice Rack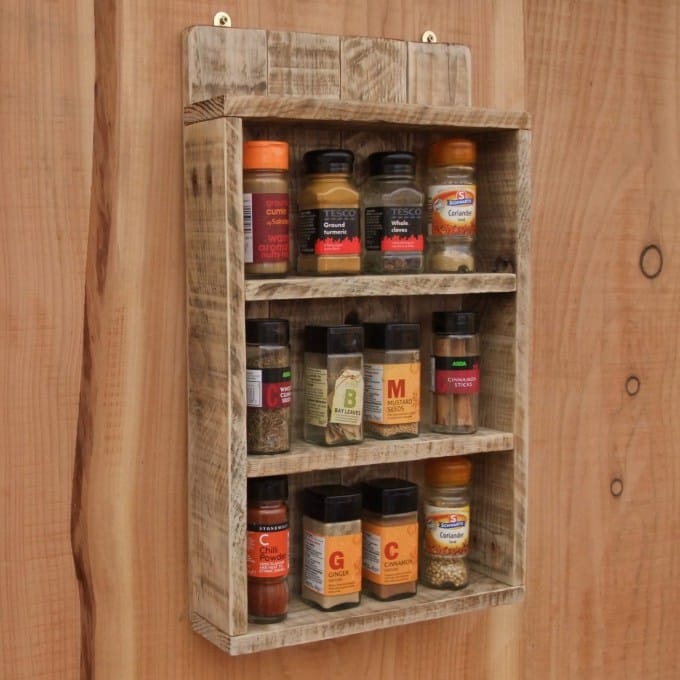 Who seems to always forget to check on the spices supply? It's upsetting when you realize you run out on certain spices. You can try to store them in this pallet rack where it is easily noticeable.
Most importantly, you can practically reach out the spices to add in the cooking. You deserve a flavorful dish. With this pallet shelf idea, now no more trouble on flavoring your dish.
Rustic Pallet Shelf Ideas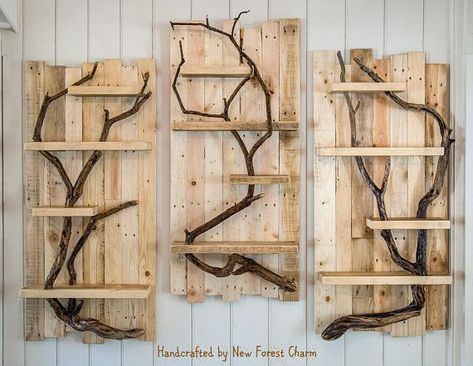 These three-unit wooden shelves are modified pallets to store items and decorates wall. The dried branch ornaments are prominent feature of these shelves.
Undoubtedly, it achieves the rustic concept to complement the house style. What's more is the color choosing over the white wooden wall. Keeping it simply natural and soft is a safe pick on decorating the living space.
Pallet Hat Rack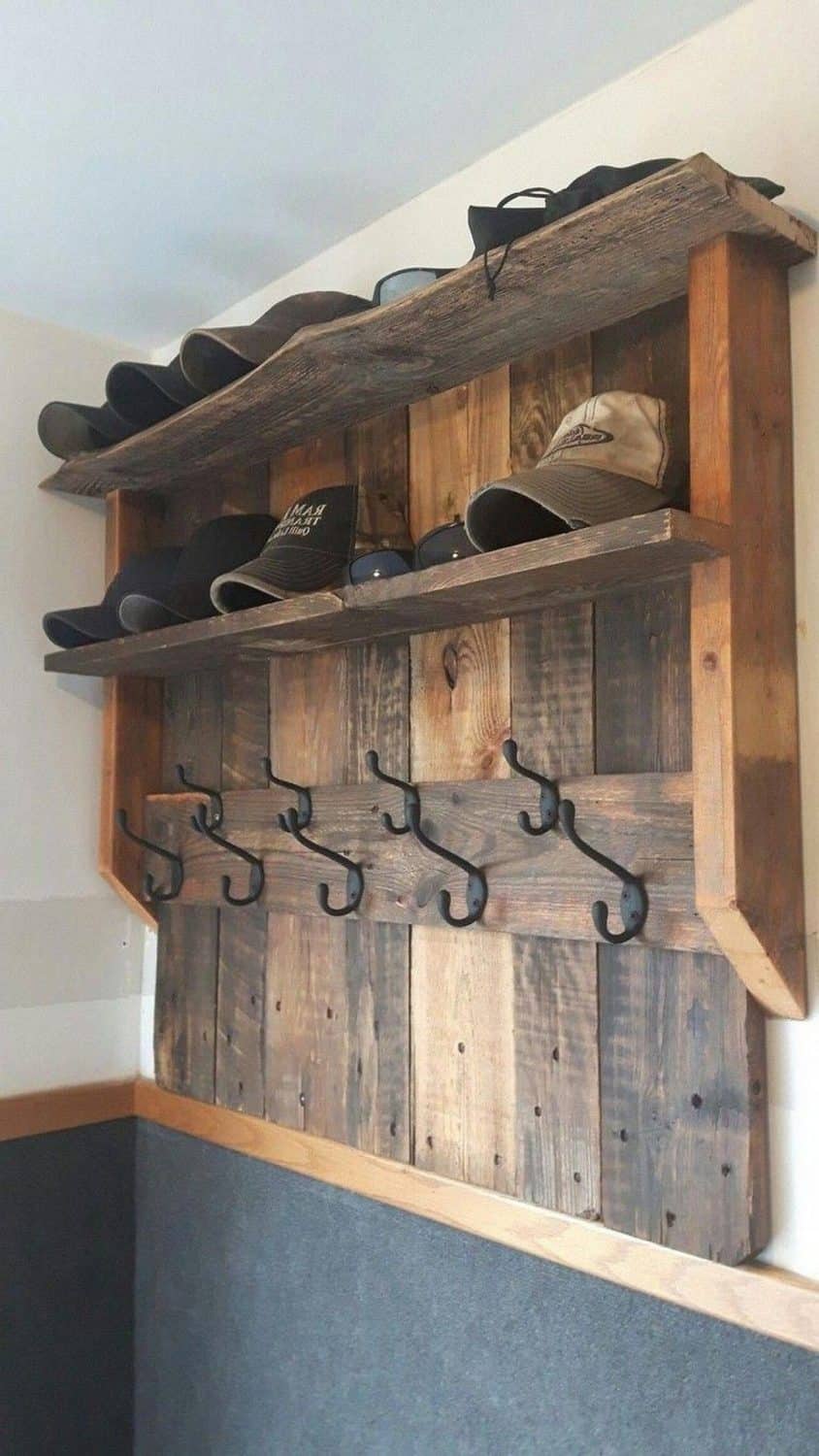 Some people want different hat for different occasions. Pallet rack keeps those hats obtainable and orderly. Furthermore, the hooks below are capable to hold other accessories to complete the fashion.
This pallet shelf idea is applicable to showcase collections in clothing stores. As the products are lined up, the customers would love to enjoy and are easily attracted for what's on display.
Garage Pallet Rack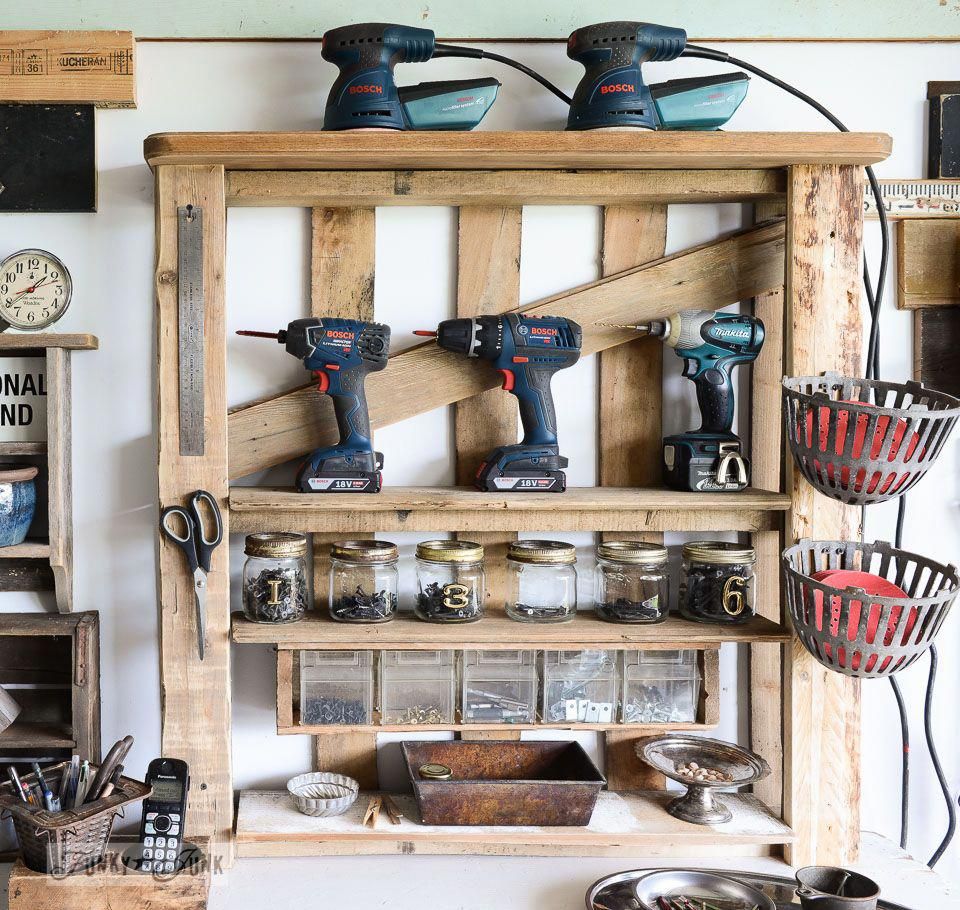 Pallet rack safely collects nails and carpenter tools in the garage. While working in the garage, small things like bolts or nuts are nowhere to be found due to the mess. It's irritating just as it is happens everytime we're working in the garage.
Therefore, diy garage shelves provide more storage for other small items in boxes. No more hassle to pick up stuffs and start working on your DIY wood shelves.
Wooden Pallet Shelf Ideas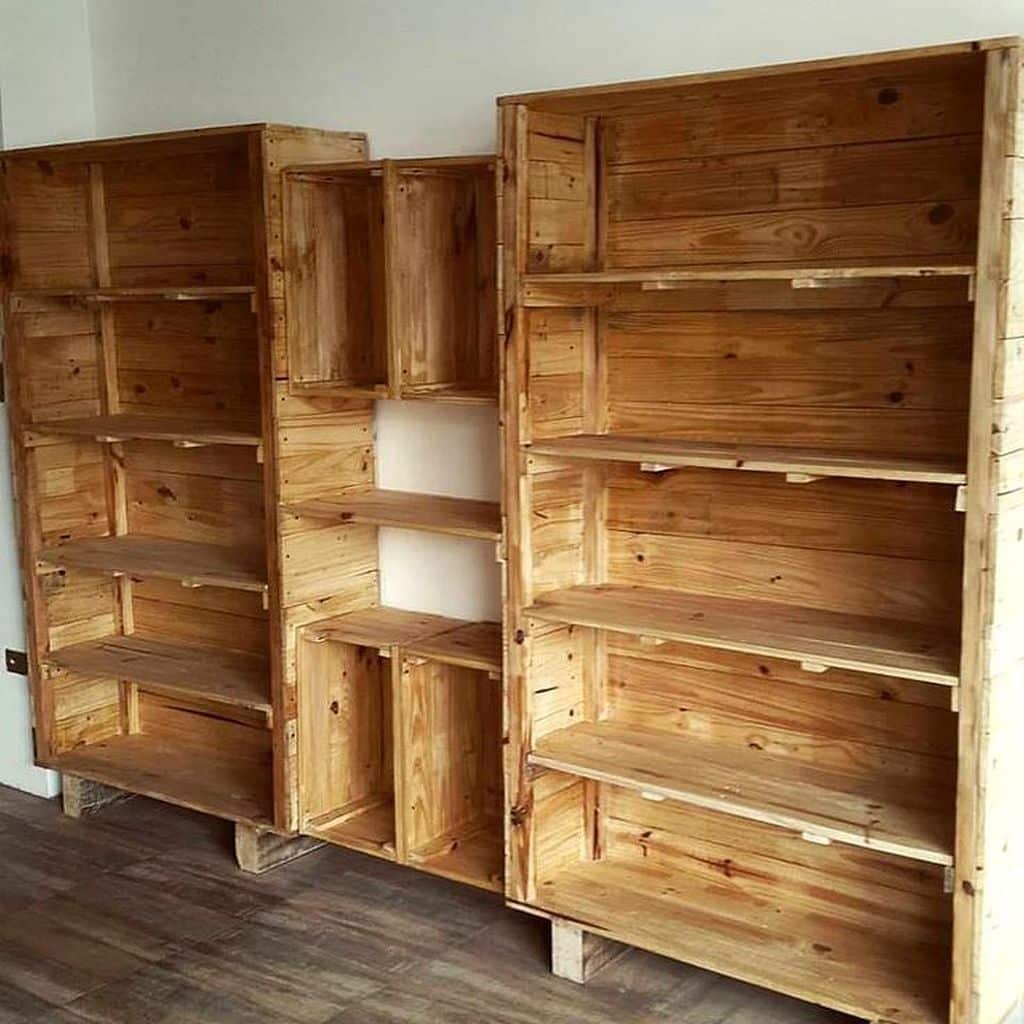 Pallets come in many sizes, including those with greater height. The height would then be the ideal width for a cupboard in your room. Consequently, you improve more room for storage. It works fine to organize any things in place.
However, working on this pallet projects may need a proper preparation. Measurements and bottom foundation are necessary so the final product will fit the spot nicely.
Ladder Pallet Shelf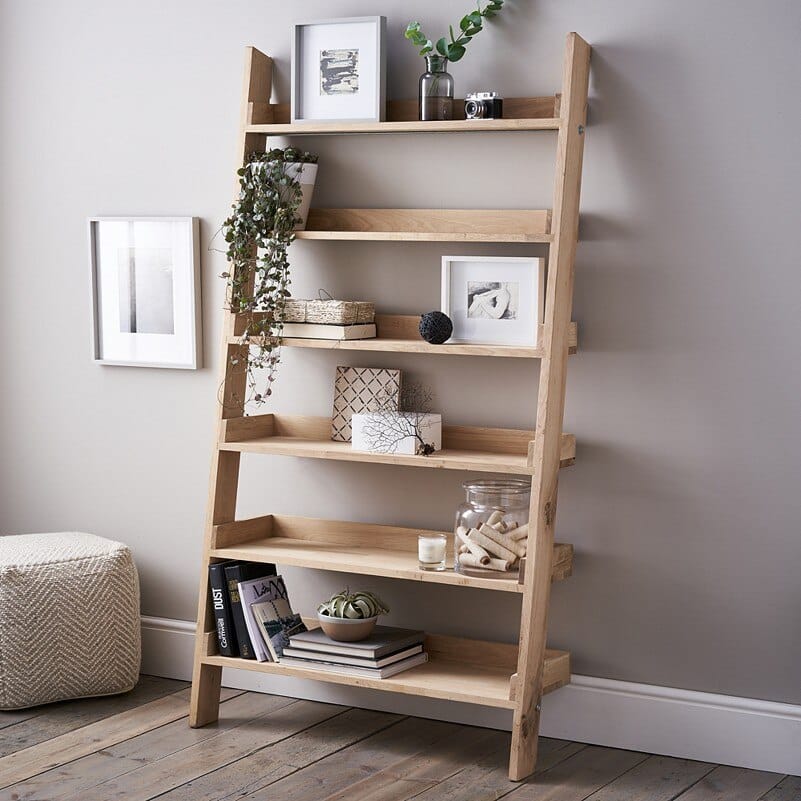 Angled piece comes simply conspicuous if you can carefully match it by balancing components. Ladder pallet creates angled view that plays with proportion. Which is to say, the higher the level the width goes smaller.
Now, you need to adjust the items on each level so they fit perfectly. This way, homeowner should be able to store bigger boxes on the lower level. Picture frames should fit on the middle level, whereas small flower vase sits on the top of the ladder.
Pallet Coffee Mug Rack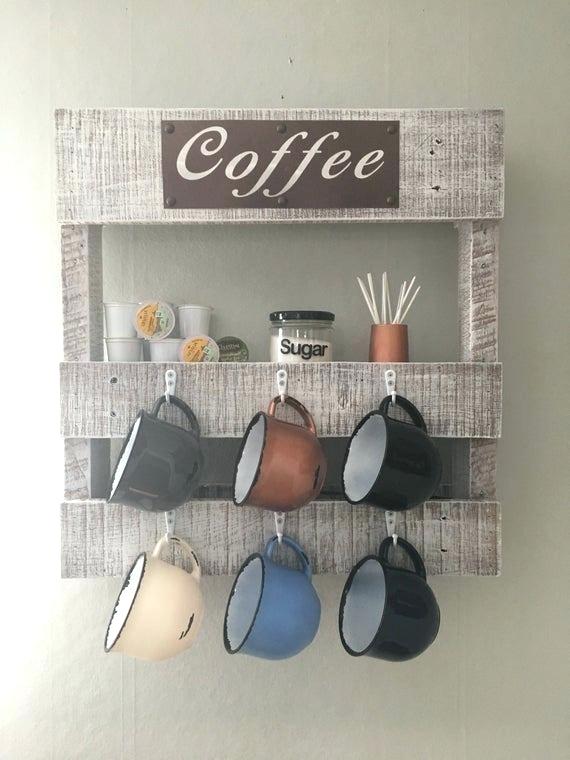 Pallet racks over the kitchen counter may store your coffee mugs well. Additionally, the space above the hook make it possible for you to store other necessities to morning coffee.
Those things, such as sugar container or creamer boxes might be the items you want to easily find while making coffee. For that reason, it is brilliant for the pallet shelf to contain them as well.
Floating Pallet Shelf Ideas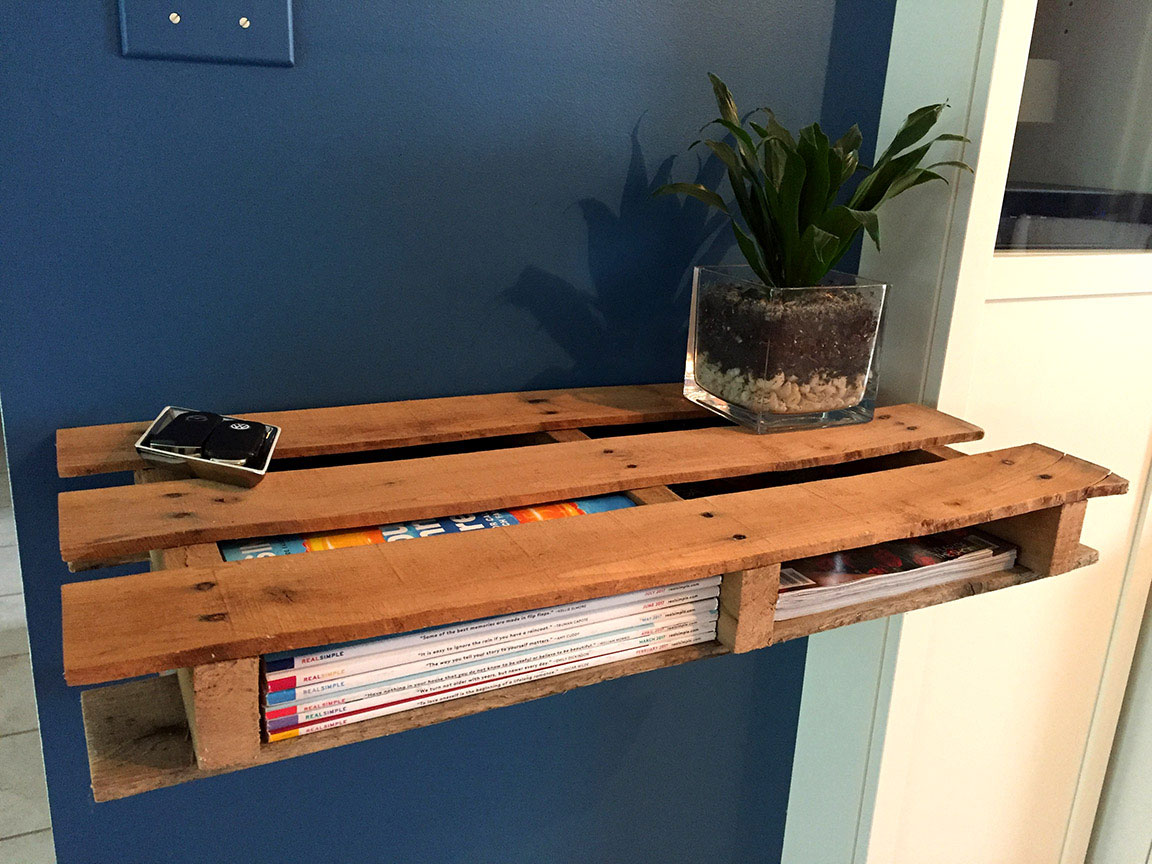 Pallet wall shelf ideas are not merely the ones attached vertically. Commonly, the pallet shelf ideas include attaching the upper deck board on the wall.
However, applying this pallet shelf idea to your plain space would add a touch of attractiveness. You can make it out of horizontal pallet mounted on the wall. In result, you obtain a storage table seems floating with no legs.
Pallet Wine Rack Design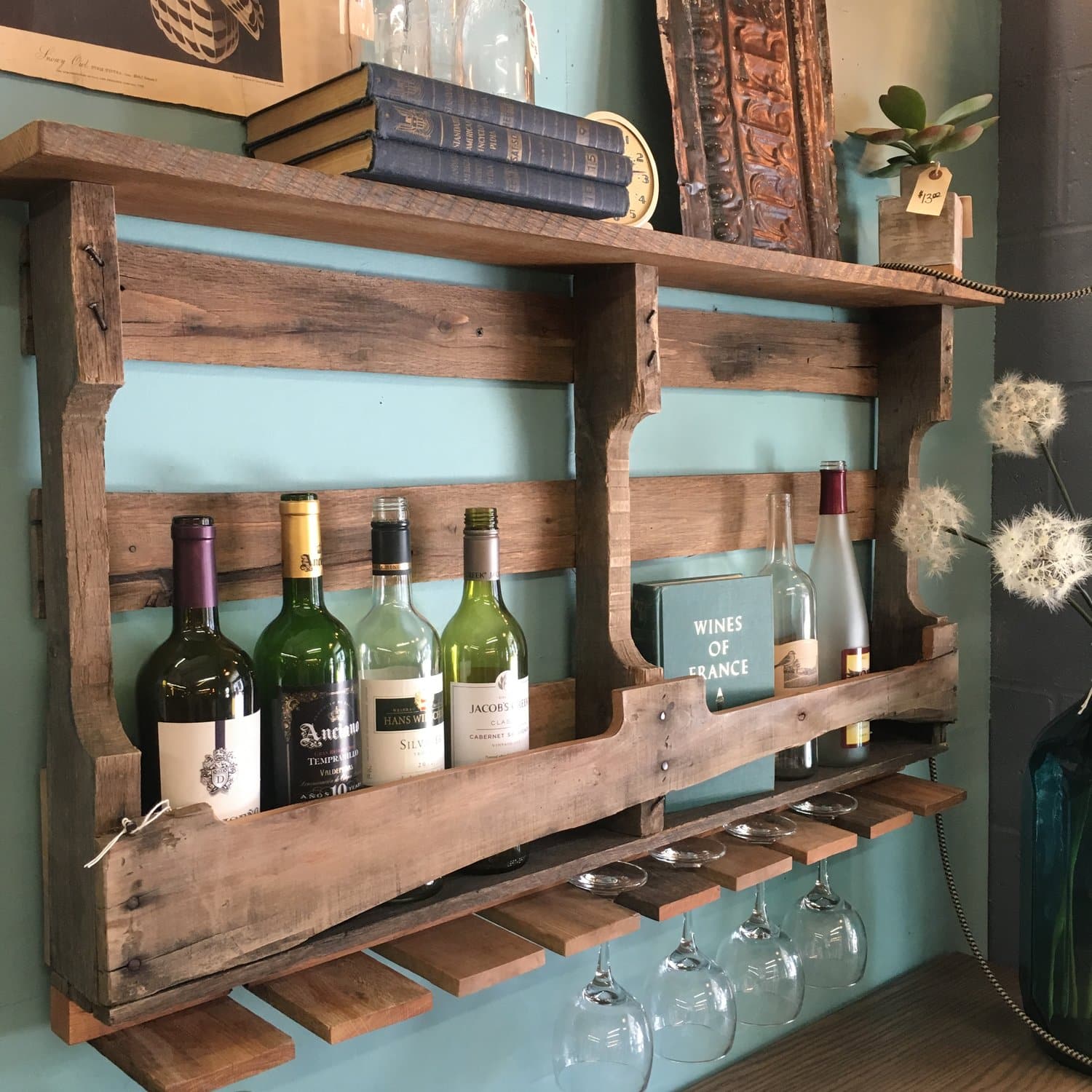 A display of personal choice of wine on the living room should give a sense of personality to your living space. Wine shelf from pallet wood can help you achieve this mission on the living room.
Moreover, the modified bottom shelf allows for hanging wine glass just nearby. Whenever you offer your guest to take a sip, just take a couple of glass easily and have a toast.
Closet Pallet Shelf

You can build a closet out of repurposed pallets. You may need a specific space for the certain things you own. Thus, it is the affordable approach into possessing a customized closet for your own outfits.
Generally, most pallets use oak wood, which has high durability. Given that, pallets are ideal to build a long-lasting closet. Not to mention, because it is a natural material, the grain in oak wood has a distinctive look. The look is making the closet got tailored and one-of-a-kind appearance.
Related : Pallet Bed Designs
Pallet DVD Rack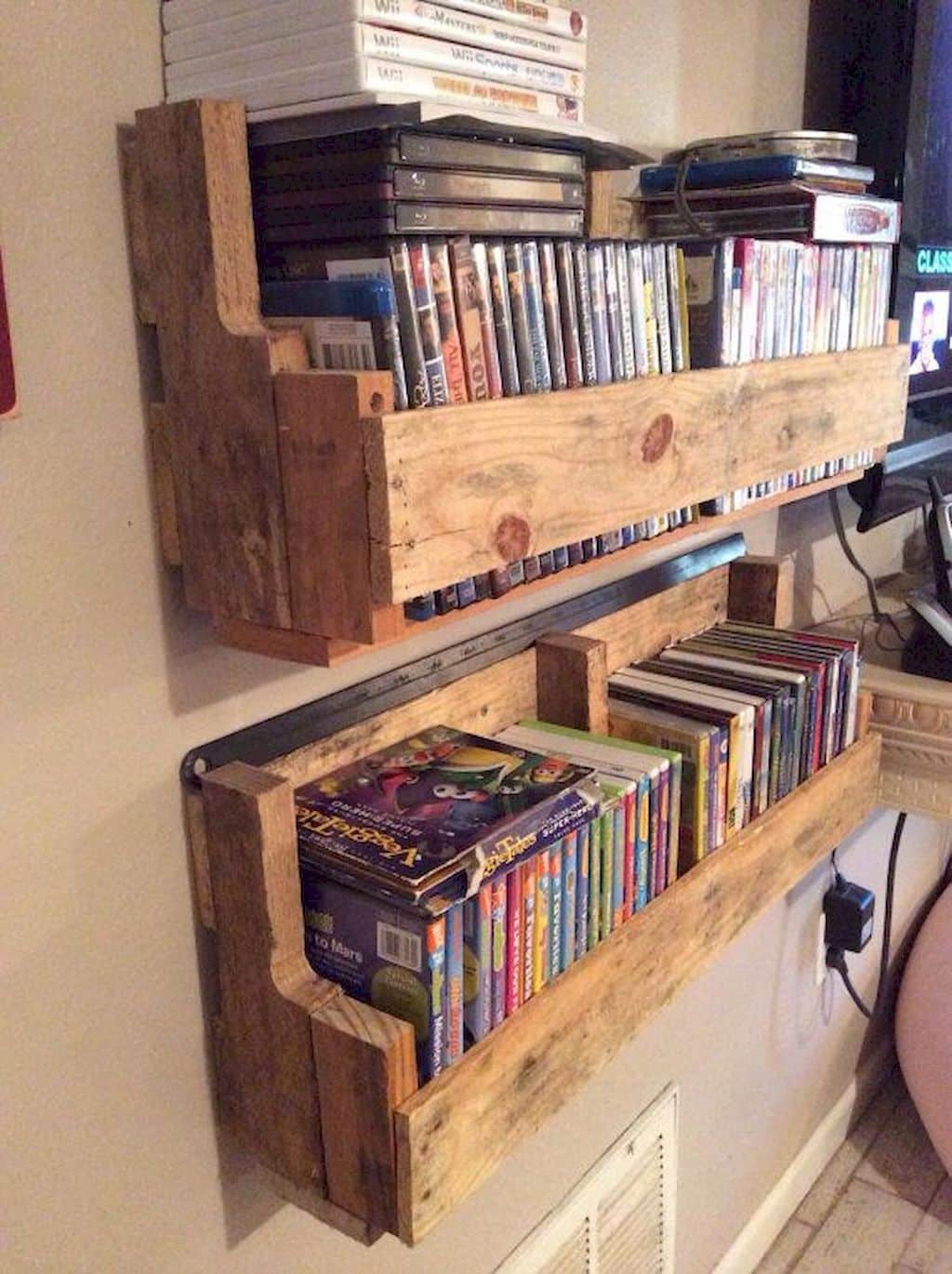 Before the era of streaming, collecting DVDs became the pride of movie lovers. In fact, it still is. Therefore, pallet rack beside the TV and player is perfect to store and display this collection.
To assemble a pair of rack, it should require no more than a pallet. Consequently, the DVDs are all contained and displayed properly, all in a cost-effective way. Why say no to enjoy some re-run on the player?
Decorative Pallet Shelf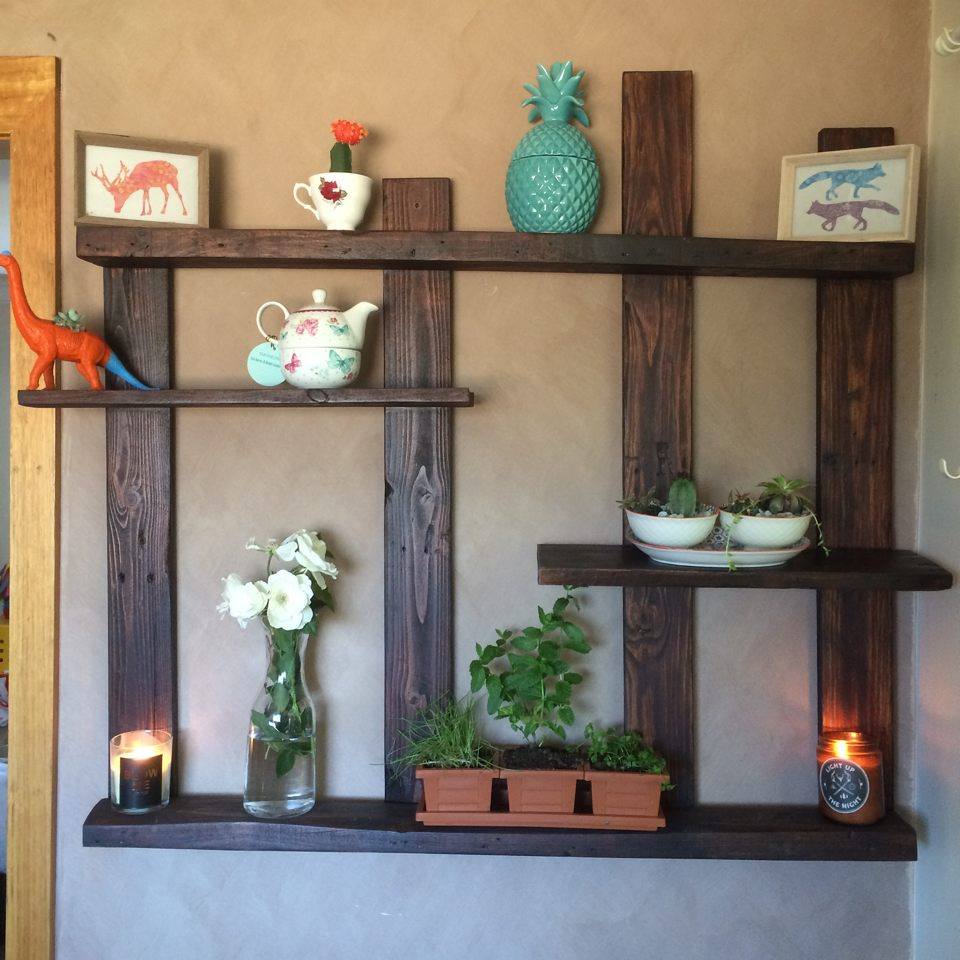 Purely decorative, this pallet furniture is a shelf that contains porcelain ornaments, flower vase and small pots. Homeowners can choose the items to personalize the decor. Additionally, difference of levels create a touch of artistic sense to the wall. The asymmetrical look of the display is not only intriguing.
Rather, it also gives opportunity to the homeowner to get creative on where to put things for having different sizes. The correct proportion of the ornaments in the shelf would give a balanced overall look to the asymmetrical shape.
Pallet Bike Rack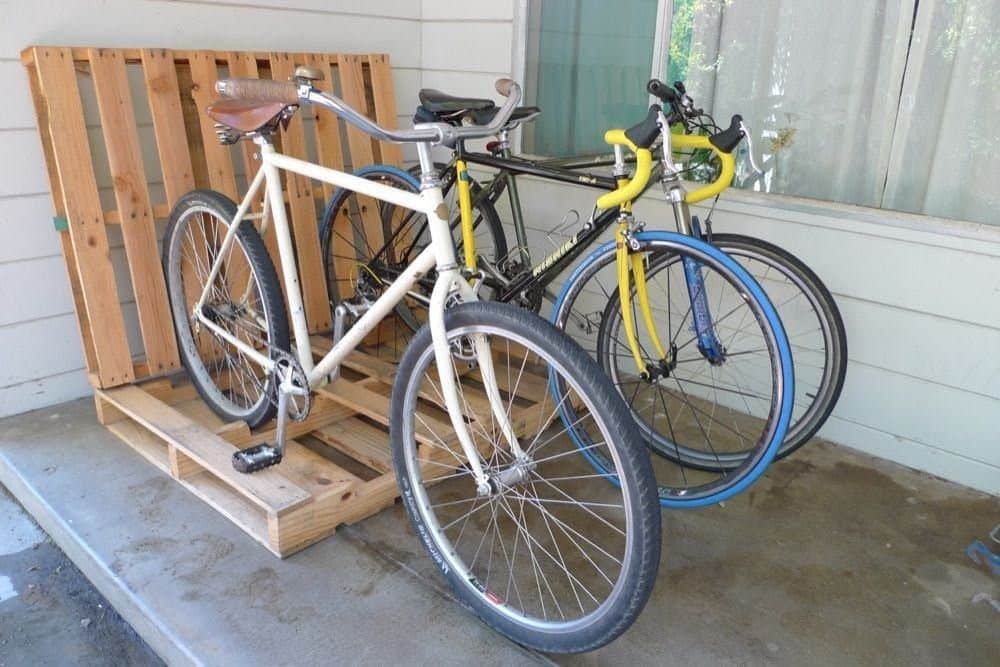 Fancy a bike ride around town? Pallet rack can keep your bikes parked safely. This allows for sufficient space in the front patio for the bikes. The bike rack consists of a couple of long pallets.
Usually, bike racks are available in local businesses to show supports on sustainability as a value to the business. Moreover, it would invite the cyclists to visit because it is accessible for them.
Standing Pallet Shelf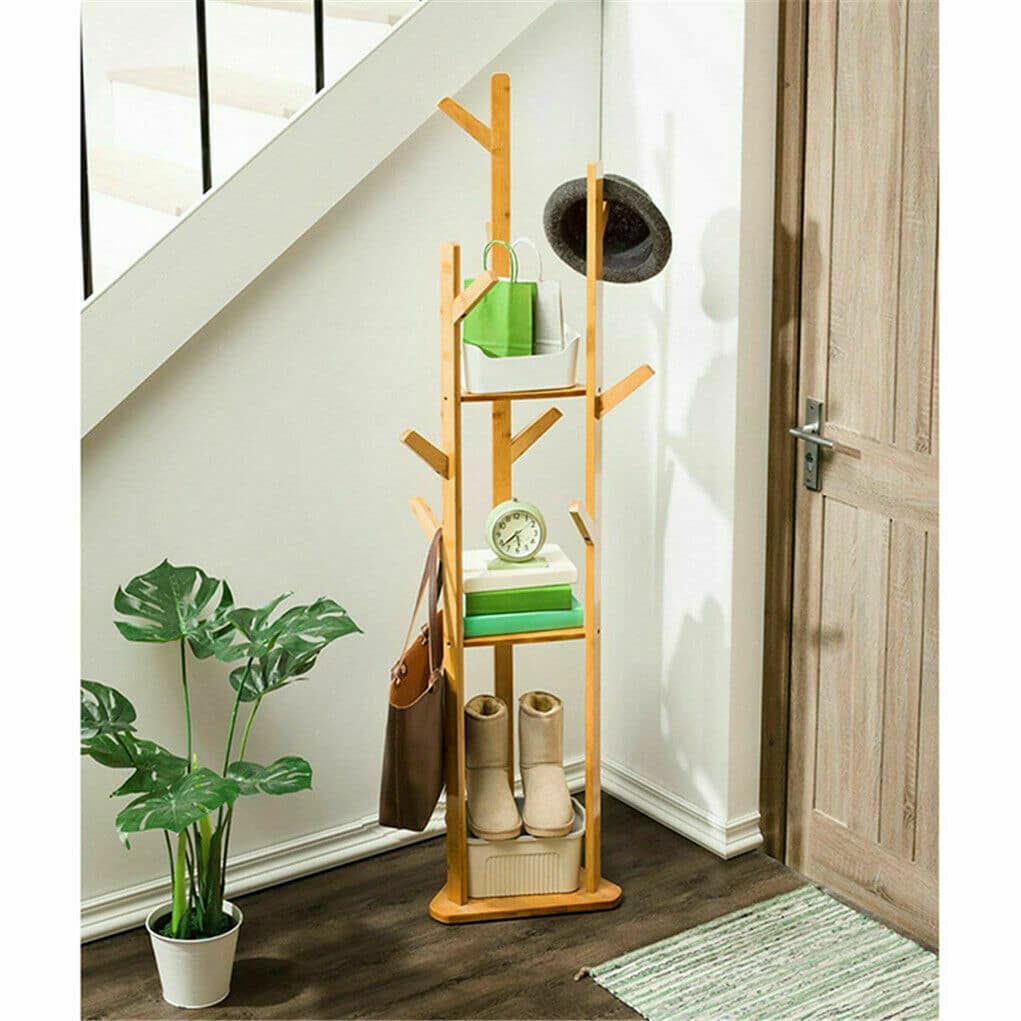 Standing pallet in the corner of the room got shapes similar to the branch of a tree. The shelf provides space to hang coats, hats or bags all within a single spot. Also, the three horizontal boards are capable to store shoes and boxes.
The concept of a natural view is ideal as it is side-by-side to an Anthurium in a small white pot. Among other things, this idea could make the most of a corner space in an interesting way.
Pallet Towel Racks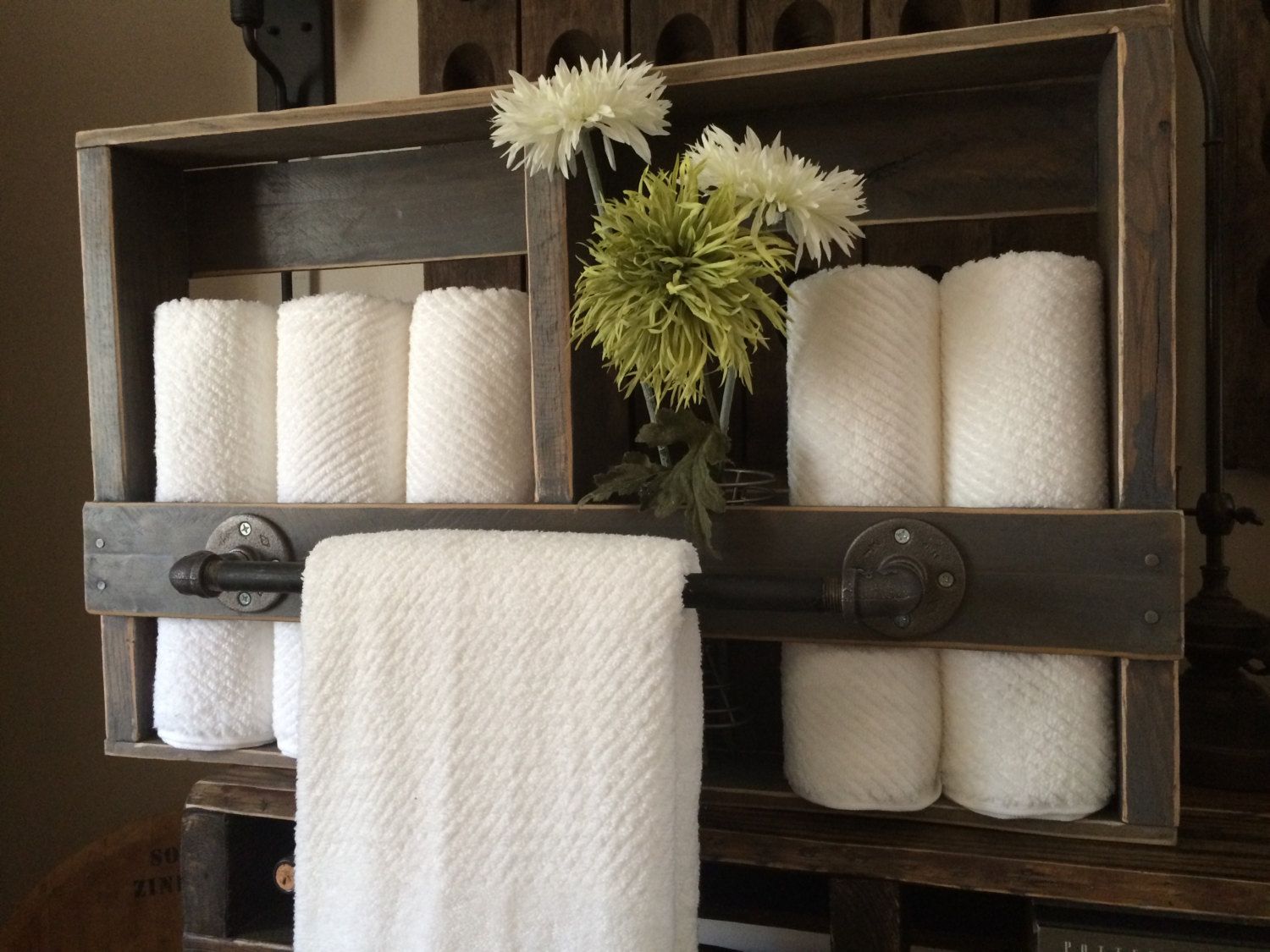 This pallet rack in the bathroom can contain up to 6 rolled clean towels. Apart from that, the front side provides a space to hang used towel. Best of all, it is easily movable from a spot to another that suits the owner's liking.
Pallet Shoe Rack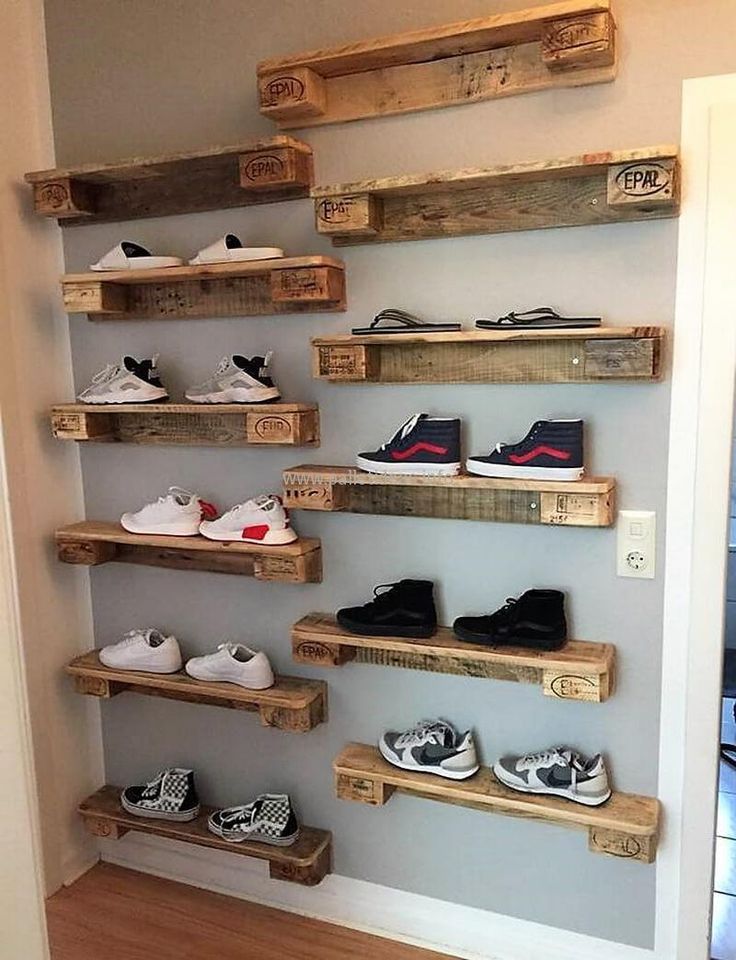 For a shoe store, this pallet racks are set for displaying each shoes individually. Compared to the common shelf, this individual pallet rack give a send of exclusivity to each pair. Using this concept, the store properly show off the collection and the visitors love the experience in the store.
Pallet Gun Rack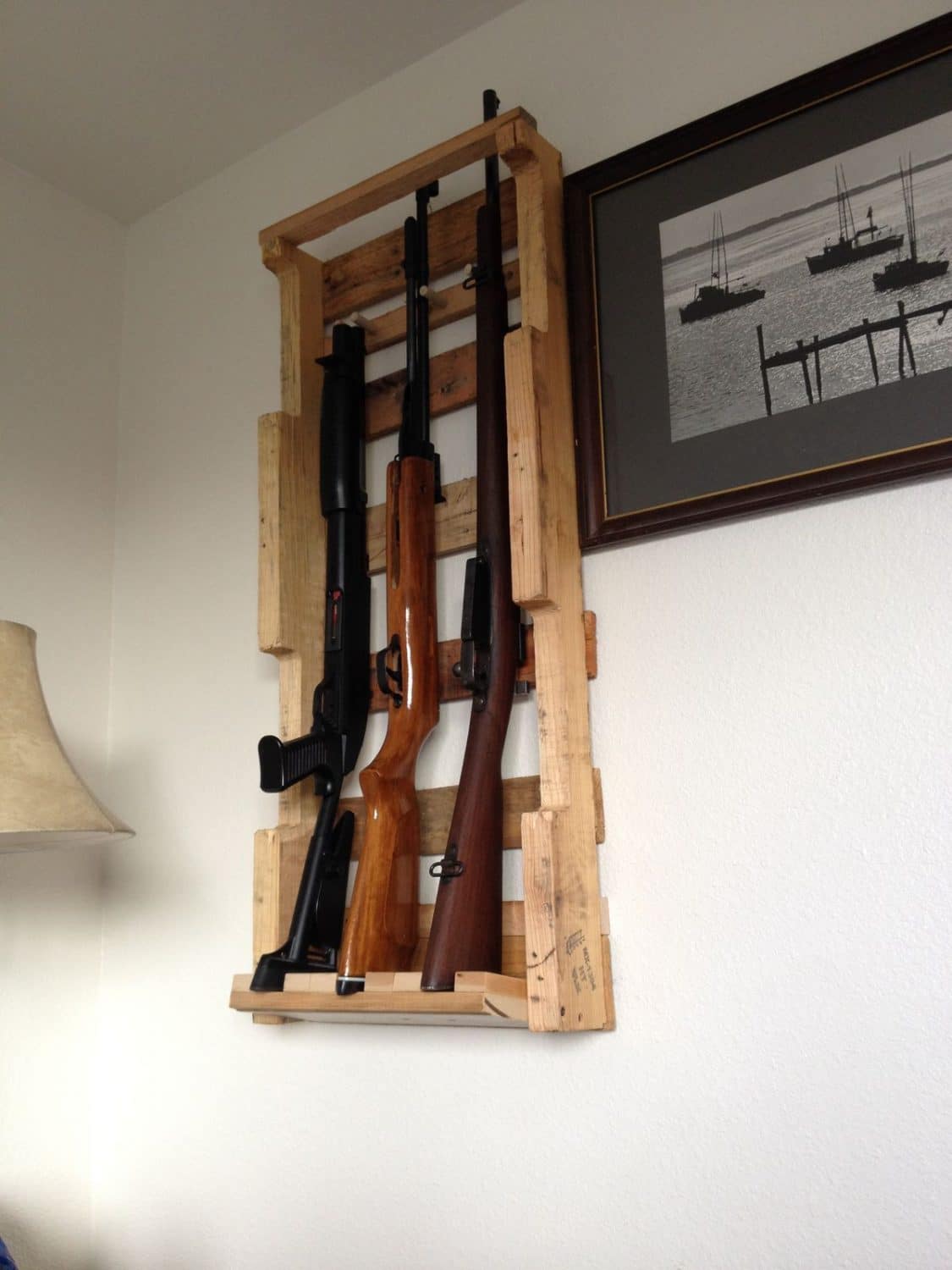 On decorating certain room, let the space personify its owner. Some people may embodies in a particular extreme sports they love all their life. Therefore, showcase safely the related items. Which in this case is the guns, packed safe inside a pallet rack on the wall.
Pallet Entryway Rack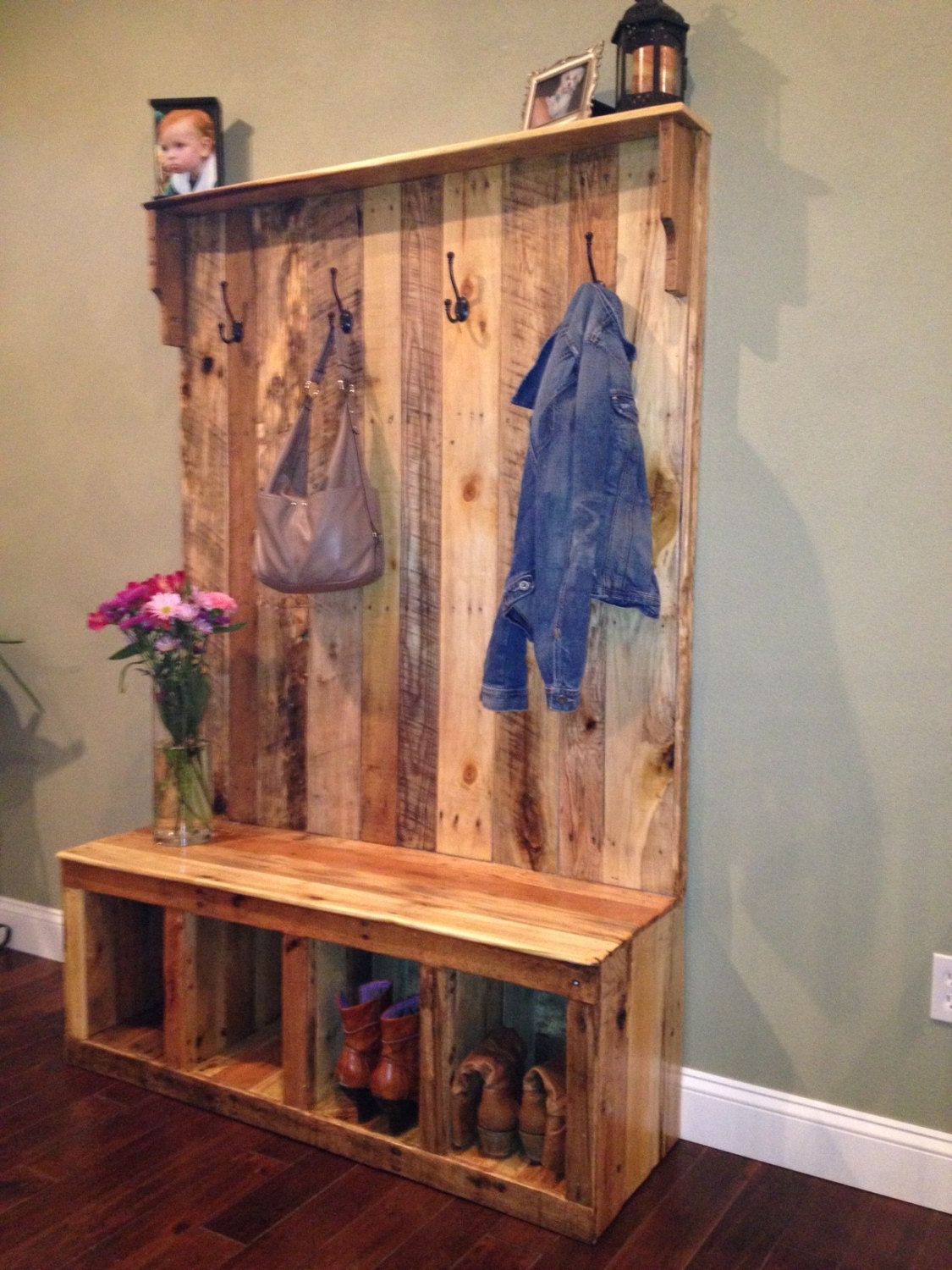 This pallet rack occupies a special spot across the entryway. It has noticeable size and appealing color contrast to the wall. During their stay, they can safely store their outdoor gears right since they step into the house.
Unique Pallet Shelf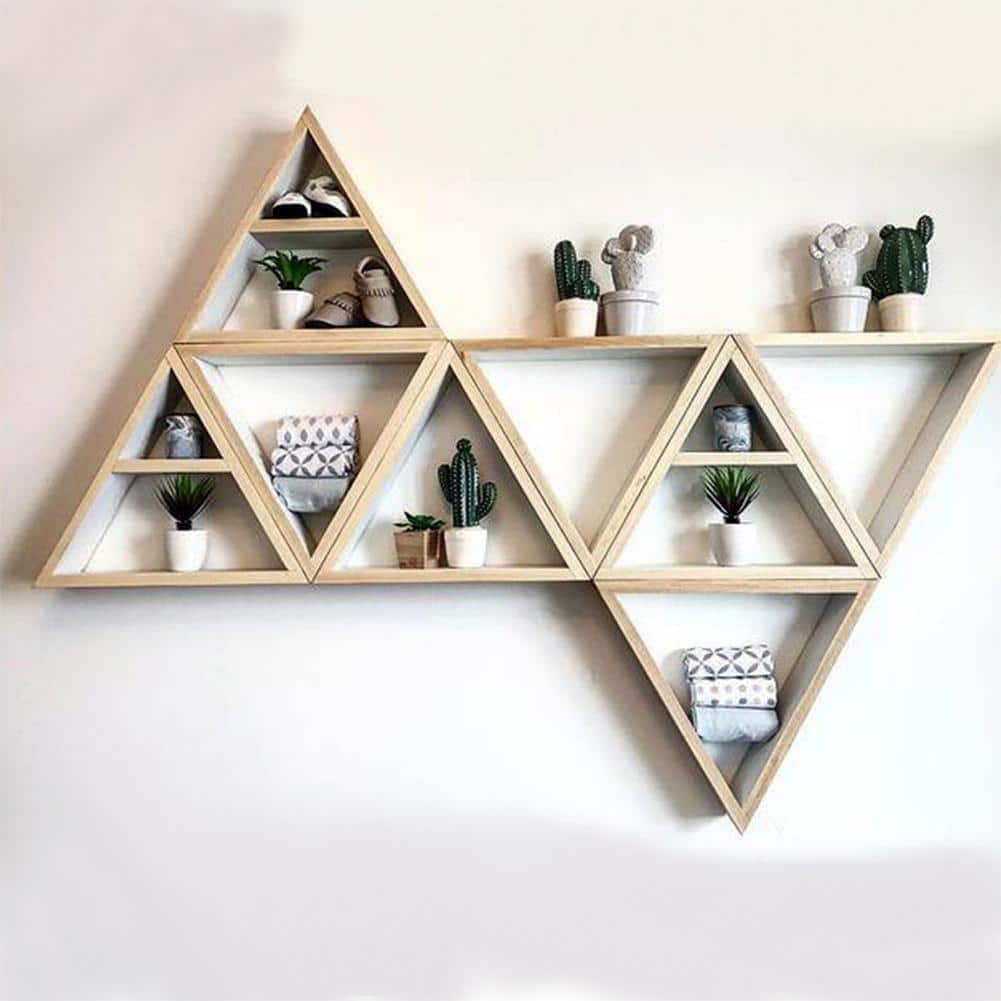 No more of rectangular shelves, this triangular pallet diy shelves may captivate you. Arranged into bigger triangle, this one of unique pallet ideas contain upright and upside down triangle shelf unit. It is best to decorate the little one's room, with fascinating tiny succulents sitting on the top of most units.
Pallet Rack Workbench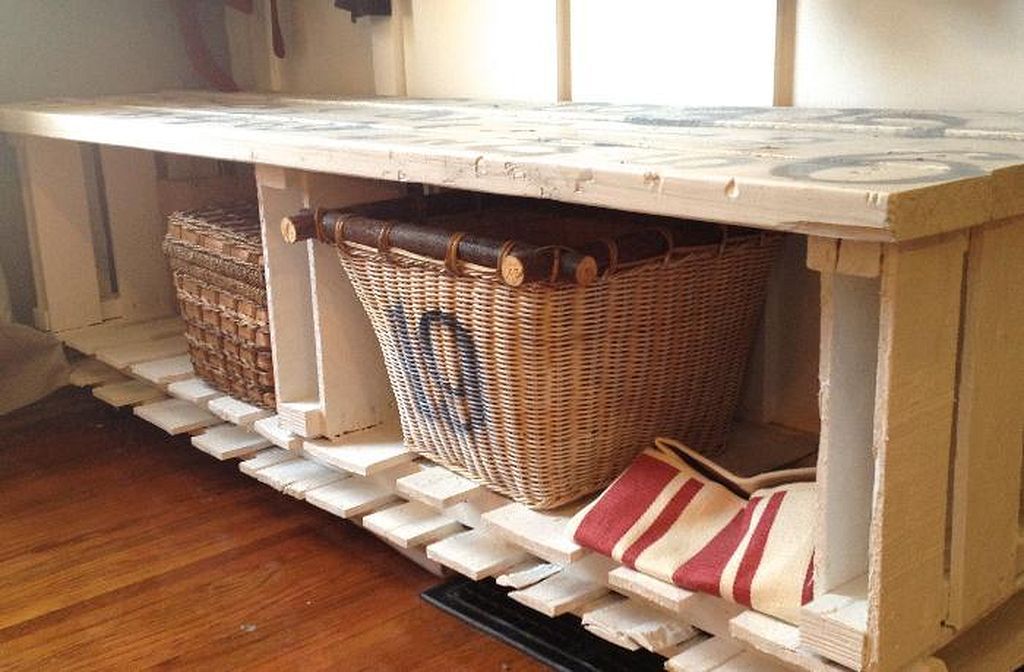 This studio secure their work elements in a box secured in pallet racks. To increase functionality of the space, the racks contributes as a bench in the studio. It is a cool thing that pallet racks are sturdy materials for workbench.
Pallet Shelf Painting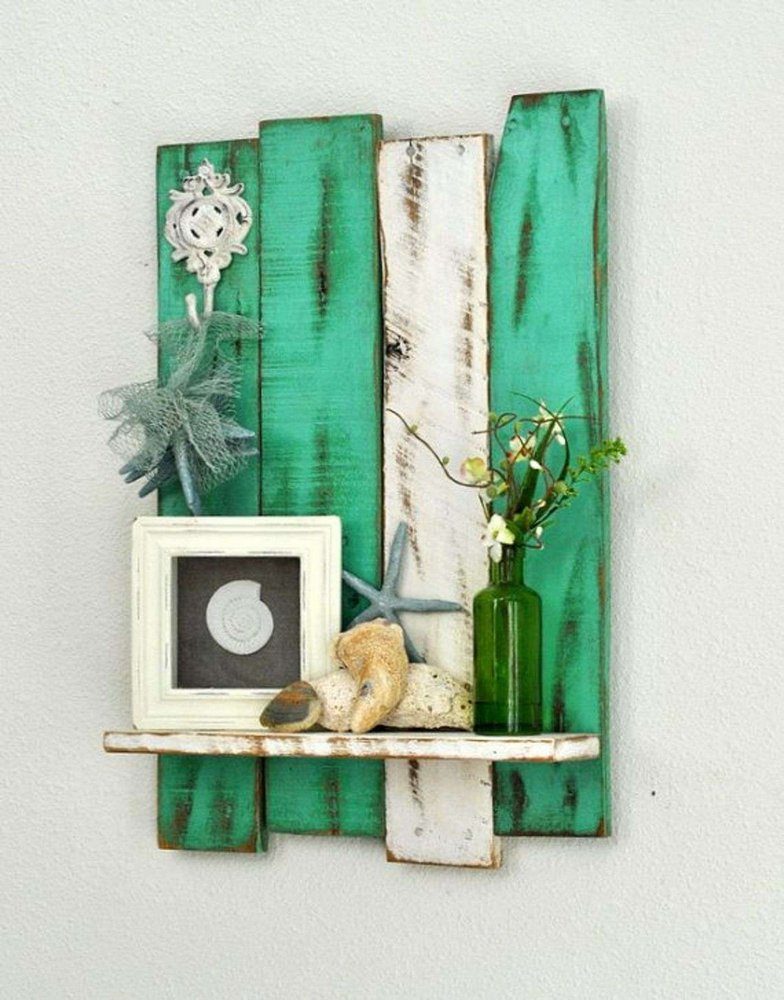 It's time to grab a paintbrush and have fun. This nautical decoration utilize pallet to display the homeowner's delight to sea-theme space. Accordingly, a pop of color always do a favor to any space.
Conclusion
In summary, pallet shelf are ideal to innovate a way to decor a living space. Best of all, it allows owner to get creative and personalize the decoration. Consequently, it makes inexpensive approach feasible to achieve a tidier room in the most effective way possible.