Your backyard is a blank canvas waiting to be transformed into an inviting and enjoyable hangout spot for family and friends. With creativity, planning, and effort, you can turn your outdoor space into a haven of relaxation, entertainment, and bonding. Whether you have a large garden or a small patio, these top tips will guide you in creating a backyard retreat that suits your style and preferences.
Entertainment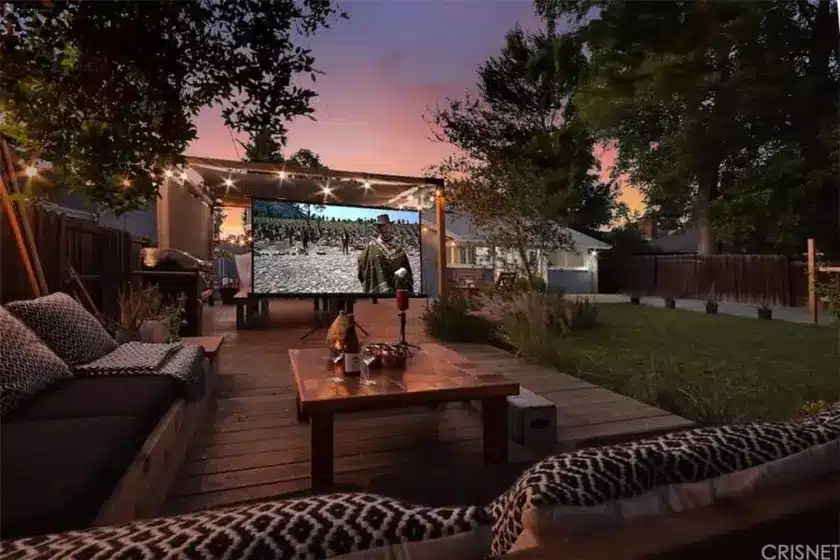 To make your backyard an actual hangout spot, consider incorporating entertainment options that cater to various interests. If you love cooking and hosting, an outdoor kitchen with a grill, countertops, and storage space can be a fantastic addition. Set up a movie or projection screen for outdoor movie nights. Invite friends and family for a cinematic experience under the stars.
Keep a stash of outdoor games and activities on hand, such as cornhole, bocce, or a volleyball net, to keep everyone entertained. Install outdoor speakers or a sound system to play music or create a surround-sound experience for outdoor movies and parties. 
If you have the space and budget, consider adding a swimming pool or hot tub for refreshing dips or relaxation. Search for reputable pool companies to build your pool, creating a focal point for your backyard. A swimming pool not only offers a refreshing escape during hot summer days but also provides a backdrop for social gatherings and relaxation. If a pool is beyond your budget or space constraints, consider a hot tub or a smaller plunge pool. These more minor water features offer a similar level of relaxation and social enjoyment, and they are more space-efficient.
Landscaping and Greenery
A well-planned landscape not only enhances the beauty of your backyard but also provides a natural backdrop for relaxation and socializing. If your backyard is predominantly grassy, maintain it well by mowing, watering, and keeping it free of weeds. A well-kept lawn provides a comfortable and appealing space for various activities. Introduce color and vibrancy with flower beds and planters. Choose multiple flowering plants and shrubs that bloom at different times of the year, ensuring a continuous display of colors.
Consider planting trees or installing shade structures to provide relief from the sun and create fantastic, shaded areas for relaxation. If your backyard is open and lacks privacy, erect privacy screens like fences, trellises, or bamboo partitions to create a more intimate and cozy atmosphere. The soothing sound of a water feature can add a tranquil element to your backyard, making it an even more relaxing place to hang out.
Outdoor Furniture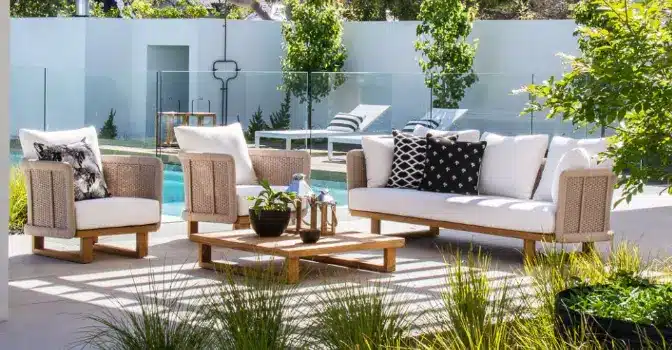 Comfortable and functional outdoor furniture is essential for turning your backyard into a great hangout spot. Invest in comfortable outdoor seating, such as lounge chairs, sofas, and hammocks. Choose weather-resistant materials like teak, aluminum, or outdoor wicker to ensure durability. Set up an outdoor dining space with a table and chairs. Enhance the comfort of your outdoor furniture with plush cushions and pillows.
Opt for water-resistant and fade-resistant fabrics that can withstand the elements. An outdoor rug can define and anchor your seating or dining area, adding a touch of style and comfort underfoot. Consider outdoor storage solutions like benches with built-in storage or deck boxes to keep cushions, pillows, and other outdoor accessories safe when not in use.
Lighting
Proper lighting transforms your backyard into a cozy and inviting space, allowing you to enjoy it day and night. String lights, or fairy lights work well for both large and small backyards. Solar-powered lights are eco-friendly and cost-effective. They can illuminate pathways, garden borders, and other areas in your backyard.
Lanterns and candles placed on tables and along walkways add a touch of romance and provide soft, ambient lighting. A fire pit or outdoor fireplace not only provides warmth but also serves as a focal point for gatherings. It's an excellent addition to cool evenings and marshmallow toasting. Uplighting creates a dramatic effect by directing light upward.
Decor and Personal Touches
Adding personal touches and décor elements will infuse your backyard with your unique style. Incorporate outdoor art and sculptures that reflect your taste and add visual interest to your space. Elevate your seating with outdoor cushions and throw blankets in vibrant colors and patterns. Decorate your backyard with planters, wind chimes, bird feeders, and other garden decor items that resonate with your personality.
A well-stocked outdoor bar, complete with a selection of drinks and glassware, adds a touch of sophistication to your hangout space. Display personal mementos and items that hold sentimental value, like family photos, handcrafted decorations, or heirlooms.
Maintenance and Care
Regular maintenance ensures your backyard remains a welcoming and enjoyable hangout spot. Implement pest control measures, such as citronella candles, mosquito nets, or screened-in areas, to keep annoying insects at bay. Regularly clean your outdoor furniture, cushions, and rugs. Sweep and maintain the lawn and garden to create a fresh and inviting atmosphere.
Keep your greenery in check by pruning and trimming bushes, shrubs, and trees to maintain a neat and well-groomed appearance. Ensure your plants and lawn receive adequate water by installing an irrigation system or using a hose and sprinkler. Change your outdoor decor with the seasons to keep your backyard fresh and inviting throughout the year.
Sustainability and Eco-Friendly Practices
Consider implementing sustainable and eco-friendly practices to create an environmentally conscious hangout spot. Install rain barrels to collect and store rainwater for irrigation, reducing water consumption. Opt for solar-powered lighting options to conserve energy and reduce your carbon footprint. Start a composting system to recycle kitchen waste and enrich your soil. Choose outdoor furniture made from sustainable or recycled materials to reduce the environmental impact.
Safety and Comfort
Lastly, ensure the safety and comfort of your guests by addressing some essential considerations. Keep a well-equipped first aid kit in your outdoor space for minor injuries or accidents. Insect Repellent: Provide insect repellent for guests to protect themselves from bites. Make sunscreen and sun hats available to shield against harmful UV rays. Install adequate lighting along walkways and steps to prevent accidents in low-light conditions.
Conclusion
Transforming your backyard into a great hangout spot is rewarding and creative. Whether you aim to create a serene oasis for relaxation, an entertainment hub for friends and family, or a multi-functional space for various activities, the key is to infuse your style and preferences into the design.
With the proper landscaping, outdoor furniture, lighting, entertainment options, decor, and a commitment to maintenance and safety, your backyard can become a cherished destination for bonding, unwinding, and creating lasting memories. So, roll up your sleeves and start the transformation, and soon enough, your backyard will be the go-to place for unforgettable moments with loved ones.