Bonus Room Ideas – Sometimes people have extra room in their house, and they don't know what to use it for. Often, such a room ends up becoming a storeroom for their unused stuff.
A storeroom is useful, but it doesn't help the house to become more or less interesting. And there is another way to use such a room so that room can improve the characteristic of the house, and that is creating a bonus room.
A bonus room is a room that doesn't follow certain rules that apply to traditional rooms and usually works as a multi-purpose room. For example, a bonus room might contain a bed, yet it doesn't have a closet inside. Such a room could be intended for sleeping and resting for anyone, and not for certain someone.
Also, a bonus room could work as a family room, hobby room, media room, guest room, office, or even a den. It is sometimes located over a garage, in an attic, or any room that cannot legally be defined as a bedroom.
In this article, we're going to provide some bonus room design ideas for people who have a spare room in their house and are interested in adding a bonus room to their house.
Moreover, we're also giving some tips for decorating the bonus room to improve the uniqueness so it would spark even more joyful vibes.
What Can You Do With A Bonus Room?
There are plenty of options in deciding what to do to your bonus room. It all depends on the functionality that you want to have, the size, and the location of the bonus room. Here are our top features for you to choose from.
Bonus Room Ideas Over Garage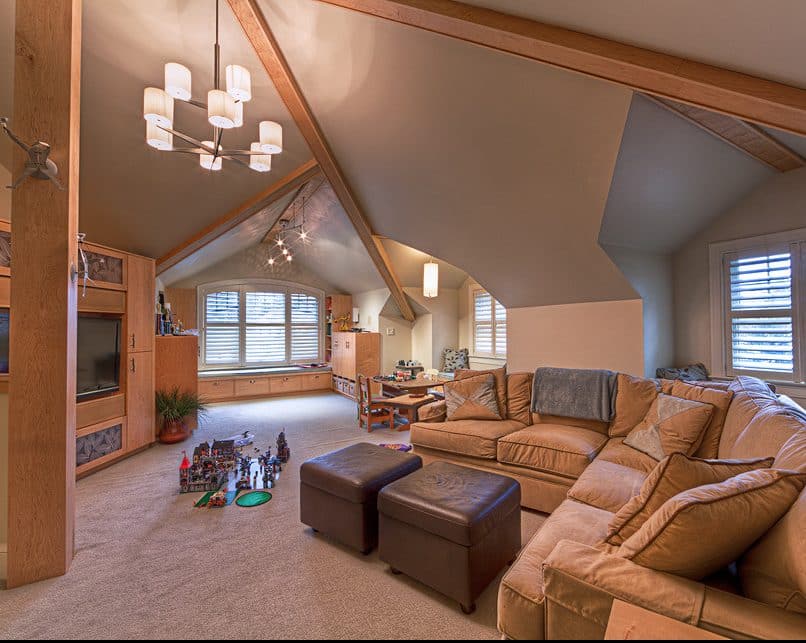 A garage often becomes an underutilized place in a house. Adding a bonus room above the garage might be a viable solution to make the garage more useful.
The bonus room over a garage has become popular nowadays since it improves the visual of the house without increasing the house's footprint, and it minimizes the cost of building a new room.
Since the garage is usually located at the outer side of the house, the bonus room can serve as a living room that is useful to welcome the guests. Feel free to look for more bonus room over garage pictures on Google for more design ideas if this one example is not sufficient for you.
Bonus Room Bedroom Ideas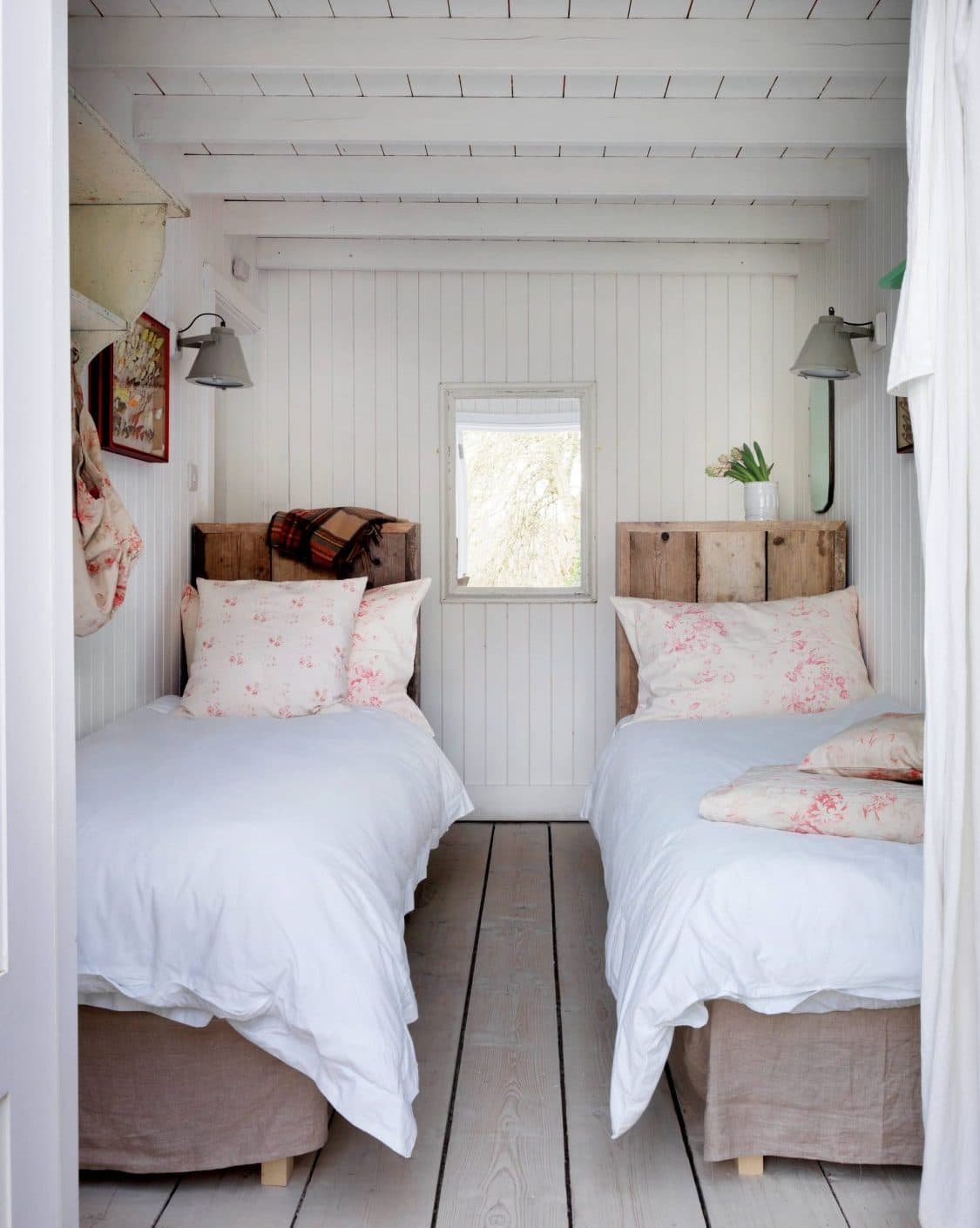 A bonus room can also be a bedroom. It might not be an ideal bedroom for the family members, but it can be used as a guest bedroom.
Although the guests might not stay for long, the impression of the room does. Therefore, the most important thing is to make the room comfortable.
Bonus Room Office Ideas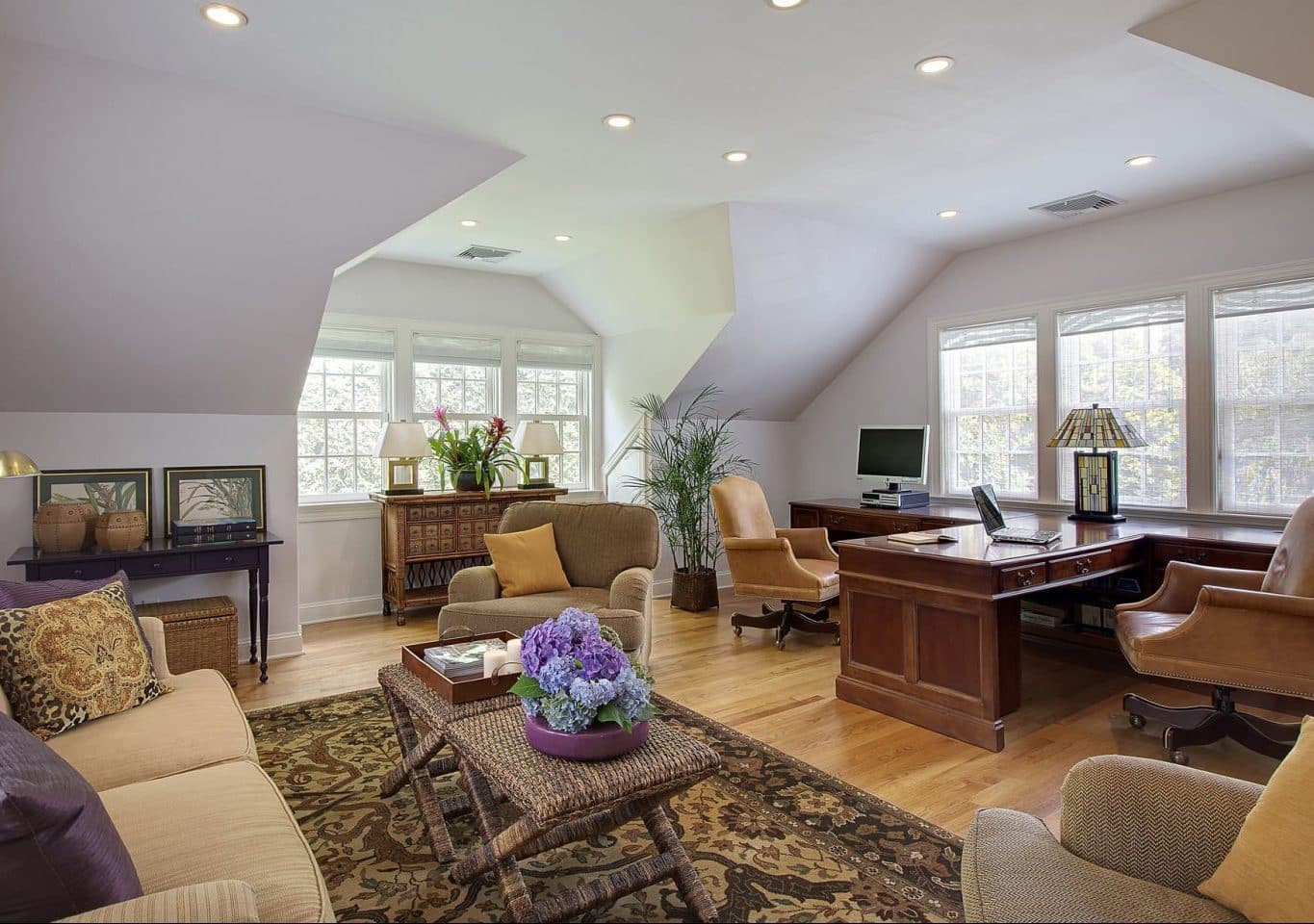 Some people might be working at their house. Freelancers, lawyers, or even a doctor might have an office in their house.
Fortunately, the bonus room can also serve as a home office. Therefore, having a comfortable room layout, flexible chairs, soft sofas, and refreshing air from the windows is essential.
To have great business meetings with the clients, the clients need to feel comfortable first, don't they?
Related : Home Office Ideas
Attic Bonus Room Ideas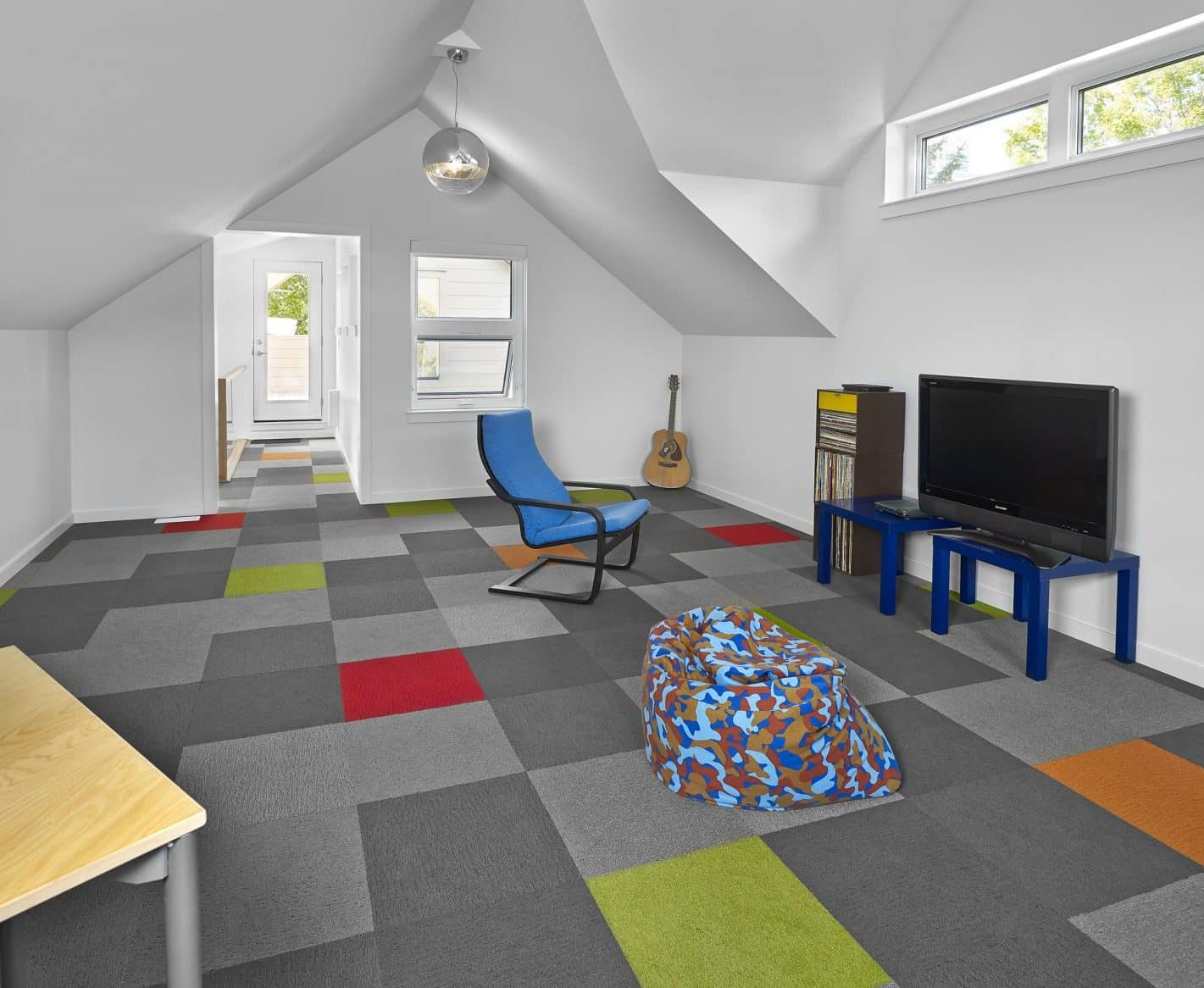 The attic often ends up becoming a storeroom and a dusty part of the house. Using the attic as a bonus room can be a solution to put the attic for better use.
A kid's playroom is a great idea for the attic since the attic is usually bigger than the other rooms in the house. Therefore, the kids can run and play around freely in the attic without disturbing other activities in the house.
Bonus Playroom Ideas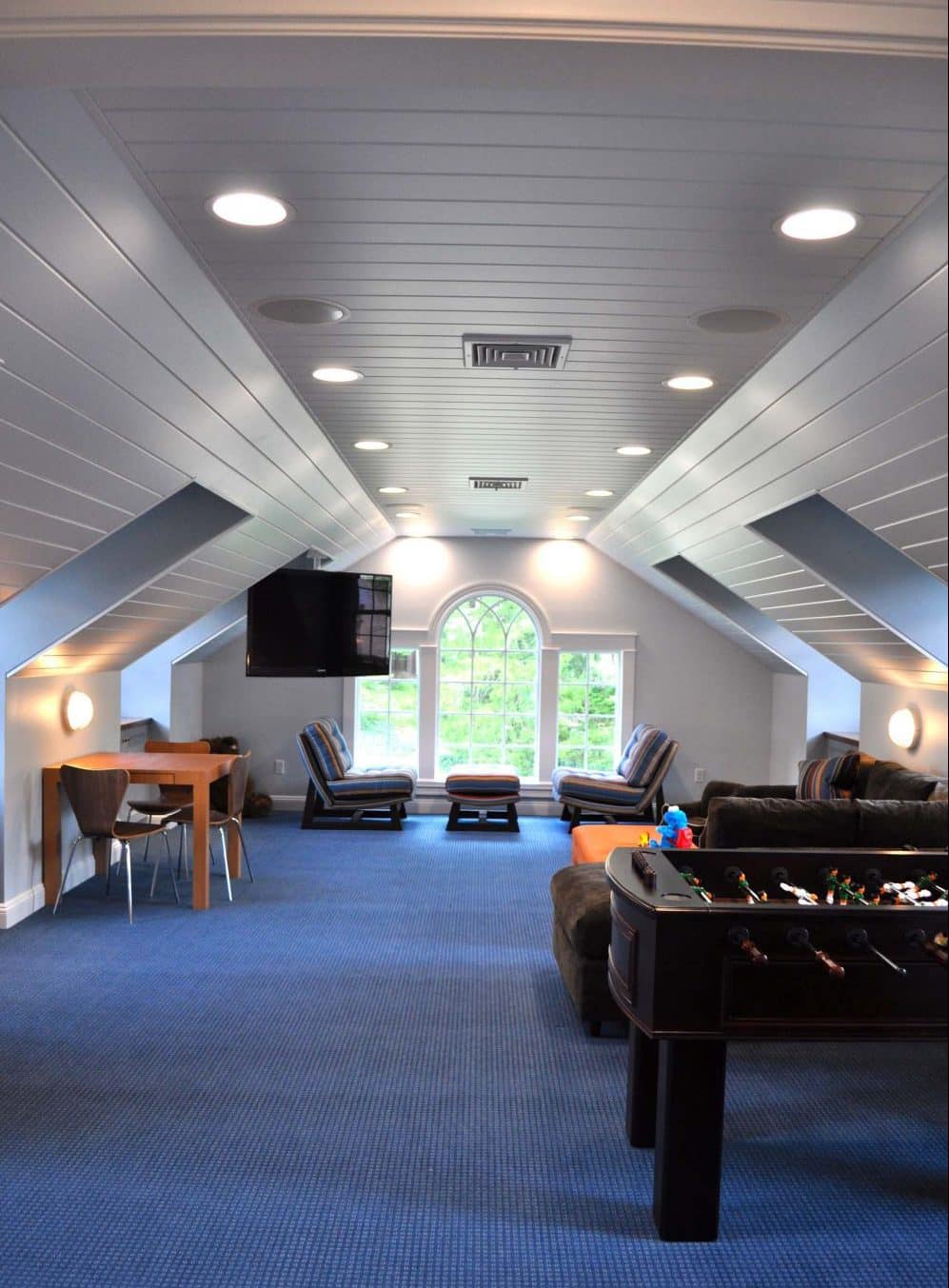 Talking about a playroom, it's not always for kids. The adults can also have a playroom in the loft.
Simply add a table football game or any table-top games to play to the bonus room. They will emphasize the recreational activities done in the room and make the room vibe even more exciting. This loft interior design is a great example.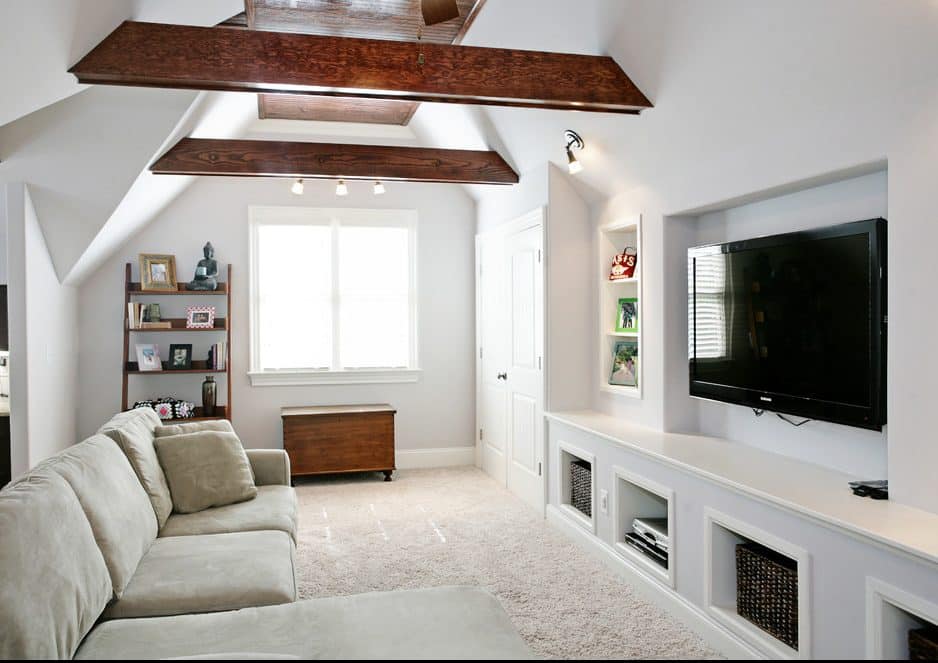 The bonus room can also serve as a media room to enjoy home entertainment, such as movies and games. To make it work, you need to consider having at least some cozy seating, a flat screen television, a surround sound system, and a broad selection of contents.
Bonus Room Theater Ideas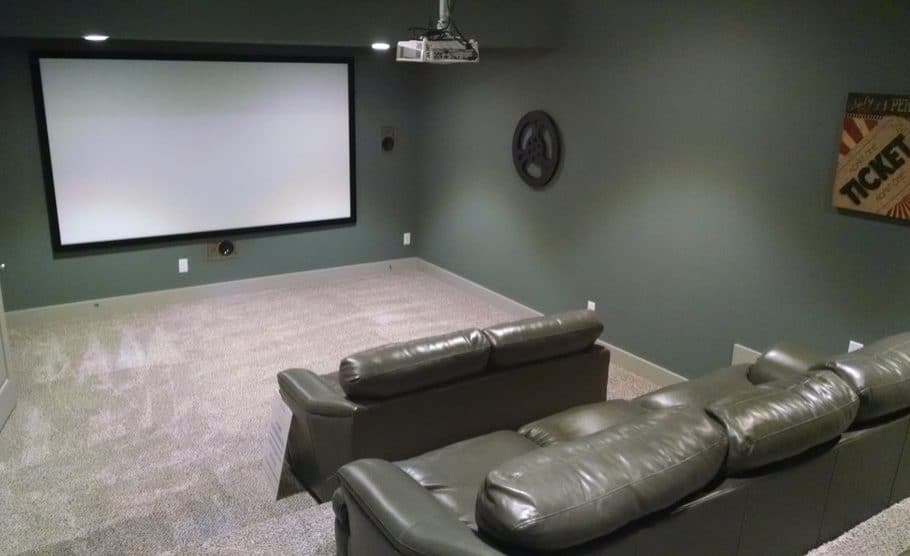 Some people can't leave their house for having fun, even only going to the cinema. For example, a newly married couple that has a baby to take care of.
One of the solutions is to make the bonus room to serve as a home theater. A home theater like this one can replicate the cinema experience without having to leave the house.
Bonus Room Home Gym Ideas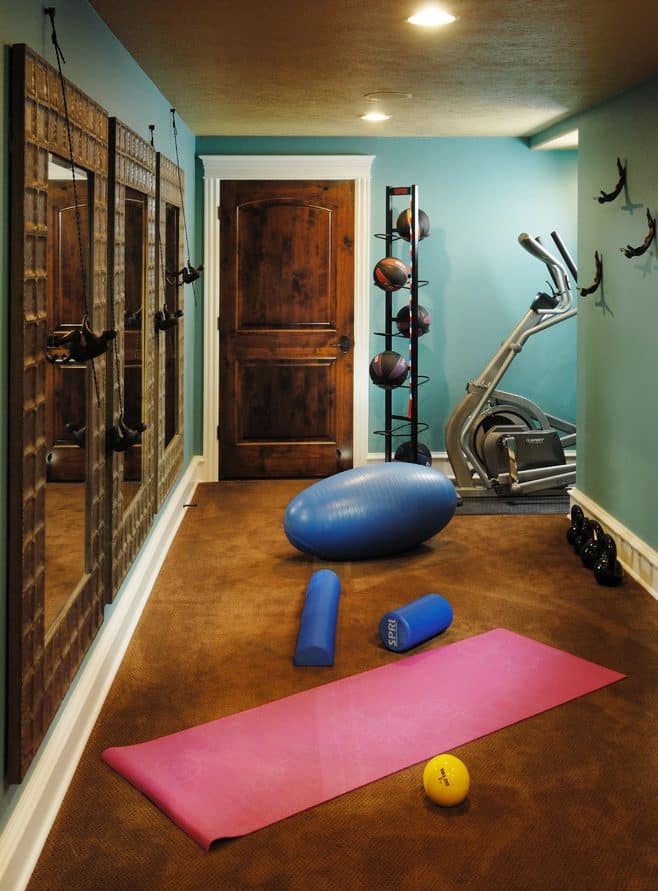 Doing a routine workout is essential for a lot of people. But, going to the gym can be hard, especially if the gym is located far from their house.
Having a bonus room in the house that serves as a gym will give a lot of advantages. For example, it can save time and minimize monthly expenses.
Bonus Room Decorating Ideas
Once you decide what type of bonus room that you would build in your house, the last thing to add is the decoration. Decorating the bonus room adds value to the room and the house in a way. It makes the room more appealing and cozier to the visitors.
Recreation Room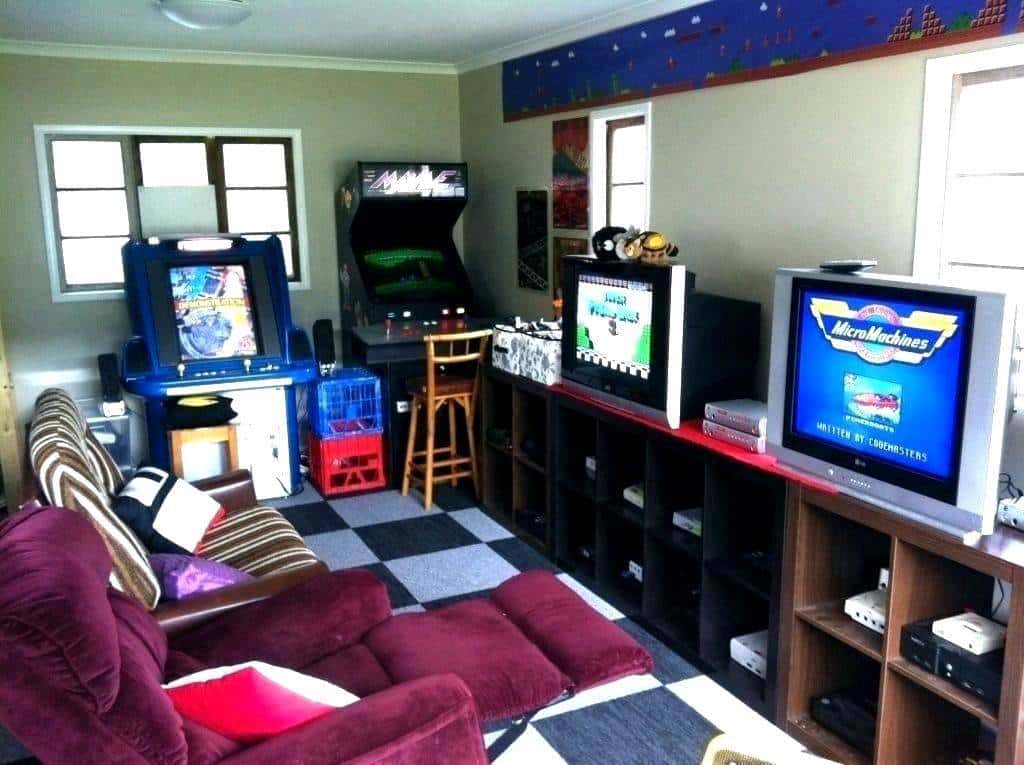 If your bonus room is intended for recreational purposes, you should go for different types of games to add. Installing vintage video games console, having a variety of games, or even adding a pinball machine can prevent boredom in the room.
Moreover, you could also pick up a karaoke machine and a jukebox since not all people play games for fun.
Movie Theater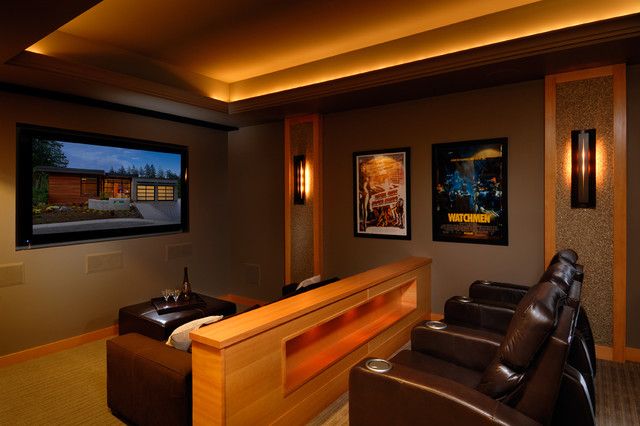 If you have a home theater in your bonus room, make the room astoundingly similar to a cinema. Add light up posters, a popcorn machine, a fridge and arrange them nicely so that it won't disturb the viewing experience.
Even further, you could also make the seating elevated to replicate the seating arrangement of a cinema.
Family Lounge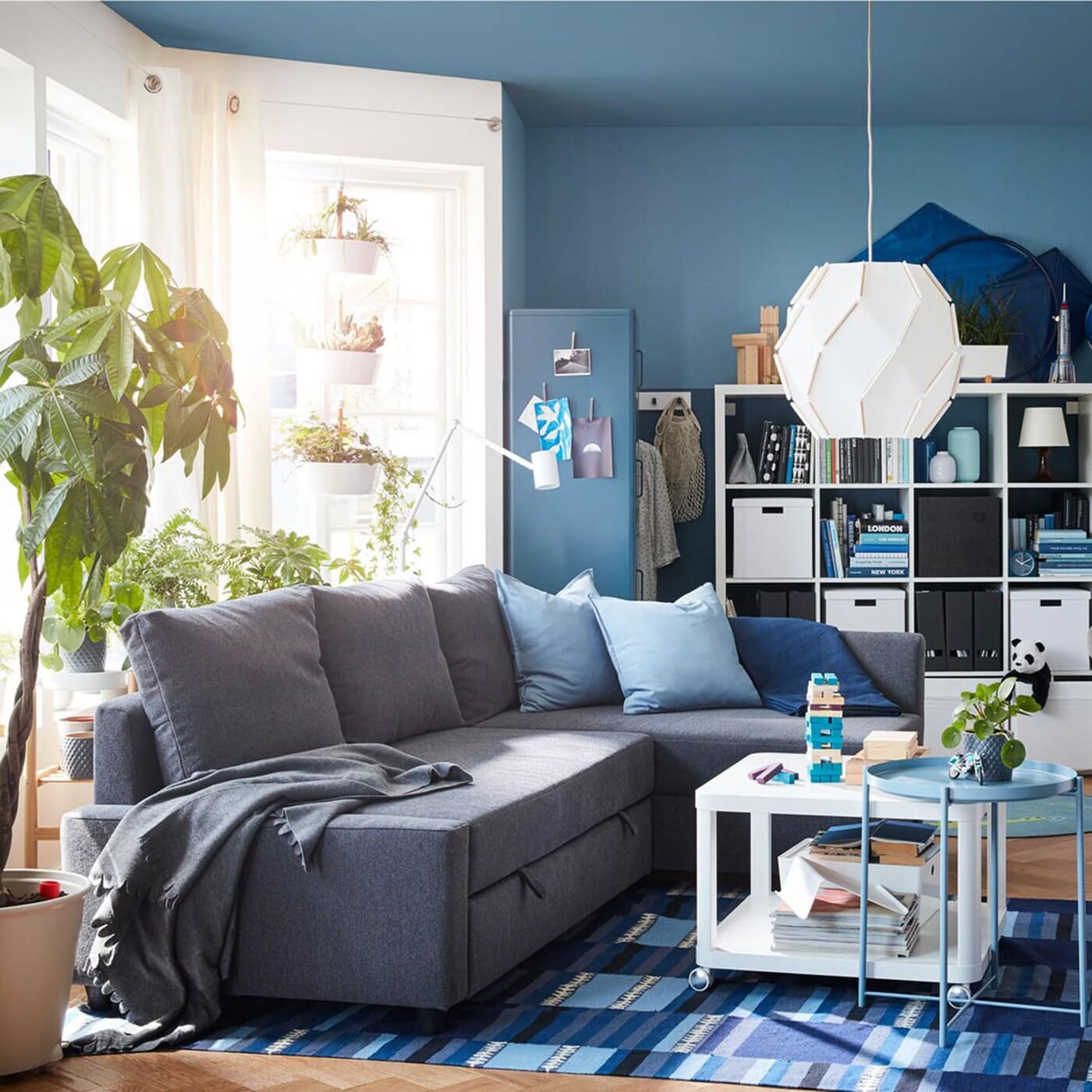 To have a fully comfortable family lounge, you need extra effort in the decoration. Installing soft ambient lighting and reading lamps, adding favorite books, and throwing some fluffy blankets to the sofas could do the job.
Home Office/Library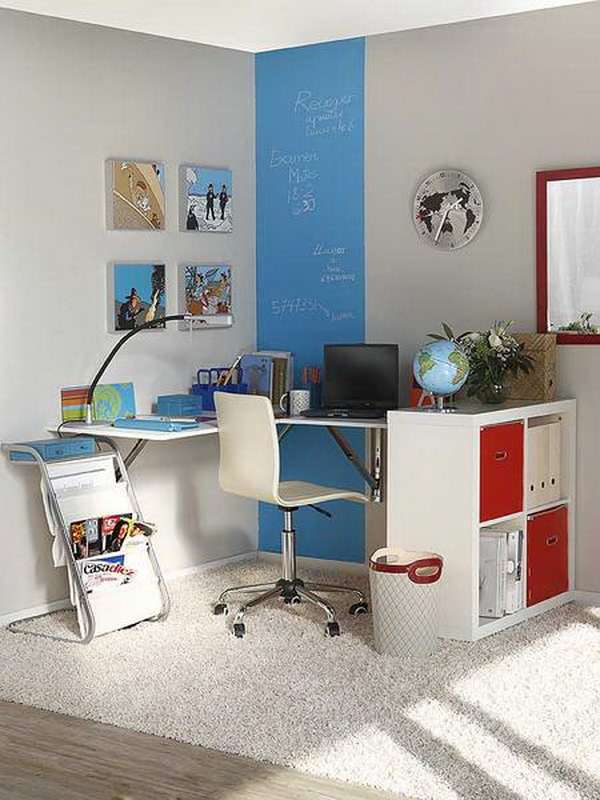 Creating a full-fledged library could be tiresome, but the effort won't go to waste. Organizing the book into floor-to-ceiling bookshelves is the first thing to do.
Next, using a vintage floor, adding a standing globe, and putting a huge monochromatic world map on the wall will complete the look.
Bar Room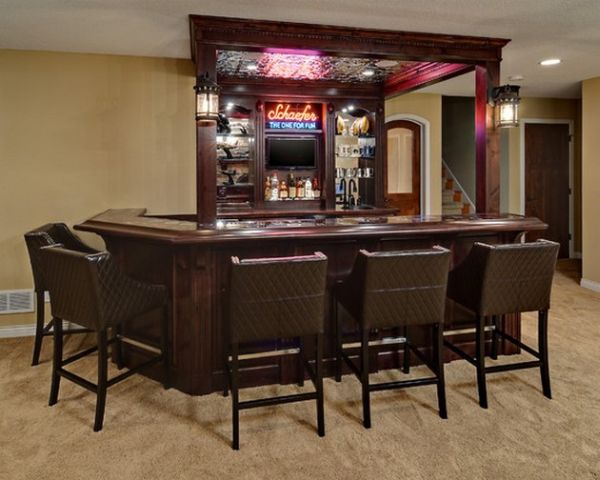 A private bar room concept can be pulled off easily by installing a wet bar and high back chairs. Moreover, you can add a neon sign on the wall along with a decorative wine rack in the back. If the size of the room is big enough, add a billiards table. For more inspiration, be familiar with bonus room bar ideas on the internet.
Craft Room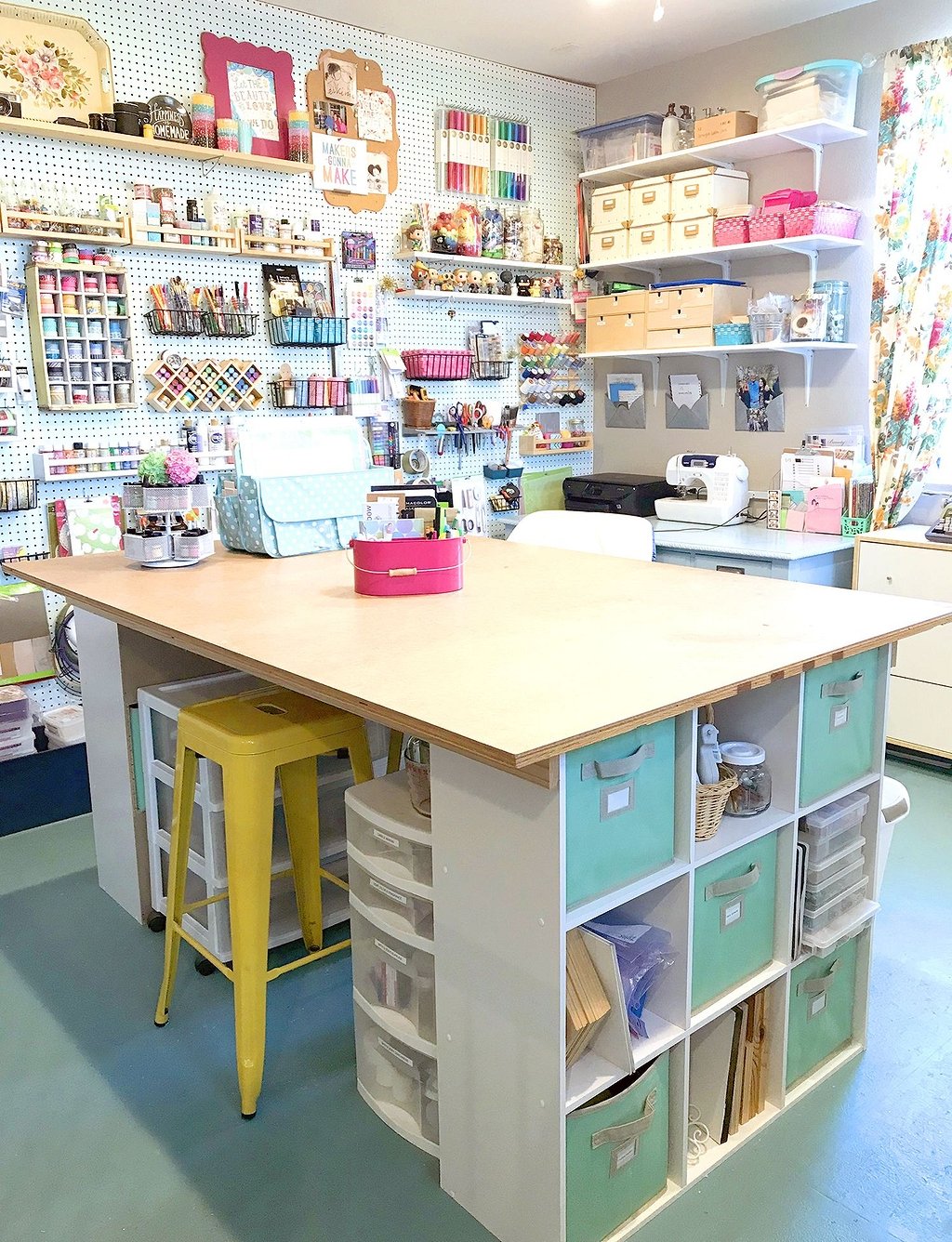 A bonus room is also an ideal place for arts and crafts. Placing a long work table at the center of the room makes the work more comfortable. Baskets and storage bins can help to keep all the materials organized. Lastly, install a sink and use a tile floor for easy project cleanup.
Guest bedroom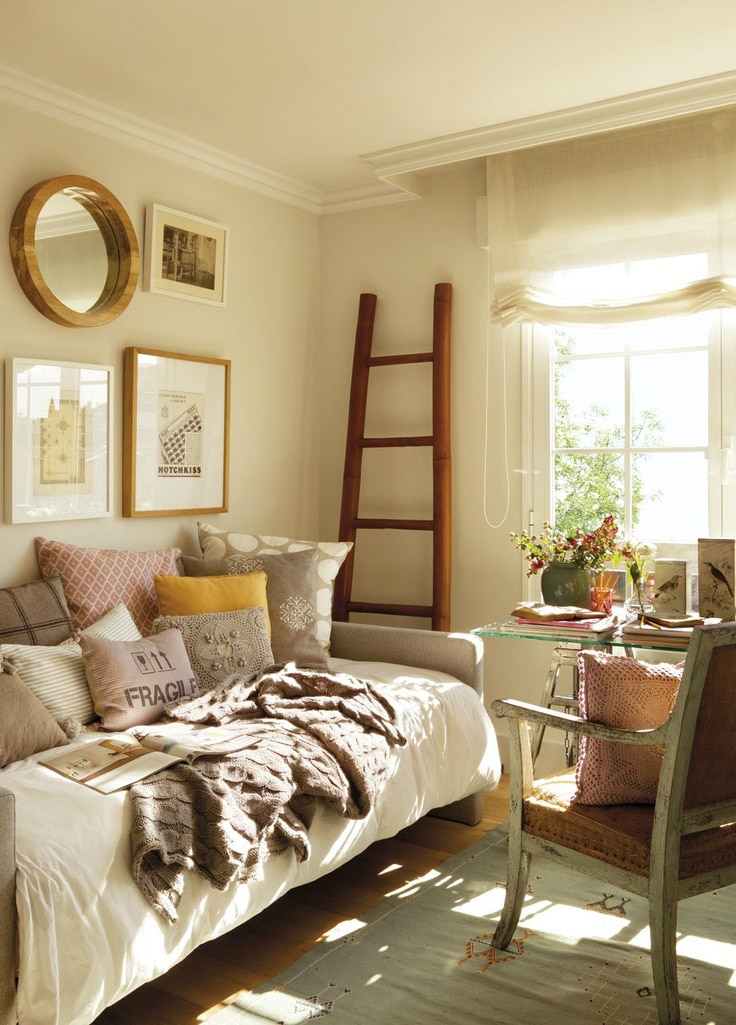 Homeowners who have a lot of visitors need a guest bedroom in their house. Consider putting more than one bed in one room for efficiency. Also, a bunk bed is a viable alternative. Lastly, you can add a dresser, a small sofa, and a chair if the size of the room allows it.
Exercise room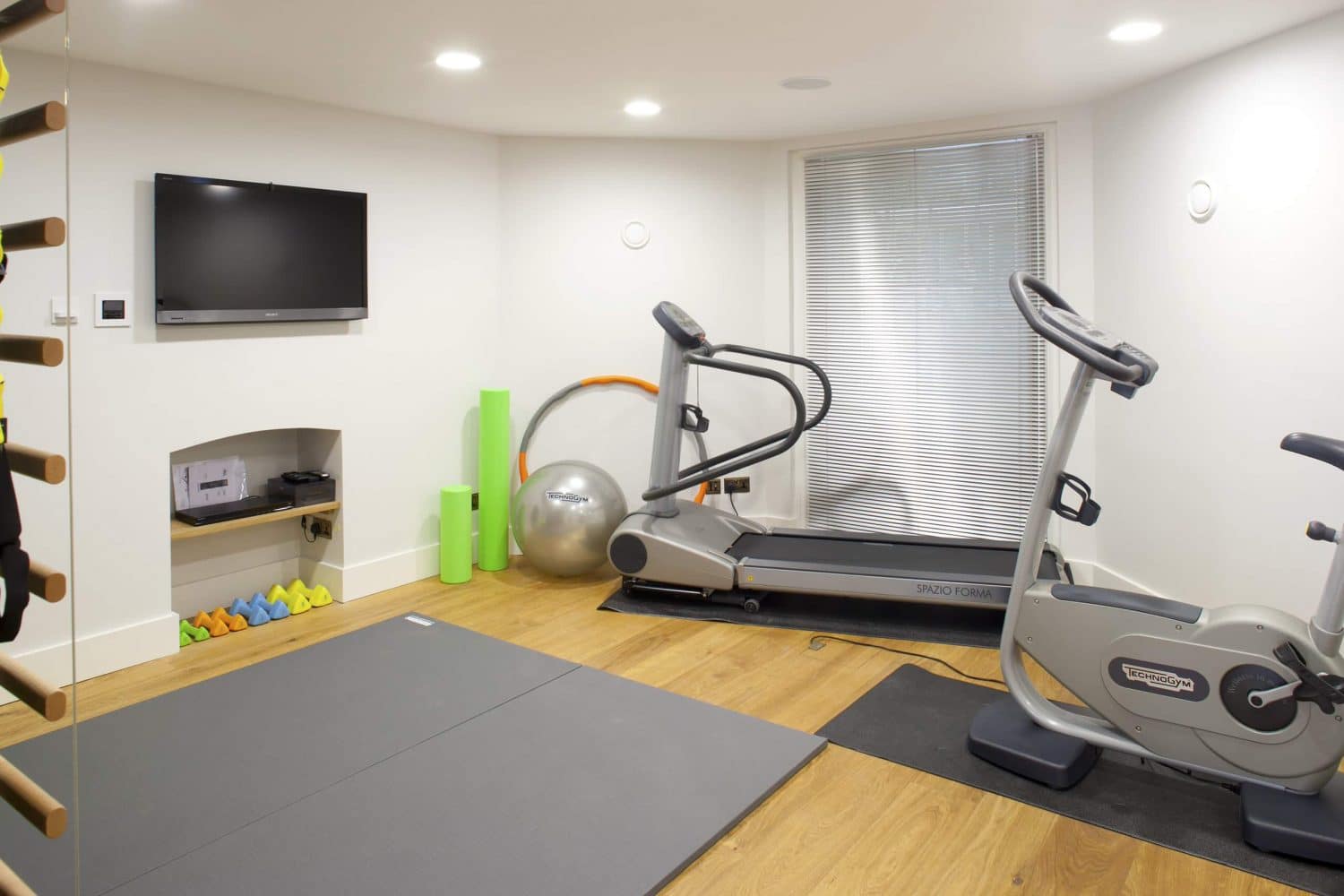 The exercise room is an ideal bonus room idea for busy people. Sometimes, a treadmill, a stationary bicycle, a rowing machine, and free weights are not enough. You need to add a medicine box, a television, and even a sound system to have an ideal private gym.
Bonus Room For Family
Deciding the function of the bonus room might not be complete without knowing who is going to use the room. Sometimes people want to build a room which has a specific target group of people or family members so that the room could be more comfortable for the people that are using it.
Bonus Room Ideas For Men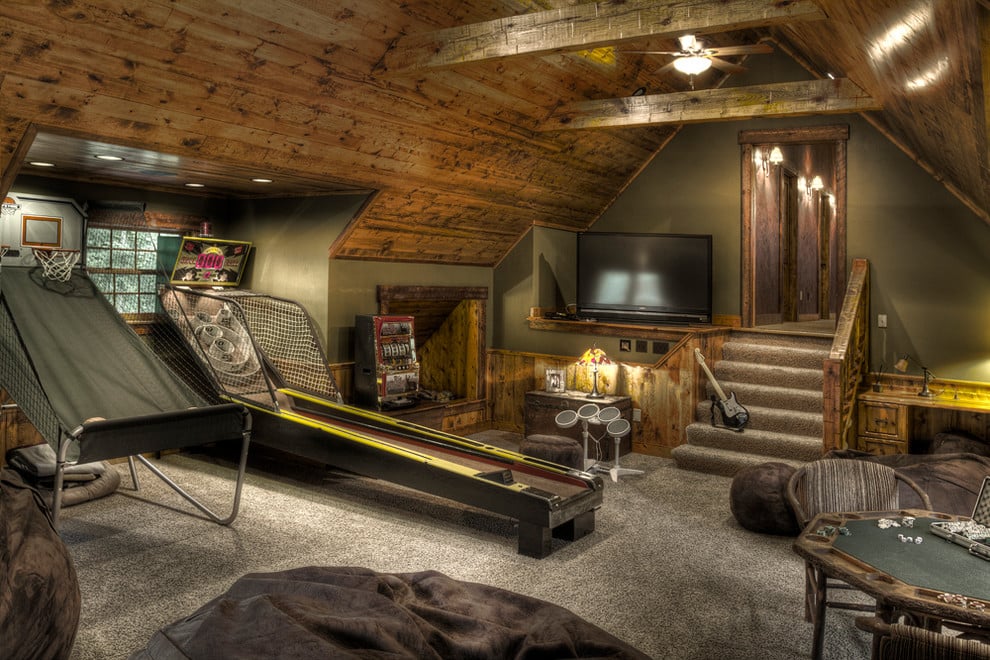 Masculinity should be the main idea for a bonus room that is specifically designed for men. One of the common ideas to bring out the masculine vibe is adopting army camp-like rustic style. Moreover, adding some manly games such as mini basketball hoop, mini fridge, and a round table to play games or simply drink and talk could accentuate the vibe. Lastly, applying a brick wallpaper on the wall is a good alternative to this one.
Bonus Room Ideas For Women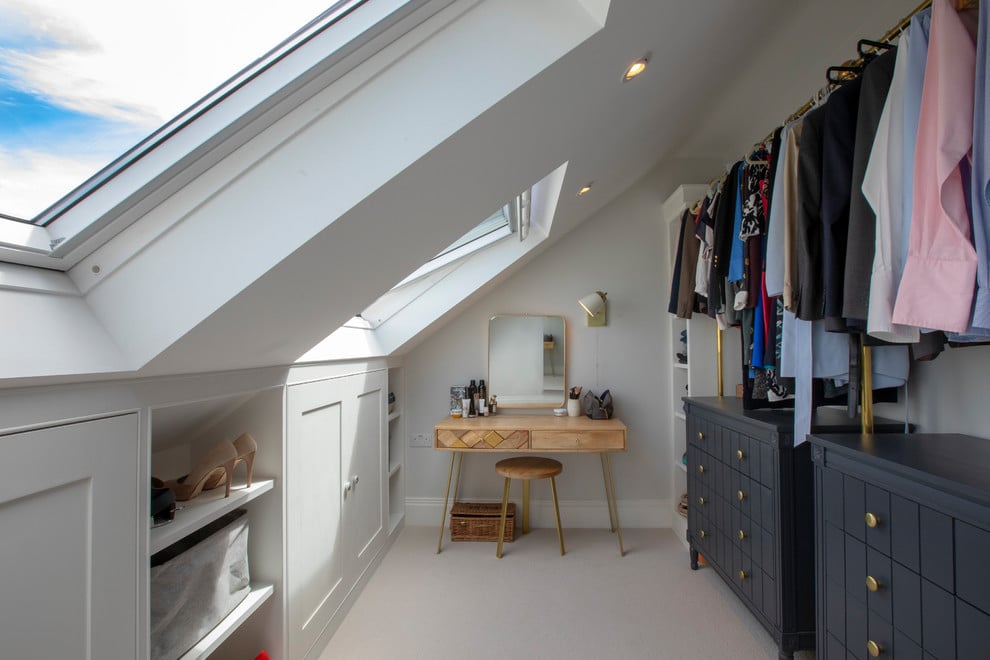 Creating a woman-themed bonus room, however, need a few cabinets in it. Because as we know, women love to dress themselves up, and mix and match their clothing. Decorating a loft space with top side windows is a great choice. It allows the room to receive more light and could lower the temperature. And last but not least, a mirror and a dressing table are essential features to add.
Bonus Room Ideas For Kids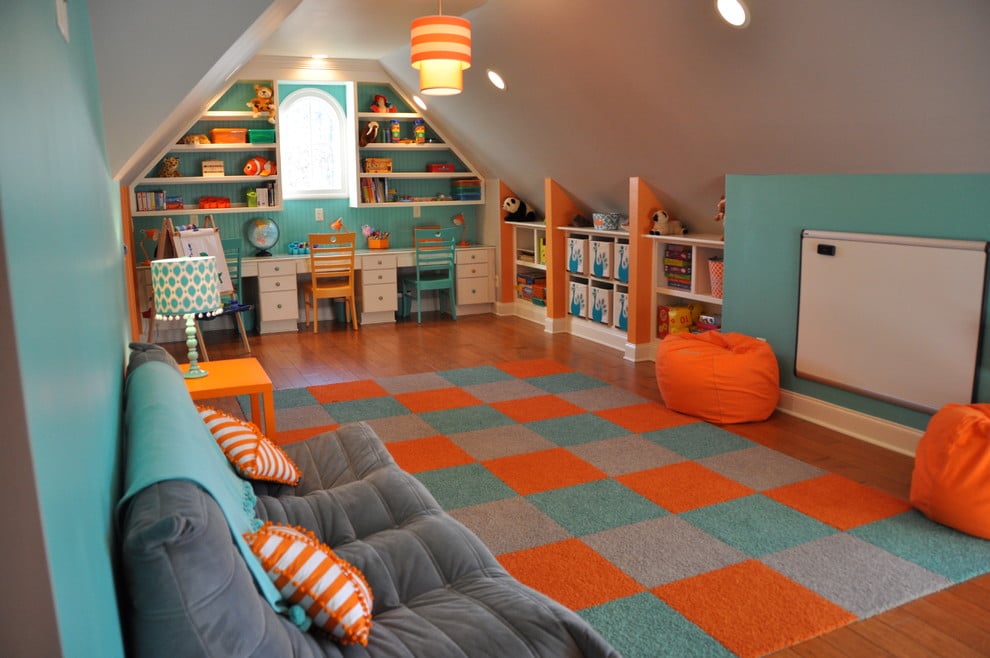 Bright and colorful is the main attraction of a kid's room. When creating a bonus room that is suitable for kids, there are some things to focus on. Firstly, make sure to make the room big enough, because kids love to invite their friends over to play. Secondly, add a lot of cabinets and shelves to put their toys and belongings. Thirdly, make sure to have furniture that they can use to express their creativity, such as a whiteboard, chairs, and desks. Lastly, choose the easy to clean materials for the furniture in the room.
Bonus Room Ideas For Teenagers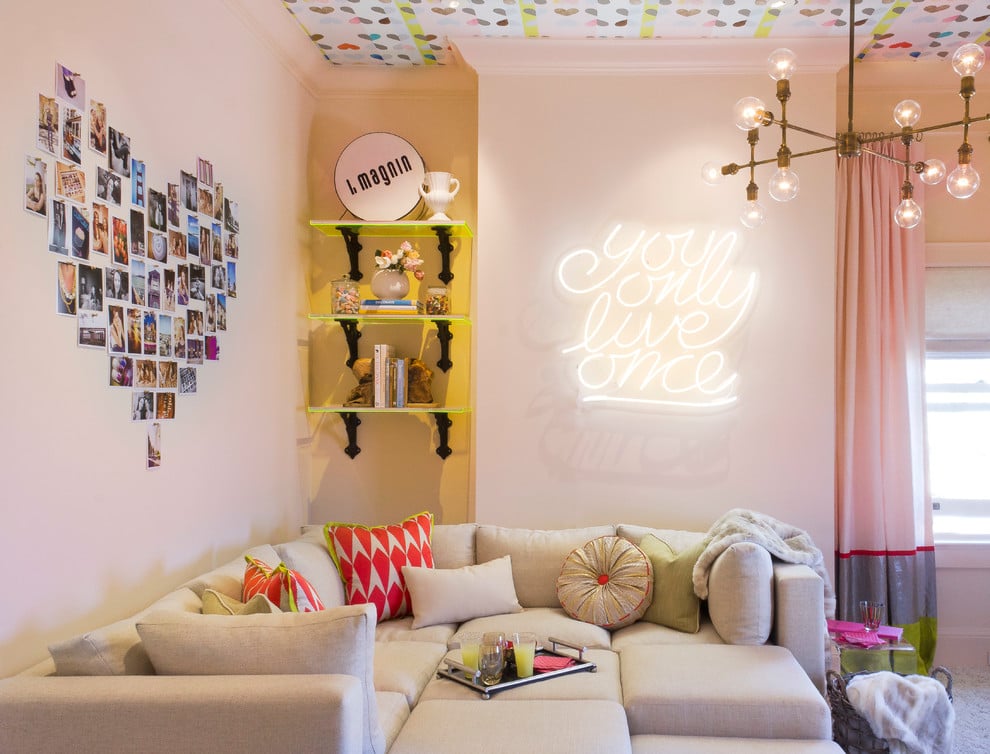 To make a perfect bonus room design for teenagers, you need to understand how teenagers are. Teenagers nowadays are up-to-date on the latest trends, and they love to mix styles up to make their space unique in terms of design. An eclectic design like this one is often adopted because it kind of reflects themselves since the eclectic design combines different elements from different styles. The most important thing about a teenager's room is versatility. Therefore, the room should be comfortable for them to do homework, hang with friends, lounge, and sleep, while reflecting their personality.
Bonus Room Design Ideas
Some people prefer to have their bonus room available to anyone, so they need a certain style to adopt. There are plenty of room design ideas to apply to the bonus room. Therefore, we chose four of them so that the selection process could be easier for you.

Unique Bonus Room Ideas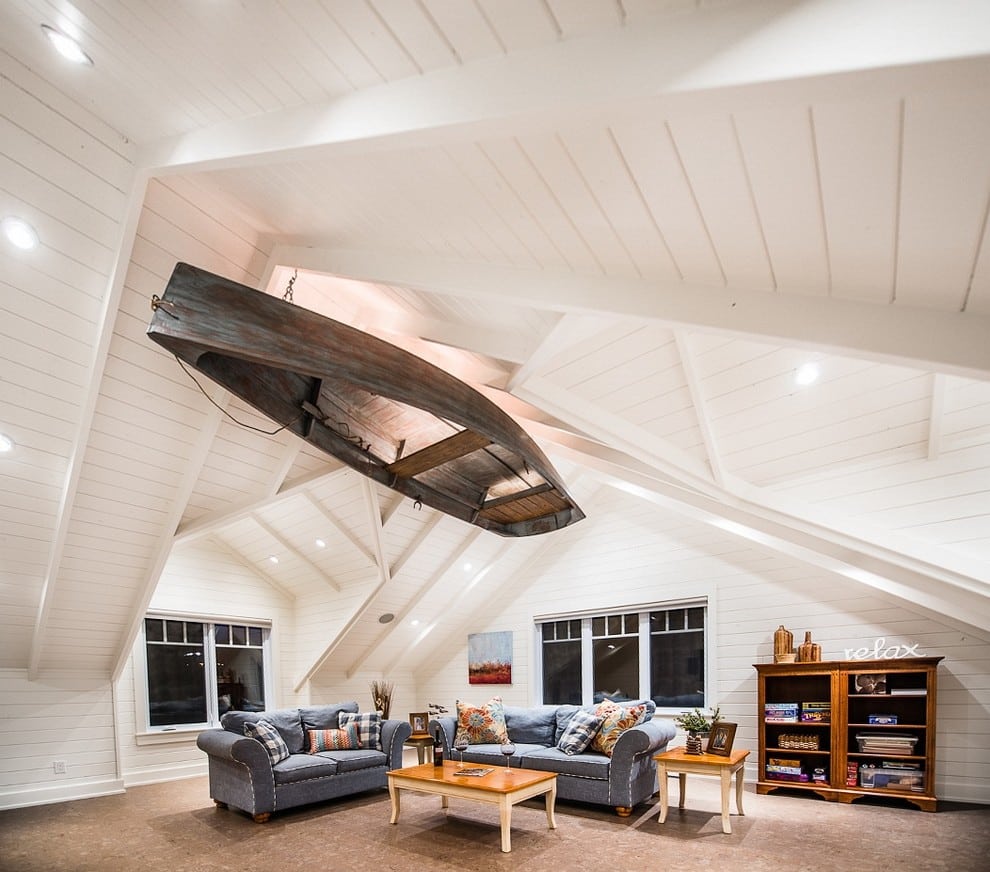 At a glance, this bonus room might look like other rustic-style rooms. But, the difference and also the main selling point is at the ceiling. There is an old boat hanging at the ceiling. Even though it looks random, some guests that visit the room might find it interesting and even love it. It's artistically unique and will be a memorable thing from the house. Of course, you don't need to find an old boat to pull off the same unique vibe. Anything that has a story and uncommonly found in a house will do just fine.
Rustic Bonus Room Ideas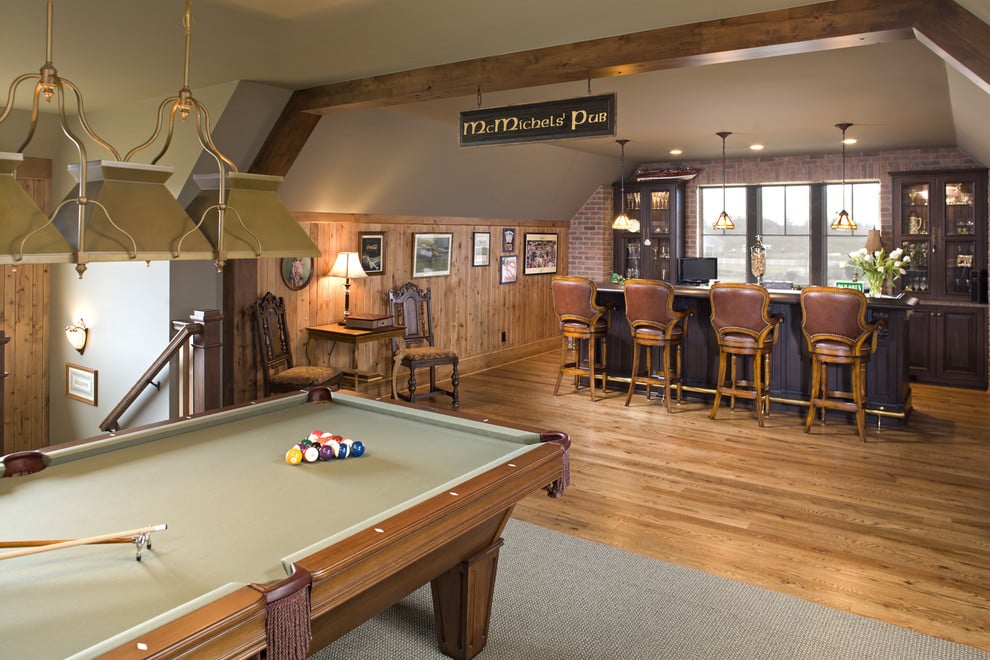 People who love something should go all-out to satisfies their passion. This bonus room design is the perfect choice for people who love the rustic style. Using the medium tone wood in almost every part of the room will emphasize the theme to the next level. It's like going to a whole different area and time. Moreover, the mini bar and the billiards table will help the visitors have even more fun while in the room.
Cool Bonus Room Ideas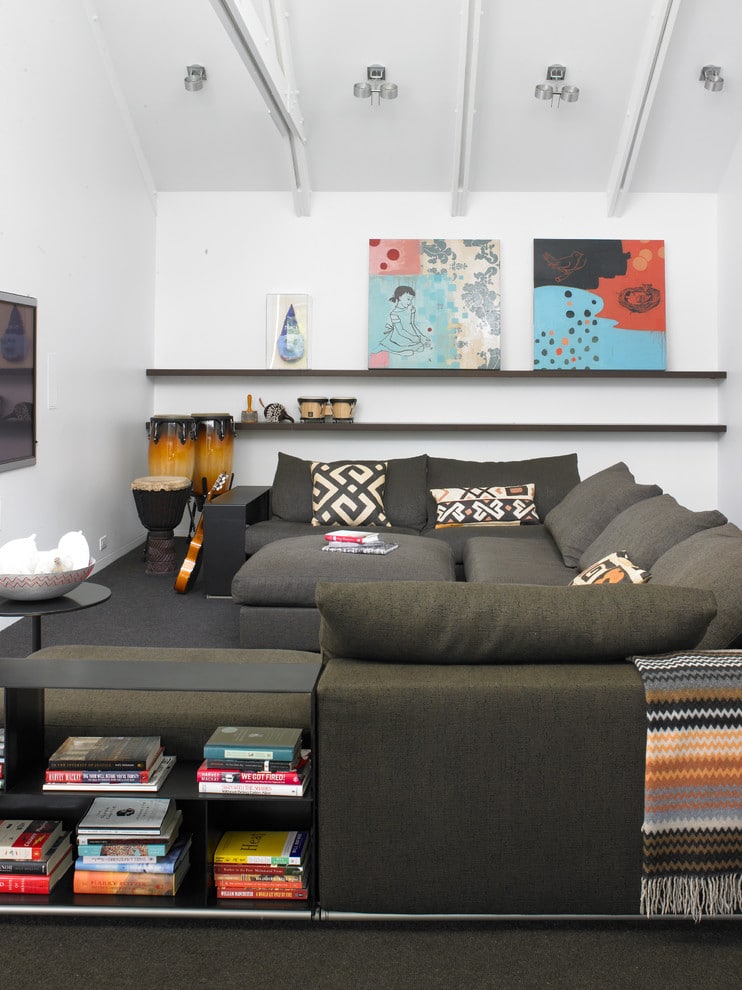 This bonus room design will satisfy people who love contemporary design. The concise layout, straightforward furniture, and the minimum use of color is the main point of this design. It makes the room looks simple and modern. To make it more interesting, hanging a few abstract artworks on the wall will do the job.
Small Bonus Room Ideas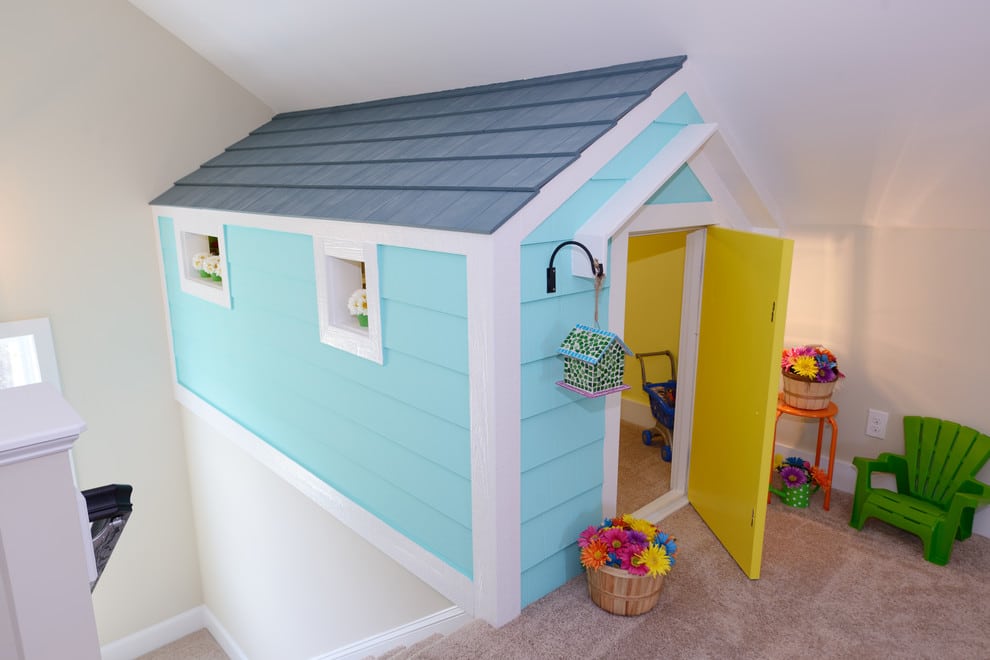 If space is limited, choosing this bonus room design might be the solution. This design will be a better choice for the people who would love to have a colorful playhouse in their house. It's like going to a small house. People can use it as a playroom for their kids, a small tea house, or even a baby bedroom.
Conclusion
To conclude, you need to prioritize your necessity before deciding what kind of bonus room to adopt. Once you know what you need, you can start selecting the design to apply and the features to add. However, don't stick to our ideas and tips too much, since there are still many options to choose from. You may need to experiment with some ideas to get the ideal bonus room design. Farm Fresh Therapy.
More Bonus Room Ideas Pictures