How To Remodel A Kitchen – All home renovation projects come with a lot of ups and downs, but remodeling the kitchen can be an expensive, headache inducing affair. Even the tiniest of changes can set you back a couple of thousand rupees, if you don't do your research well. While remodeling a kitchen it is not just the aesthetic that you are upgrading – the upgrade often involves upgrades of electronics, plumbing systems, lighting upgrades, storage upgrades and even flooring upgrades. All of this can quickly add up!
But, do not let the anxiety of expenses and logistics put you off creating an updated and safe space for you and your family. Here is a list of 10 low cost simple kitchen design tips that will help you effortlessly jump over all the hurdles in your way to a better kitchen.
Create A Plan and Stick to It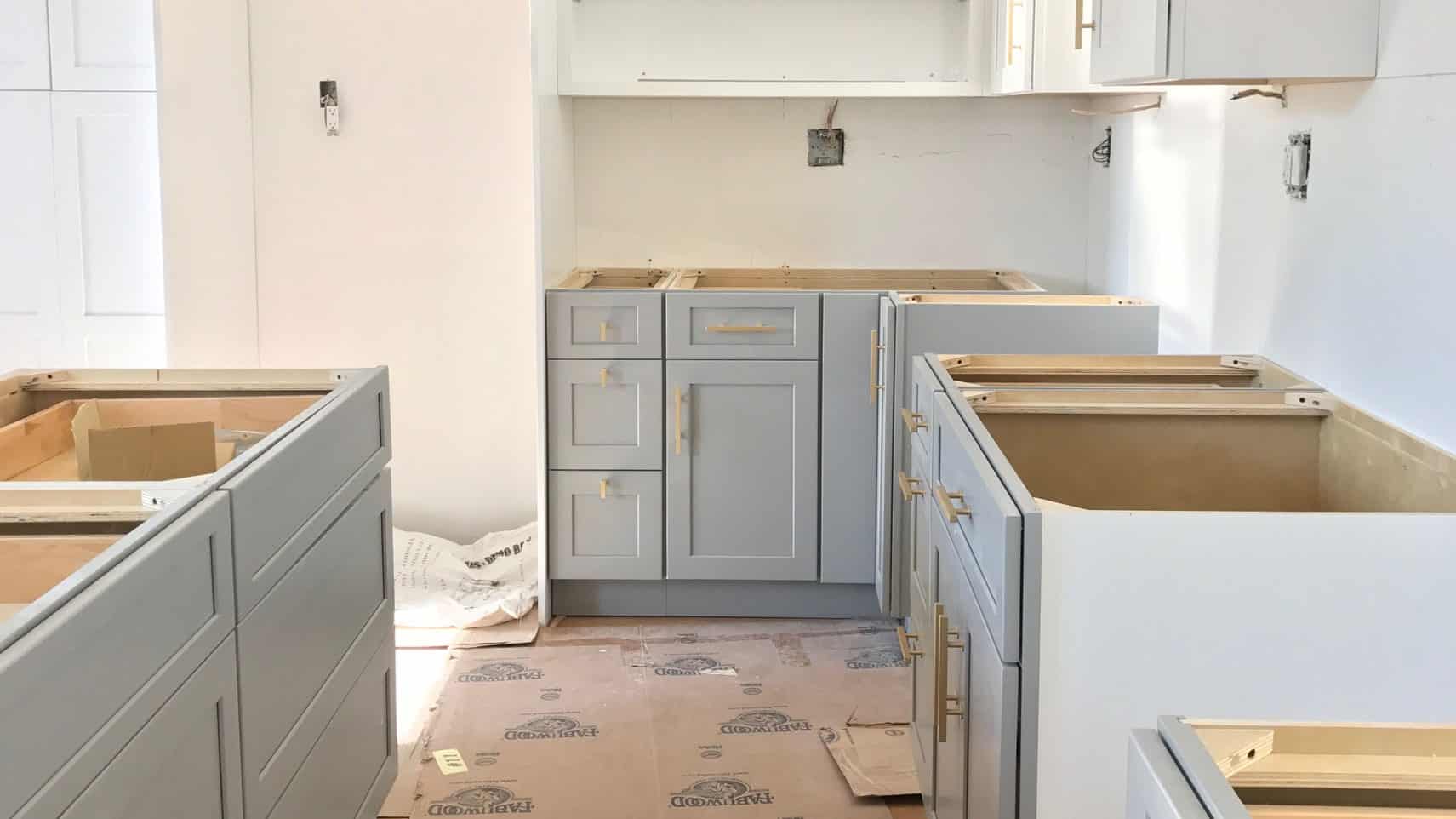 One of the first things you need to do once you start considering remodeling your kitchen is to create a plan. It will not only ensure that you get whatever you want, it will also help you stay within budget and stay on a set timeline. Each family is unique and what may have worked for your neighbor may not necessarily work for you, so create a plan depending upon your space, your requirements and the budget you have allocated for the project.
But, how do you plan it all out? Here are some tips to keep in mind while planning:
First, do a careful study of the existing layout. Measure out each doorway, each passage and even the ceiling height to ensure that your appliances and storage cabinets can fit in without causing inconveniences.
Consider accessibility while planning. While high shelves may help your kitchen look bigger, they may be inaccessible for the shorter members of your family.
Always plan for the unexpected and plan in a little leeway for them. If you want the kitchen to be complete by October, plan to get it done by September.
Choose and order all your materials and fixtures before you start remodeling, so that delays in delivery do not set you back.
If you feel planning or executing the project is above your pay grade do not hesitate to hire experts to help you. Paying them a little is better than doing something wrong and redoing it.
Stick To Your Basic Layout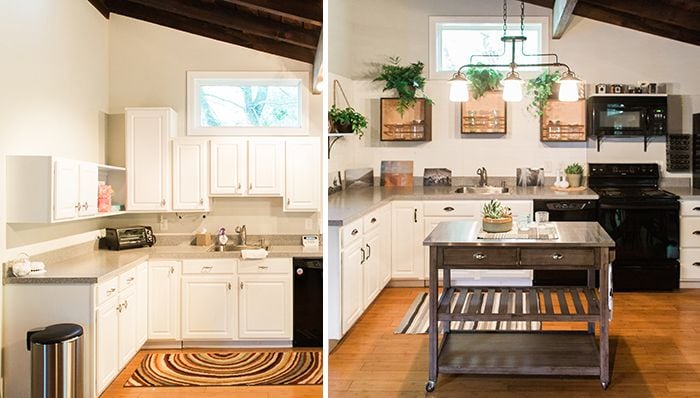 Unless there is something extremely wrong with the layout of the kitchen, it is best not to touch the "bones" of the space, so to say. Replacing plumbing lines, electrical lines and shifting walls and doorways can be an extremely expensive and time consuming process. Let the basic layout be as it – not only will it reduce the cost of your renovation, but will also reduce the amount of dust and debris you generate and will have to clean up post project completion.
Get Creative with Your Kitchen Flooring
If your floor looks dated or is chipped and cracked in places, it is best to replace it – not just from an aesthetic point of you, but also from a safety point of view. Choose a flooring material that is durable, easy to clean, has minimal porosity, and requires minimal maintenance – such as kitchen floor tiles. Available in a variety of designs, you can opt for wood look tiles for a warm hardwood floor look, marble look tiles for an opulent look, or even bright and eye catching Moroccan floor tiles to add some spunk into your kitchen.
Choose Appliances in Advance And Plan Around Them
Appliances are expensive and upgrading them will constitute a major chunk of your renovation expenses. Choose your appliances early on since their placement and size will dictate a lot in the kitchen such as flow and overall look.
Let There Be Light' With Ample Kitchen Lighting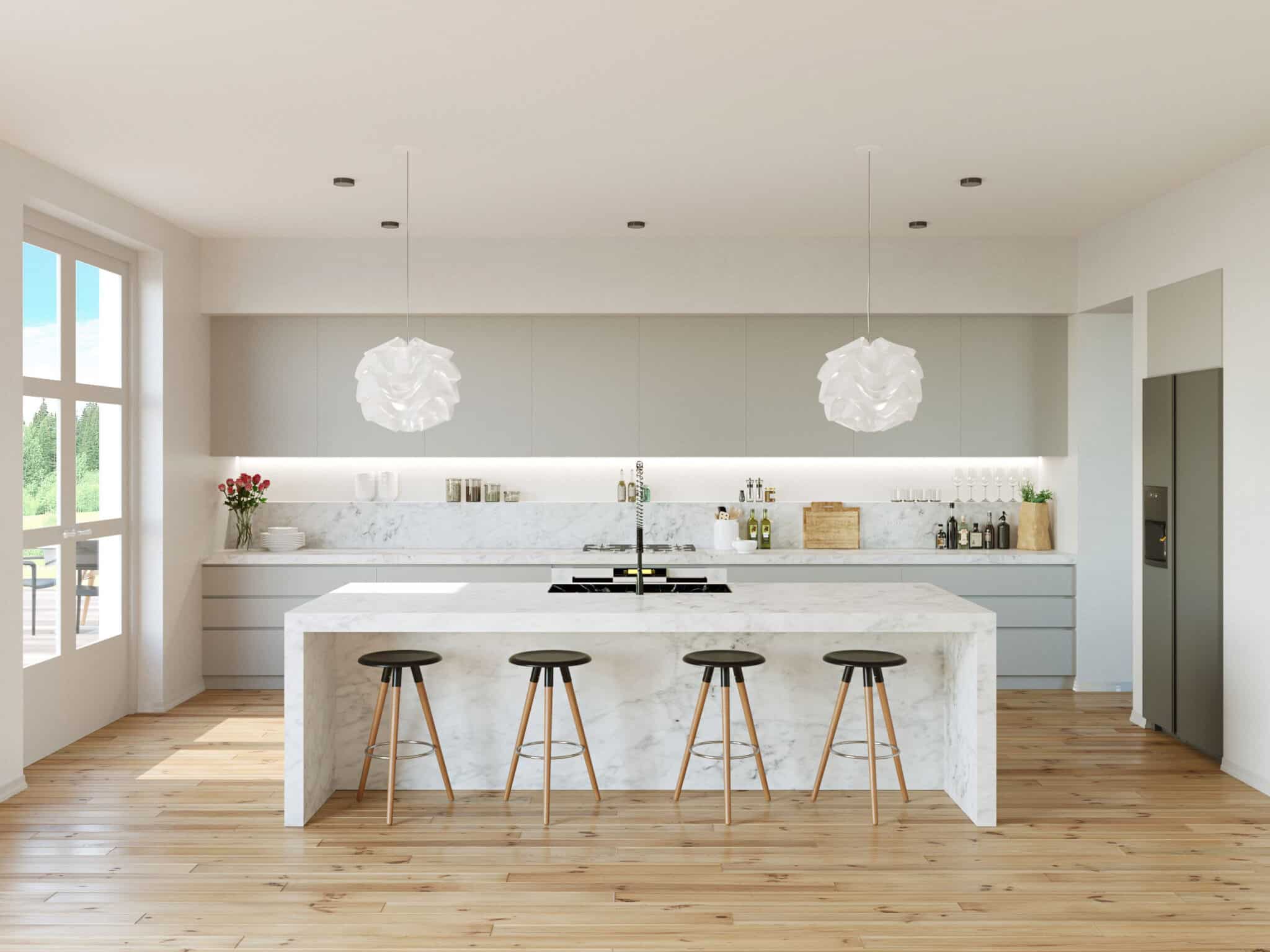 Lighting is often an afterthought in most renovation projects, but in reality, it needs to be one of the first things to consider while designing a space. It can have a great impact on the overall look of the space, and the right lighting can make your space look and feel considerably bigger. It will also ensure an efficient flow of work in the kitchen. Kitchen lighting is namely of two types:
Task Lighting
This lighting is primarily used to light up the "task areas" of your kitchen. As a rule of thumb add at least two light fixtures to each task zone to reduce shadows. Task lighting can be further categorized into:
Recessed Lighting: Added to the open areas of the kitchen to provide light in spaces where people will stand or work.
Under-Cabinet Lighting: Added, as the name suggests, under the cabinet to provide light on the countertops and to reduce shadows. These lights also serve the purpose of highlighting the countertop, cabinetry and backsplash area.
Ceiling Or Pendant Lighting: These lights are often added over kitchen islands, sinks and peninsulas. They often come with fancy pendants that effectively diffuse the light and do not create any shadows.
Ambient Lighting
This lighting is added to the space for the aesthetic they add to the kitchen. Stuff like wall sconces, fancy chandeliers and flush-mounted ceiling fixtures can add to the overall lighting, but their primary task is to just add to the beauty of the ambience.
Consider The Cleaning Routine Before Making a Choice
Since kitchens tend to see the most amount of spills, it is best to opt for materials and designs that are easy to clean and do not stain easily. While a natural marble countertop can be a stunning addition to the kitchen, the fact that a single acidic spill can ruin the surface is off putting. Matte finished surfaces do not show fingerprints and stains as easily as glossy ones. Wire shelves in the refrigerator may not catch the spills that plastic or glass shelves do. Consider the implication and cleaning routine of every material you may use in your kitchen before making a choice. Cleaning kitchen is an already difficult job with the splatter and spills, do not add more to your plate by choosing the wrong materials.
Opt For A High Quality Faucet
While choosing a faucet for the sink make sure you do not scrimp. Opt for a high quality faucet that is convenient to use. If your sink is just below a window make sure you check the clearance of the handle of your faucet, so that you are not forever bashing your knuckles against the window every time you turn on the tap. As for the sink, the best choice would be a single basin sink that is no more than 10 inches deep. Explore ArchiPro's impressive wide range of high quality faucets and other kitchen products.
Upgrade Your Cabinetry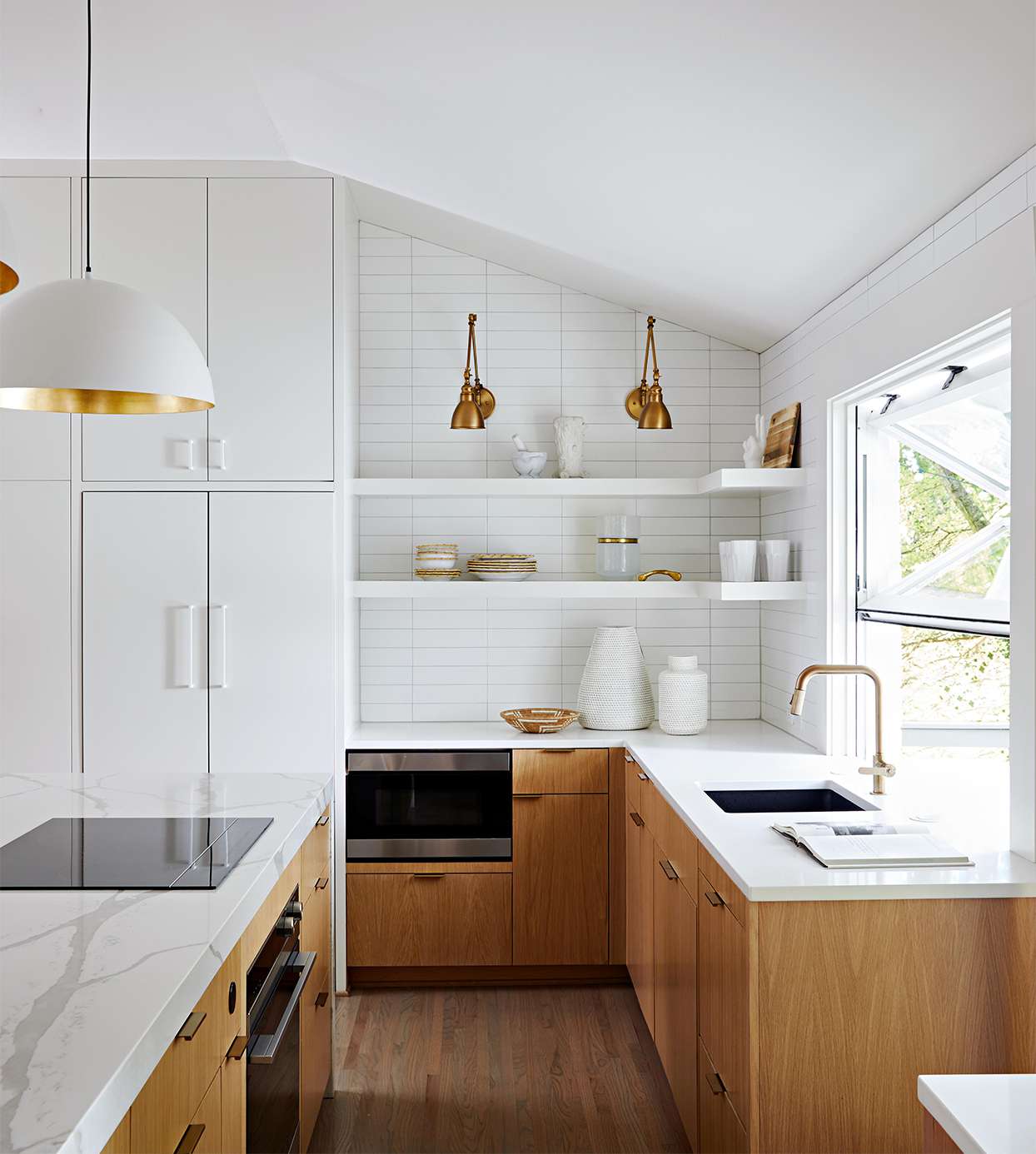 Add interesting details to your cabinetry to avoid creating huge blocks of plain doors and drawers. You can switch out wooden doors for glass doors or do away with doors altogether and opt for open shelves that can help you show off your crockery collection. If that is not your cup of tea, you can switch up the handles and doorknobs for an interesting look. if art is your thing, you can even paint borders on your cabinetry to spruce them up.
Insulate Against the Outside Weather
You can add spray foam to your walls to insulate them against the temperature variations outside. But, if you have torn down your kitchen and are building from ground up, stone wool or fiberglass batt can prove to be a cost effective insulation option.
Choose A Backsplash That Is Appealing and Functional
The backsplash is one great area where you can display your creativity to create a space that is mesmerising as well as eye catching. You may want to go traditional with subway tiles or add a modern twist to them by placing them in a herringbone pattern. Or you may want to go wild with colours and patterns and opt for bright Moroccan tiles that add a pop of colour and pattern to your kitchen. Or you may even want to create a mural using tiny mosaic tiles (which may end up being a pain to clean due to the large amount of grout lines).
Whatever you choose for your backsplash, make sure it reflects your taste, but is also easy to maintain and an appealing choice for others. This is because if you put your home on the market someday, you do not want to turn off buyers due to your eccentric or impractical choices.
Conclusion
Remodeling a kitchen can be a hectic affair, but with a little planning and these tips, you can definitely elevate some of your stress. Always remember, movement is the key in a kitchen and if there are too many obstructions, working in a kitchen can turn into a nightmare. So, plan the kitchen well (take the help of a professional to sketch it out, if required) and follow the plan to the T – you will find yourself with the kitchen of your dreams, well within budget and completed on time!