DADU Unit – If you ever get interested to build a DADU unit, knowing everything related to this building structure is essential.
While it offers a range of advantages to your property, a DADU project requires a lot of thought and consideration.
Hence, being well-informed before starting its development will be a big help for you.
What a Detached Additional Dwelling Unit (DADU) Is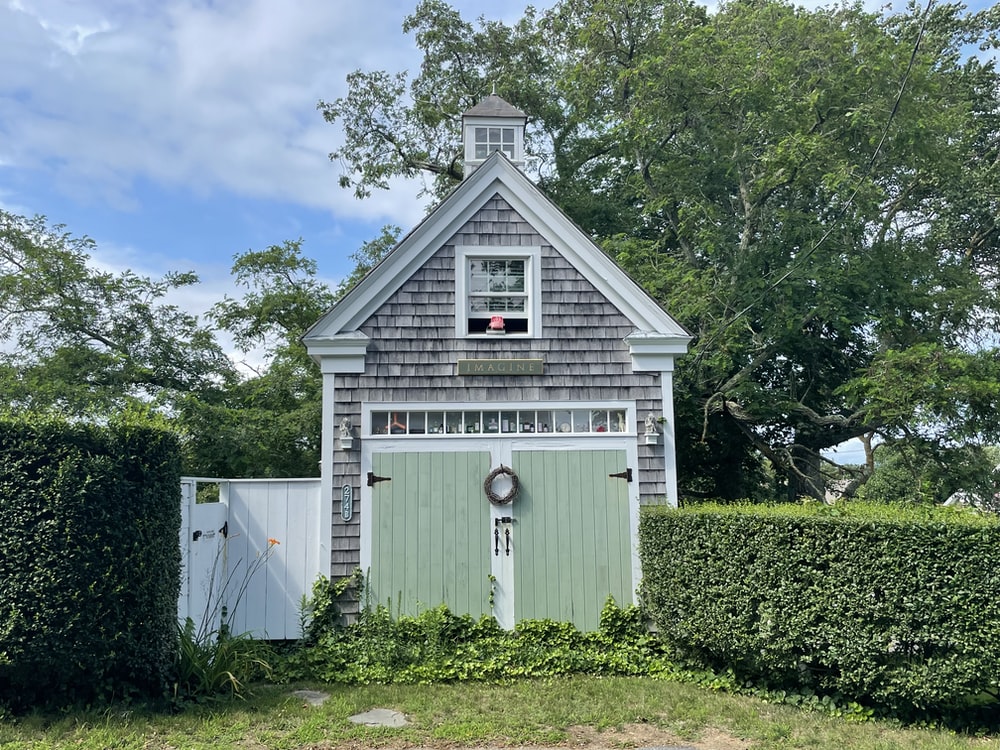 You can start with understanding what DADU or a Detached Additional Dwelling Unit is. In general, it refers to the separate construction of the main house.
The backyard of a property is the most common location of a DADU. Besides, it can be located within or above a transformed garage.
Aside from a DADU, people often call this separate construction as a laneway house, backyard studio, alley house, garden cottage, and alley home as well.
Furthermore, high housing costs in cities become one of the reasons why this trend is getting more popular.
Most DADUs are built in a simple box shape, but you always have space for a custom form when necessary.
Outsized garages or one that comes with an attic or basement frequently make an ideal candidate for DADU conversion.
The Difference between DADU and ADU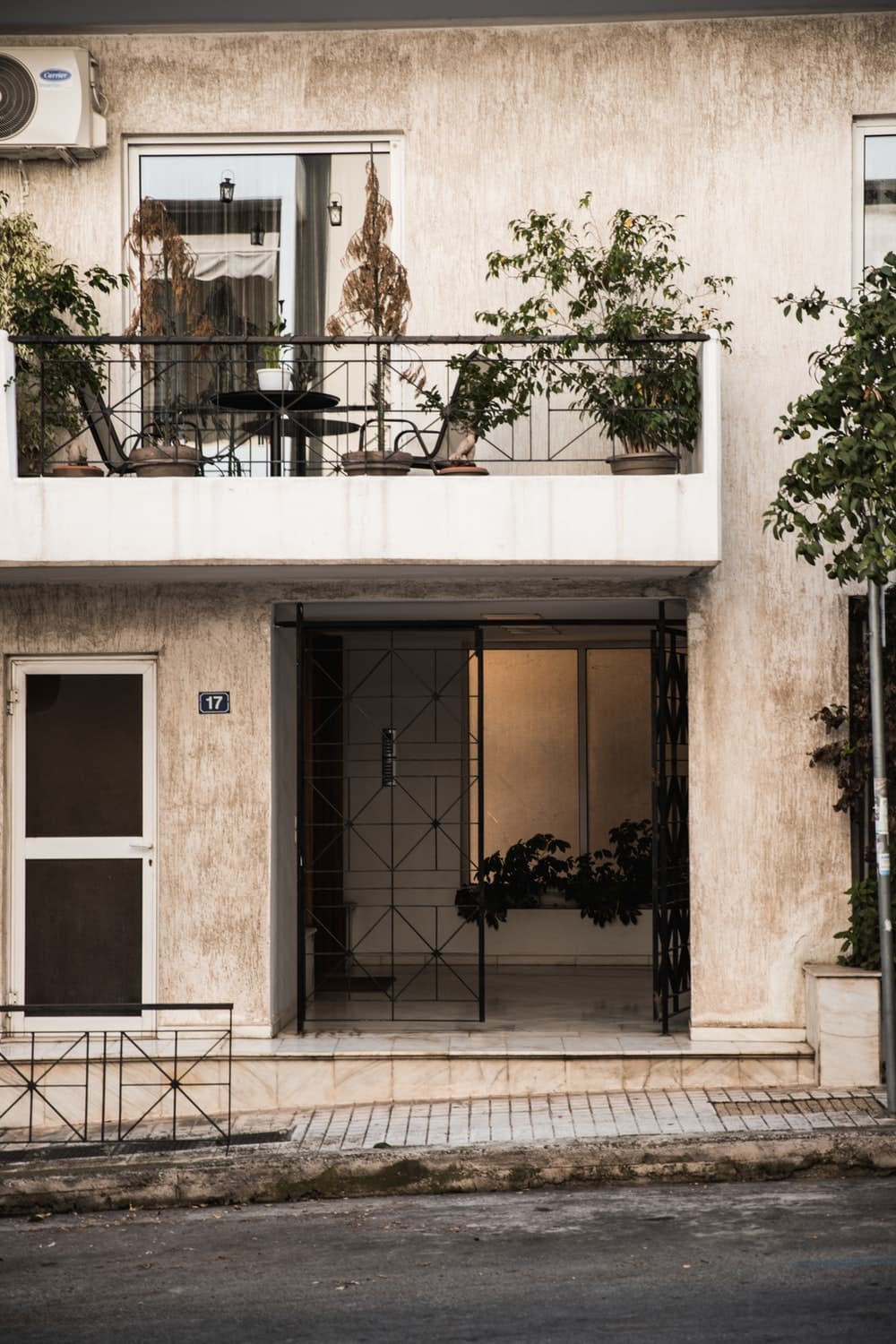 When browsing a DADU unit design on the internet, you probably come across ADU too as these two terms are related.
ADU stands for Accessory Dwelling Units and refers to individual living space within an existing family house.
Likewise, it typically comes with its own bathroom, kitchen, and separate door.
Different from a DADU, an ADU can be either attached or detached to the existing house despite having a similar kind of square footage and an additional level of privacy.
It is safe to say that an ADU is a more general term while a DADU refers to the detached unit only.
However, it does not change the fact that people often use these words interchangeably along with other common names of accessory dwelling units.
Most DADUs are not larger than 1,000 sq ft.
Otherwise, this unit still requires all the basics of a home, including the bathroom, living room, kitchen, and bedroom.
After all, a DADU unit is a freestanding little house that needs all of the basics to build a new home.
The Advantages of Having a DADU Unit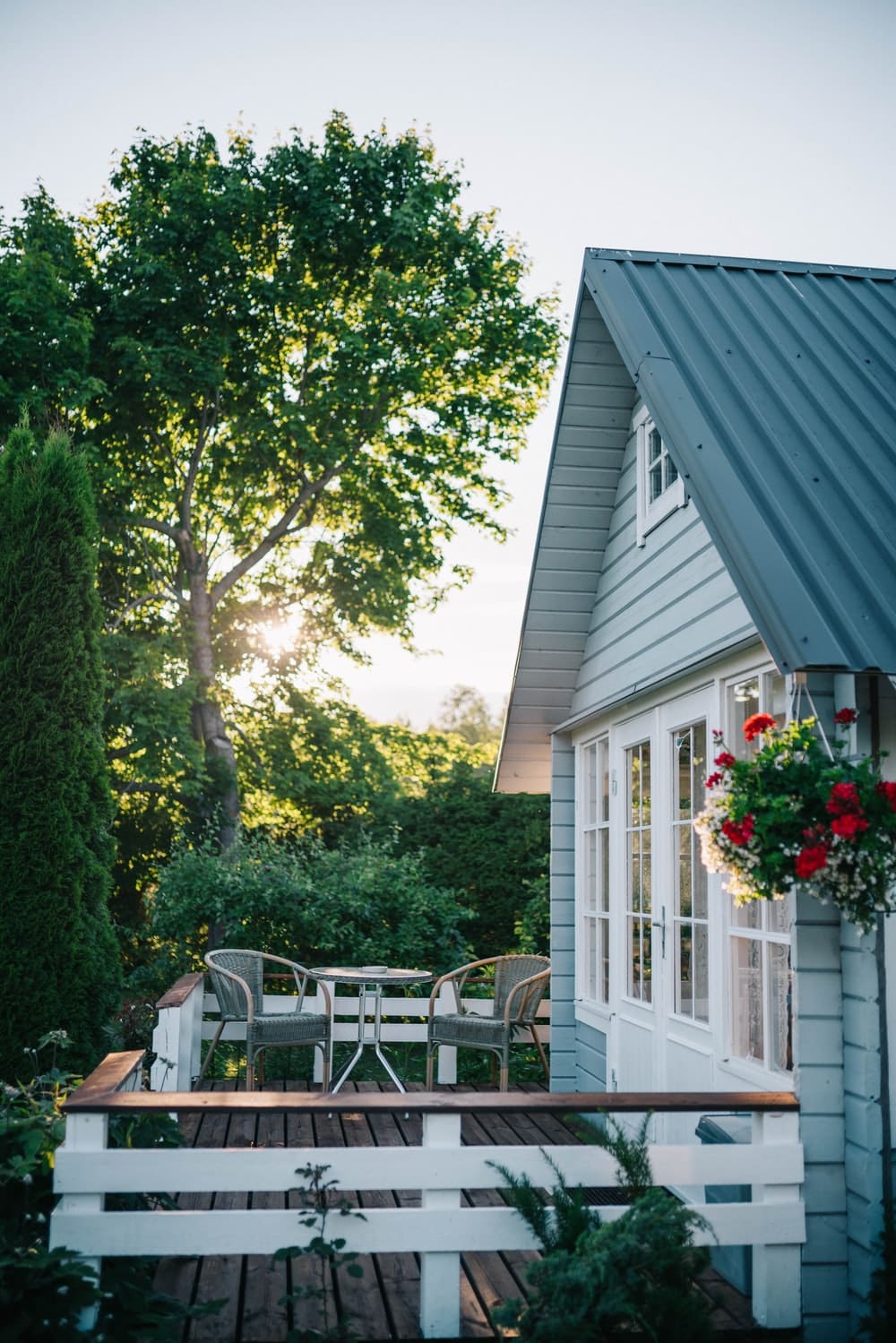 Both DADUs and ADUs present a range of advantages for you as the homeowner, your families, neighborhoods, and even the environment as well as the local economy.
Here are a few benefits of building an ADU or a DADU in the property for your reference.
Building this in your property allows you to have extra income from rent. Besides, you will be free to house family members or some guests as well.
A DADU is smaller than your main house, so it utilizes fewer resources to construct and does not need much energy to cool or heat.
Having a DADU can increase the value of your property as well. It may even help keep up locality business and prosper districts.
As people work on a DADU project, it opens the opportunity to employ the local workforce.
Meanwhile, a compact DADU unit close to your workspaces can diminish commutes and vehicle dependencies as well.
It makes a great choice if you want to retire outside the busy town as well since you can rent out the DADU.
Besides, simply use it for a temporary stay when you are in the city.
Types of Additional Dwelling Unit to Consider – DADU Unit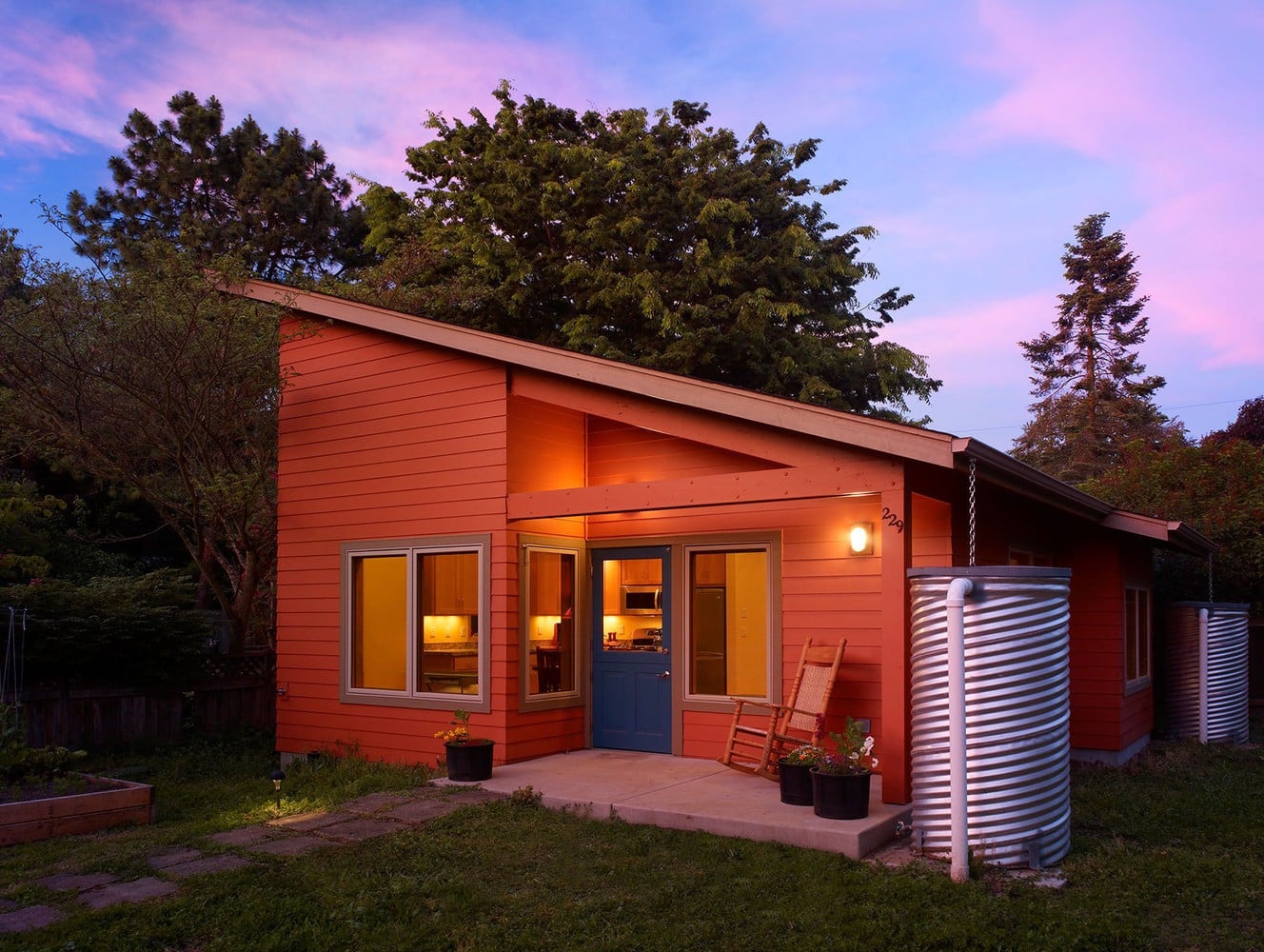 There are several basic structural forms of accessory dwelling units (as well as some of the other common terms used to describe these buildings).
Detached new construction ADU is what you usually call DADU, but some jurisdictions may name this unit granny flats or backyard cottages.
Moreover, there is also a garage conversion ADU which is a repurposed project that turns an existing garage into a functional living space for families.
Another type of additional dwelling unit is above a garage DADU. Some regions may call this housing as a garage apartment or a carriage home.
While additional dwelling units vary in structural forms, they share several common characteristics and face similar development challenges.
DADUs might simply be secondary dwelling units, but some factors make them different from other housing categories.
A detached ADU is considerably tinier than the average US house.
Homeowner developers tend to develop DADUs asynchronously from the main house.
DADUs are accessory houses and usually adjacent to a primary housing unit.
A huge range of community land use and zoning policies distinguish DADU styles and types. This also noticeably influences the units' permitted uses.
Aside from the above characteristics, a DADU will typically feature its water and utility hookup as well.
You can find most of them having fully practical living spaces and their own foundation as well.
Then, you can think a DADU is like an apartment, but it does not come with its full building. However, you should keep in mind that not all small houses qualify as DADUs.
Trailers and mobile homes are not DADUs as well since this housing category must be permanent residences.
Estimated Budget to Build a DADU unit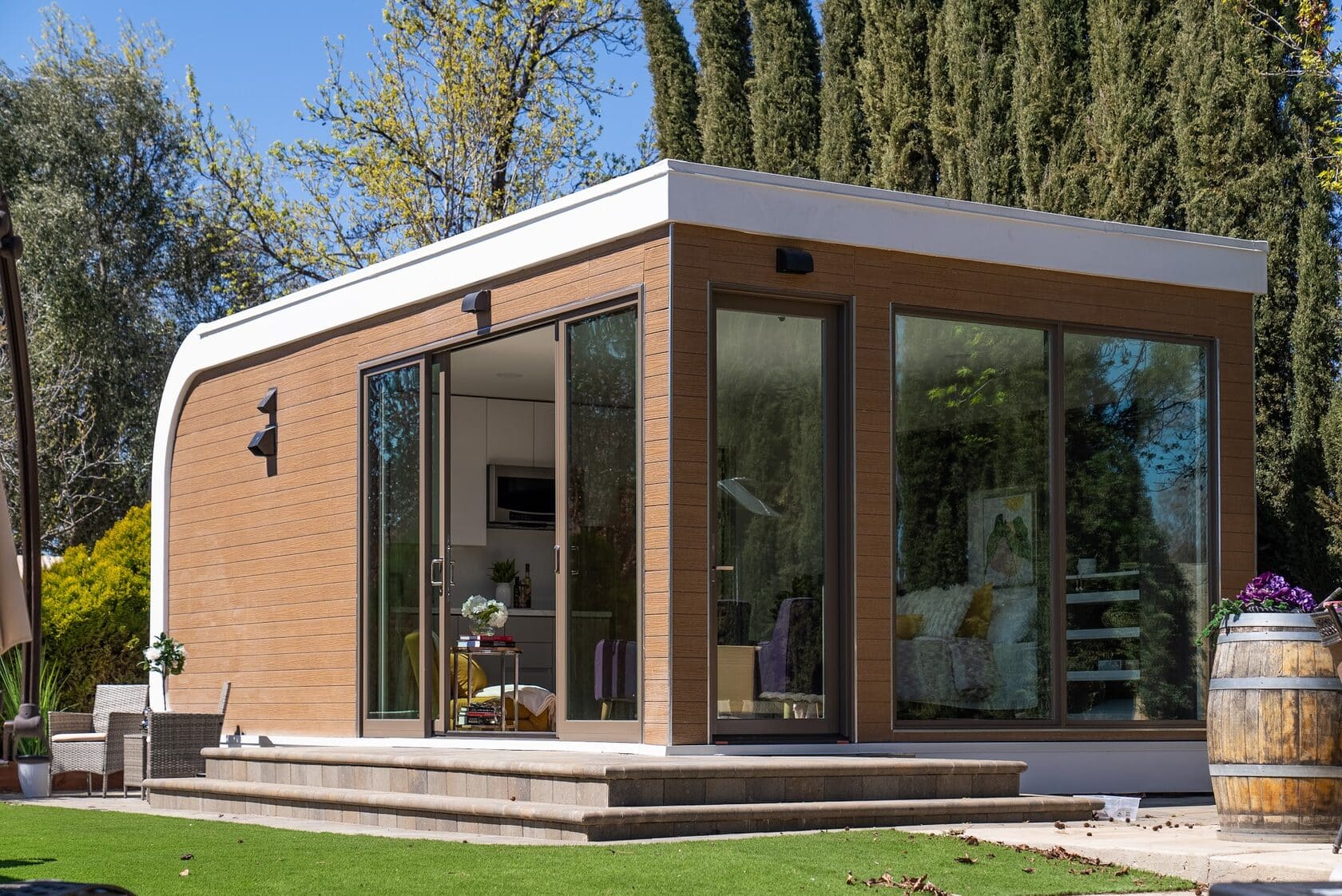 Calculating the cost of building a DADU is not a simple job to explain since the rates can be different from one region to another.
A two-story DADU that is 800 sq ft in Tacoma costs $178,300 including the necessary furniture and appliances while other units in different cities may cost differently.
Common Price Factors of A DADU unit Project
Aside from location, here are the common price factors of a DADU project.
The size and type of the DADU
Landscaping, materials, and furniture used for the unit
Impact fees, including school or parkland costs
Extra professional fees, including construction crews and building plans
Whether you require new utility hookups or not
The use of either a pre-approved plan or a custom one
Permit fees and how you plan to design the overall space
Based on the above price factors, you can find a basement ADUs that costs around $20,000.
However, there is also a unit above a garage that requires the homeowner to spend approximately $400,000.
Meanwhile, converting an existing housing structure or a garage typically costs less than creating an entirely new DADU.
General Cost Estimation for ADU and DADU
For your reference, here are the cost estimation for the total development of an ADU and DADU in general.
Keep in mind that the following costs do not include furniture and landscaping fees.
Type of ADUs or DADUs
Square Footage
Estimated Costs
DADU with new construction
750
$265,000
515
$160,000
445
$145,000
687
$160,000
799
$130,000
250
$120,000
400
$112,000
Detached new construction above a garage
790
$195,000
800
$128,000
1250
$225,000
Attached ADU
660
$167,000
500
$106,000
Basement ADU
610
$150,000
795
$261,000
Garage conversion
370
$150,000
576
$80,000
325
$110,000
The above self-reported cost list shows what a homeowner has to be prepared to spend when they want to build a DADU on their property.
On average, to build a detached new construction, the cost per square feet is around $305. Meanwhile, a garage conversion typically costs $297 per square foot.
If you are interested in a detached ADU above a garage, the cost for building one is approximately $212 per square foot on average.
Indeed, the costs will vary depending on the materials and locations of your auxiliary dwelling unit as well.
However, the said costs can be a parameter of how much you need to spend in total for the construction, utility connection, design, and permit.
Common Problems with DADU Unit That You Should Know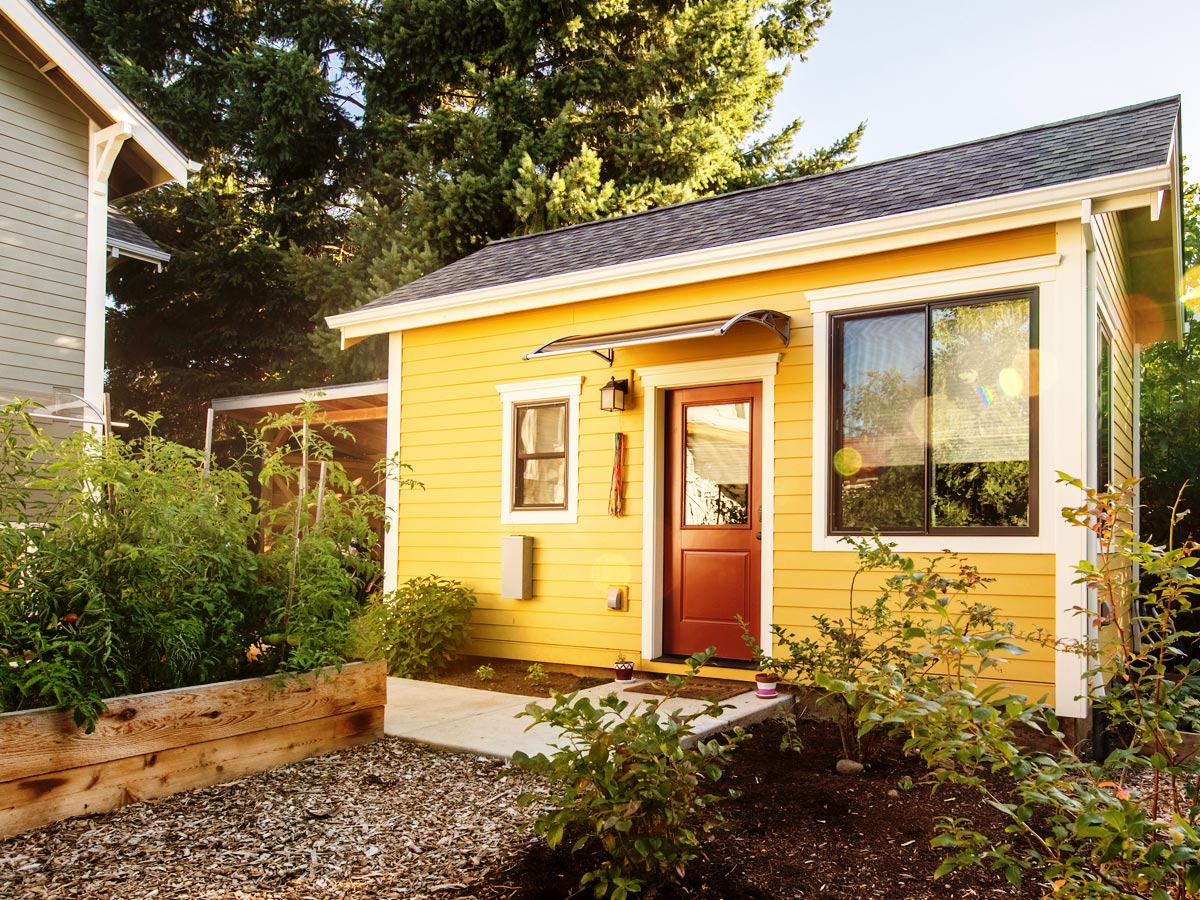 It is important for you to be aware of the potential problems with accessory dwelling units before investing your time and money in this project.
One of the issues is related to the existing structures. Because of the fire code, you need to build a DADU no further than 10 feet from the existing house or garage.
This can cause a problem if your property does not allow you to meet this specification.
You can check the following for the other possible issues with the development of DADU on your property.
The unsightly power lines that are running through a lot of backyards may raise big problems with the placement of your DADU.
Issues related to setbacks can be overwhelming since these are subject to change depending on various factors.
In addition, issues with neighborhood are pretty common in DADU projects as well. It may get worse as some people hold firm to the conventional values of a single-family house.
Overcrowding and parking problems are among the considered issues of the DADU trends. Some people believe that a garage conversion ADU can make more cars park on the streets.
However, in reality, there is no concrete proof that the developments of ADUs or DADU improve parking issues.
Moreover, it is undeniable that the construction of an accessory dwelling unit will be messy and noisy.
If you still have complaining neighbors, make sure to know how to keep clutter and noise to a minimum so that they do not attempt to end your project.
Key Tips to Work on Your DADU Project
From finding the perfect location in your current property for a DADU project to dealing with the possible issues of power lines and grumpy neighbors, this is indeed a complicated task.
Nevertheless, with the right help, there is no doubt that creating a DADU unit can be beneficial in the long run both in real estate and finance.
Hence, to help you make the most of your DADU, this article has listed a few key tips that can ease this complex task.
Determine your reasons for building a DADU unit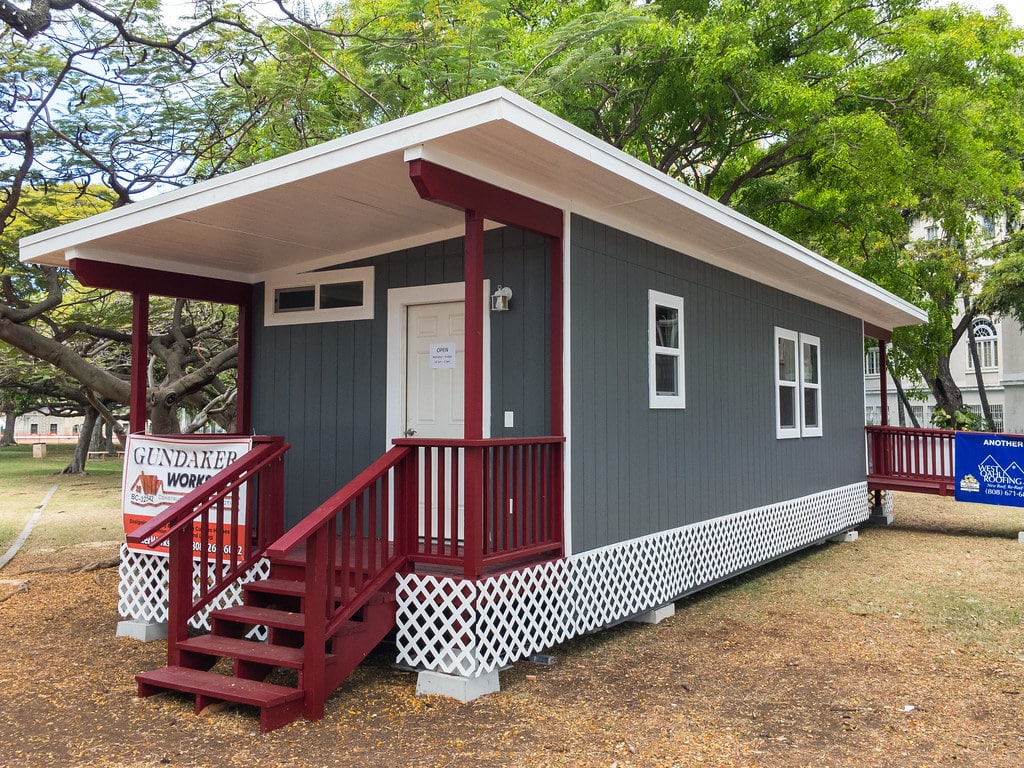 Before deciding which kind of layout of a plan to execute for your next DADU project, you should ask yourself about the reason why you need to build this unit first.
While it seems like a straightforward question, this can help you plan your project properly.
Whether you build it for a multigenerational living solution or an elderly loved one who needs support will influence your overall DADU plans.
Every individual will require a slightly dissimilar space from one to another.
If you want to build the DADU for an elderly loved one, for instance, the unit must be appropriate for limited mobility.
Meanwhile, if you plan to build the DADU for a young adult that has just returned from college, the space must make them feel more independent.
Research the local laws and regulations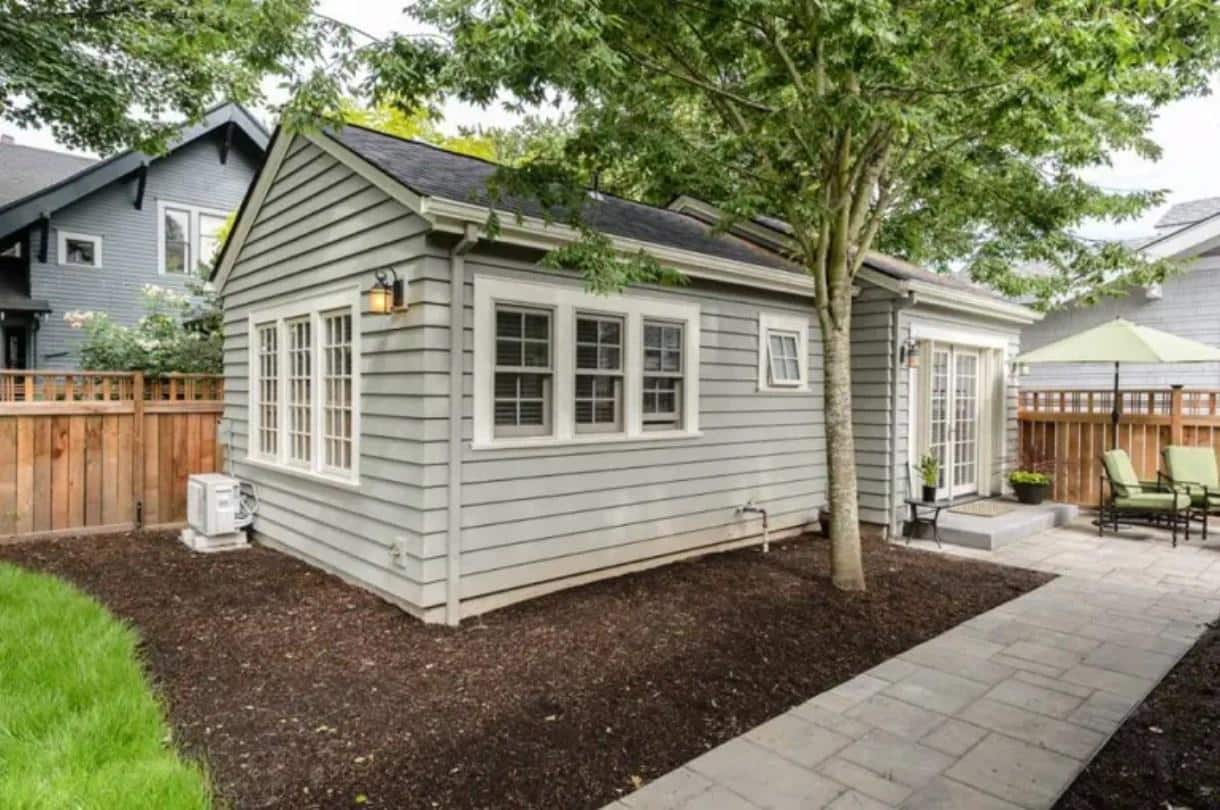 Before working on your first DADU project, make sure to research local laws and regulations beforehand.
Some cities currently make it easier for people to build their auxiliary dwelling units since this project can increase housing accessibility.
However, it does not change the fact that you still need to meet the set of criteria for building a DADU unit depending on where the project will be started.
The legislation related to the building of a DADU typically includes the dimensions, size of the existing housing, and the property frontier.
Some jurisdictions may consider any accessory structures that are already on the site like sheds and garages as well before giving permissions.
You can visit a local building permit department and meet the land use planner on duty to make sure that your project complies with the regulations in the jurisdictions.
Typically you will need to submit your DADU plans to City Hall for obtaining a permit.
Since the plans must be accurate and complete, you should consider having a professional draw them for you.
In addition to building plans, you have to submit and complete the following documentation for acquiring a permit.
The documentation might include Building Permit Application (Form 310), Address Assignment Request (Form 302), and ADU Property Owner Declaration (Form 312).
A letter from a water company that declares flow data from the nearby hydrant is typically required for obtaining a permit as well.
There is no doubt that informal DADUs exist and the numbers are probably higher than the permitted ones.
However, it should not legalize you to build an accessory dwelling unit without requesting permission from the regulator.
Hire a reputable architect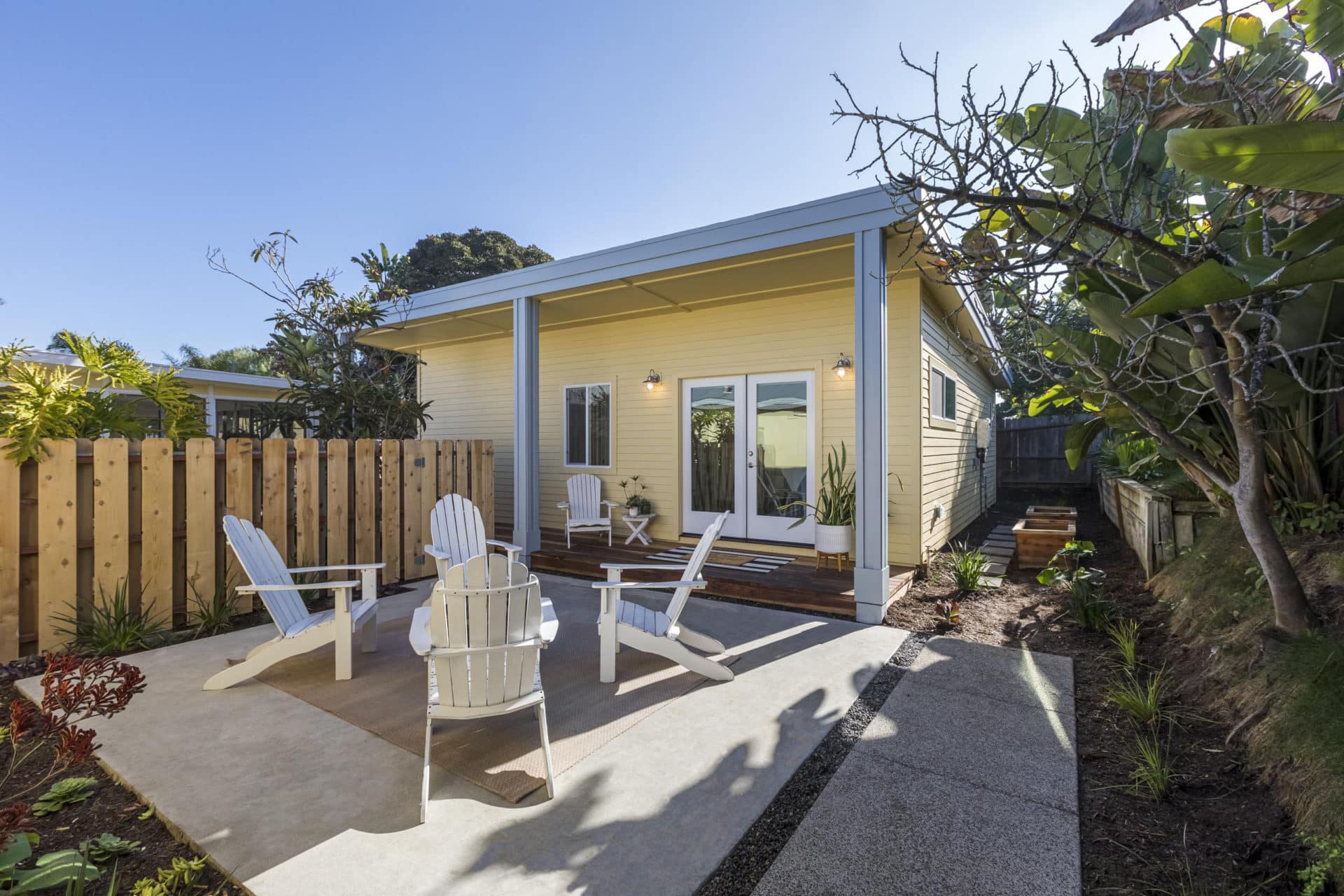 Thanks to the huge number of stock plans and pre-fabricated choices for DADUs on the market, it is not impossible to work on the project alone.
Otherwise, hiring an architect will still give you great value.
Although you may need to spare some money to work with an architect, he or she can help you to make the most of every square foot of the available space without spending too much budget.
A good architect will stop you from making mistakes regarding any process of building a DADU unit as well, so you can avoid spending more money on something you do not need.
Moreover, if you end up making modifications to stock plans, this typically ends up costing as much as hiring an architect to create a custom design.
Hiring a reputable architect also allows you to tackle a variety of problems regarding the use of pre-fabricated DADU.
It may not meet the requirement of some jurisdictions in terms of window placement and construction orientation.
They can also help you with the process of obtaining a permit to build a DADU unit on your property, so it will not feel like a hard and lonely battle for you.
Look at your property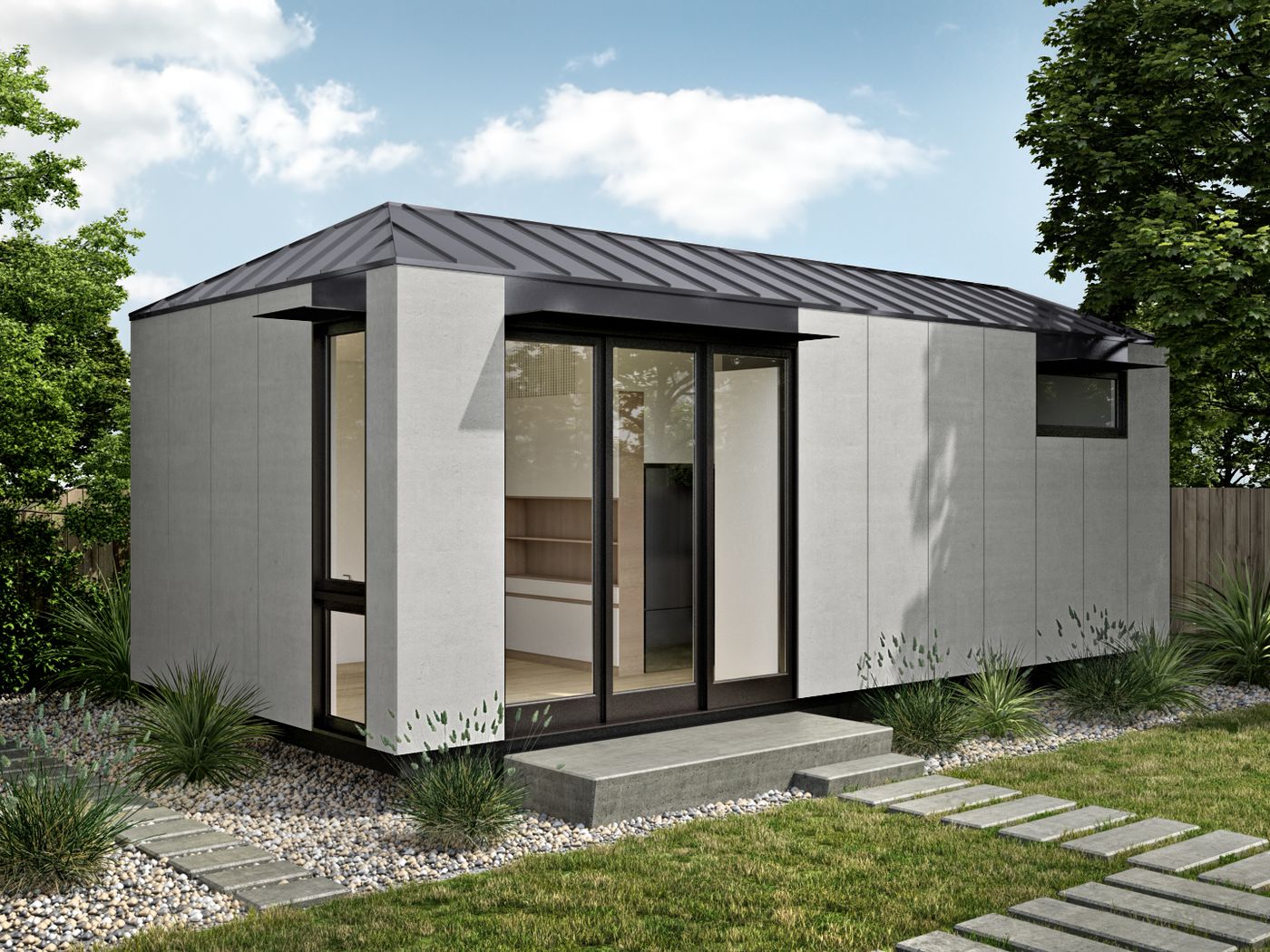 The type of additional dwelling unit that is obtainable for you may depend on your existing property and the available space to work with.
For instance, to have a detached ADU but your backyard has no adequate space to meet particular zoning requirements, consider a garage conversion or an attached unit instead.
What you need to do at this point is to find the matching point between your or your loved one's needs and what the existing property allows.
Take the environment into account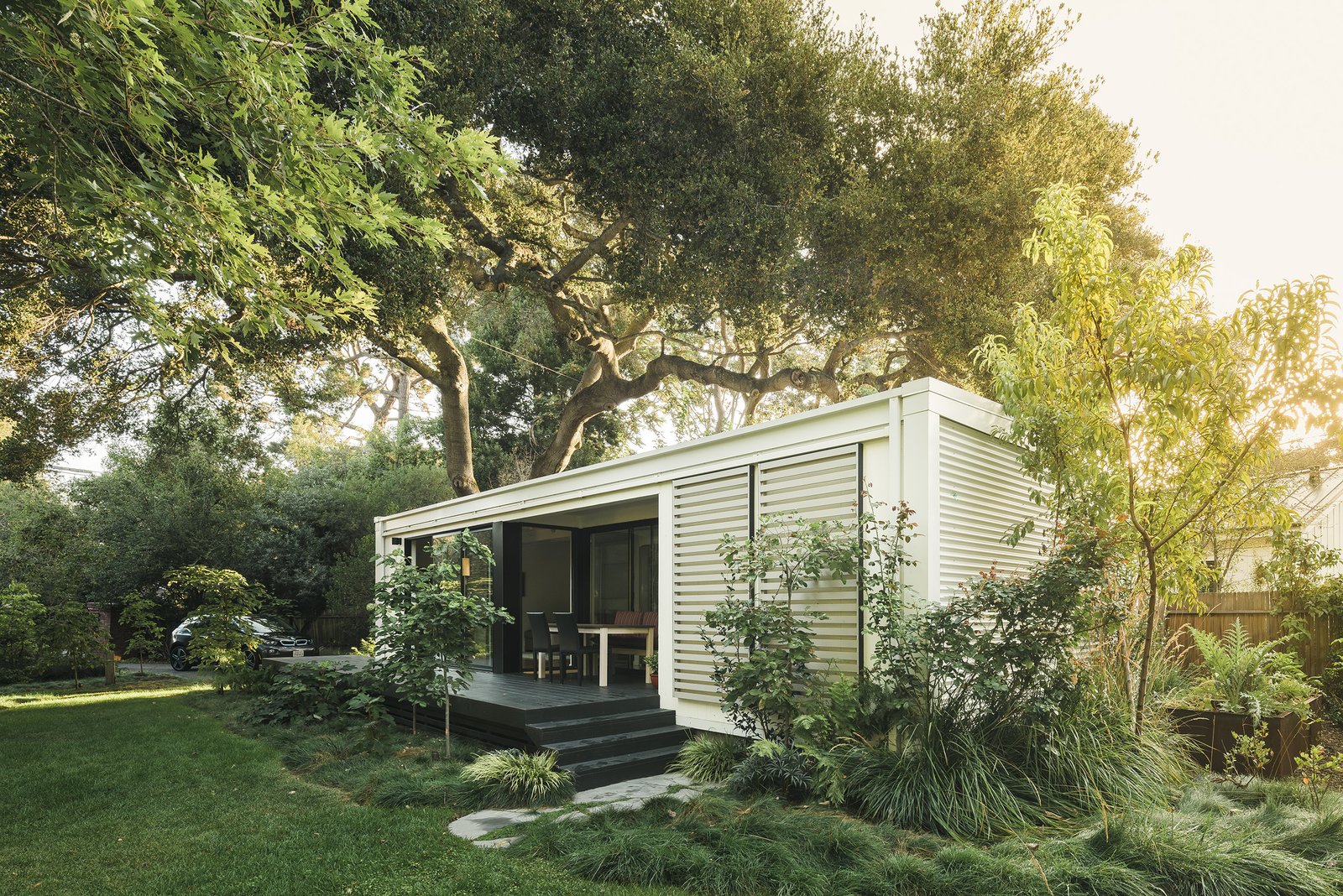 When it comes to creating a DADU unit, creating a healthier environment is something important. You should make sure that your space takes advantage of natural light properly.
Whether you plan to rent the DADU or occupy it yourself, keep in mind to build a well-designed space that is airy and open.
Do not overlook the ongoing lifecycle and energy consumption cost of your additional unit as well since it will help you to save money over a long period.
Know how to lower the cost of building a DADU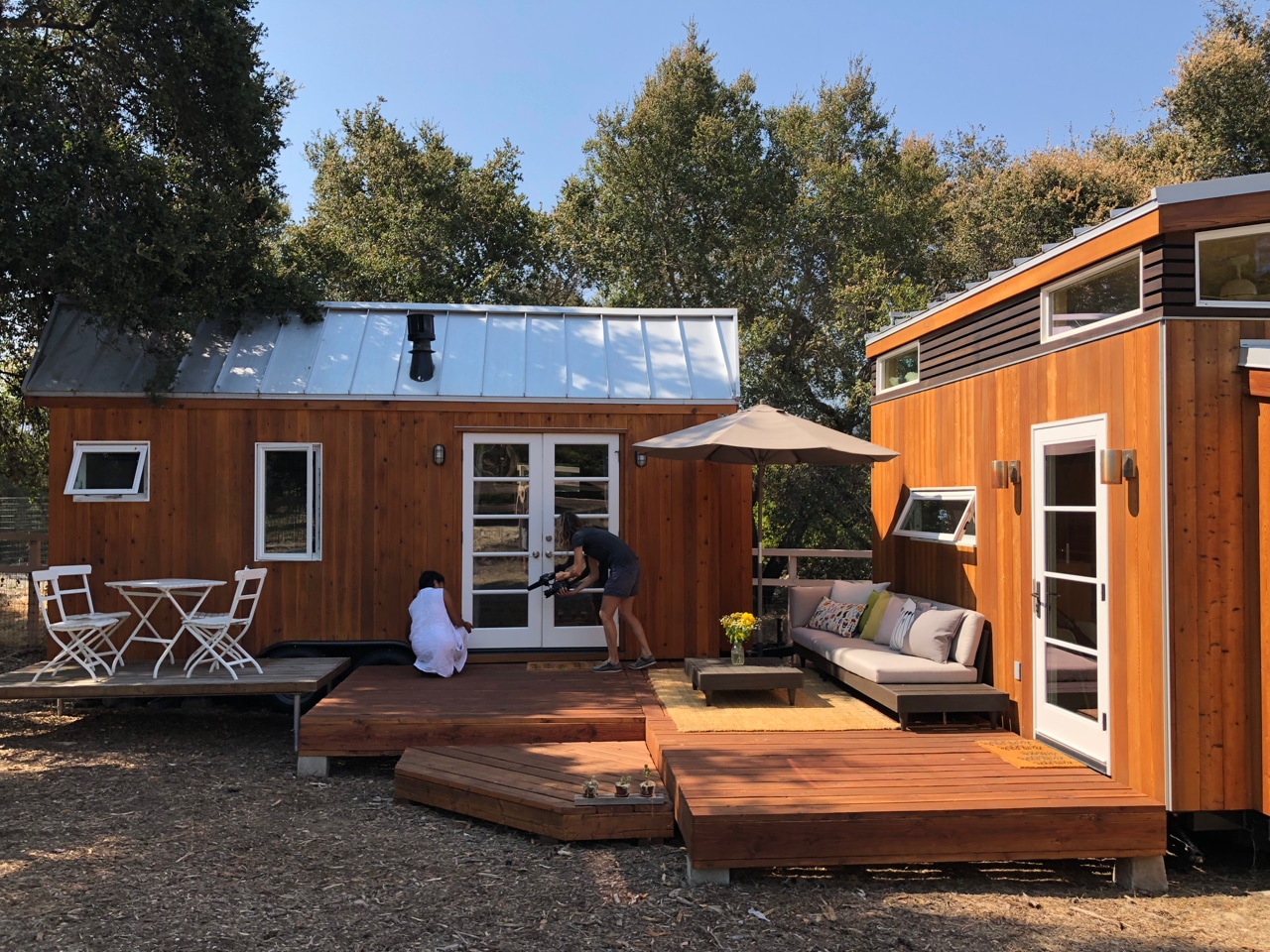 Just like any other construction project, you need to invest in some parts of your upcoming DADU.
As you have read previously, the budget for building this unit can be high depending on the materials and some other factors.
Luckily, you have some considerations that make it possible to lower your overall DADU project costs.
One of them is to avoid spending money on something you do not need.
For instance, if your elderly loved one does not require a lot of space, you should consider saving money by building a tinier unit that suits their requirement.
Moreover, if the future occupant of the DADU unit already has their own furniture, you can simply skip furnishing the unit.
Besides, this will help make the space feel more like a home for your loved one.
On the other hand, hiring a specialist is highly suggested to ensure a straightforward permitting process and design.
This is also important when you need to do jobs like utility hookups or electrical wiring.
Think about any special requirements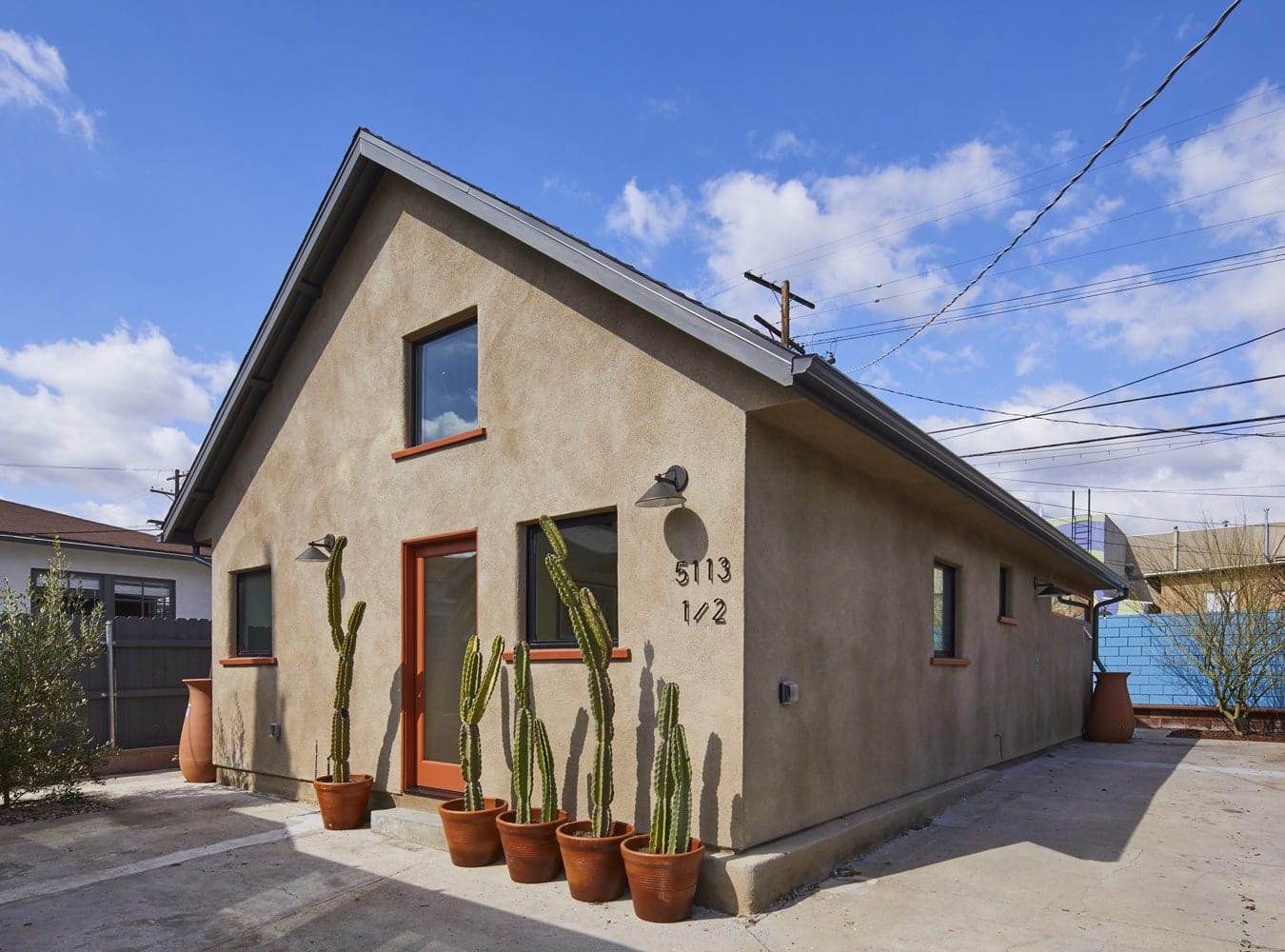 It is also crucial to think about any specific requirements that the future occupant will need.
When it comes to an elderly loved one, limited mobility is something significant to take into account.
For instance, ensure that the design allows them to use a wheelchair where it is probably not possible when they are in your main house.
The safest choice is to create a DADU that has a universal design or that comes in handy for all.
This means you should create wider doors and install a storage set that is low enough to reach by wheelchair.
Doors that can slide into the wall rather than open out make a better choice for this case too.
If you are not sure, simply ask your loved one if they wish something special in their upcoming DADU.
This way you can easily find out what features can increase their life quality even more.
Other Things to Know before Building a DADU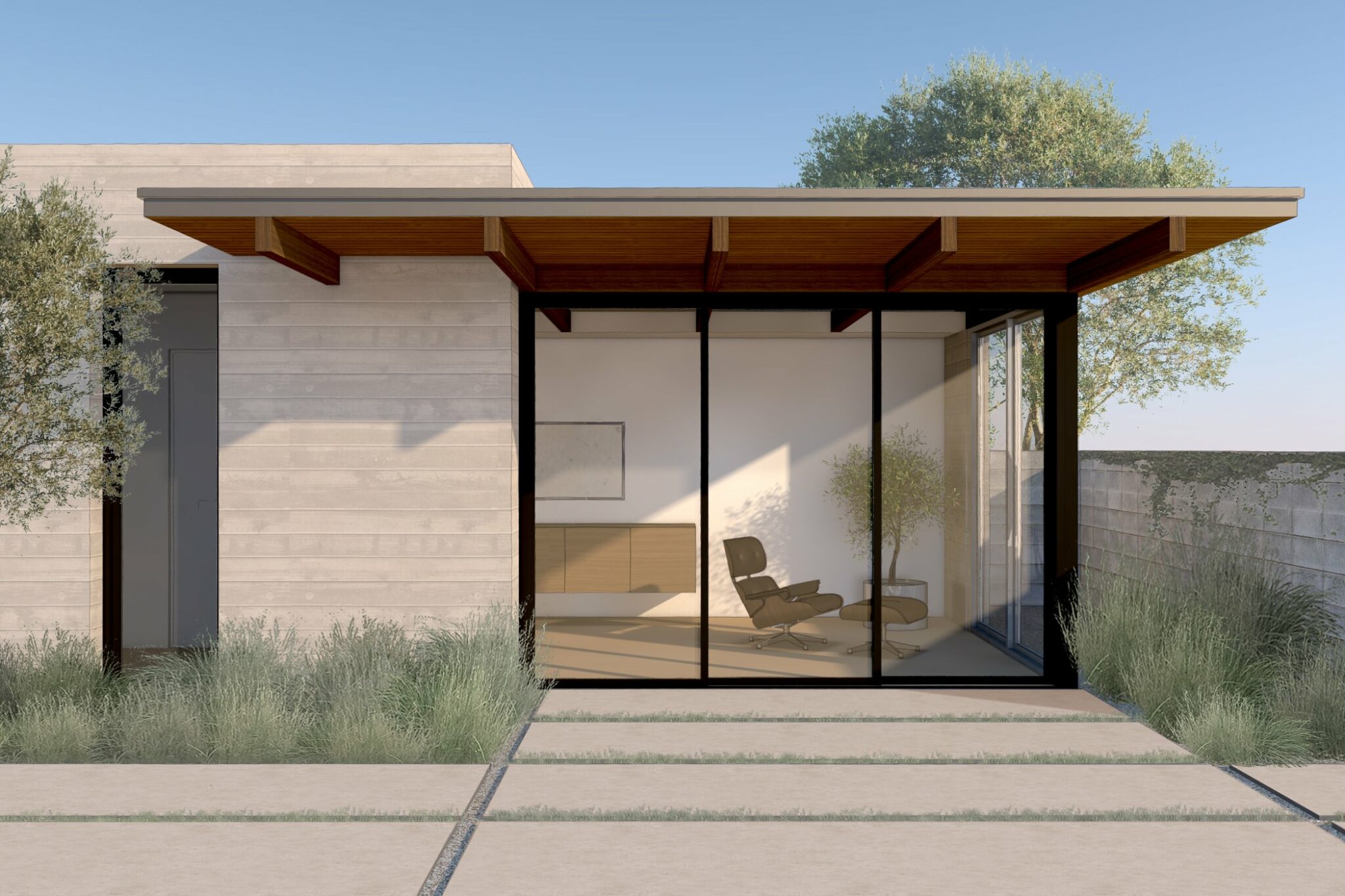 In case you want to utilize your DADU as a source of income, do not forget to research the current rate as well.
Remember that a fashionable neighborhood does not always mean it can attract sufficient short-term renters to make your DADU unit worth it.
Besides, to make the most of your project, make sure to work with a builder that is capable to translate what you need and want into a fully functional dwelling unit.
It is also important to find a contractor whose goal is to create a unit that meets your needs rather than going with the trend only.
Aside from understanding regulations related to an accessory dwelling unit in your area, find a builder that makes you feel comfortable.
It is because you will spend a lot of time with them during the construction process of your DADU.
Remember to check their portfolios and explore online reviews regarding the contractor so that you can be sure that they are the best deal for your project.
Furthermore, when building a DADU, it is also crucial to think about the future occupant's long-term needs.
Since the budget for developing this unit is not that small, you will want something that can give benefit for a long period.
Again, you should discuss this with your loved ones about what they want and talk about your expectation of building this dwelling unit for them.
21 DADU Ideas and Photos for Your Inspiration
Now that you already know everything related to building a DADU unit on your property. It would be perfect to get some design ideas for inspiration.
The following is a list of gorgeous DADU ideas and photos that utilize a range of different materials and styles to suit your personal tastes.
1. Modern Wooden Finish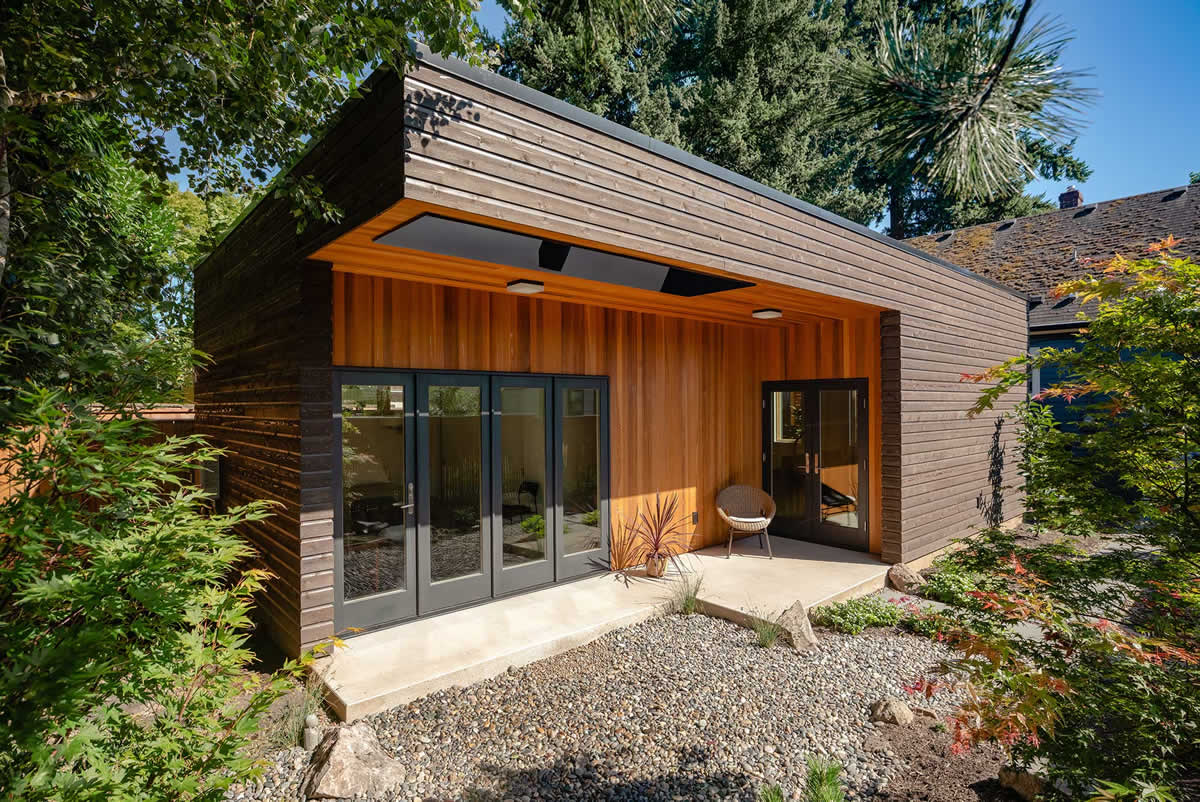 Using wood as a finishing touch does not always hint at a traditional rustic house design. This beautiful DADU proves that wooden boards can make a dwelling unit appears modern too.
Along with the black metal frames on the glass doors and windows, this tiny house suits an industrial style rather than rustic.
The use of clear full glass on the doors and windows will make the interior of this DADU seems more spacious and airy.
To make the concrete patio less bland, there are a standalone chair and a pot of perennial plants.
2. DADU with a Loft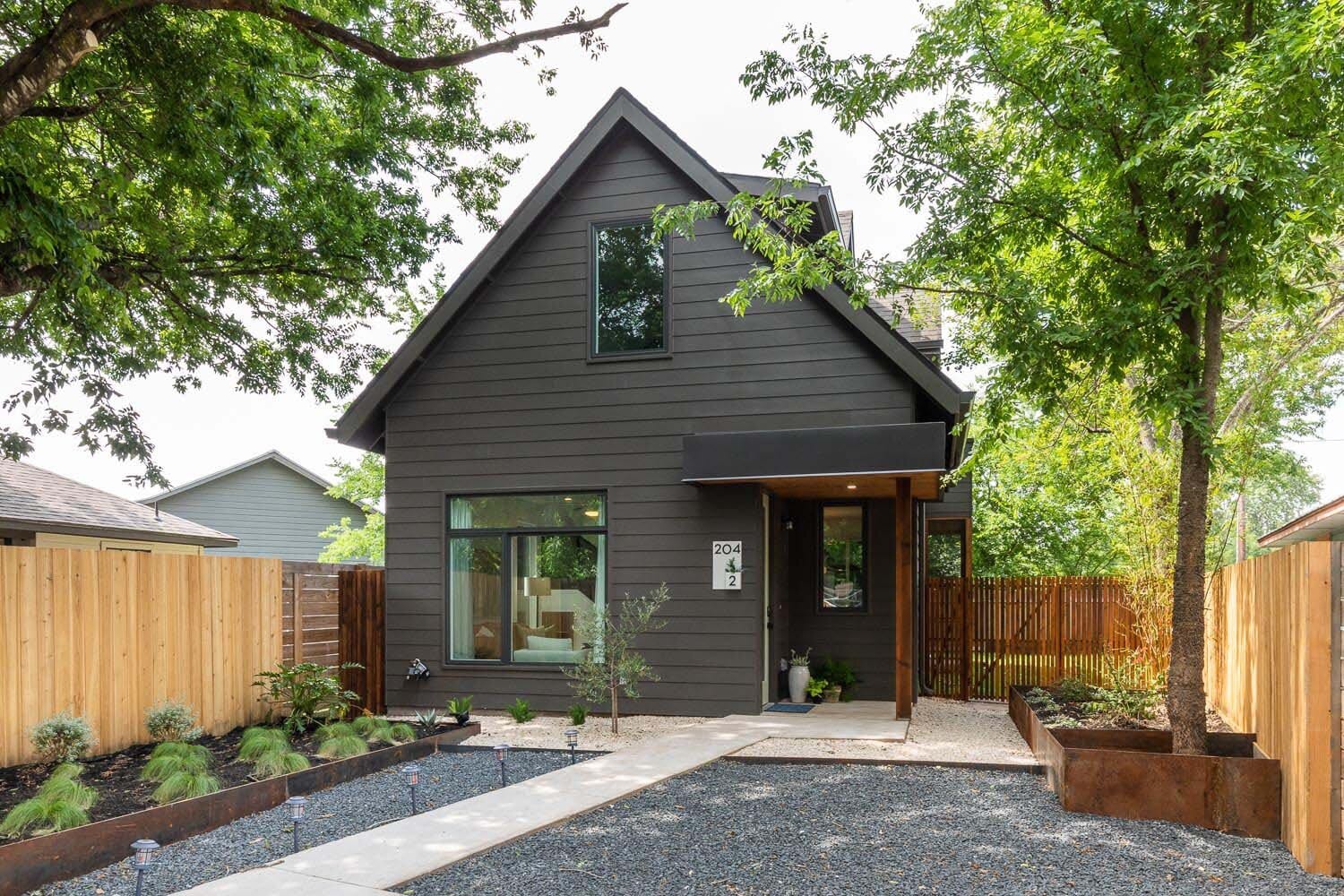 Instead of building a two-story DADU unit, creating one with a loft will allow you to save some budget without sacrificing the luxury of having additional space in this small house.
Its little porch is both functional and pretty with ceramic vases and plants placed there. You will love its grey shiplap walls as well that make this unit looks more attractive.
Located not too close to the main house, this design is perfect for you who plan to rent the unit to others. With the lighted pathway, it will be an ideal night gateway for you and your loved one too.
3. Elevated Deck with Flat Roof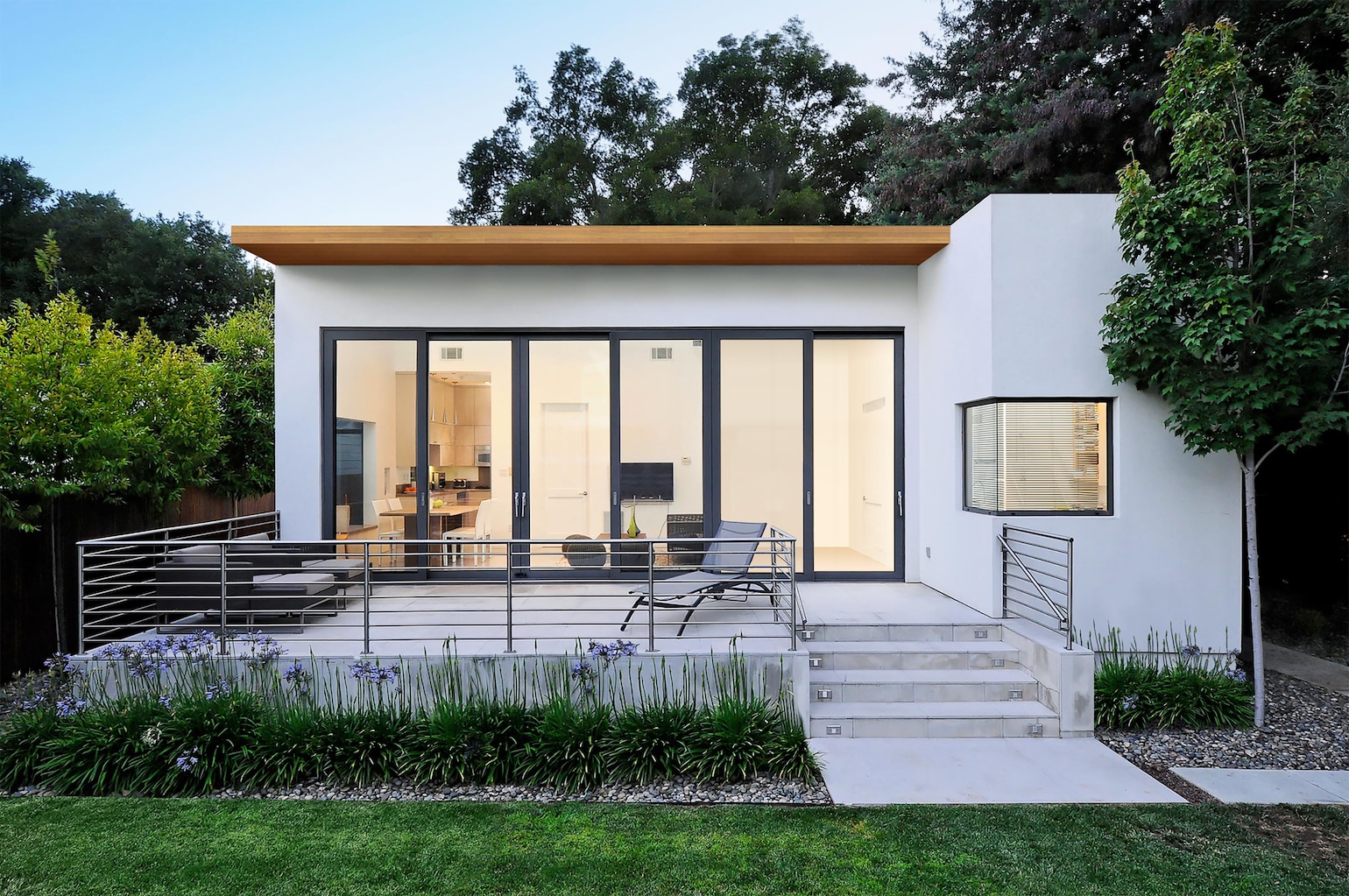 Against the lush greeneries, this white dwelling unit effortlessly looks stunning. The flat roof hints at a modern design that matches the overall curb appeal of this tiny house.
This makes a good inspiration if you already have an elevated deck patio and want to transform it into something more valuable in the future.
Moreover, this DADU comes with a spacious terrace that can accommodate outdoor sofas and chairs.
The stainless fence makes this unit appears more finished while providing extra security if you are living with toddlers.
If you need privacy while staying in this DADU unit, simply install floor-to-ceiling blinds or curtains to cover the wide glass doors and windows.
4. Small Flower Bed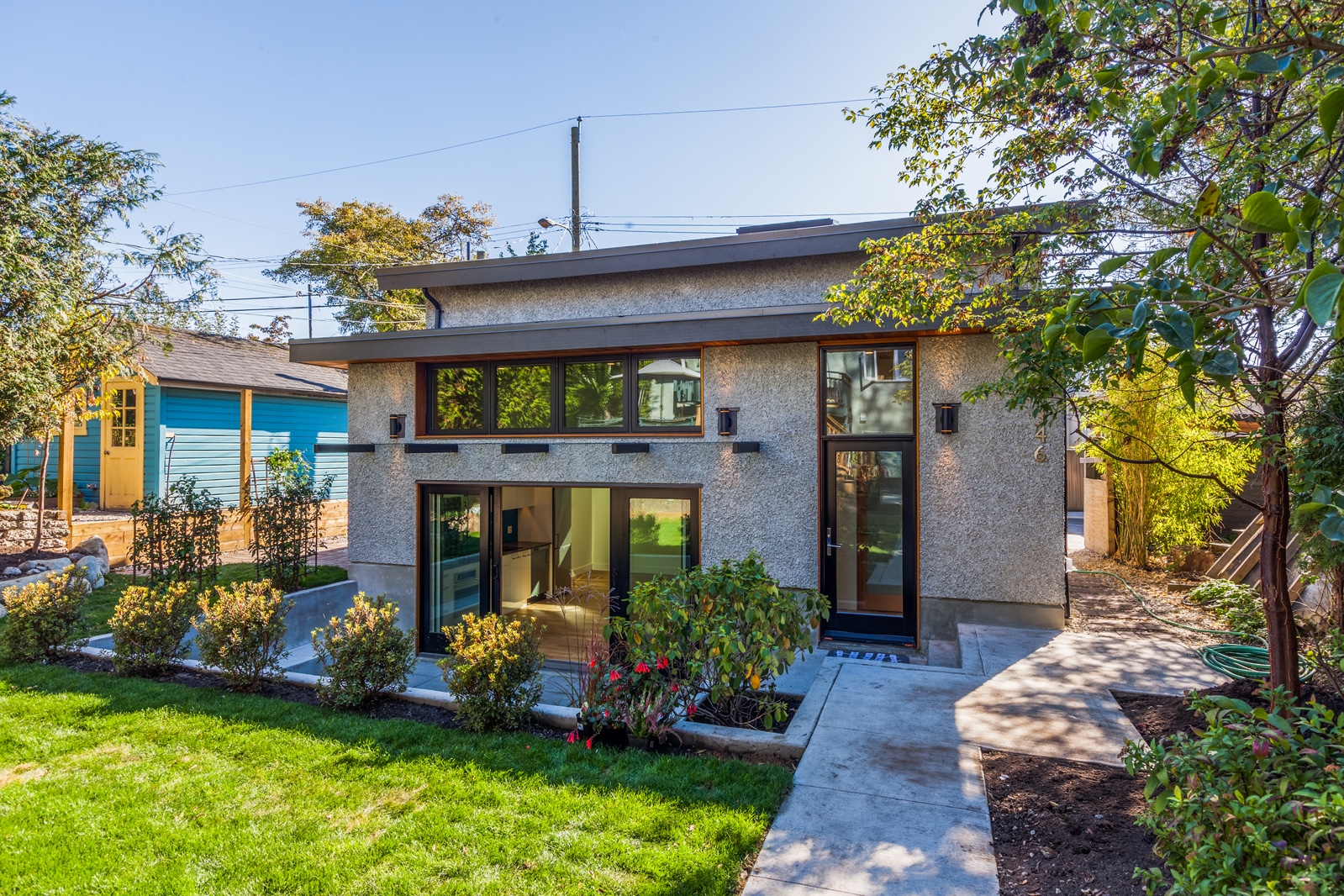 Your small dwelling unit deserves a beautiful garden as well. If you cannot afford the big one, simply create a space-saving flowerbed around it for additional attraction.
This is one of DADU designs that make a perfect space for rent.
With spacious open space interior and sufficient front patio, it can make your tenant stay comfortably in the unit.
It also makes a great inspiration if you want to add a function to your uneven backyard; this design was built in a similar area.
5. Cozy Home Office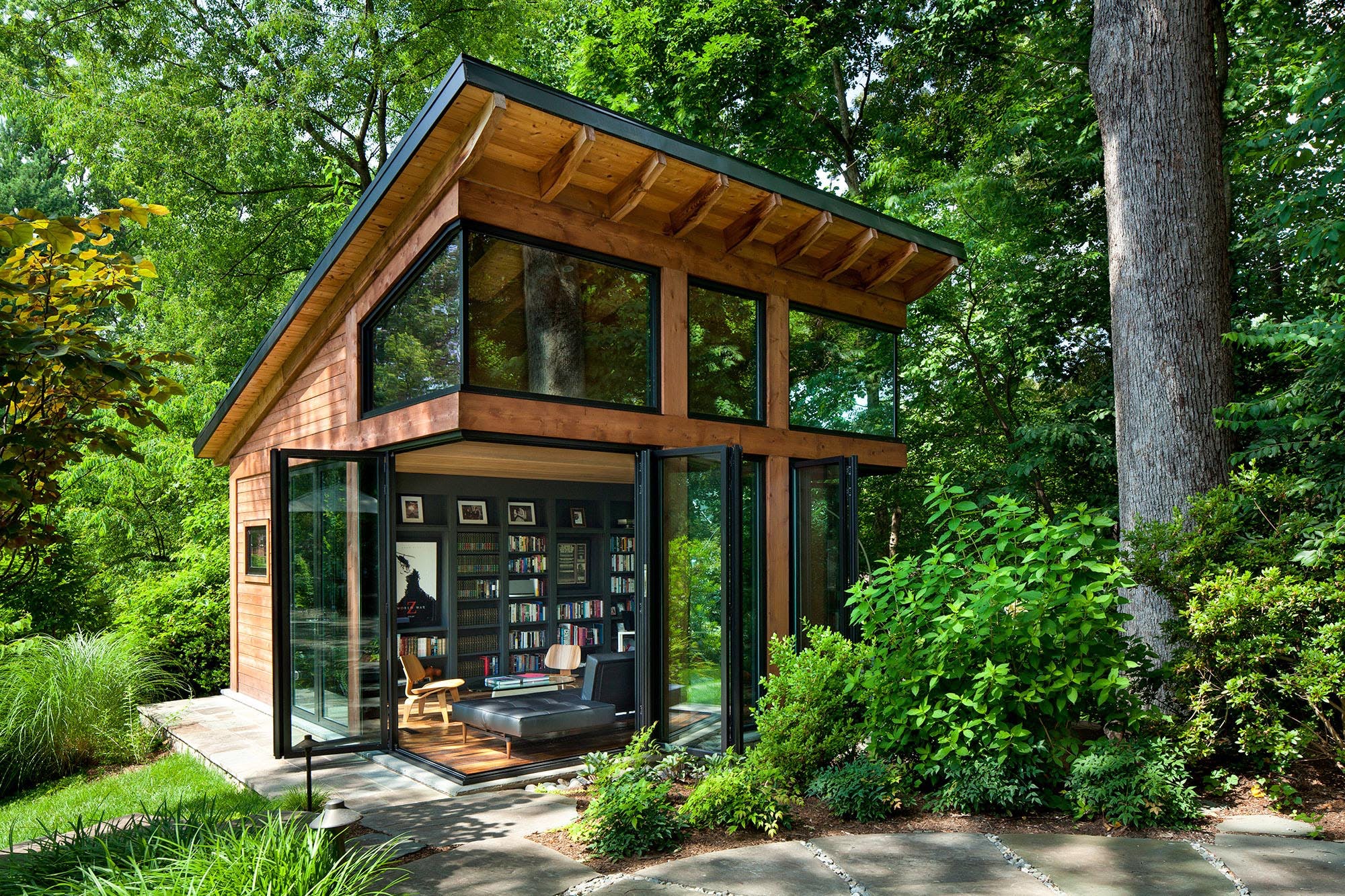 If your main house cannot accommodate a dedicated home office or library, you should consider building this kind of DADU in your backyard or garden.
This small dwelling unit does not take up much space in the backyard. Yet, it still has every necessary room to make it feel like home.
You can utilize the attic for a bedroom while using the back area behind the home office for a bathroom and kitchen.
The floor-to-ceiling bookcase not only becomes the house for your collections but also makes a unique partition for the room behind it.
6. Repurposed Shipping Container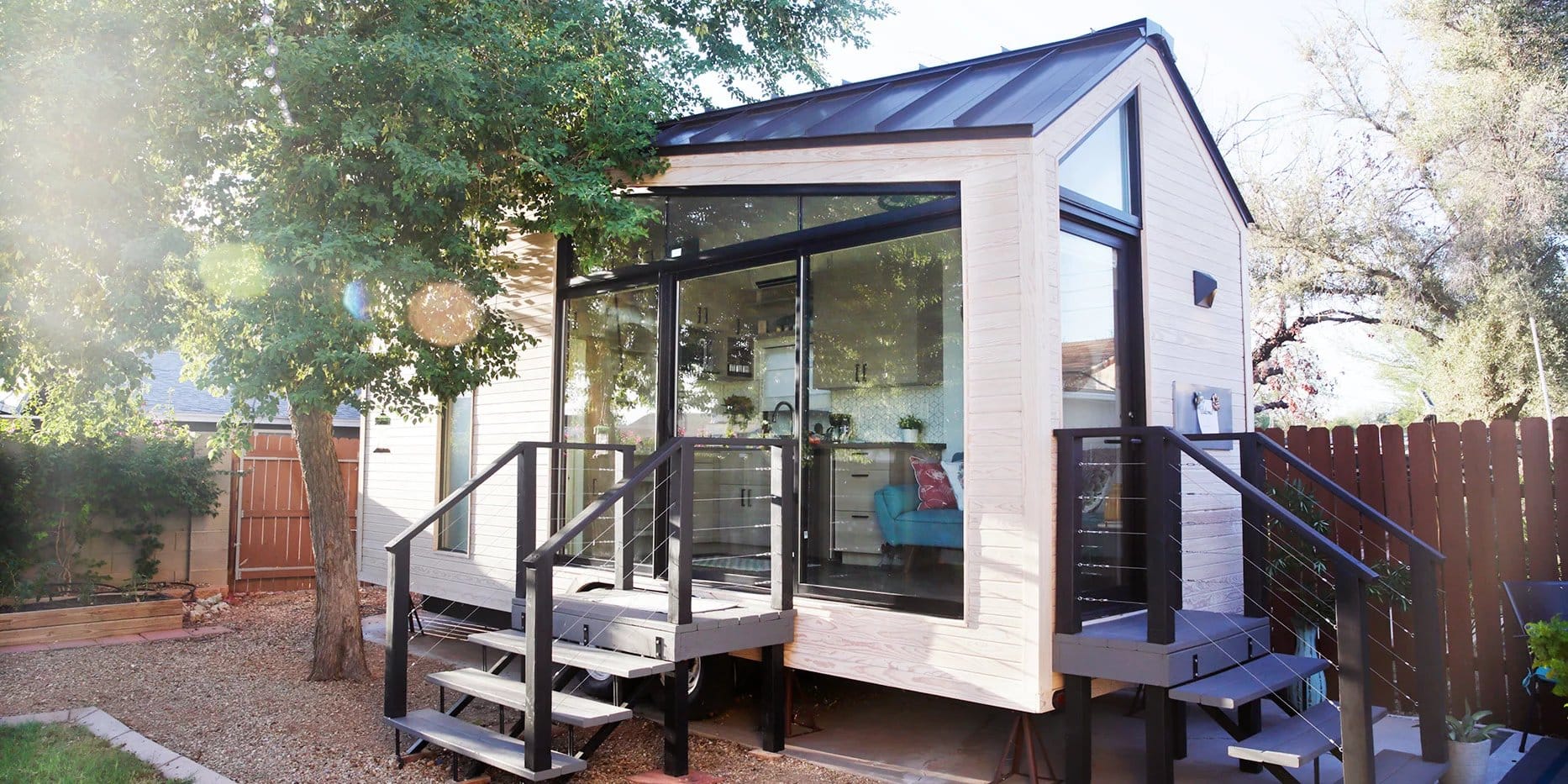 Shipping containers have become a popular material for small houses and DADU projects nowadays. Their compact size and unique appearances make them favored by homeowners.
You can simply get custom metal-framed windows and doors to turn a shipping container into a useful additional dwelling unit.
Keep the wheels and you will have a portable DADU unit that can be moved anywhere around your backyard.
Complete the look by incorporating steps toward the doors.
For an industrial style, paint the exterior walls white and make the decoration simple. Inside, you can create an open space with joined kitchen and living area.
7. Exceptional Concrete Walls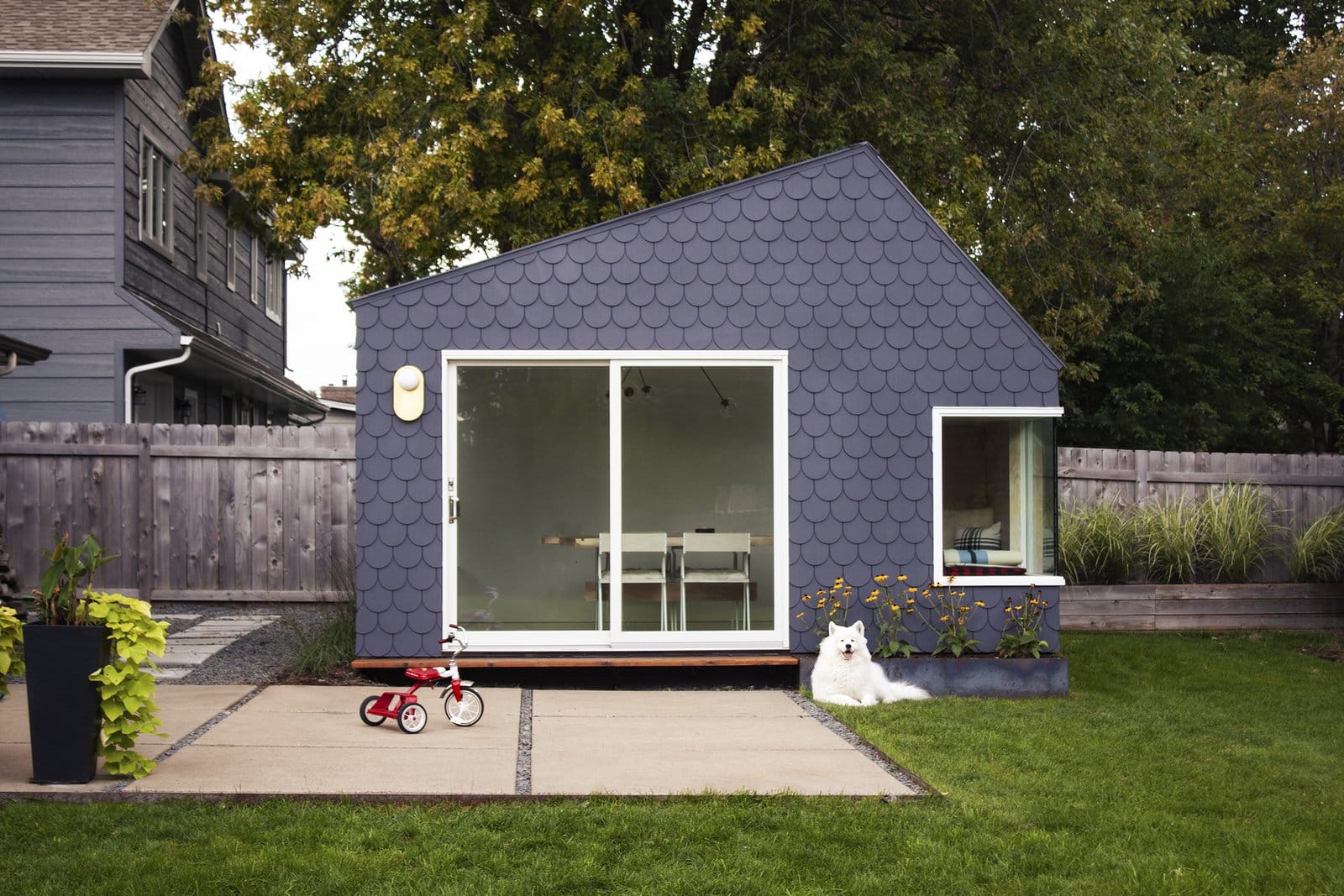 With scales patterned concrete walls, your DADU will appear more appealing in the backyard. You can even incorporate a tiny flower bed on one side of the wall to make it even better.
One-third of the interior of this DADU functions as a bedroom. Whereas, the rest features a dining table that can double as a space to entertain guests as well.
Despite its tiny-looking appearance, it still has adequate space for a kitchen set and a small bathroom. Meanwhile, the extended concrete patio works as a detached porch for this DADU.
8. Spacious Dwelling Unit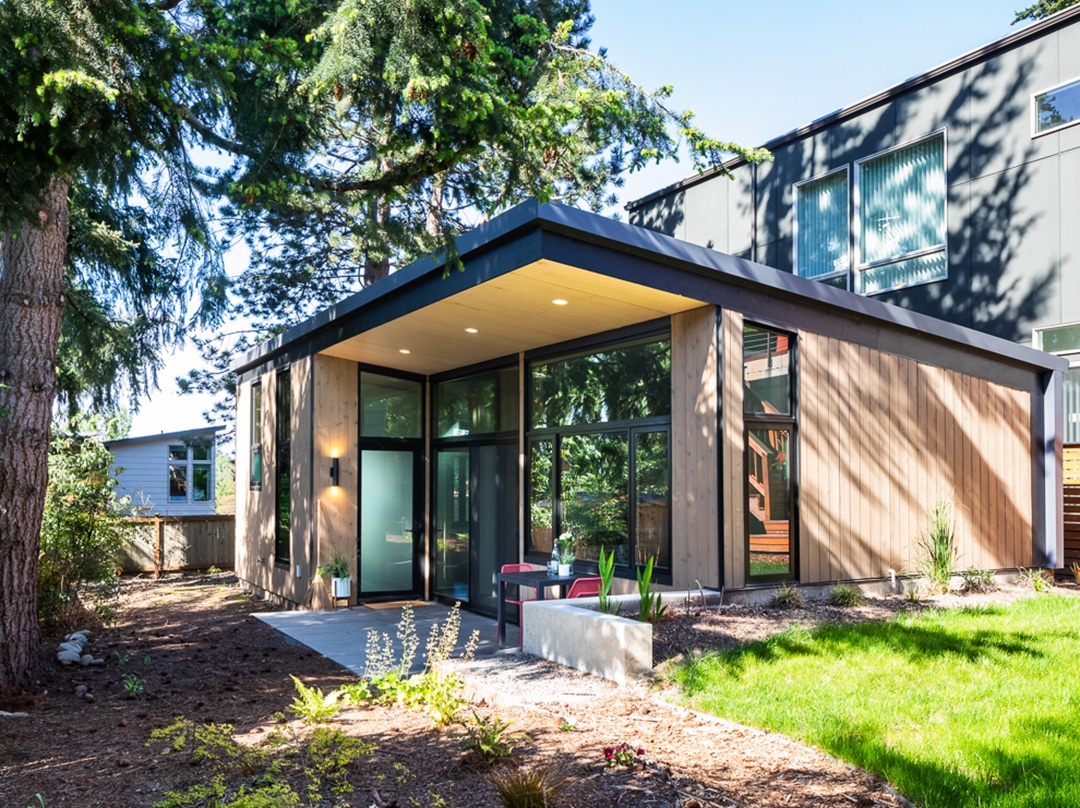 If you have a large available space in your property, don't hesitate to create a spacious DADU that contains everything necessary for a home.
You can still take advantage of wide glass windows and doors to let more natural light come to the interior.
The great point of having a spacious DADU is that you can have a larger gathering with your family and friends without messing up your main house.
Besides, the unit will have an extra value if you consider renting it in the future.
9. Large Modern DADU unit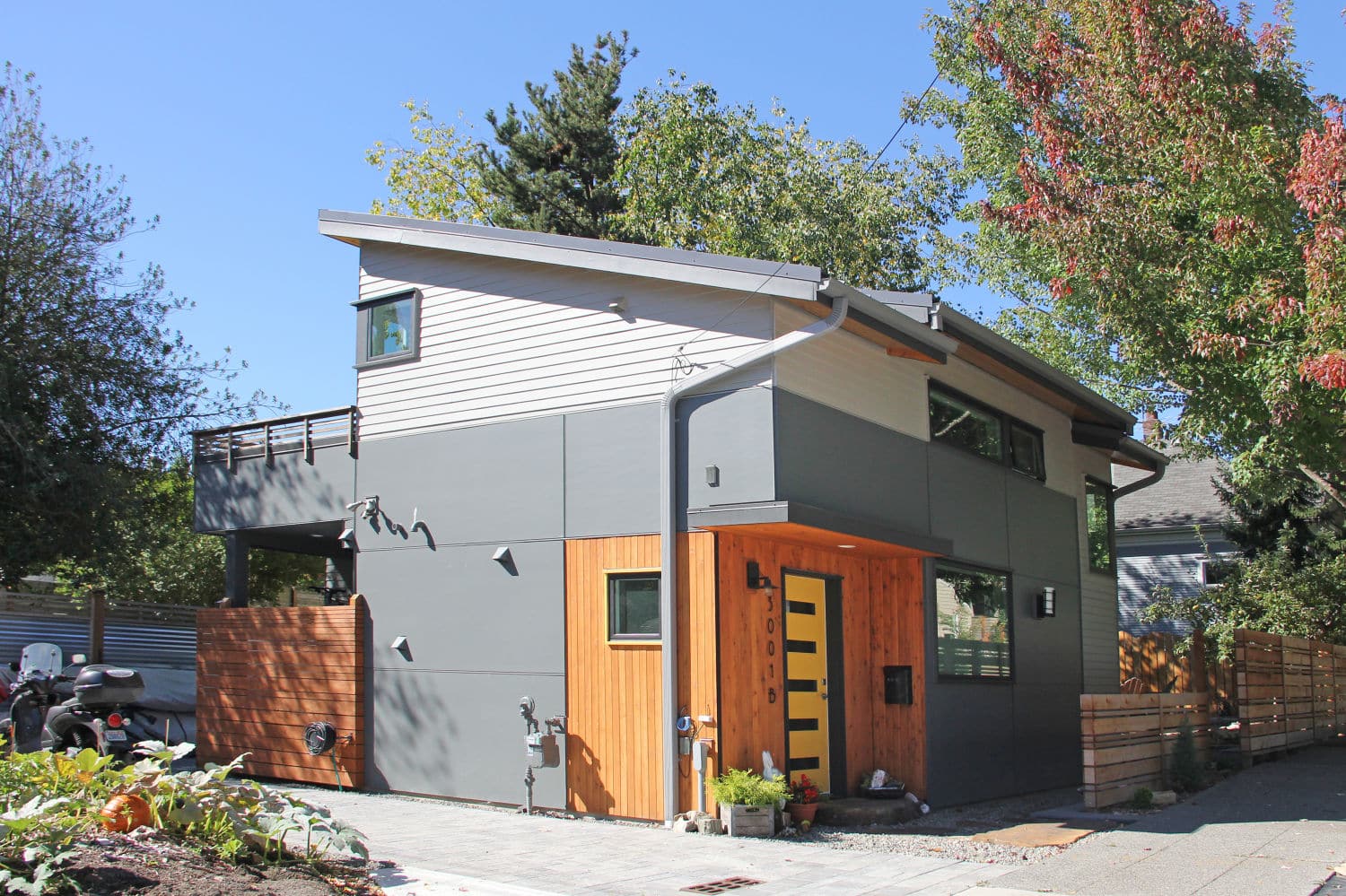 This is another big DADU that allows you to throw a big party outside your main house.
Meanwhile, it appears like a real home instead of an accessory dwelling unit, you can easily put it for rent if needed.
Its box-like design is similar to most trendy DADUs out there, but that rooftop space makes it more exceptional.
What makes this DADU even more interesting is the wooden accent on the entrance area. That, it beautifully contrasts the dark gray exterior.
10. Metal Cladding and Sliding Doors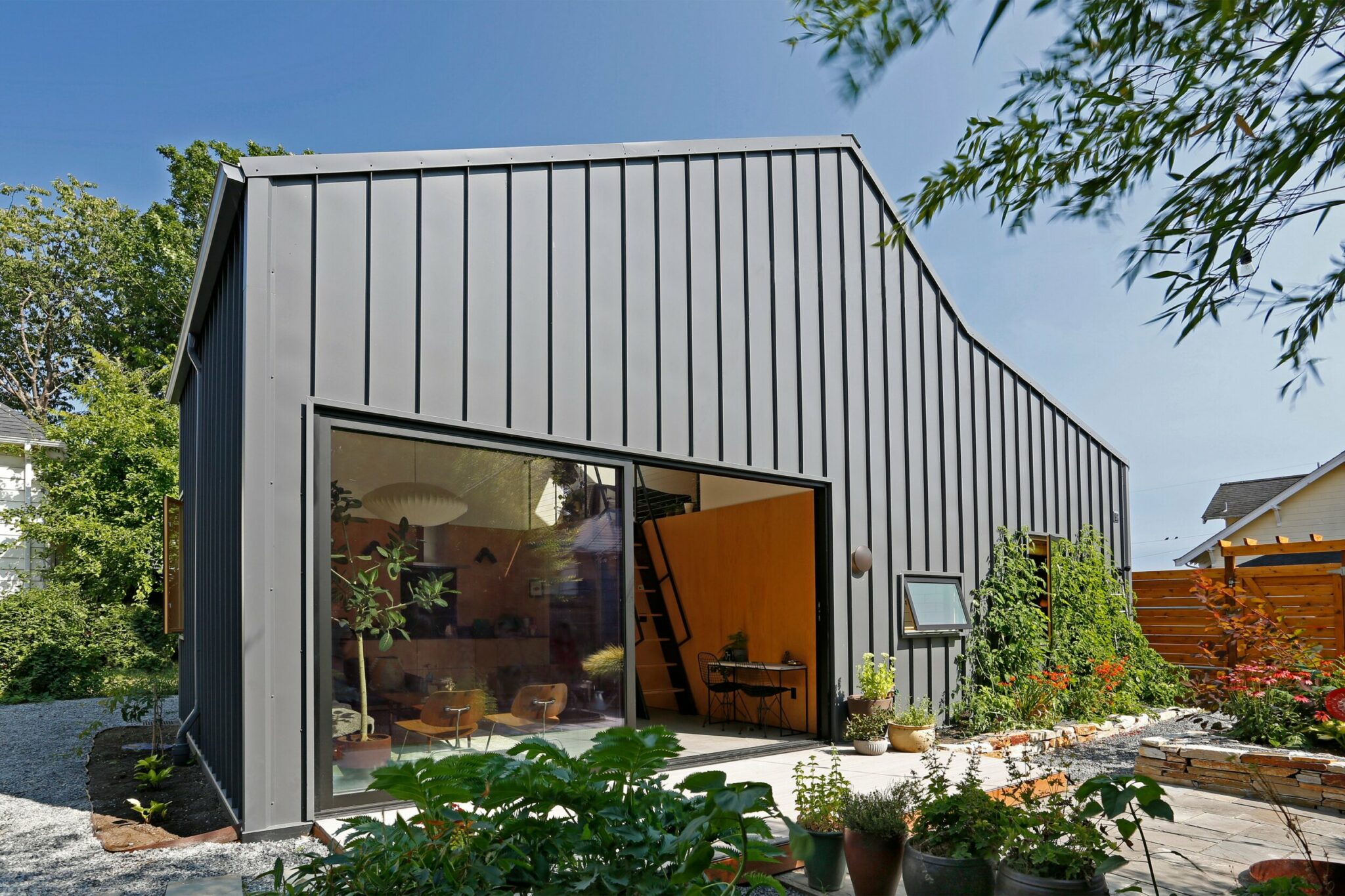 Who knows that a combination of metal cladding, concrete, and pine plywood can make a beautiful accessory dwelling unit like this one?
This welcoming DADU is previously a rotting garage that is turned into a functional unit with a lounging attic, a comfy bedroom, and a sunny living space.
A gigantic sliding door allows the homeowner to connect with the garden without leaving the comfort of the home interior.
Meanwhile, to connect the DADU with the main house, there is a gravel pathway that is surrounded by a beautiful flower garden.
11. Adorned with String Lights DADU unit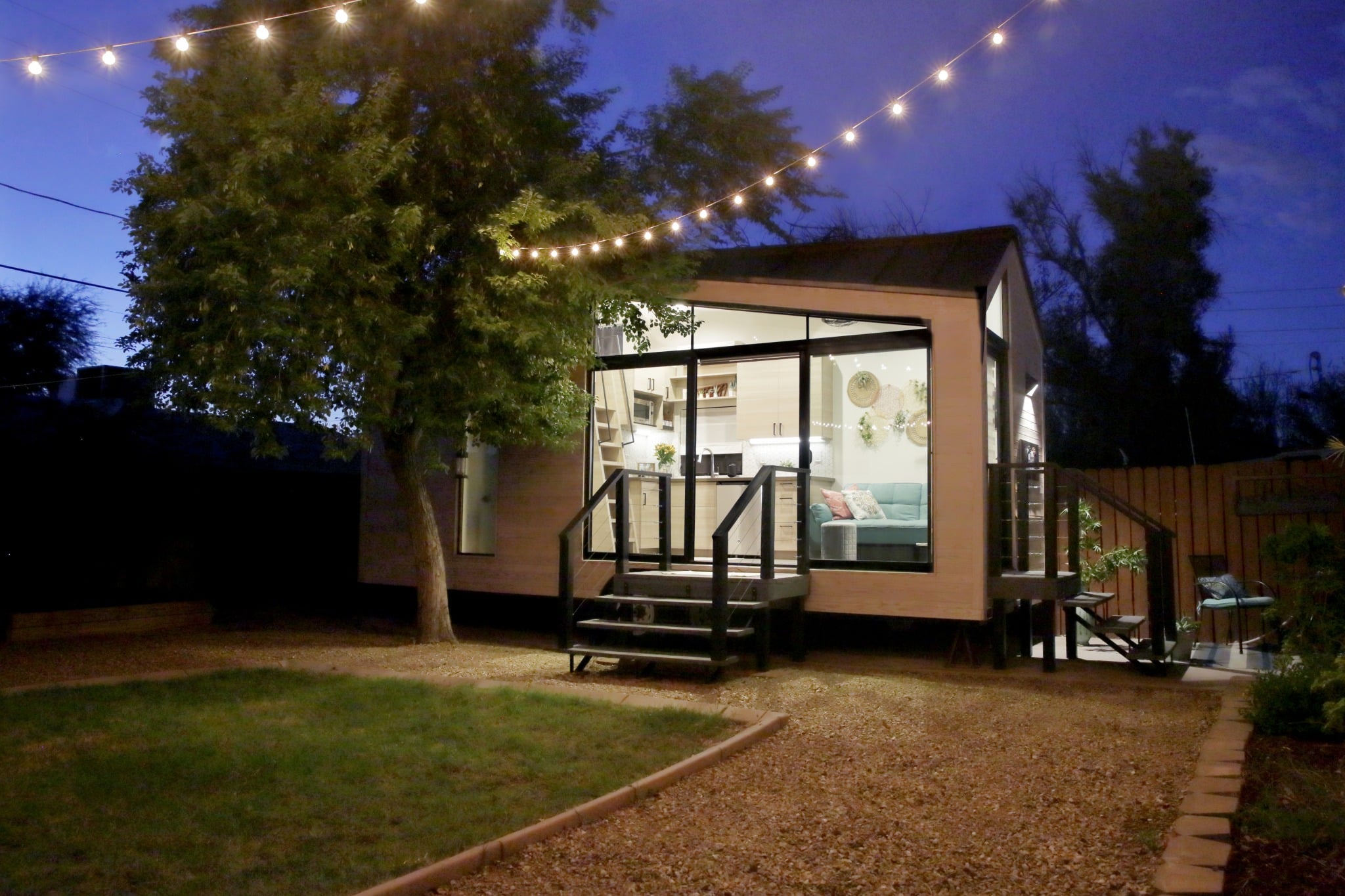 Your young adult who has just finished their college study will love this compact DADU unit that has its own kitchen set and a couch for entertaining visitors.
To make it feel more alive at night, hang several string lights that connect the accessory dwelling unit with the primary house.
12. Two-Story DADU unit with a Garage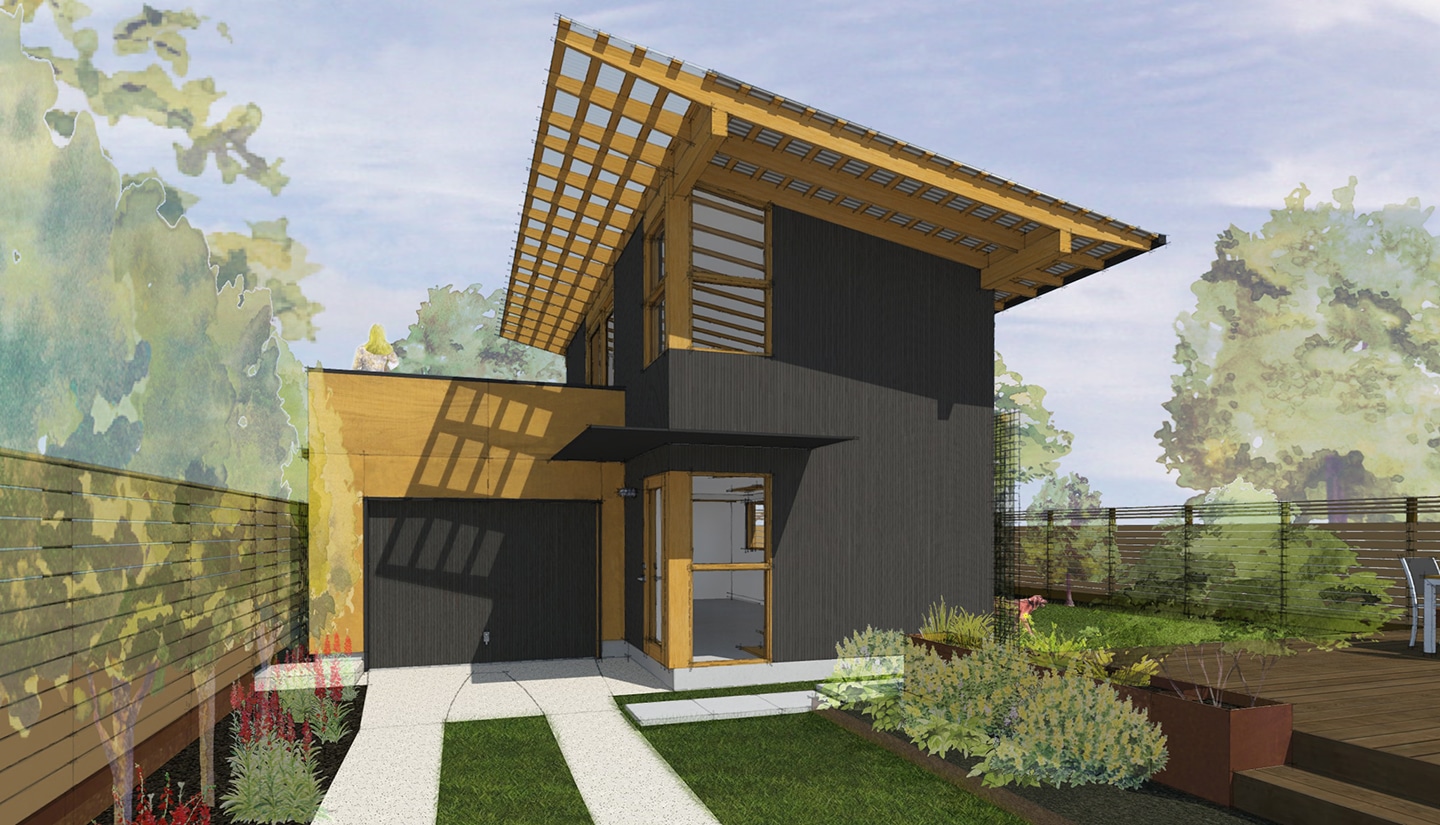 This DADU plan makes a great inspiration if you are planning to attach this housing unit with an existing garage.
Likewise, its two-story construction allows you to have a spacious living area on the lower ground. And, you can have a comfortable sleeping room on top.
Further, a concrete pavement surrounded by flowerbeds and well-maintained grasses connects this DADU with the main house.
Additionally, the floor-to-ceiling glass door allows you to enjoy the scenery from inside the unit.
13. Wooden Fences for Extra Privacy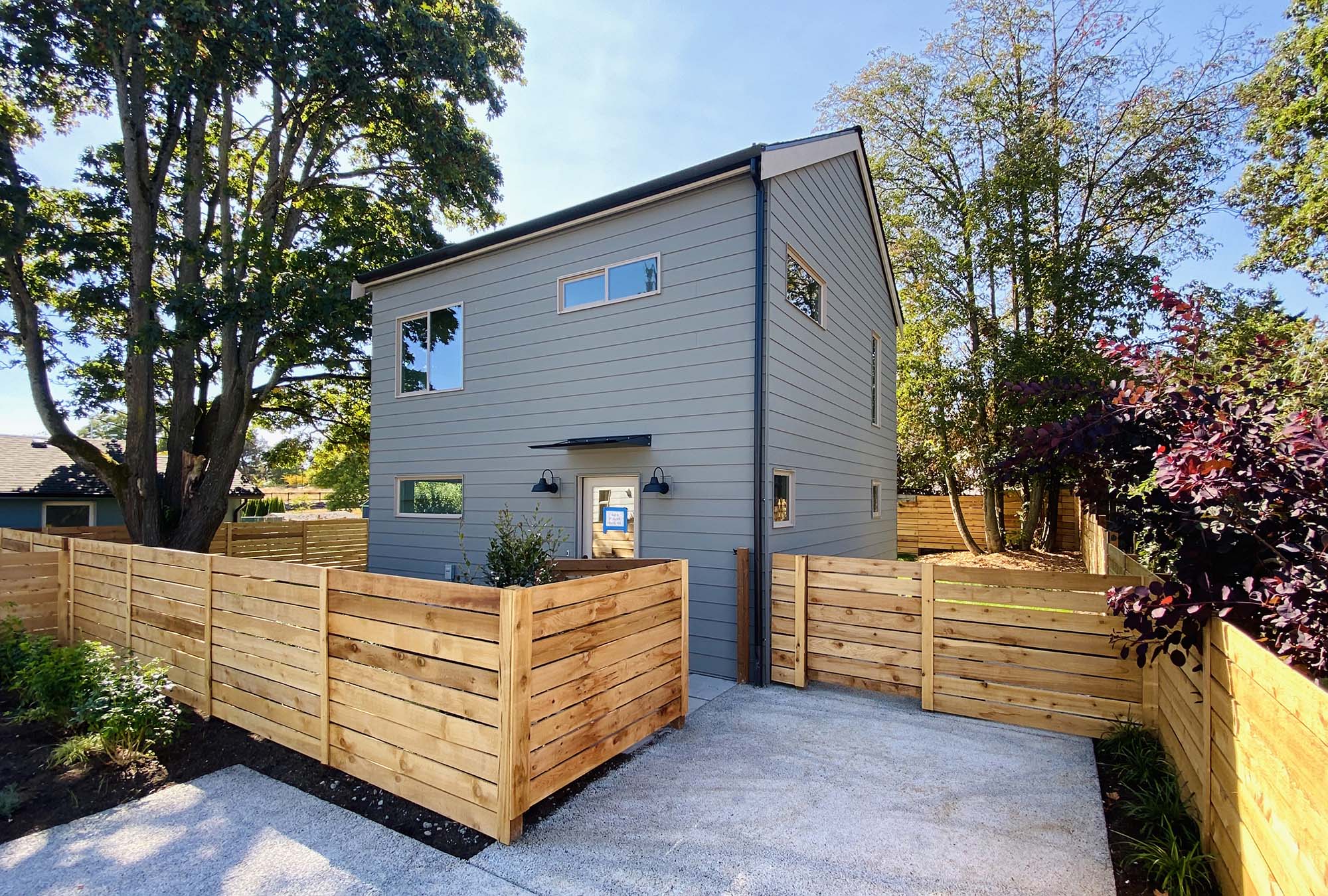 If you want to build a DADU unit that has a higher level of privacy, this one should be an interesting idea to get you inspired.
Unlike most of the DADUs on this list, this unit does not come with gigantic glass doors or windows. Instead, it has some minimalist ones that are enough for letting sunlight illuminate the interior.
The wooden board fences surround this backyard cottage, offering extra privacy for the homeowners. Thus, they could be free while doing something outside the unit.
14. Cozy DADU unit for Elderly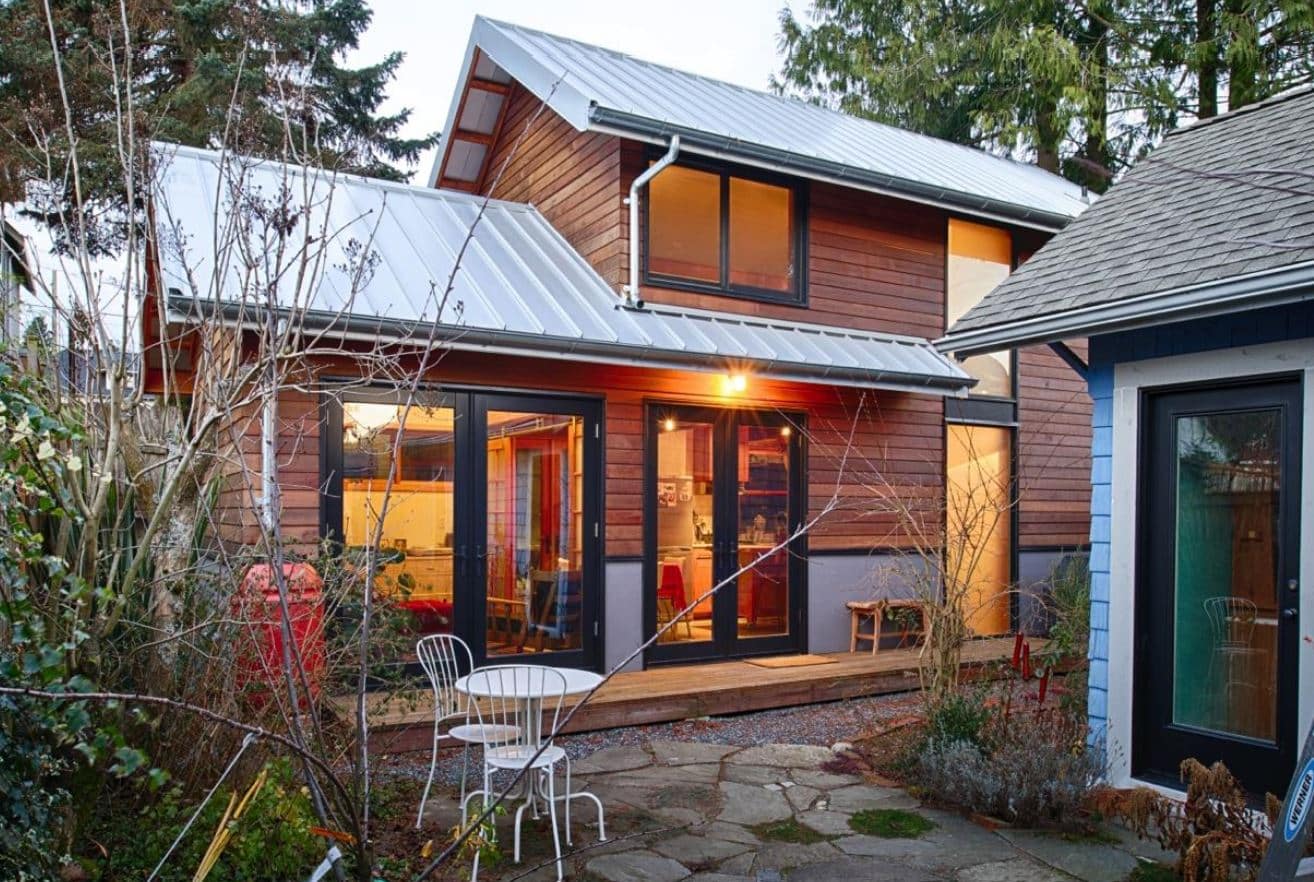 With greater and easier access to the main residence, this DADU is ideal for you who want to build it for an elderly loved one who needs support.
It comes with roomy living spaces. They are developed to account for potentially diminished mobility as your loved one grows older.
Considering its size, you can even create two bedrooms in this DADU unit.
One bedroom is on the lower ground and the other is in the attic. So, you or another family member may visit and stay there when needed.
15. A More Independent Space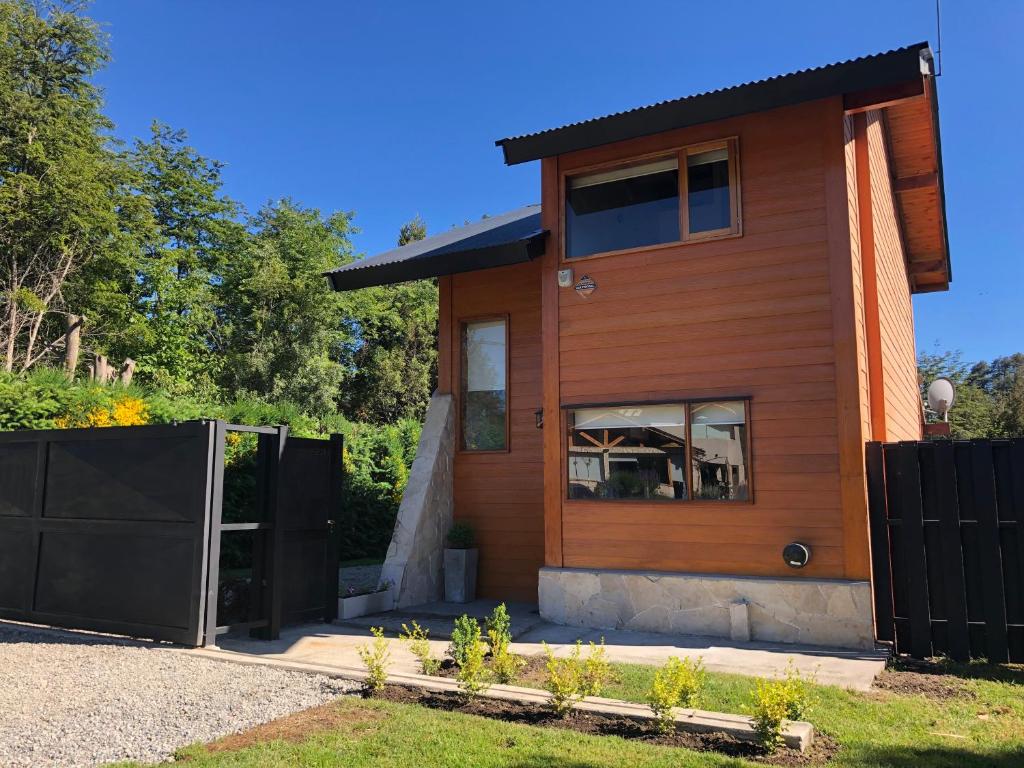 If you prefer a detached ADU that is more independent and has a higher level of privacy, this design is interesting for you.
This two-story DADU is located far enough from the main residence and has its own sliding gate.
The small windows make it perfect for a relaxing gateway or when you need space after such hectic, busy days.
Remember that its compact size should not stop you to get the most of the DADU's interior. It is because this unit is built in two levels for covering the limited space.
16. U-Shaped DADU unit with a Loft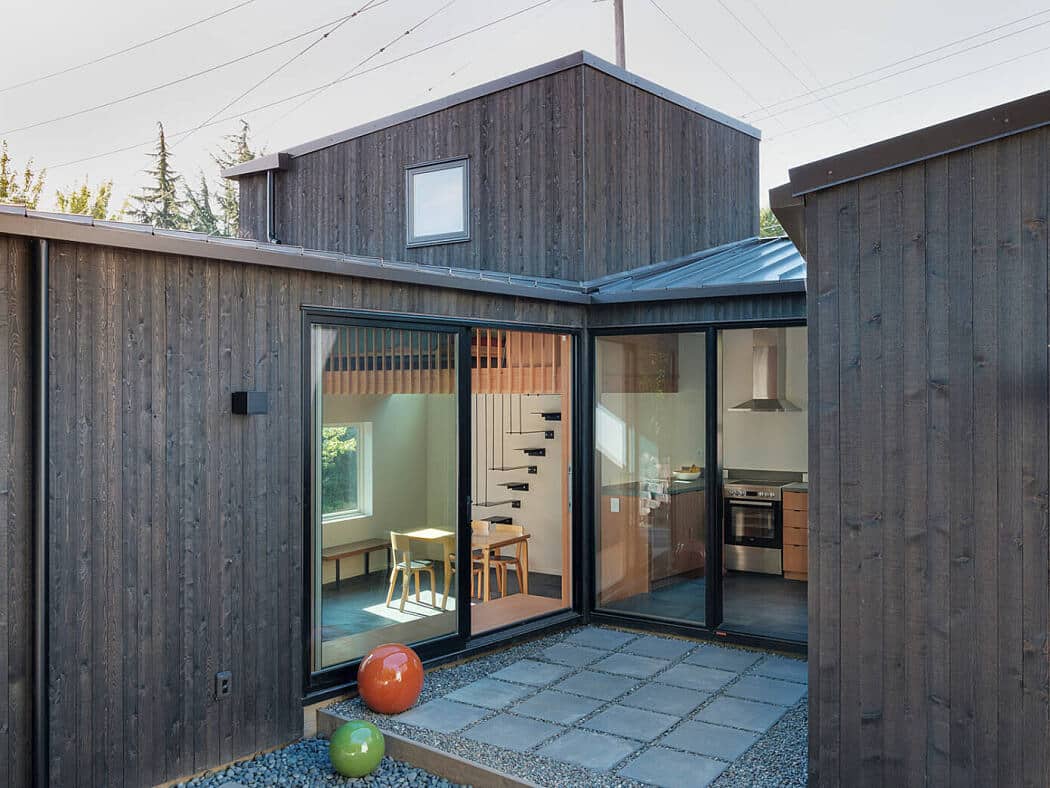 Although this DADU unit has the same basic box-like appearance as other accessory dwelling units, its overall arrangement of it is indeed unique.
The wide glass sliding doors are facing each other. They allow the homeowner to see inside every room without checking it out.
A U-shaped DADU is rare and you can use it as a reference to create one in your property. If you need an extra room for a bed or others, do not hesitate to build the unit with a loft.
17. Simple-Looking DADU unit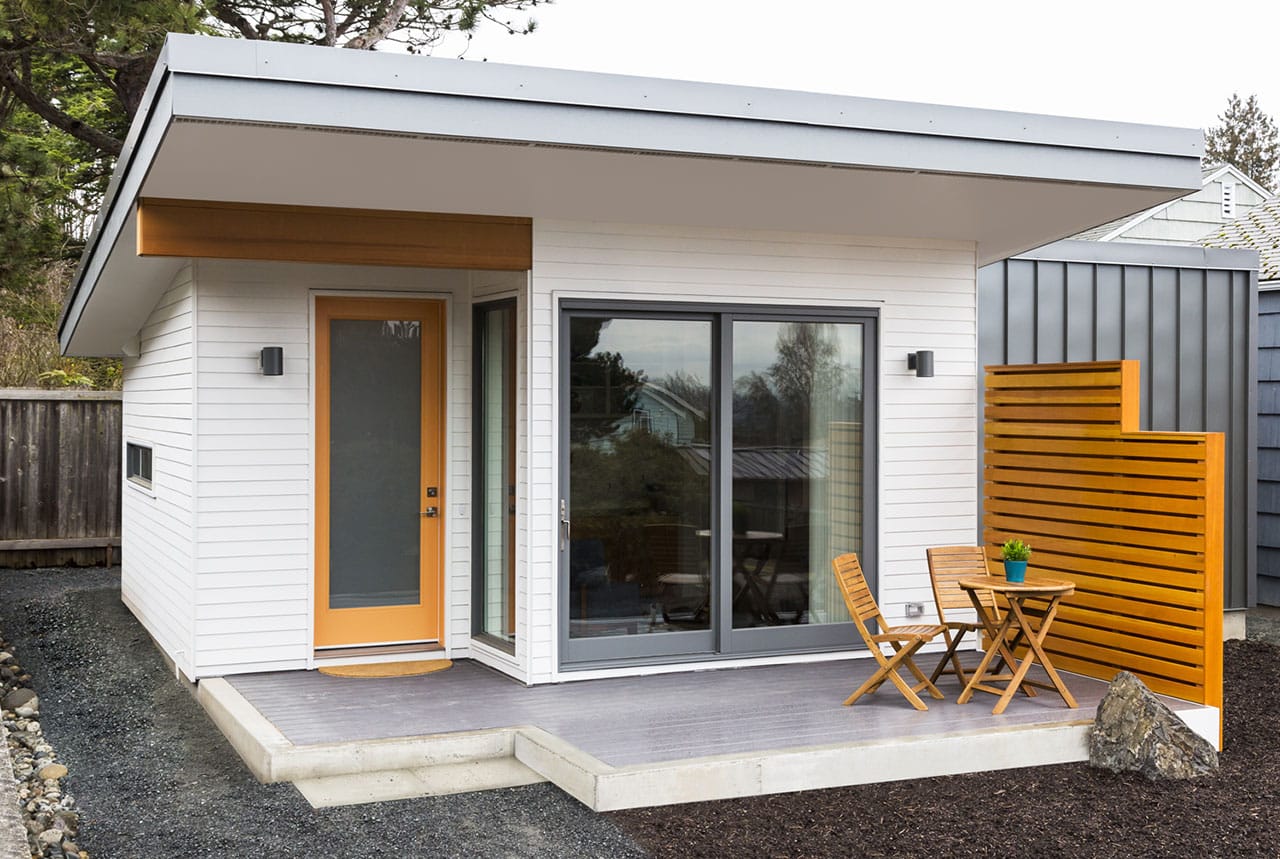 A DADU can look simple yet elegant as this one too. Despite its small size, none can deny that this unit is gorgeous.
The big sliding doors will let more sunlight go inside the house. Hence, it is easy for you to connect with the outside world.
When the weather is good, you can go outside and enjoy your morning tea on the wooden chairs that are set on the terrace.
That wooden partition may feel like a decoration touch. Besides, it doubles as a functional screen for you when sitting back and relaxing on the porch.
18. Modern DADU unit with a Small Balcony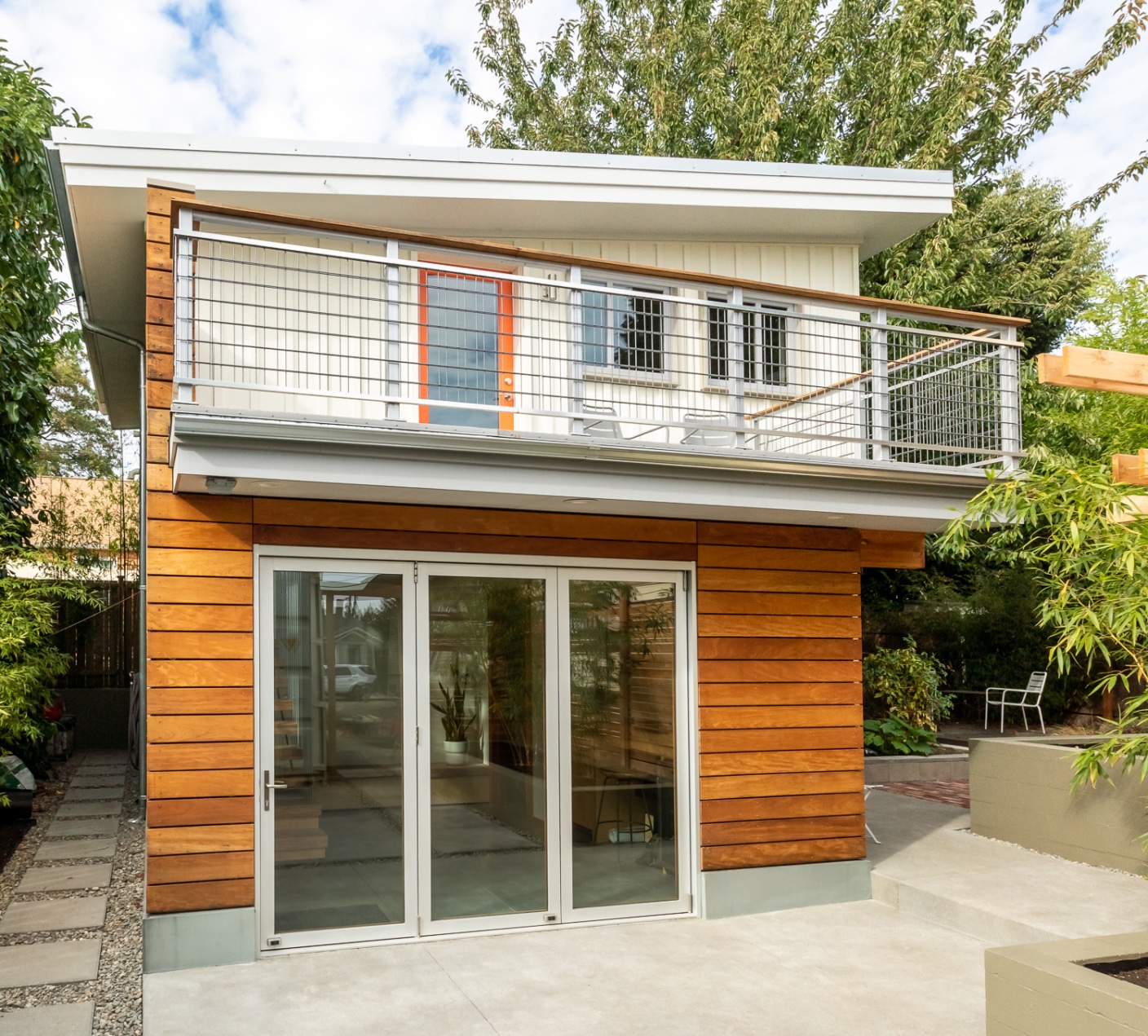 Who says a DADU cannot have a functional balcony? This unit proves that you can have a cozy terrace despite the limited size of the house.
You can even adorn your DADU's balcony with outdoor furniture to let you view the backyard garden or simply to enjoy the warm summer.
Instead of black metal frames, the adjoined glass door and windows of this DADU come with stainless steel ones. It matches the balcony's railing.
19. Traditional New Construction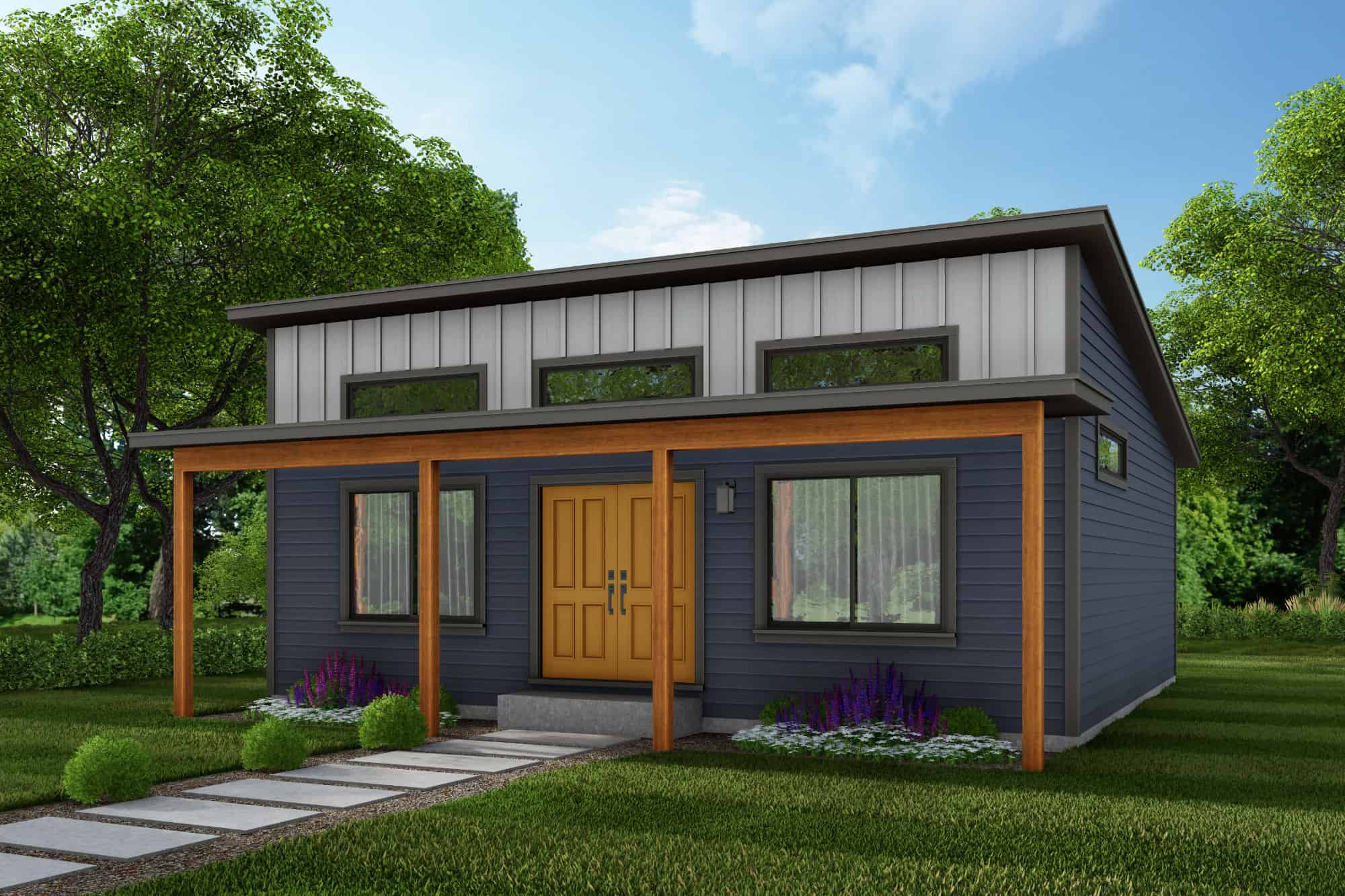 A detached ADU does not always have to look modern. This plan makes a great example if you prefer a more traditional unit.
With standard wooden doors and classic pillars on the porch, this DADU will bring back that old memory for whoever visits it.
The design makes this unit perfect for elderly loved ones who require an independent space. It is not far away from their children.
20. DADU unit with a Spacious Outdoor Patio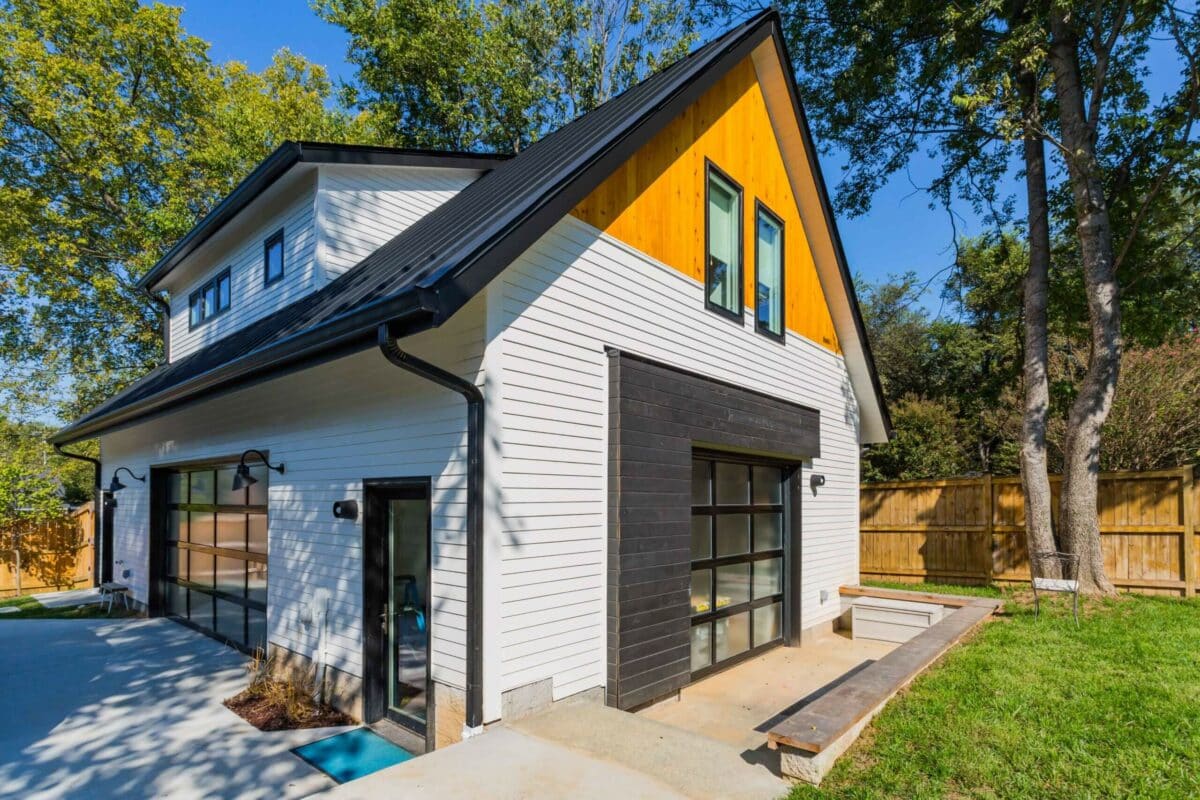 A DADU deserves to have a large outdoor patio too, as long as your property allows you to build it like this.
It will be a great feature if you ever plan to rent out your unit in the future.
This DADU unit comes with a standard-size door that looks basic, but the oversized paneled glass windows make the design appears highly well-designed.
Instead of being installed on each side of the door, the homeowner incorporates the sconces beside the window.
21. Basic DADU unit with a Rooftop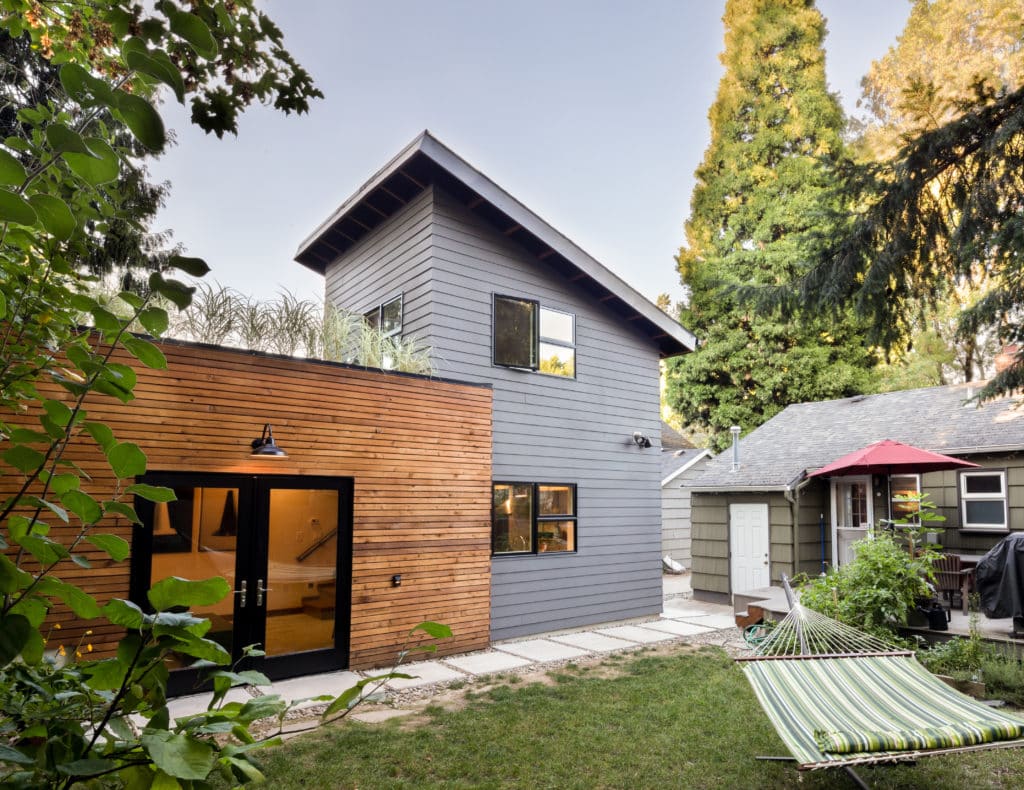 While most DADUs have a flat roof design; you can take advantage of it to display your favorite perennials and vines.
Against the wooden exterior, these plants will appear natural just like this unit.
In addition to the garden rooftop, the placement of the wall sconce in the entrance of this DADU is pretty unique as well.
Unlike many others that come with a set of sconces on both sides, this glass door only has a single lighting fixture in the middle.
To conclude, all of these photos and ideas show you that an accessory dwelling unit provides your family the chance to live under a different roof but is still on the same property.
Just make sure to build your DADU unit properly to get the most of it.
If you're looking to sell your property and DADU unit, then Sheldon Bosley Knight can help! They're expert estate agents with years of industry experience that can help with your buying, selling and letting needs!
Conclusion
However, it is still a good idea to consider the budget and zoning regulations before deciding if a DADU will work. If your zoning rules don't allow you to build a DADU large enough to serve the purpose you want to use it for; it's not worth it. Additionally, if you want to save money, you might not be able to afford to use a DADU.