Minimalism has become increasingly popular over the recent years as more and more people become convinced of the fact that less is more. Having fewer objects means that you reduce the amount of clutter you keep around and get to use the storage space you have more efficiently. If you have a small area at your disposal, you'll have no choice but to minimise the amount of stuff you use. However, clutter should also be avoided in larger spaces, as it can contribute to poorer concentration and anxiety.
If you've been thinking about refurbishing your kitchen into a new, minimalistic space but aren't sure where to start, here are some basics that will get you on the right path.
Decluttering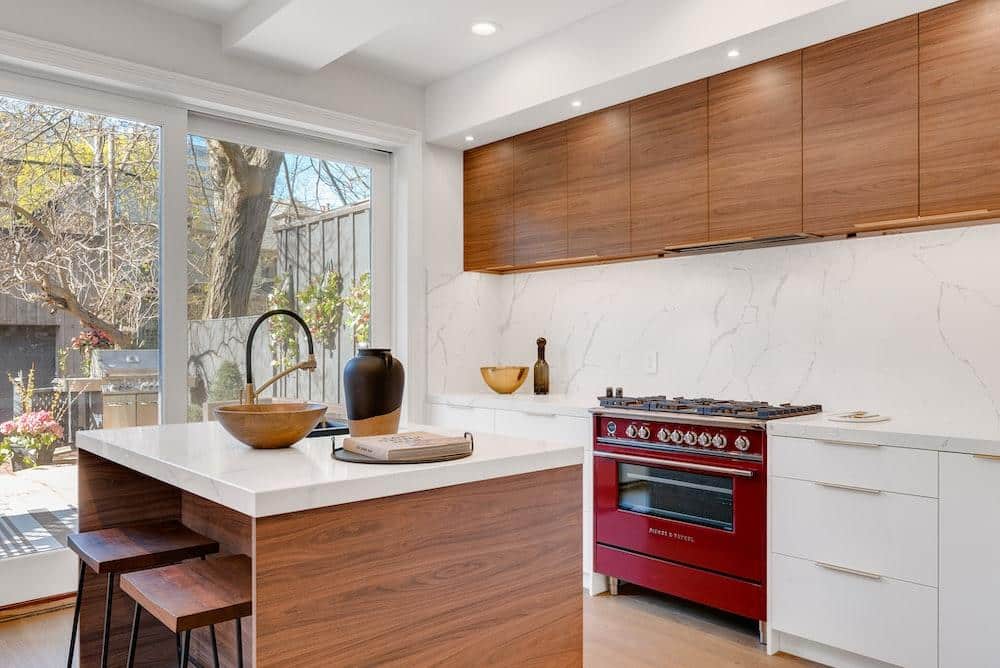 The first step of a minimalist lifestyle isn't to buy new things that fit a particular look but to let go of the items you no longer use. Take a careful inventory of your kitchen and see how many items you have used over the past nine months. Then think how likely you are to use them in the future. If you realise that you have items that you have either not used in a very long time or bought impulsively and now are just occupying space in the drawers, it's time to let go of them.
The key is to make sure the number of appliances, cookware and dishware you own doesn't exceed your storage space. Everything must be placed safely away from the table or any other kitchen surfaces to create a seamless, tidy look.
Simple colours
A natural and neutral colour palette is the key to creating a minimalist space. In fact, shades of white, ecru, beige and light grey are among the most symbolic aspects of the style and something that makes it easily recognisable right away. If you want to add a splash of colour, consider getting it through appliances or other kitchen tools.
For the furnishings, look for solid oak kitchen cabinets. Their neutral tones lend themselves well to any ensemble, and they'll never go out of style. Moreover, since the material is sturdy, you don't have to worry about replacing them often. Minimalism isn't just about the design; it's also a way for environmentally-conscious people to reduce their negative impact on the natural world. By getting something that lasts longer, you reduce the amount of waste produced and the energy and fuel it takes to manufacture furniture pieces and have them brought into your home.
Practicality
A minimalist space is far more practical than one that's got objects scattered all over the place. If you don't have much time on your hands or have children or pets you need to look after, you'll definitely appreciate the advantages of such a kitchen. A high-quality fridge, farmhouse sink, and taps are crucial. Since they are the essentials in any kitchen, you can make them more luxurious. Just make sure they're not too flashy, or they can clash with the rest of the design. 
Ensure your storage space can handle all the items comfortably. Everything should be easily accessible, and you shouldn't have to endlessly skim through mountains of stuff to get to what you need. Since you'll choose a simple design, you don't have to worry about how your kitchen reflects the current trends or fret over regularly getting new items to replace the outdated ones. Moreover, cleaning and maintaining minimalistic furniture is much easier since you won't have to scrub and polish inlays or carvings.
Remember that picking quality over quantity is the fundamental aspect of minimalism.
Monochromatic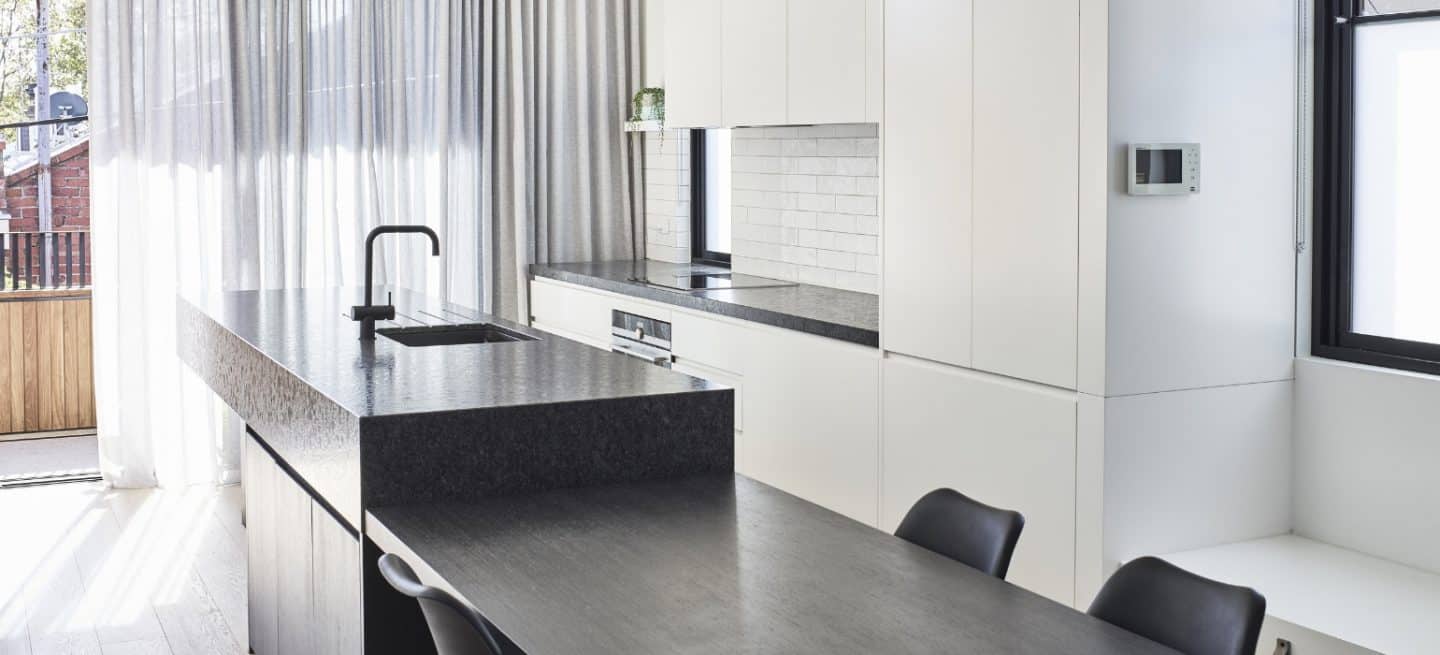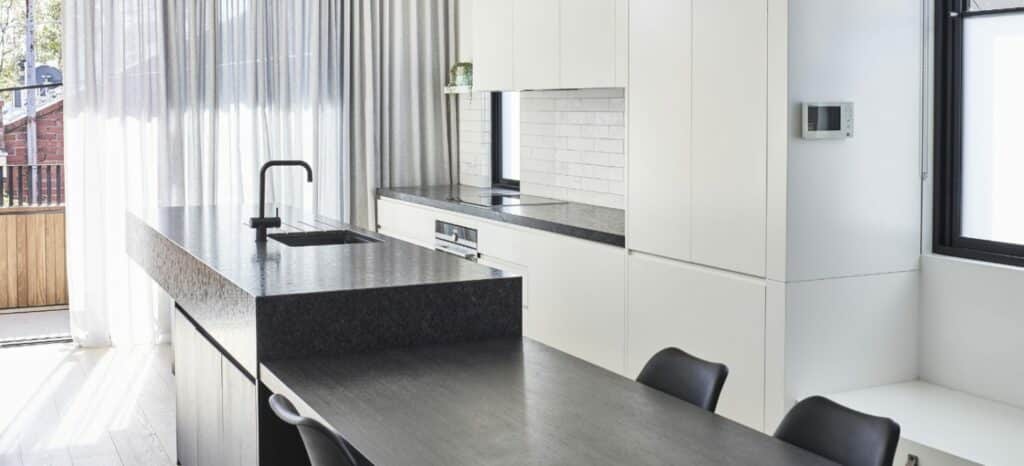 If you want to keep things as simple as possible, opt for a monochromatic colour palette. All-white is a classic option and one of the most popular for those taking their first steps into the world of minimalism. You'll want to get lacquered cupboards to ensure the kitchen stays immaculate. Apart from creating a look that's both simple and clean as well as modern, it's also very easy to keep clean, even if you have children playing around.
Get inspiration
There are several traditional styles worldwide that you can get inspiration from. Scandinavian interior design is famous for being essentially synonymous with minimalism due to its love for open, uncluttered spaces and natural materials that create aesthetically-pleasing ensembles. One of the main aspects of creating authentic Scandinavian design at home Is to make plenty of room for natural lighting. It will make the room feel airier and less cramped, removing the claustrophobic feeling of a small kitchen.
Scandinavian interior
Scandinavian furniture emphasises modernity more than tradition, and the designs blend timelessness with novelty. One of the easily recognisable aspects is that Scandinavian furniture tends to follow subtle curves and lines as part of its design. My favourite material is wood, preferably in warm tones. It isn't just used for furniture but also for the walls, to mask cupboards or in flooring. Ash, beech and pine are most commonly used.
Japanese interior
Japanese design, with its focus on simplicity and tranquillity, is also very much loved among minimalists. There are several philosophical and social concepts that stand as the fundamental pillars of design in Japan. Keeping things clean and straightforward and avoiding all unnecessary embellishments is the first and most crucial aspect. If something is too garish and over-the-top, it has no place in Japanese design.
However, that doesn't mean that Japanese design strives for absolute perfection. On the contrary, irregularity and asymmetry are thought to balance things out and create naturalness. Bring plants indoors and have white walls to reflect sunlight more. The perfect home based on traditional Japanese ideas is the one that acts as an extension of the natural world. And, of course, you should accept the beauty of imperfection.
Conclusion
People often replace older objects because they've lost their lustre, even if they're still in perfect working order. Avoid doing this, and remember that just because something isn't brand new anymore doesn't mean it has to be replaced. It's natural for objects to show signs of wear. You can look into upcycling older items or shop for vintage things.
When redecorating your kitchen, it can be challenging to know where to start. But if you're looking to achieve minimalism, it's pretty simple. You just have to go back to the basics.