If you own a house, you shouldn't only think about its interior design. You should also seek ideas for your outdoor living space, and maintain your home's exterior. The latter can uniquely express your individual taste and style. Perhaps you currently want to add some character or completely revamp your home's curb appeal. In this article, we'll discuss 6 innovative ideas that can add personality to the outside of your home.
1. Attach An Awning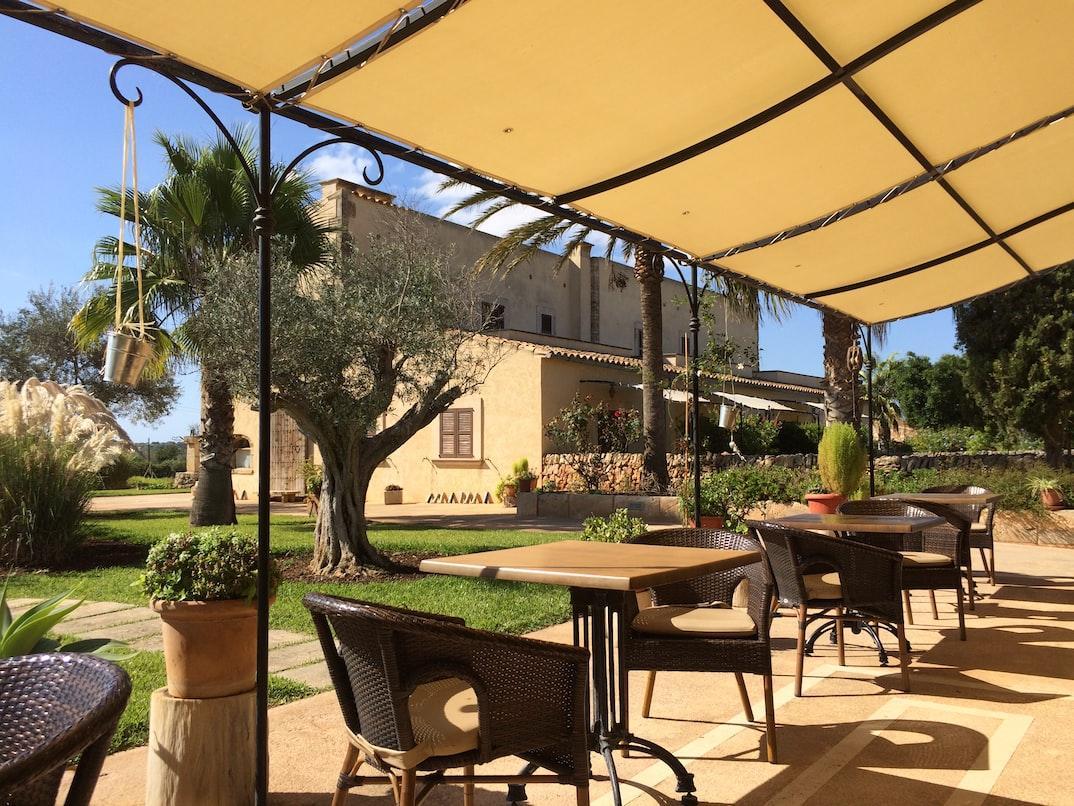 Awnings offer shade and protection from the sun's harmful rays, so you can enjoy your outdoor space on hot summer days. They can protect your outdoor furniture (from fading and rain) and keep your home interior cooler. They can also shield your windows and doors from rain, snow, and other harsh weather conditions. An awning can be customized to match your home's style and aesthetic. You can select from a diverse collection of colors, patterns, and materials.
Let's suppose you currently live in a city in southeast Texas. If you research retractable awnings sold in Houston you can discover award-winning products and superior customer service. If you want residential motorized awnings you can obtain free estimates for custom designs. Many online companies display customer reviews and service areas, and provide installation services where required.
2. Add Unique Outdoor Lighting Fixtures
You could opt for solar-powered hanging lanterns that emit a warm glow and create a cozy outdoor atmosphere. They come in various designs, such as Moroccan-inspired patterns or whimsical shapes. String lights are a versatile option, and can be hung along fences, pergolas, or trees. They can instantly transform your outdoor area into a charming and inviting space. You can go for traditional bulb-style string lights or more contemporary options (like globe-shaped or Edison-style bulbs). The soft illumination provided by these lights adds a magical touch to any setting.
You could also choose lighting fixtures that highlight specific features of your home's exterior – such as architectural details or garden elements. You can use uplights to accentuate the texture of a stone wall or create dramatic shadows on tall trees. By adding outdoor lighting, you can enhance the safety and security of your outdoor space during nighttime hours.
By adding outdoor lighting, you can enhance the safety and security of your outdoor space during nighttime hours.
3. Use Decorative Window Shutters Or Trim
Decorative window shutters come in a variety of styles, colors, and materials. They can be installed on either side of the windows or used as standalone pieces, depending on your preference. Shutters can add visual appeal as well as functional benefits such as privacy, light control, and protection against harsh weather conditions.
Trim can be used around windows, doors, rooflines, or any other prominent features on the façade. It comes in different shapes and sizes and can be painted in any color that suits your taste. Window trim adds depth and dimension to your house, while creating a polished and finished look.
4. Attach Some Window Boxes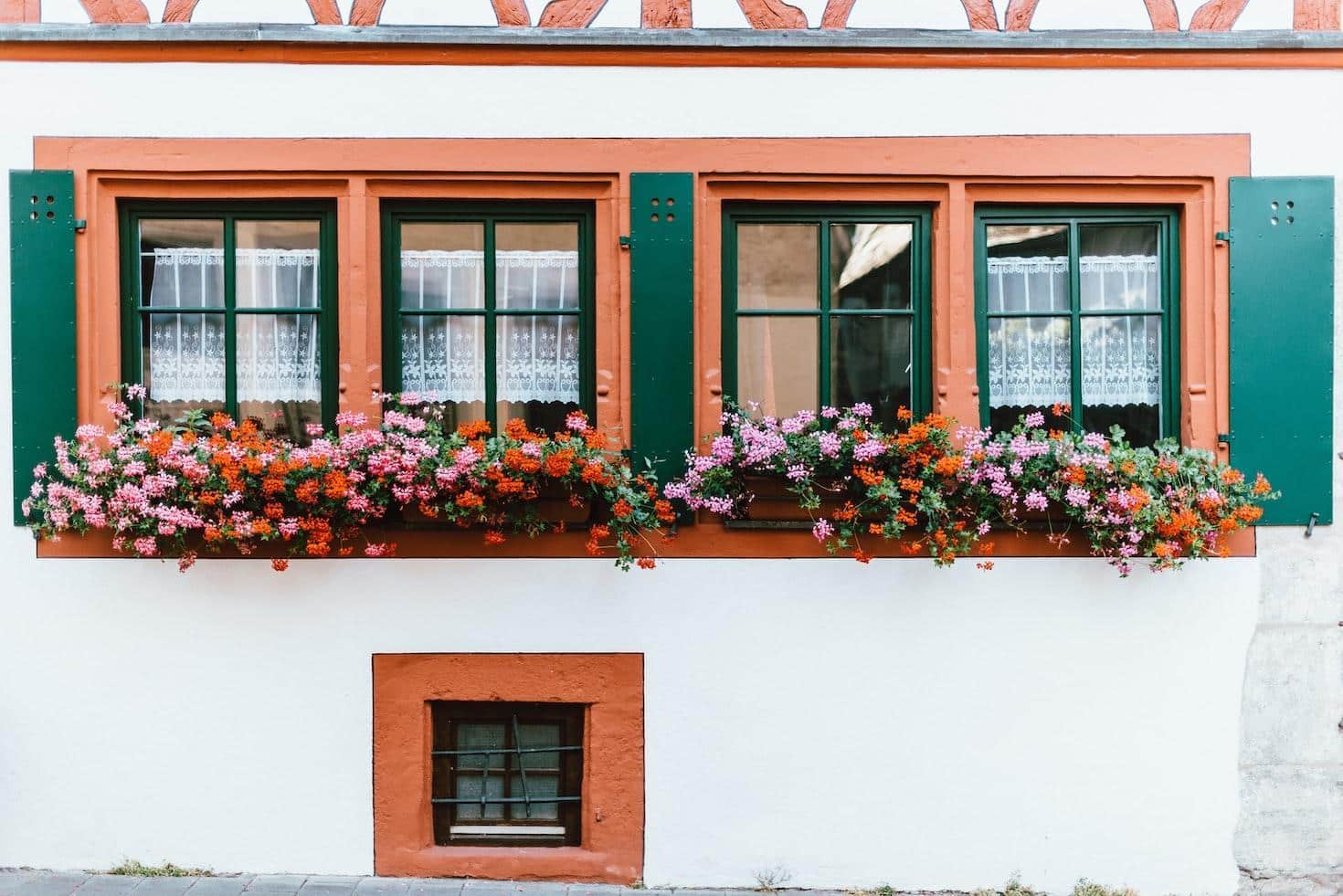 These can showcase beautiful flowers, herbs, or small shrubs. They can bring life and color to an otherwise plain facade, creating a natural connection between the indoors and outdoors. If you have limited yard space, window boxes allow you to enjoy gardening without the need for a large plot. You can grow herbs outside your kitchen window or have vibrant blooms/vines cascading down from your bedroom windows. Options range from classic wooden boxes to modern metal designs. You can even purchase eco-friendly options made from recycled materials.
You should ensure proper installation and maintenance of your window boxes. Select sturdy brackets or supports, and regularly water and fertilize the plants. This will help keep them thriving throughout the seasons. You could also feature decorative elements (such as faux or real boxwood hedges) in your window boxes for a touch of elegance. Alternatively, mix different types of foliage or create themed arrangements throughout the year. Think about seasonal flowers or festive decorations during holidays.
5. Hang Personalised House Numbers Or Signs
Don't settle for generic, store-bought numbers when you can display your individuality with custom-made ones. You could opt for traditional brass plaques or modern acrylic signs. They can be a great way to make a statement, and set your home apart from the rest of the neighborhood. Besides adding visual interest to your home's exterior, they also serve a practical purpose. They make it easier for guests and delivery drivers to locate your home. This can eliminate any confusion that may arise from similar-looking houses in the area.
Additionally, having unique house numbers can give your home a sense of identity, and become a conversation starter amongst visitors. You'll need to consider elements such as font choice, color scheme, and material. An elegant script font on a brushed metal plaque will provide a classic look. Alternatively, bold block letters on a bright background can appear more contemporary. In some places, it's possible to give your home a name instead of a house number. If you make this change, it could open up even more possibilities in terms of signage and graphics.
6. Replace Your Windows And Doors
Older windows and doors may be drafty or have worn-out seals, leading to energy loss and increased utility bills. If you have the budget, consider investing in new energy-efficient windows and well-insulated doors. They'll improve the comfort level inside your home, whilst reducing energy consumption. This can benefit you financially, whilst minimizing carbon emissions.
The style, color, and design of your windows and doors can greatly enhance the overall look and feel of your home. You could opt for unique window shapes, such as arched or circular windows. They can instantly make a statement and give your home a distinct character. Choosing bold colors (like vibrant blues or deep reds) for your front door can create a compelling focal point for your house entrance. Thanks to extra locks and deadbolts, you may even be able to secure a discount on your home insurance.
It's also worth adding a fresh coat of exterior paint, and upgrading your landscaping. In turn, you can put your stamp on your house and backyard. It'll be great to look at, add to your home value, and reflect your personality.