Farmhouse Bedroom Ideas – Longing for a bedroom retreat that gives you a warm and cozy ambiance? A farmhouse style is one you can opt for. This style is everlasting, promoting comfort and pampering you with rural cottage feel. In addition, neutral palette and vintage elements are what make farmhouse bedroom homey for its dwellers.
Yet, there's much more than wrapping a farmhouse bedroom in a classic style if you love more than rustic elements to apply. On the other hand, modern farmhouse style comes with some touches of popping colors without being over the top. Sleek furniture can also be added to create an industrial look on a farmhouse style. However, what can't be forgotten is that neutral palette and big vintage furniture should still dominate the room.
What is farmhouse style decorating? Rustic, warm, vintage and inviting, those adjectives are best to describe a farmhouse style. In other words, the elements you can add in a farmhouse decor are traditional and large furniture, neutral palettes, and vintage finds. Those elements reflect the warm and inviting country look. Moreover, what complete the look of a farmhouse style are wooden flooring, reclaimed wood ceiling beams and barn board details, either to be a part of the wall accent or sliding door. 
For those, who are looking for a little more modern look, incorporating wooden panels will add an extra touch of authenticity, natural warmth, and a hint of modernity to your decor. These panels not only enhance the rustic atmosphere reminiscent of traditional country homes but also infuse a subtle modern feeling, balancing the timeless charm with contemporary design elements.
---
Farmhouse Bedroom Decor Ideas – Homey feel is what you'll have if you choose to decorate your bedroom in a farmhouse style. Start from collecting old but gold stuff to applying large and traditional furniture, your work of decorating the room will be full of fun. Most especially for those who like collecting vintage finds, a farmhouse style decorating is your cup of tea. Therefore, we have garnered some ideas on some elements to create the best look of a farmhouse bedroom.
Start with Farmhouse Bedroom Wood Ceiling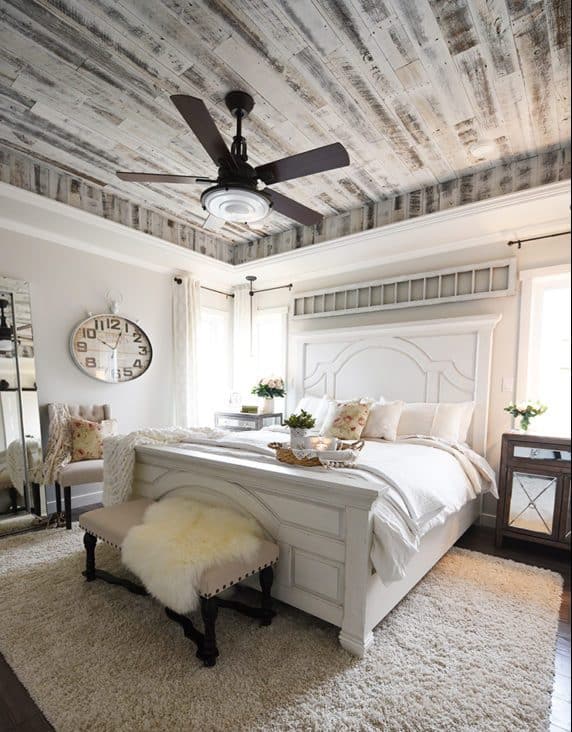 To start with a statement detail, add a barn wood or reclaimed wood ceiling in your room decor. In addition, This type of ceiling typifies a farmhouse feel.
Add A Farmhouse Style Rattan Basket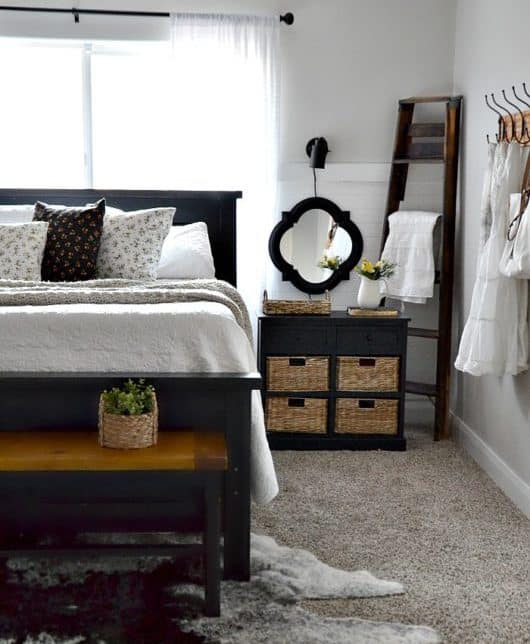 Pay attention to small details that would complete the farmhouse look of your bedroom plan. Additionally, a wicker basket as a chest is a perfect item to add in your farmhouse bedroom.
Install A Decorative Farmhouse Barn Door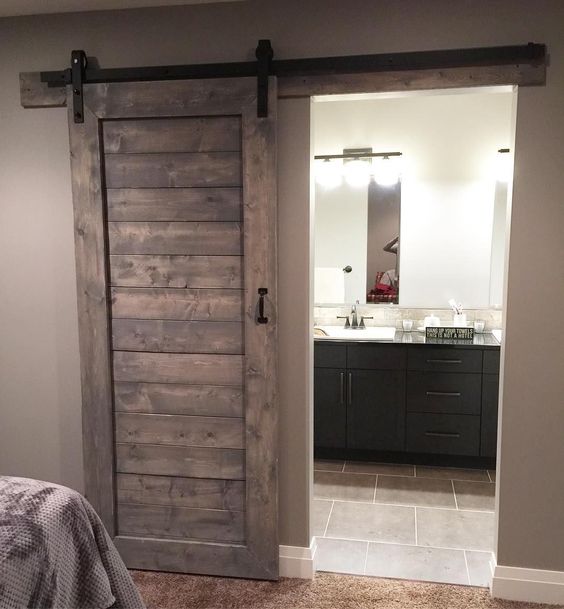 Not only does a sliding barn door create a countryside look of a room, it also creates a bold statement to the whole interior. Certainly, this sliding barn door can also serve as a partition between your bed area and bathroom.
Hang An Antique Chandelier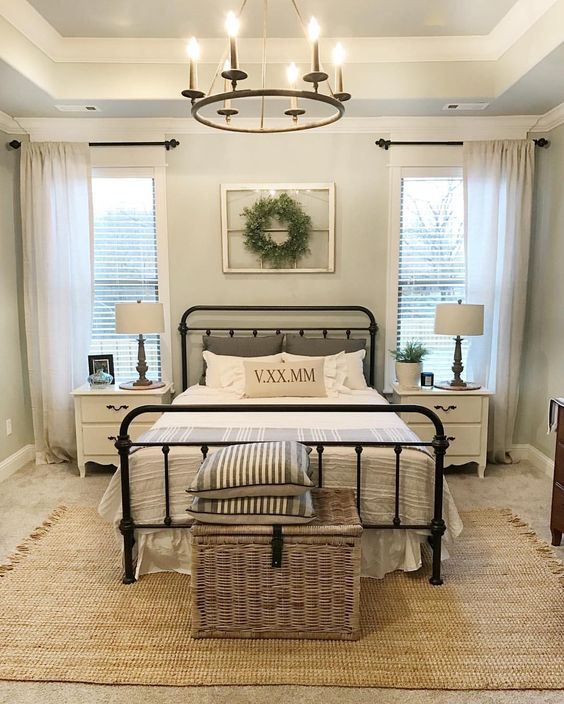 Find an antique chandelier to make you feel travel back in time to the old days. Feel the warmth of a rural cottage by hanging a vintage chandelier in your room. In addition, hanging a chandelier would also create a romantic farmhouse bedroom.
Put in Chunky Furniture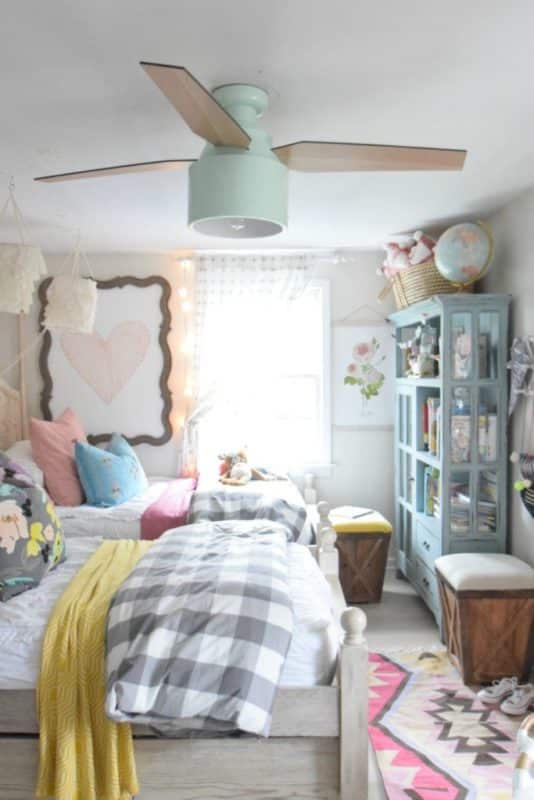 Chunky furniture is the best to create a rustic look of a farmhouse bedroom. Therefore, choose chunky furniture for your space, start from bed frames, wardrobe to benches.
Accentuate the Height with Beam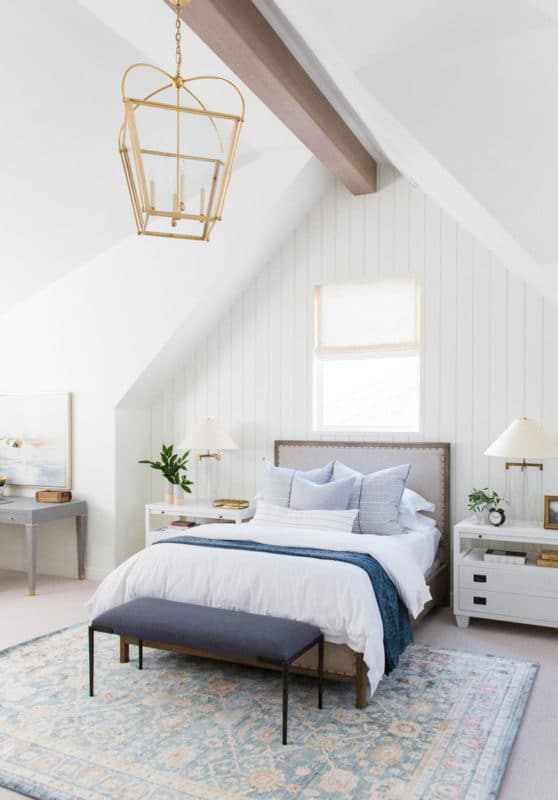 The use of timber beams decorates the upper part of the room. And, the contrast color applied in the beams gives the vertical look to the room.
Use A Four-poster Bed Frame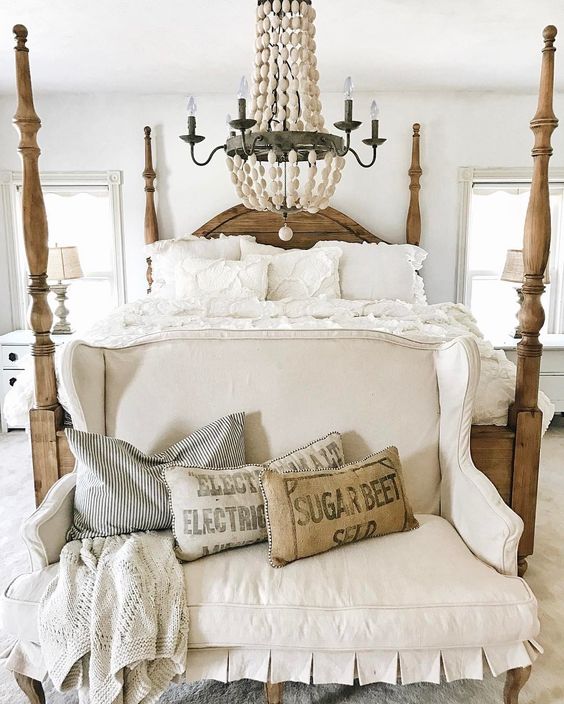 Consider having a four-poster bed for a perfect farmhouse look. For instance, even if you don't put much vintage detail in your room, a four-poster bed frame has defined a classic farmhouse style.
Add A Farmhouse Bedroom Side Table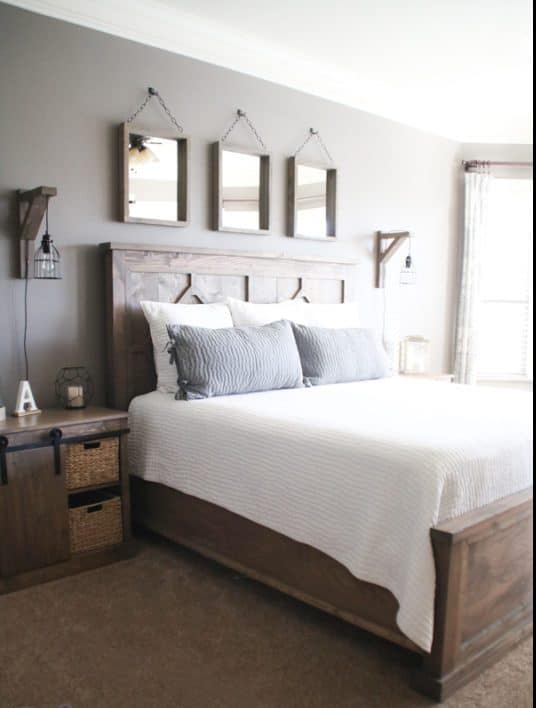 A woven rattan chest and tiny sliding door are what so-called a farmhouse detail. Attention to such detail levels up the look of your bedroom.
Consider A Ladder Shelf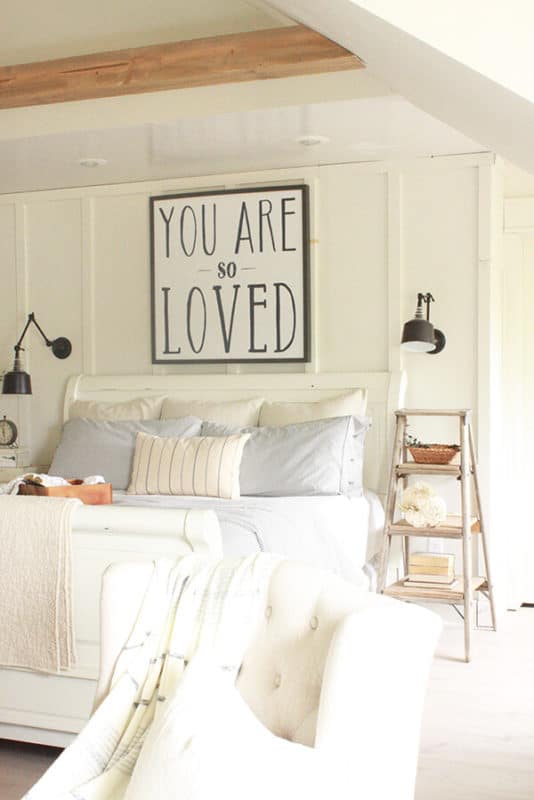 It's time to consider reusing your old ladder and turn it into a bookshelf. Repaint the old ladder and it would be a very useful bookshelf next to your bed.
Create A Serene Look with Fireplace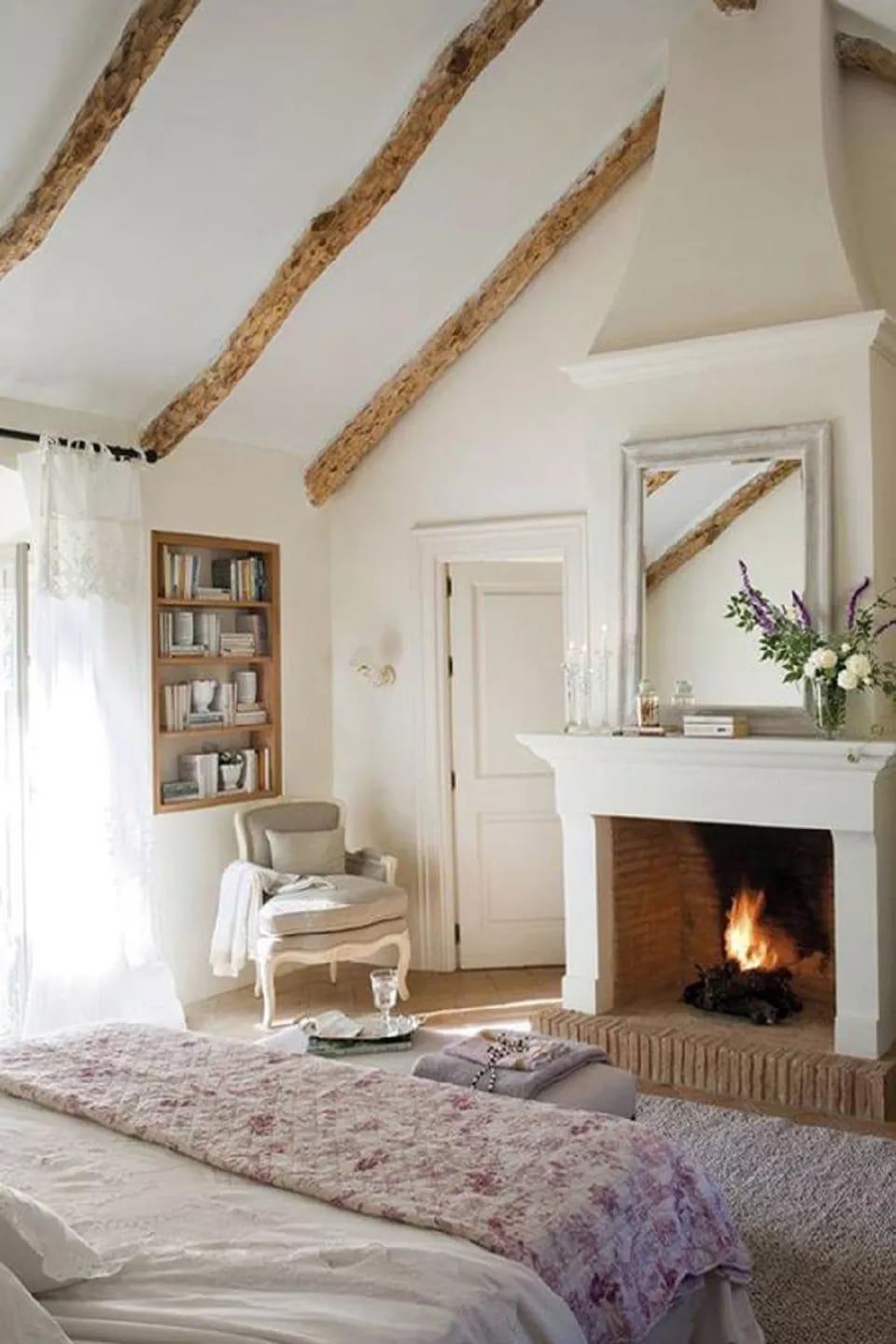 For a heavenly look of a farmhouse bedroom, consider having a fireplace in your bedroom. Consequently, you will spend more hours feeling the real warmth of a countryside house.
Consider Having A Comfy Nook for Farmhouse Bedroom Decor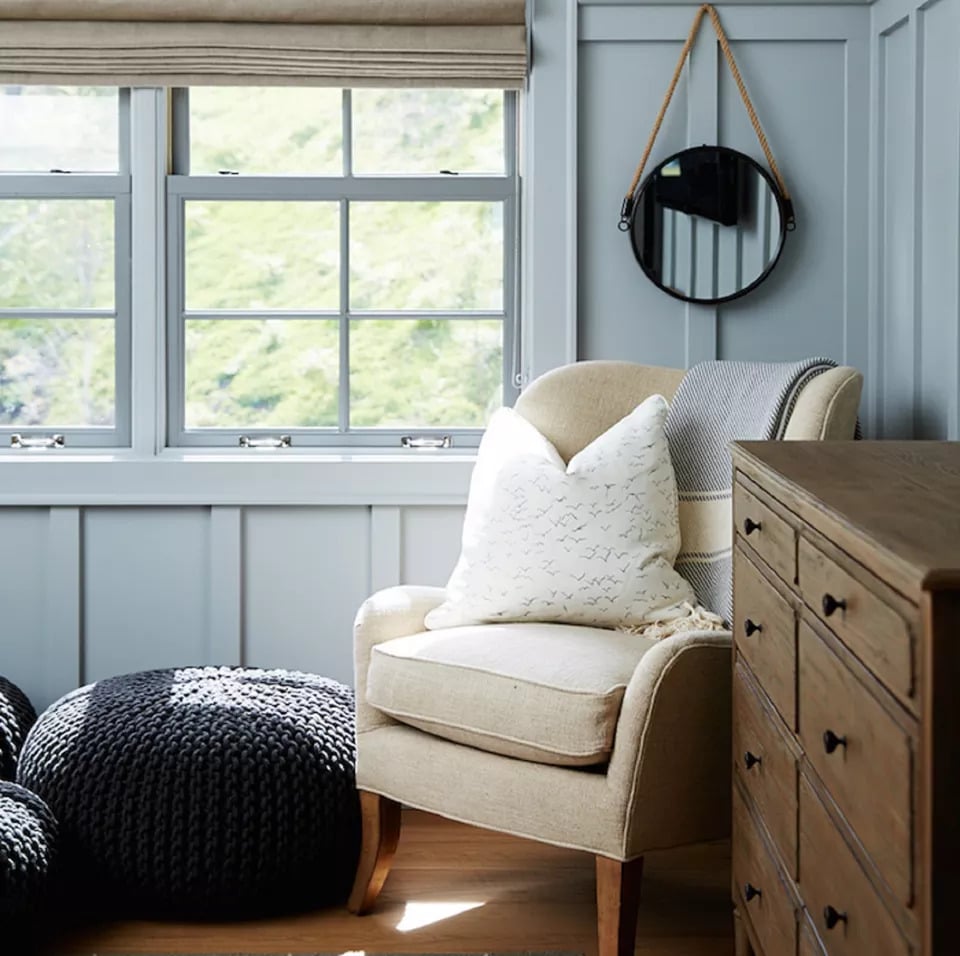 Nothing could beat the comfort of a couch in the corner of your room. For example, this little private space is there when you need to rest your legs and arms just after a long tiring day.
Incorporate A Farmhouse Chic Decor Look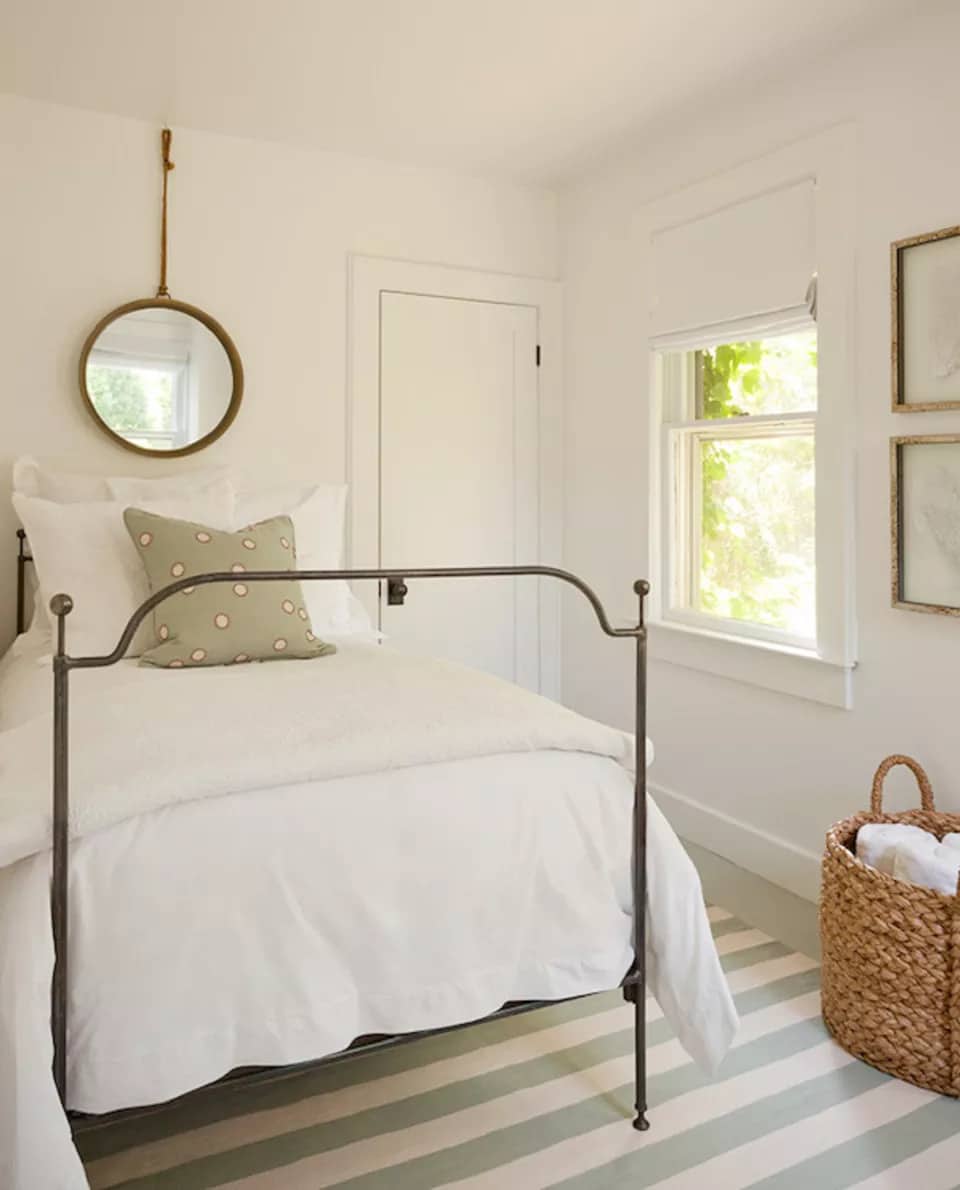 Practical, simple and functional – you can now incorporate minimalist style in your farmhouse bedroom. One thing you can adapt is a simple bedding – no frills but comfy.
Add in A Dresser with Vintage Finds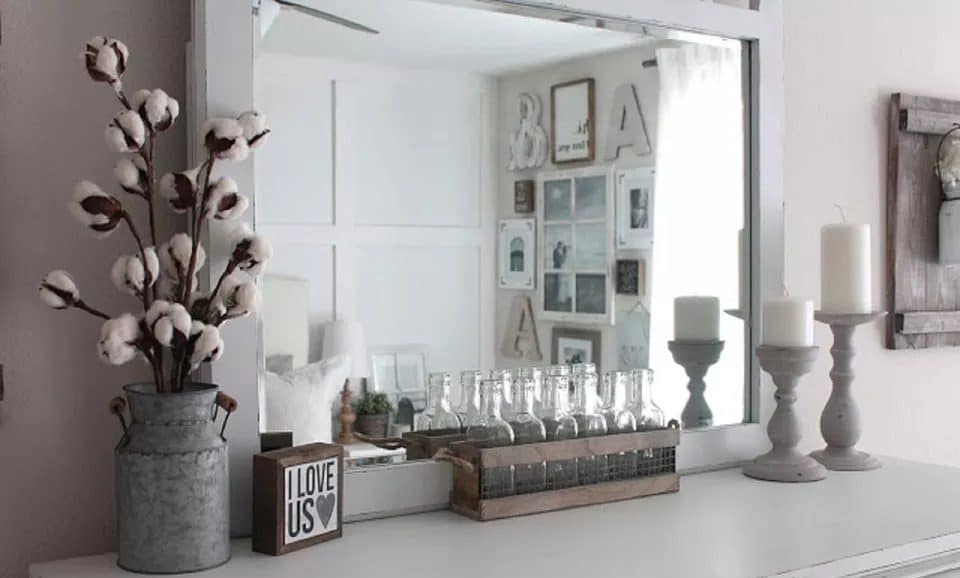 If you have a farmhouse bedroom dresser with nothing on top of that, it would be totally boring! You'll love the idea of putting your collectible items on your dresser.
Create A Fresh Classic Look with Gingham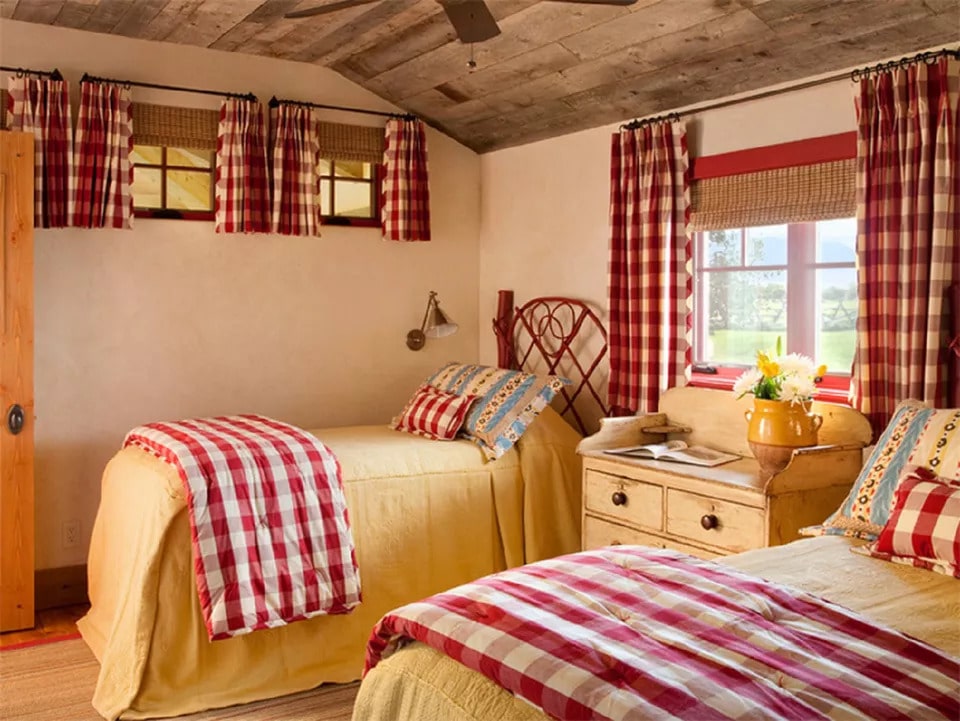 Choose red and white gingham for a fresh look. The colors are so vibrant yet look classic. Those colors are to apply to your bed cover, curtain and match perfectly with any soft colors.
Add A Classic Look with Metal Bed Frames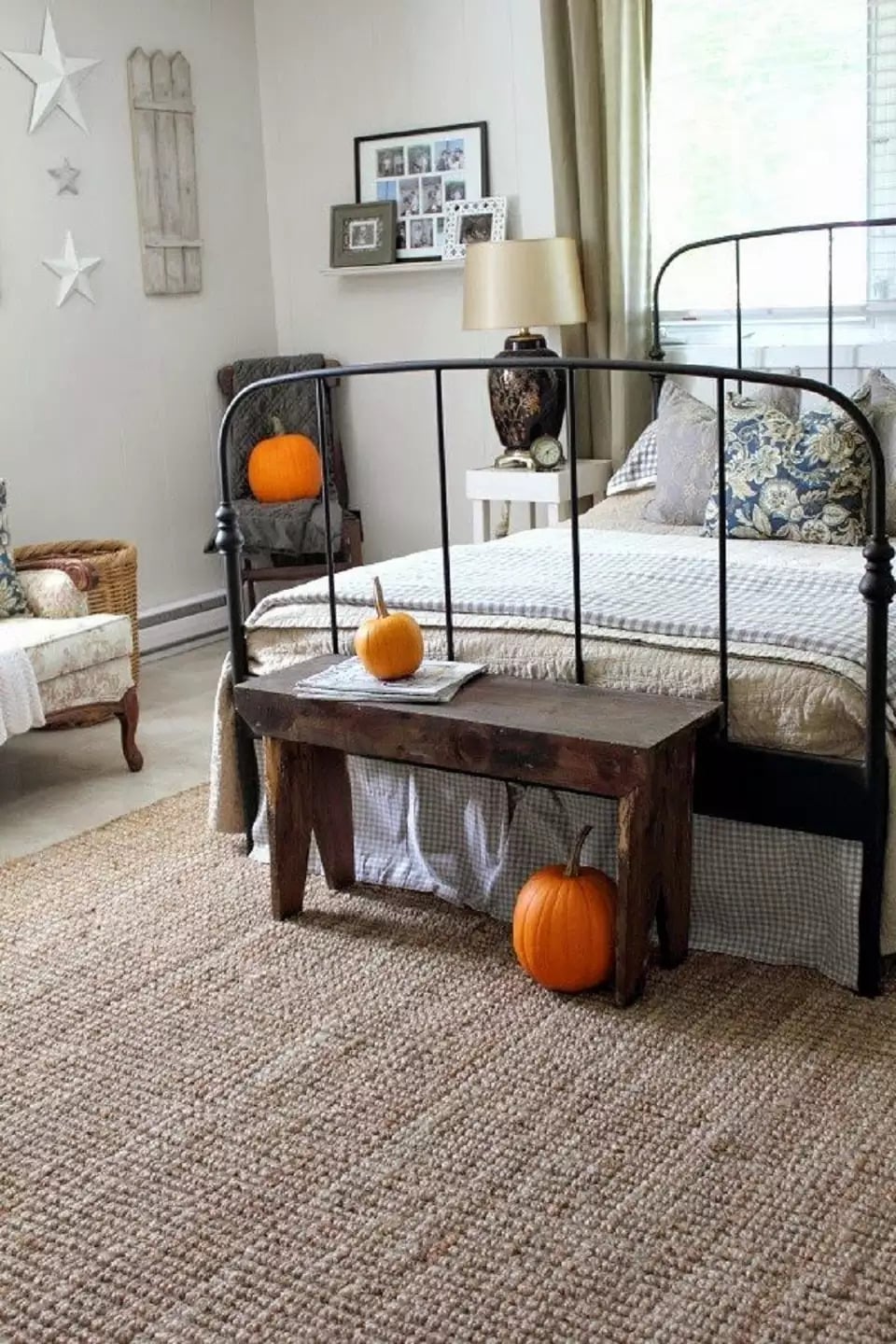 A metal bed frame is the best to match the farmhouse look of your bedroom. It creates a good and classic effect to the whole design.
Create Rustic Bedroom Decor with Wood Accents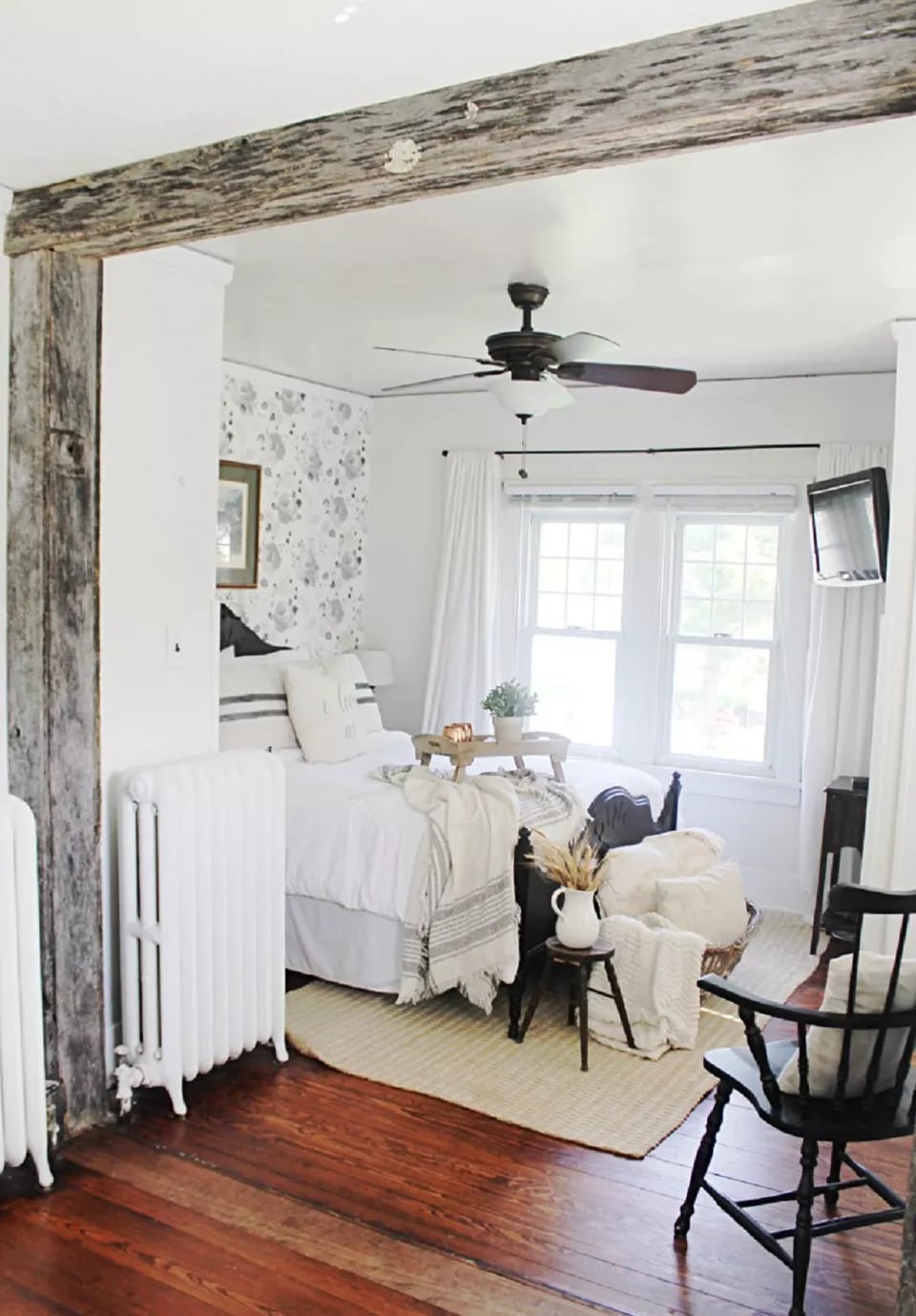 Wood accents can be added to your room to create a sensation of a barn house. In this design, wood is decoratively used as an archway.
Add Farmhouse Style Bedroom With Typical Attic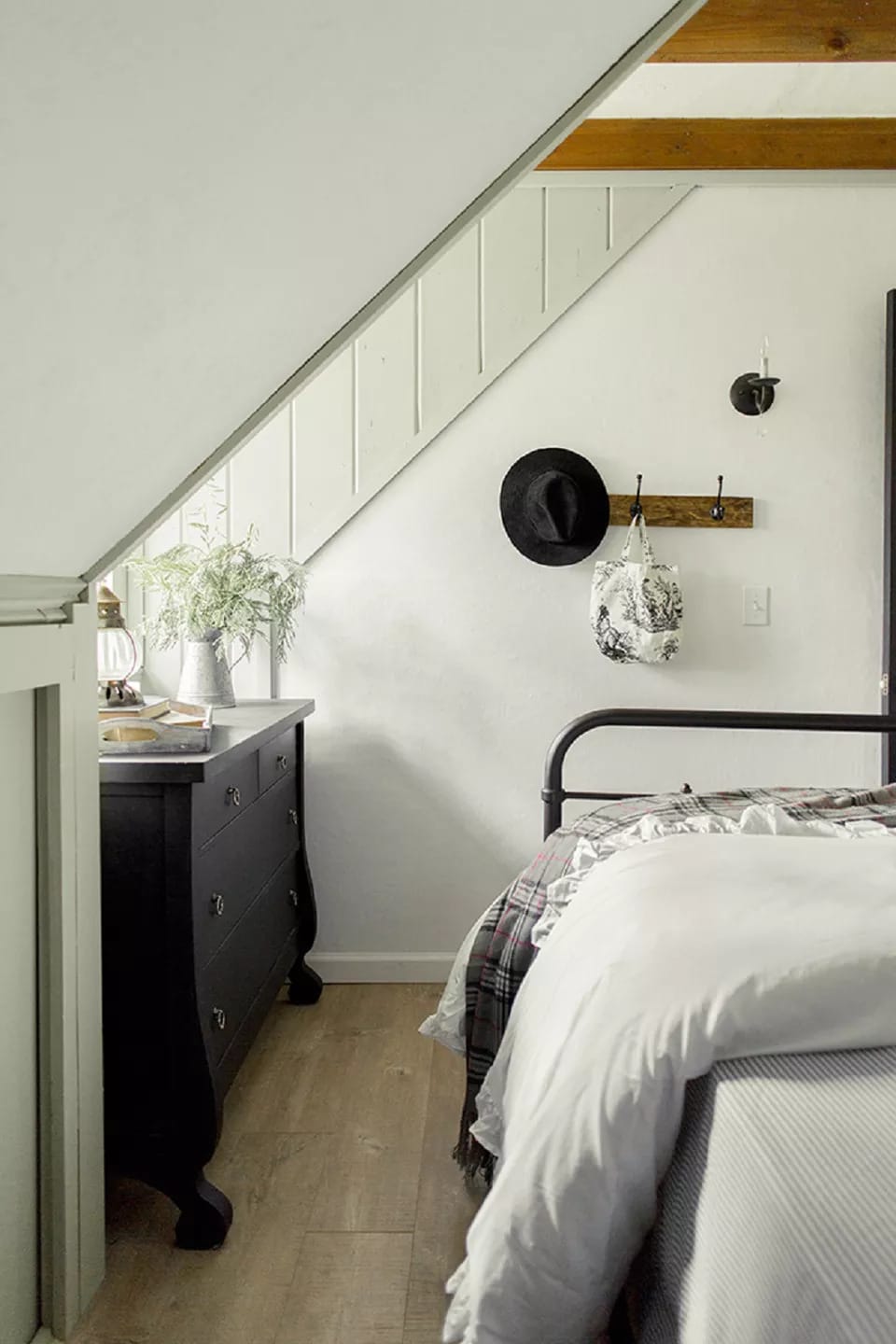 If you're lucky enough to design an attic space, you're blessed to effortlessly create a farmhouse bedroom. Additionally, it is the charm of the low roof and sloped ceiling that boosts the coziness of the room.
Give A Touch of Personality with Throw Pillows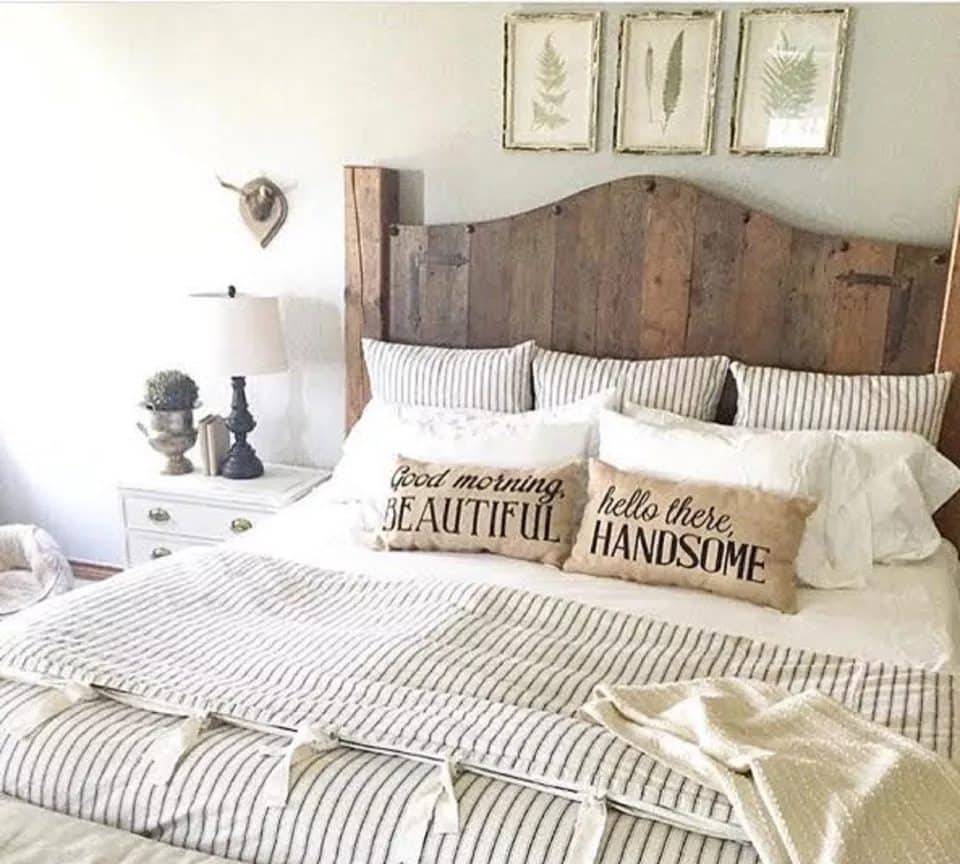 Be fun with more throw pillows in your bedroom. Bear in mind that your choice of colors and materials of the throw pillows should match the whole design – forget the glossy and silky ones.
---
Farmhouse Bedroom Wall Decor – A farmhouse bedroom is incomplete without wall decor. They can create a statement to the room interior. Starting from installing shiplap on your wall, they add to the charm of the countryside to your room. Above all, here are some ideas of wall decor you can adapt for a complete look of a farmhouse style in your private space.
Install Shiplap Wood Wall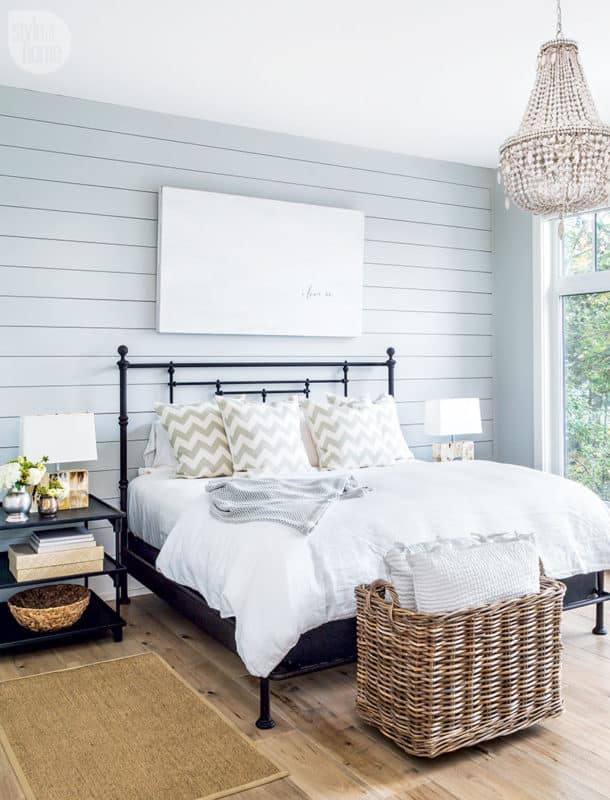 You can opt for a shiplap wall if you want to create a rustic look. There are more choices of colors – from white to natural wooden planks. In this picture, white shiplap wall looks perfect in a cozy farmhouse style.
Place Over-sized Initial Letter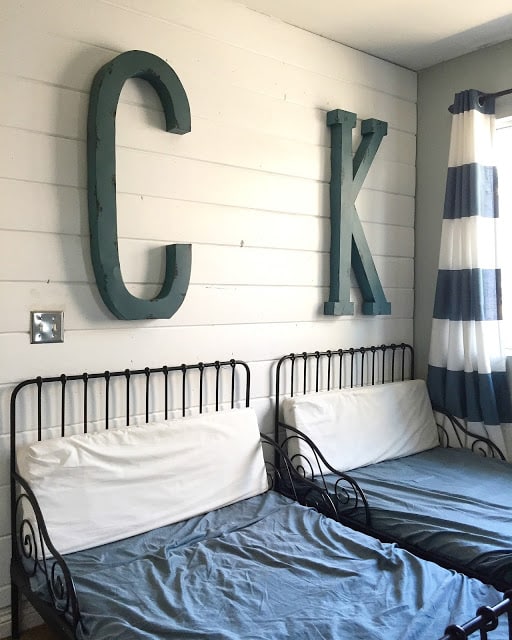 For a cool and rustic look to the room, add an oversized initial letter. It is a great idea for kids' farmhouse bedroom.
Place A Rustic Wall Clock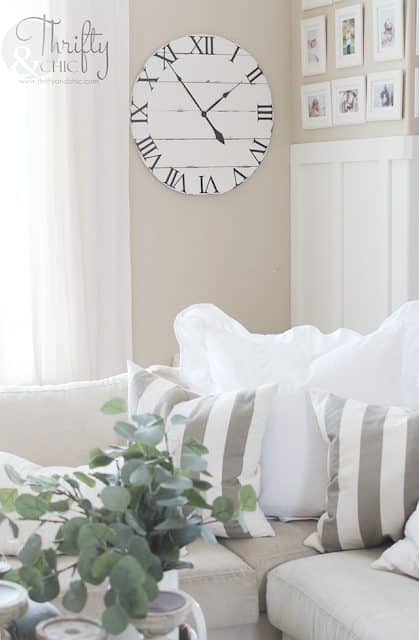 A clock that matches the design of a farmhouse bedroom is a rustic clock. A shiplap clock as seen in the picture is the best to suit the whole interior.
Hang A Farm Life Artwork For Rustic Modern Bedrooms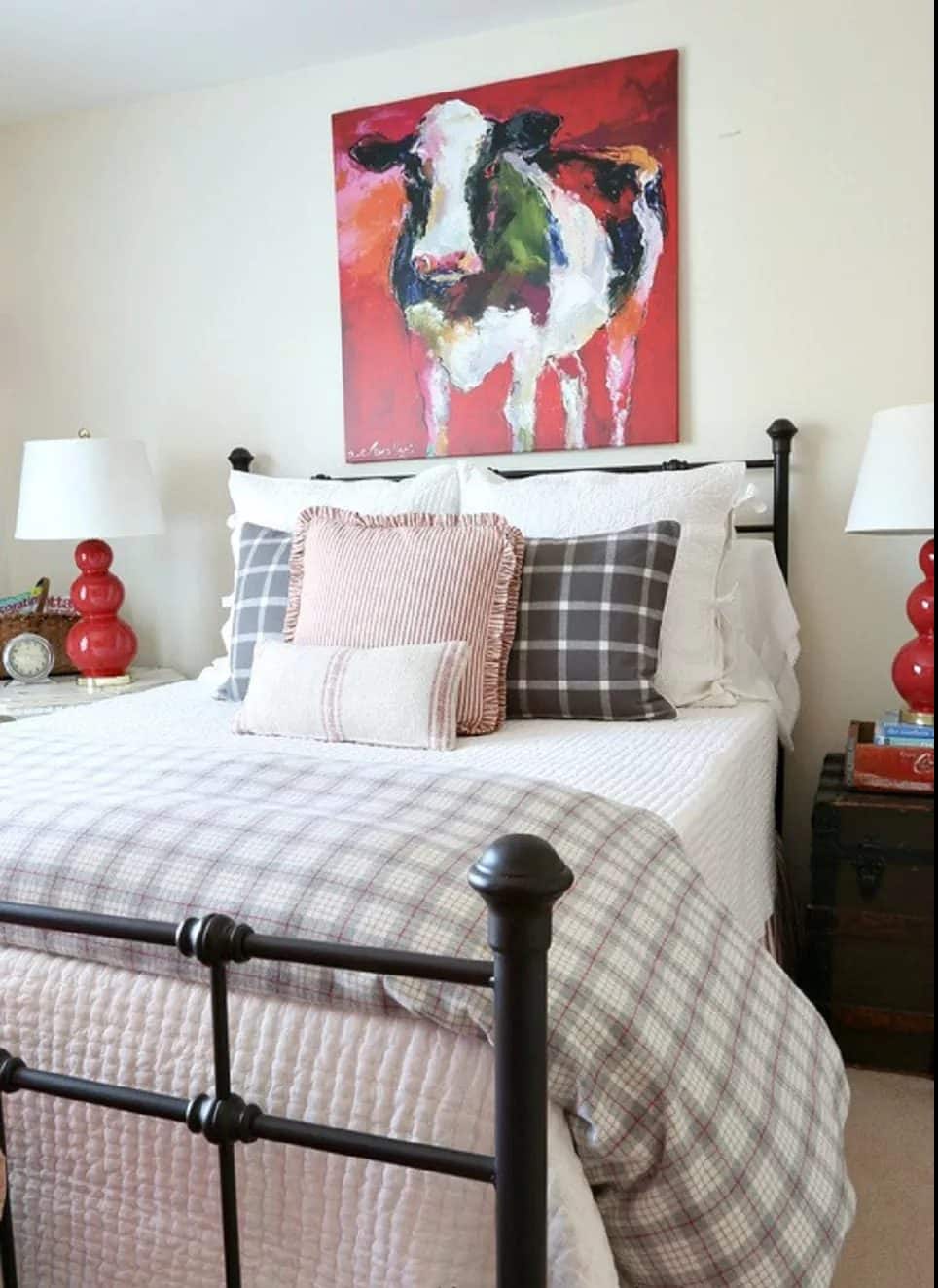 What would bring the best of a farmhouse look? A picture of a cow portraying a farm life is all you need to make you feel living in a barn.
Spread Household Items In Farmhouse Bedrooms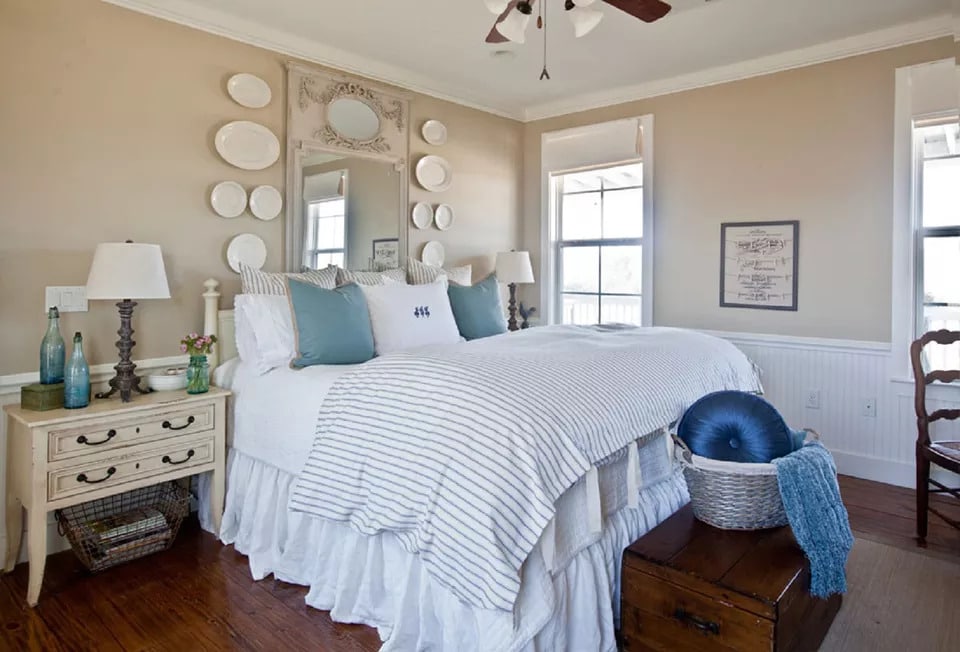 Decorating with household items such as classic plates and repurpose jar is cheap and cheerful. To add, these decorations match perfectly with the farmhouse style.
Place Some Rustic Furniture As Farmhouse Interior Design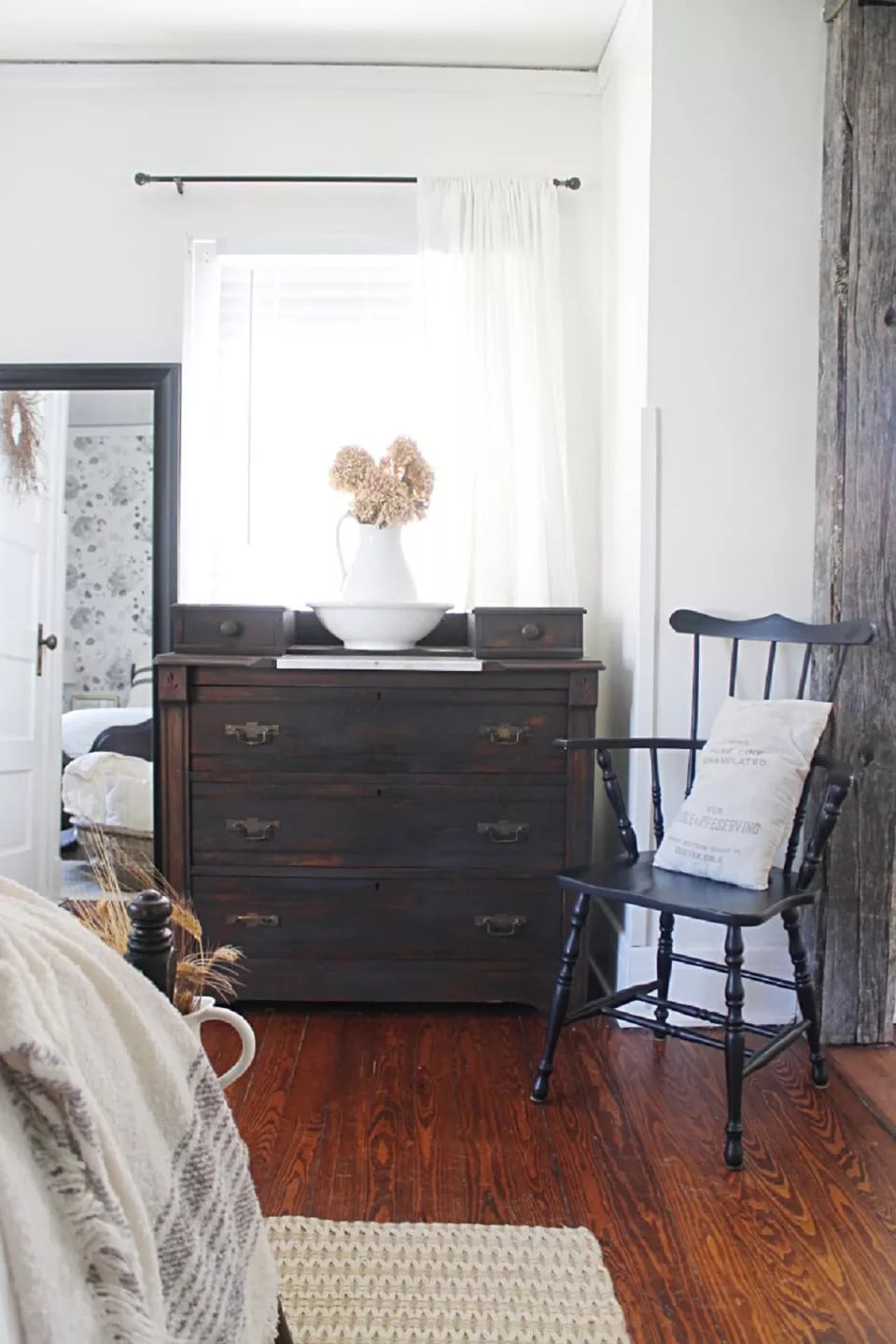 An antique furniture item made of rustic log is what you can add to create the big picture of a farmhouse bedroom. Meanwhile, in this picture, the wood furniture dominates the room, offering warmth to its design.
Decor A Small Farmhouse Master Bedroom With Green Wreath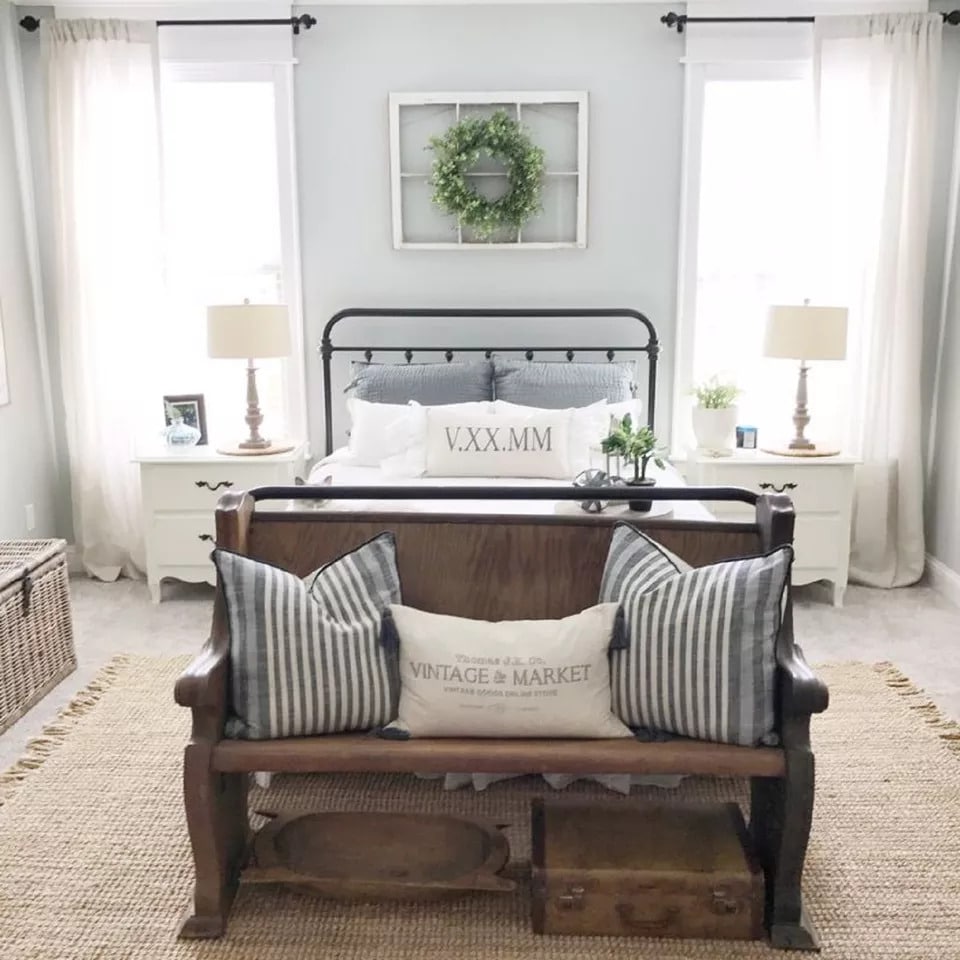 Look how the green wreath hung above the bed adds contrast color to the scheme. In addition, wreaths can serve as a beautiful and charming wall decor in a farmhouse bedroom.
Related : Industrial Farmhouse Decor Ideas
Use Barn Wood As Farmhouse Sign Ideas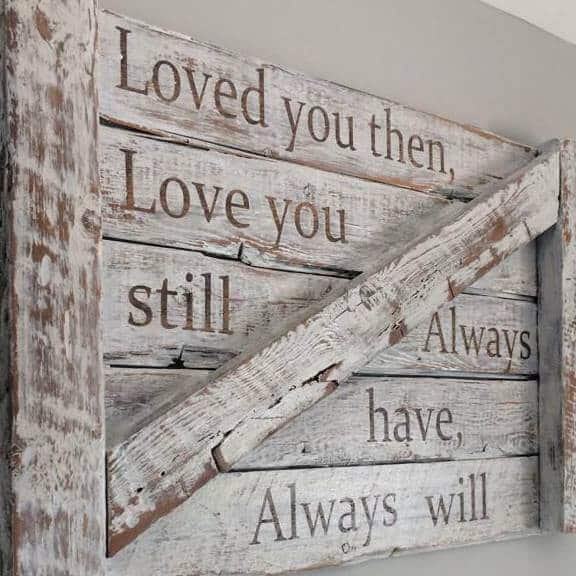 A barn wood sign gives a rustic look to the wall. For, instance, the love quote on it embraces universal affinity – loving touch in a romantic farmhouse bedroom.
Hang Rustic Gallery Wall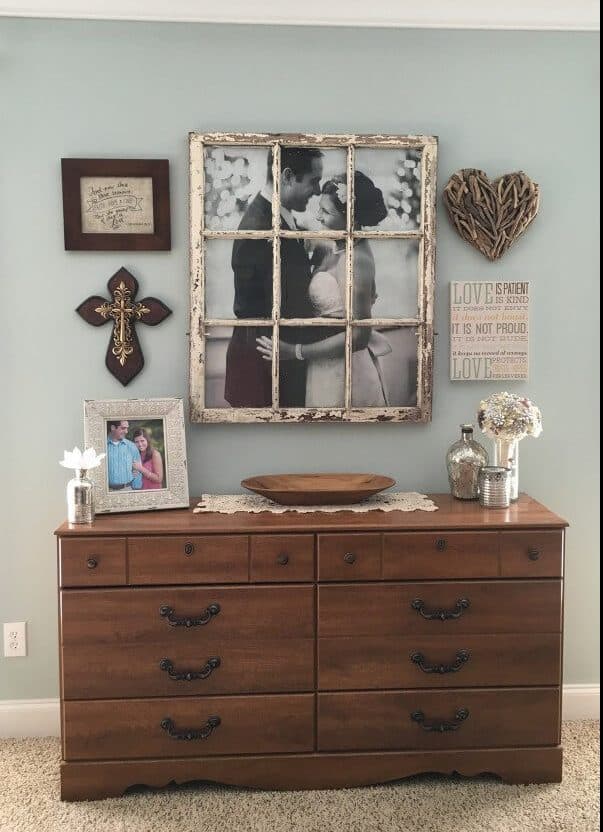 This gallery wall is a reminiscence of sweet days. Moreover, the rustic window frame of a big wedding picture is a great idea of a farmhouse wall decor.
Consider A Rustic Wooden Headboard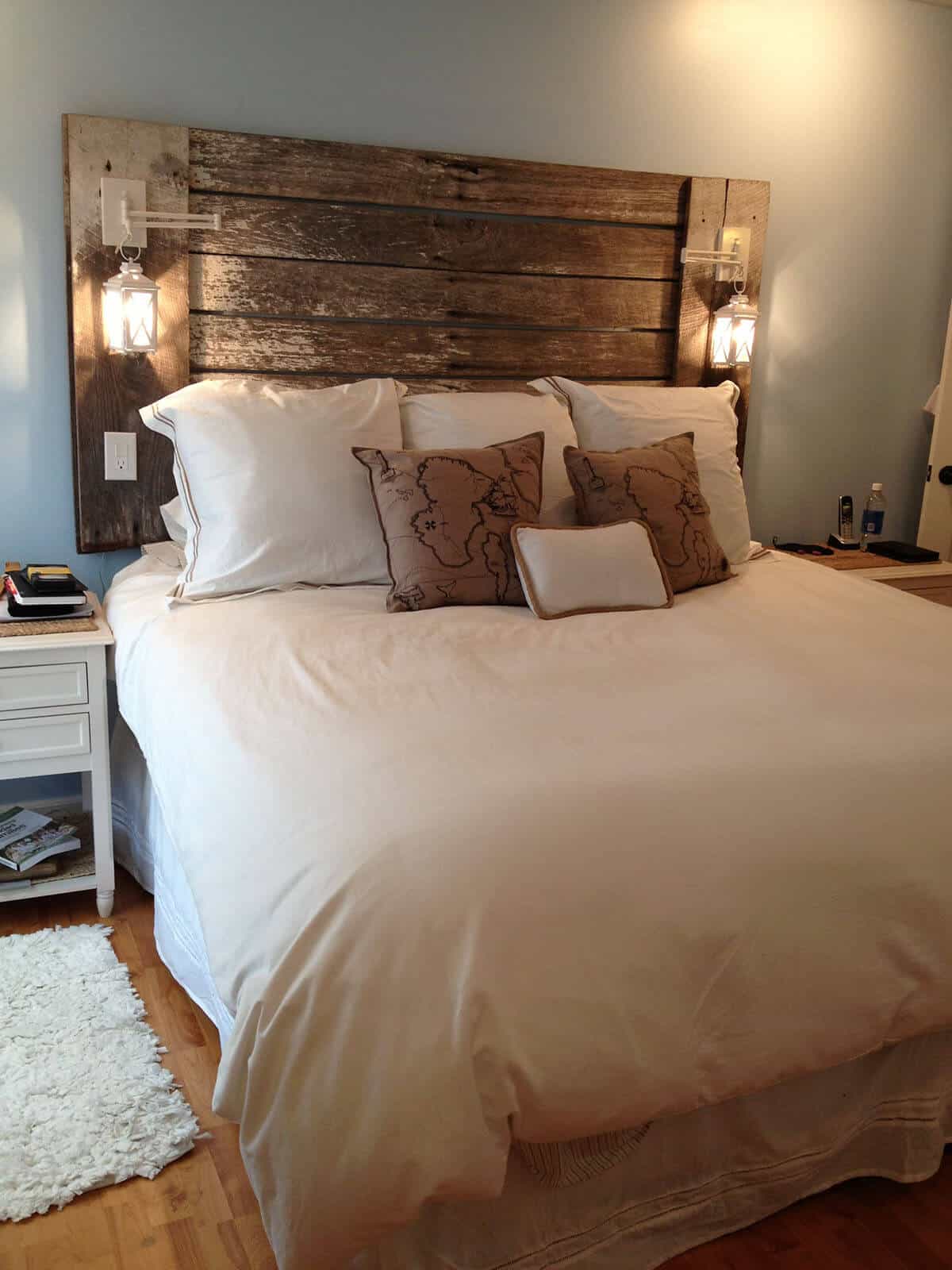 For the love of a real rustic look on your bed, this repurposed wooden crate is so special that you'll love matching it with your fluffy bedding sheet. With its lanterns, the look of this bed is just adorable.
Maximize Repurposed Ladder For Farmhouse Bedroom Decorating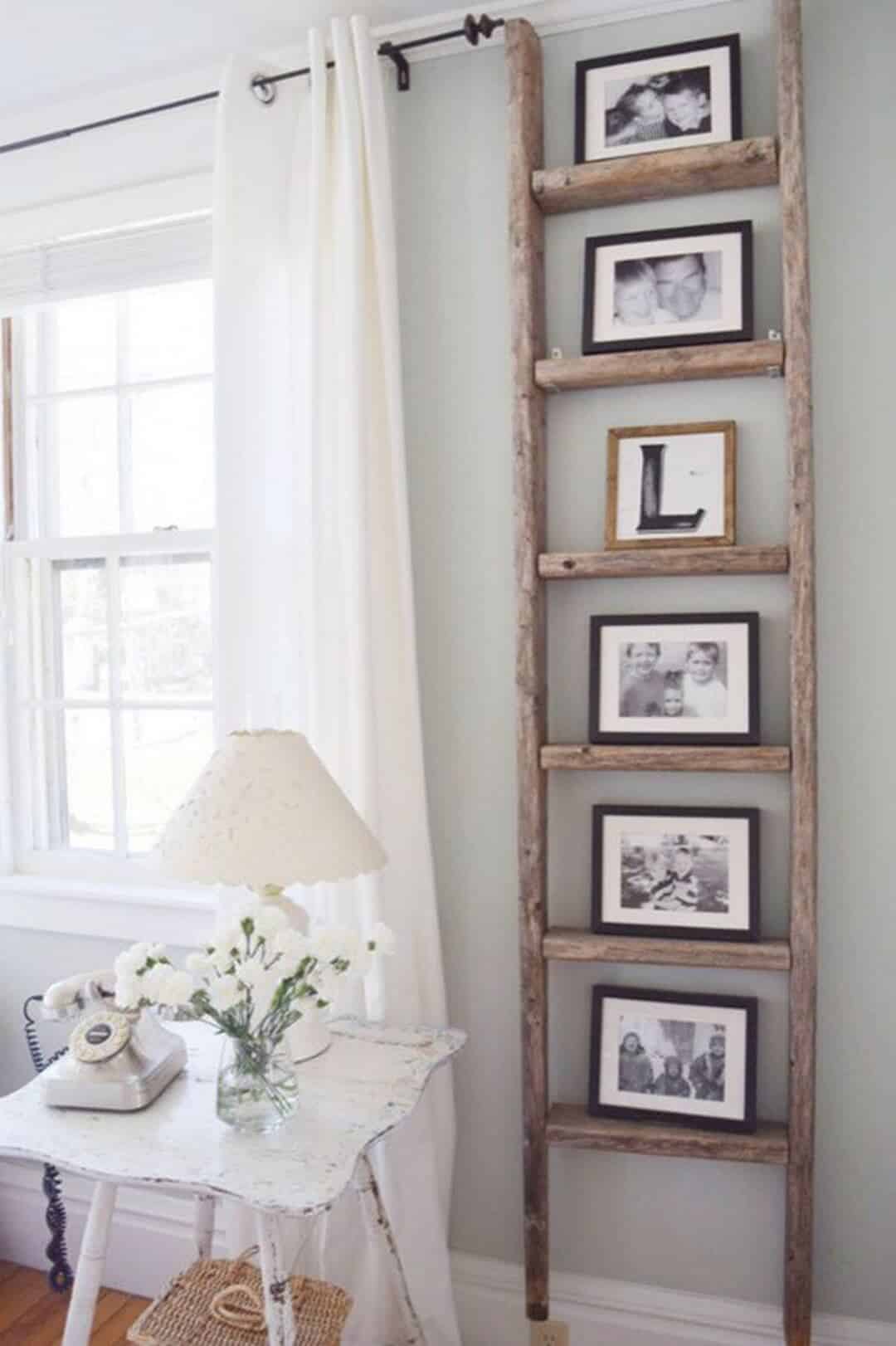 Rustic log ladder can help you manage your photo frames and create a great farmhouse look into your bedroom. When you need something affordable yet barn look, a repurposed ladder is what you can have.
Farmhouse Bedroom Design Ideas
Rural breeze and country look, nothing can beat the standards of comfort in a farmhouse bedroom. A typical farmhouse bedroom reflects the bright and airy feel. Thus, you don't have to live in the countryside to embrace the casual feel of the inviting and warm bedroom. Create a simple farmhouse sanctuary that would give you the indulgence of a country vibe.
A farmhouse bedroom provides cozy and warm ambience, so much inviting for the dwellers to spend more time in their very own private chamber. For a farmhouse bedroom revamp, all you need is some rustic furniture combined with collectible finds that would make you feel the breeze and serenity of the countryside.
Farmhouse Master Bedroom
If you are to design a master bedroom, you need to think of the coziness it can offer. A farmhouse style gives off a warm and cozy design interior that would best match the ideal master bedroom. Here are some master bedroom ideas you can inspire.
All-white Farmhouse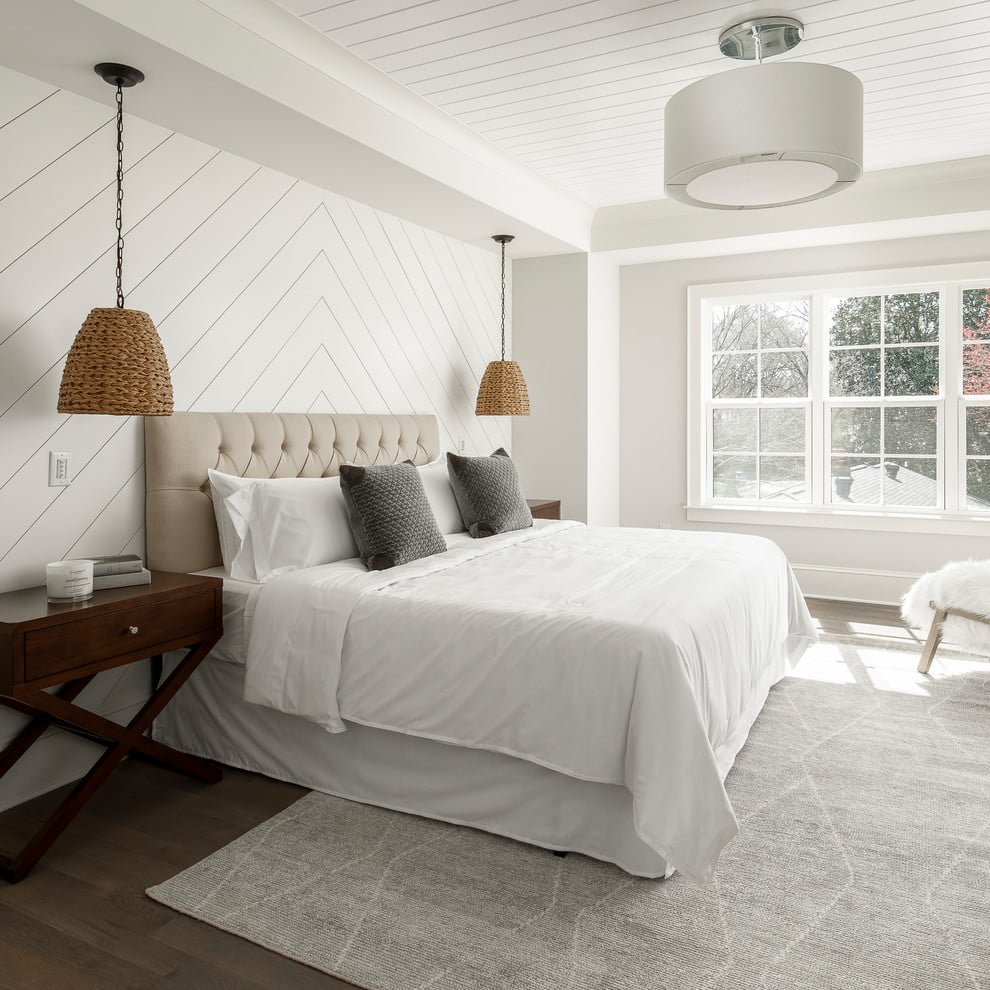 This all-white farmhouse master bedroom features bedside pendant lights, v-shiplap accent bed wall, oak floor and hanging lanterns. All perfect combination of a white spacious master bedroom.
Morning Breeze Ranch House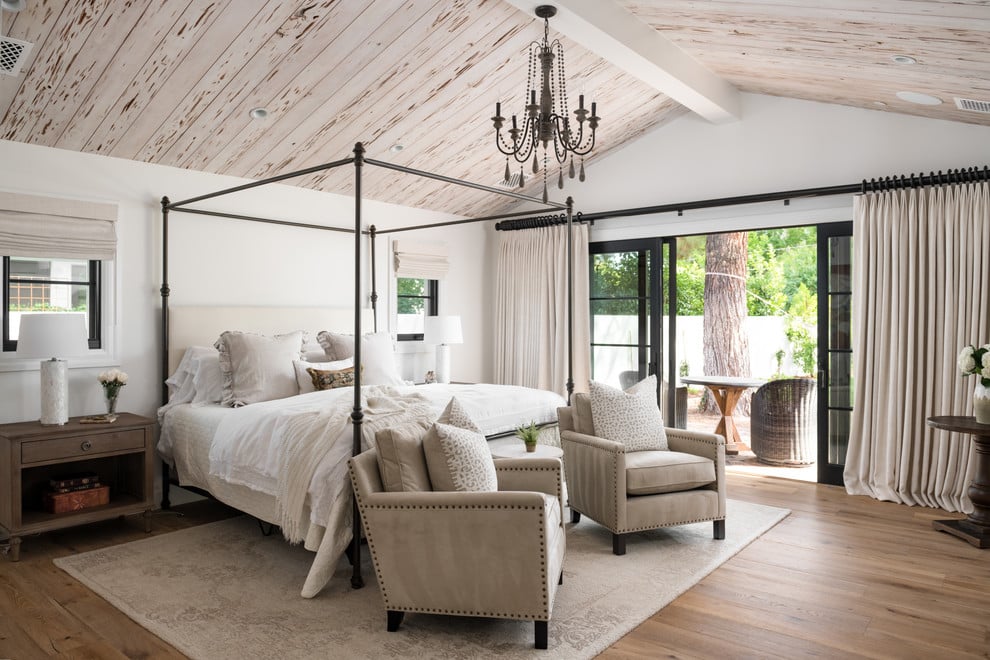 This master bedroom combines all natural colors to provide super comfy bedroom. The antique chandelier and medium tone shiplap ceiling beautifully decorates the upper part of the room.
Modern Cottage
This bedroom combines soft palette with turquoise blue shade. This popping color creates a modern look of the room.
Related :  Teal Bedroom Design Ideas
More Colors and Layers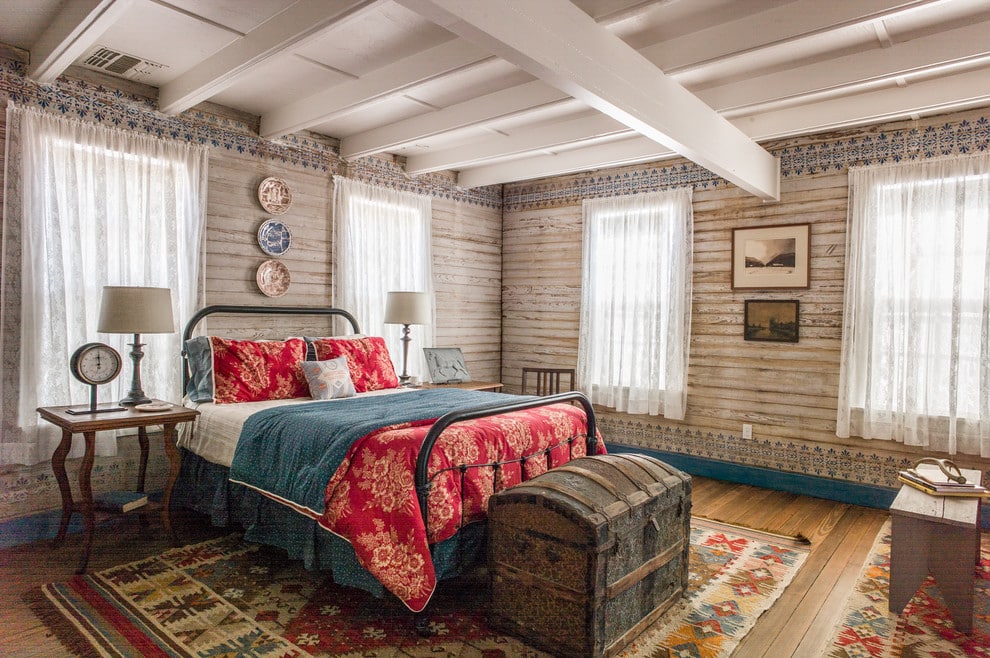 This farmhouse bedroom seems to bring out a pirate theme with a pirate chest as a part of its decor. Wrapping the room with multi colors and layers, this room is a combination of bohemian and farmhouse style.
Modern Farmhouse Bedroom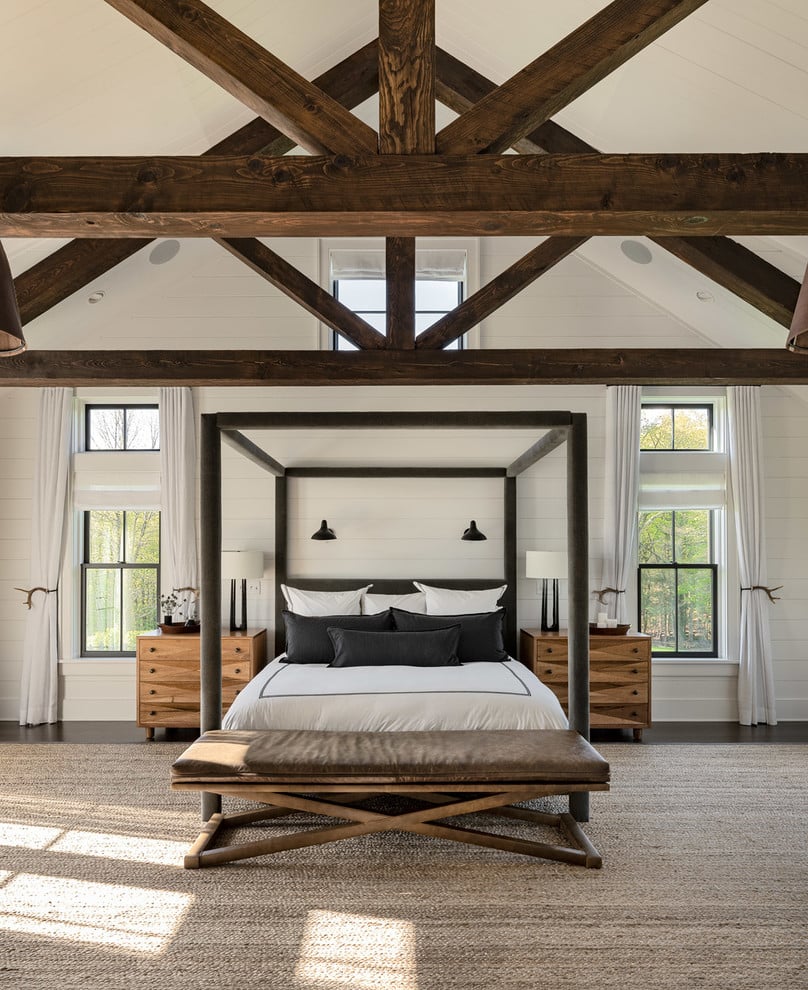 This master bedroom looks fantastic with the wood beam ceiling and shiplap walls. The four-poster bed completes its look.
Contemporary Master Bedroom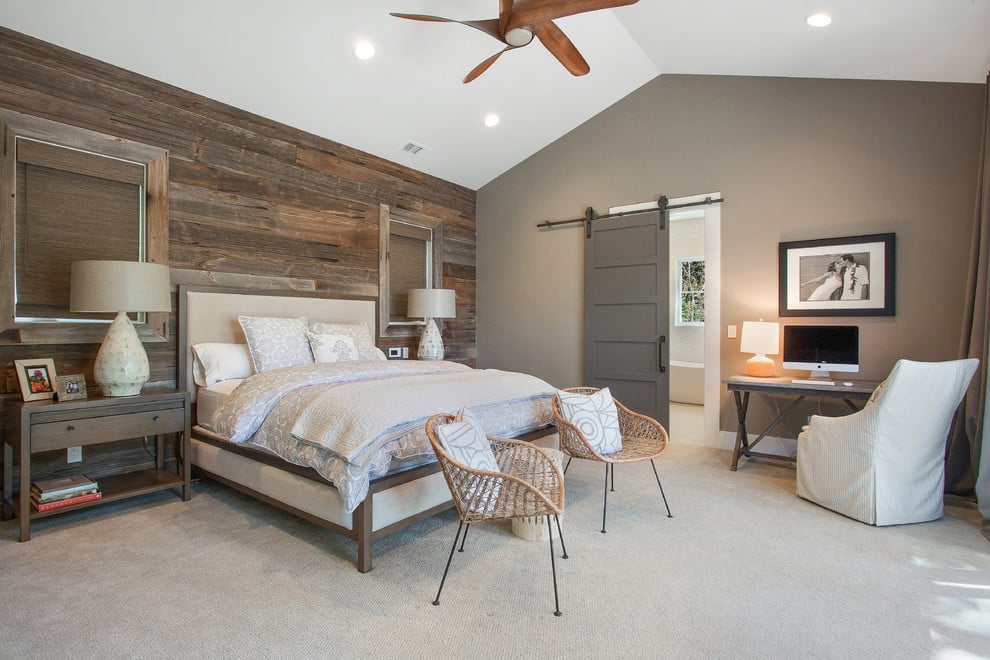 It is an inspiration for a contemporary style bedroom with a farmhouse touch. Look how great the addition of the sliding barn door and wood wall in this room interior.
Cozy Cabin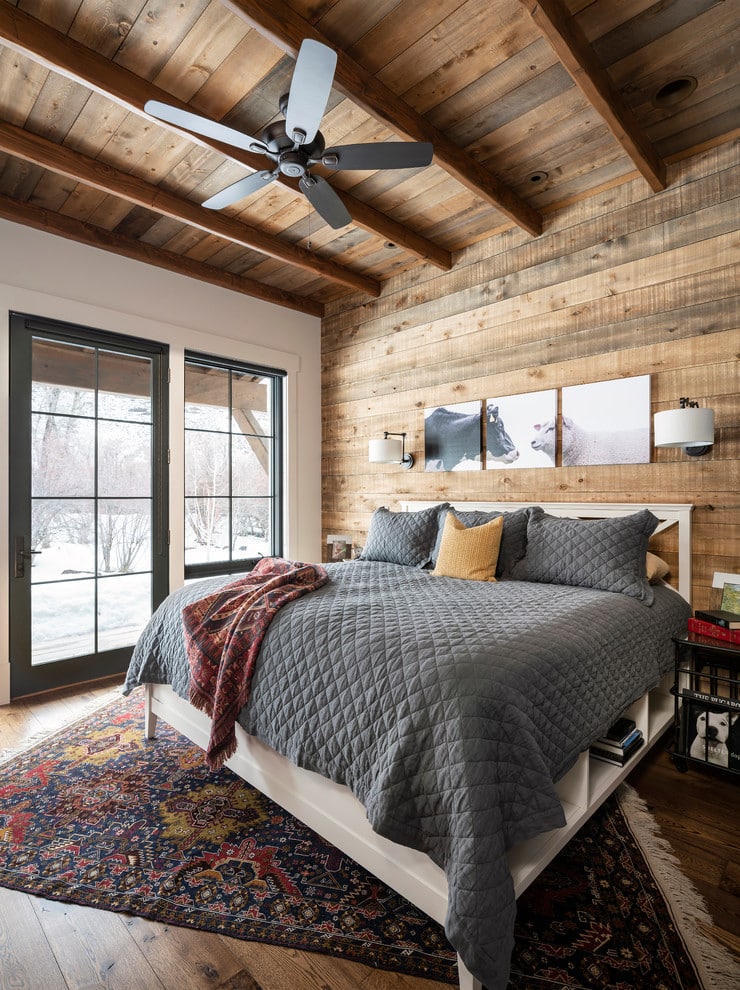 This master bedroom looks like a perfect sleeping cabin. It features wood ceiling, wood beams, black window frames and wood flooring to create a real farmhouse style.
Girl's Farmhouse Bedroom Ideas
A girl's bedroom should present the sweet side personality. Thanks to farmhouse style which suits girls' desire for a cozy and charming look of a bedroom. Here are some ideas you can have for a girl's farmhouse bedroom.
Charming Attic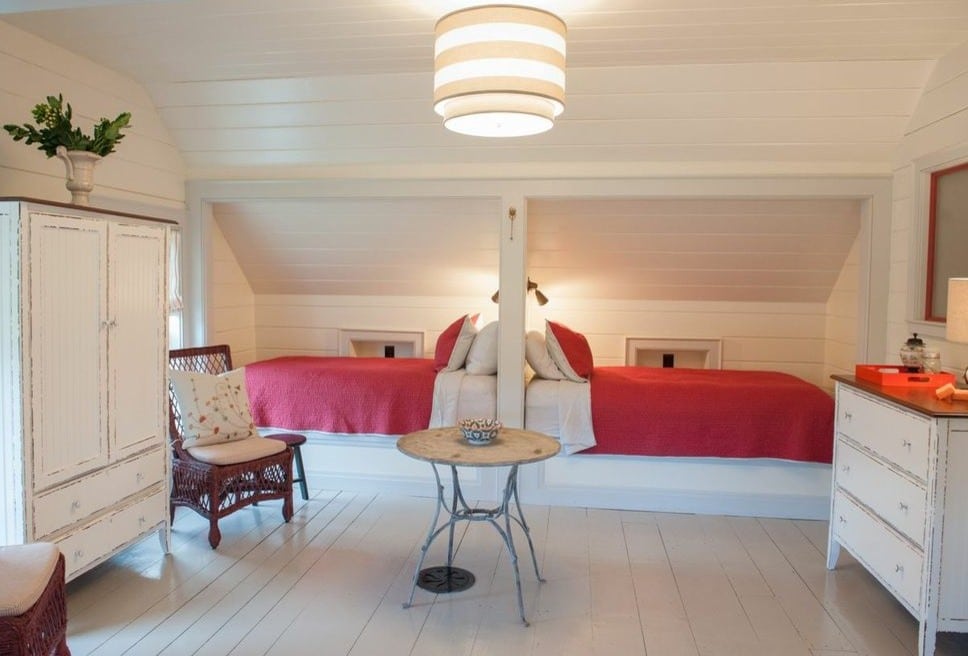 Your girls would love the idea of having a room in an attic. So, this attic bedroom has simple and girly color combination wrapped in a farmhouse style with its wooden furniture and flooring.
Cozy Farmhouse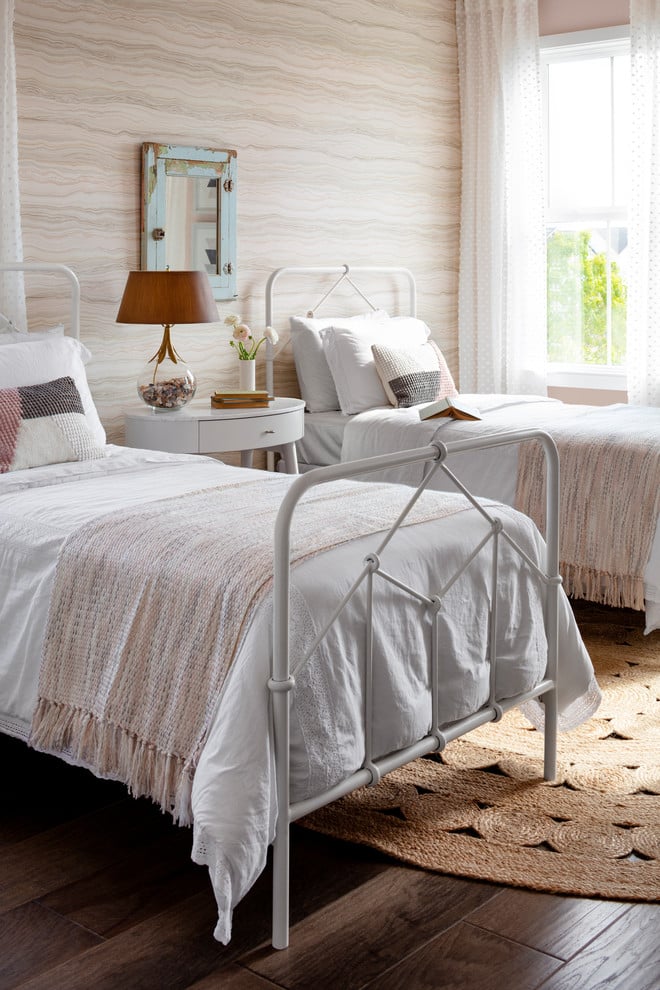 Planning to revamp your girls' bedroom? This design might inspire you. Start having a metal frame painted in white combined with soft brown rug on top of the wooden flooring.
Classic and Chic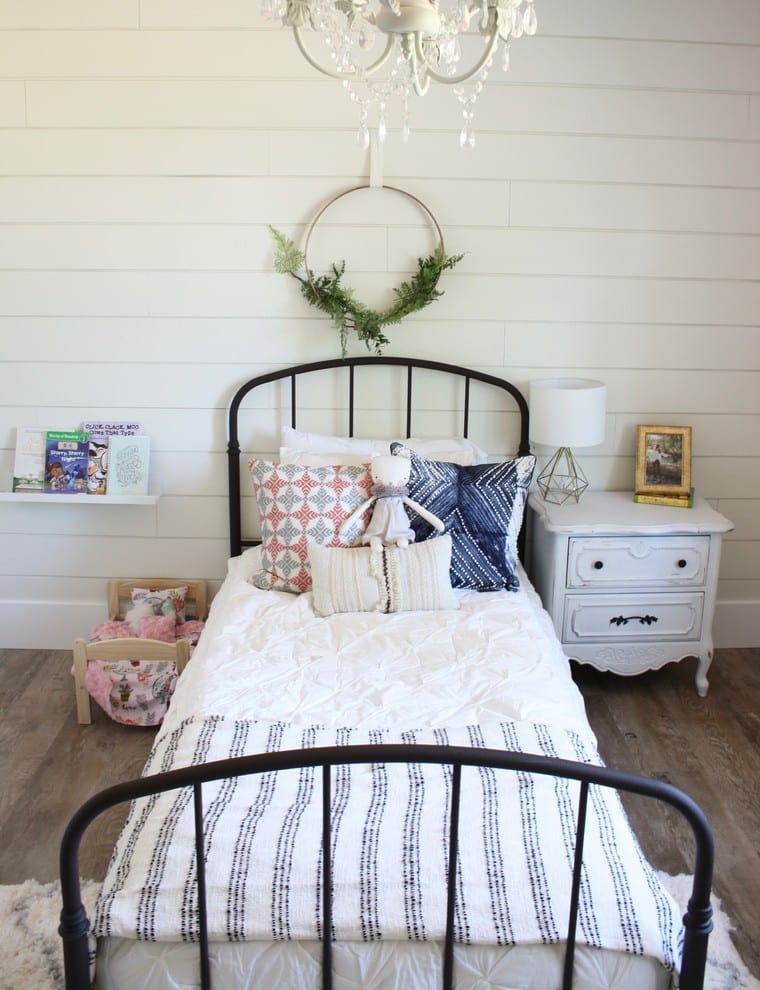 If you need a classic and chic design of a farmhouse bedroom for your loved one, be inspired by this design. For instance, this room highlights white shiplap walls, wrought iron bed, and bohemian layers on its bedding. This design defines a farmhouse chic bedroom.
Farmhouse Bedroom with Pink Touches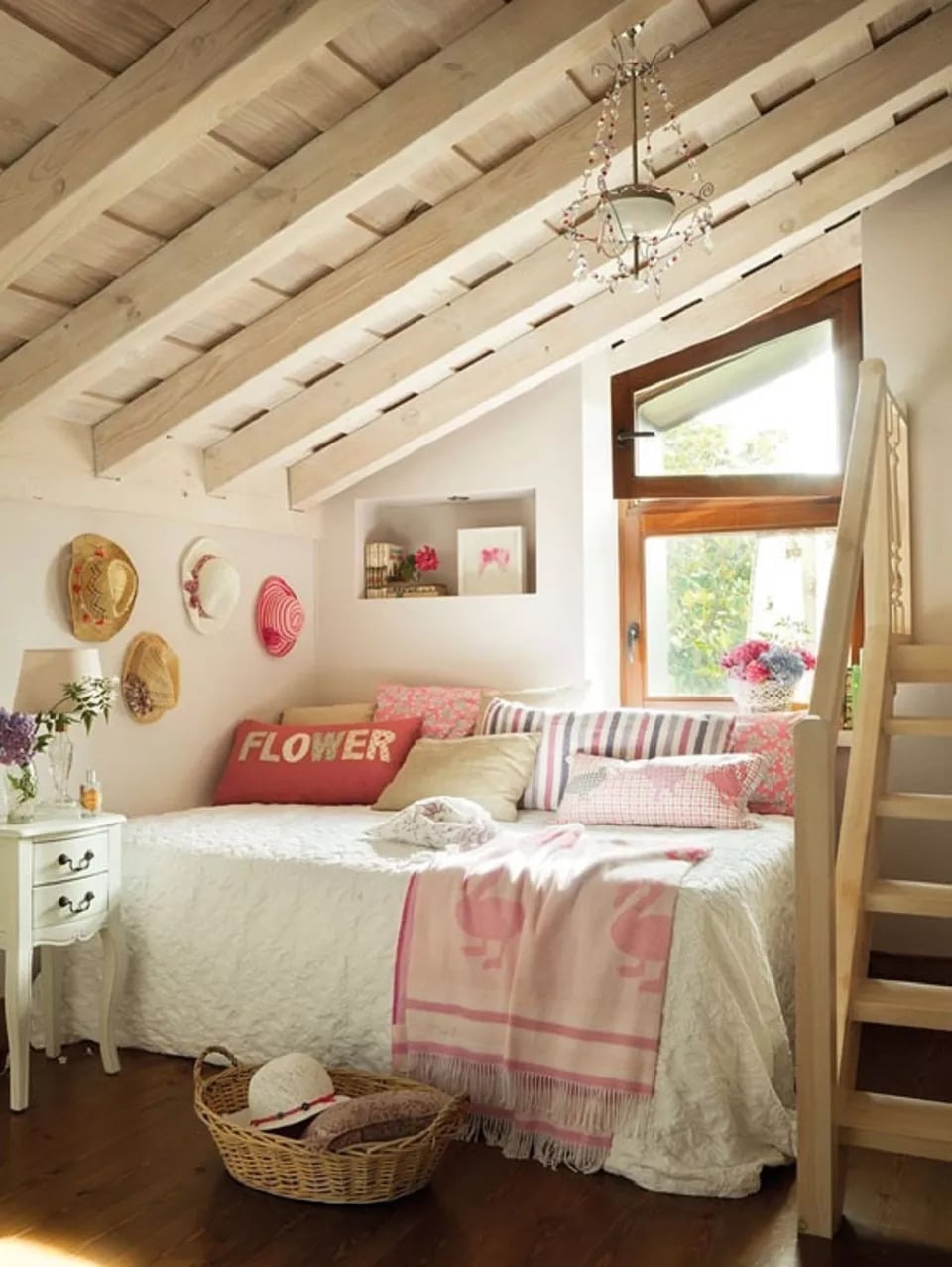 Girls love pink and they would definitely love this design. This charming and cozy bedroom has a touch of pink on its wall decoration and bedding. The wood accents on its ceiling and flooring are the best to match the soft white and pink colors.
Boy's Farmhouse Bedroom Designs
Typically, boys love sports and anything related to dark colors. But, how can we incorporate those likes into farmhouse bedrooms? Check out some boy's bedroom ideas here to get you inspired on some farmhouse bedroom for boys.
Sporty Farmhouse Bedroom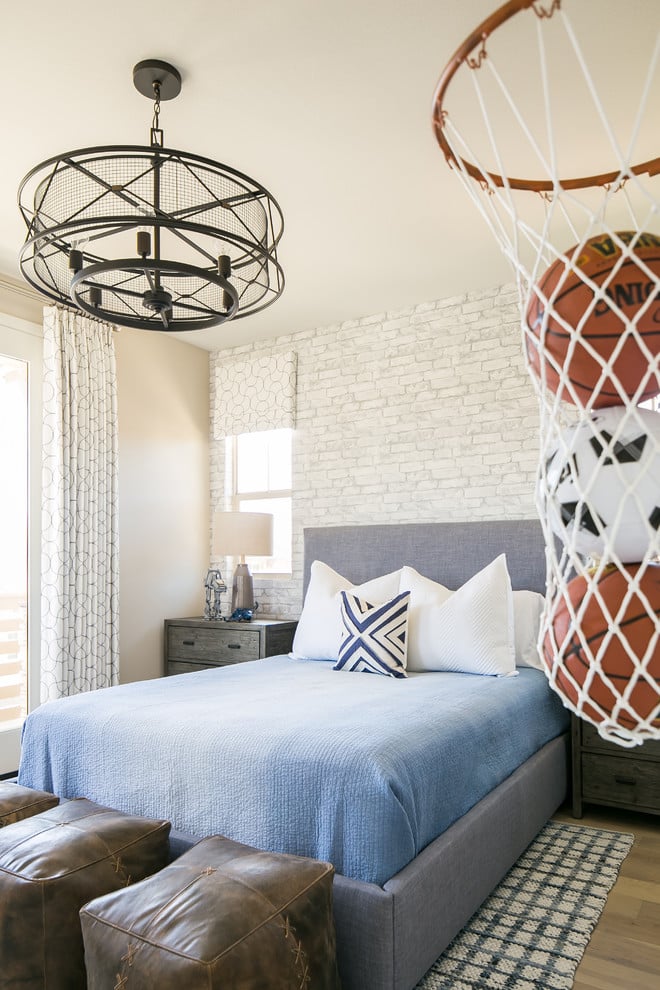 To the love of sports, this design helps your boy channel their love of basketball. The antique chandelier and wood flooring give off a farmhouse charm to this design.
Modern Ranch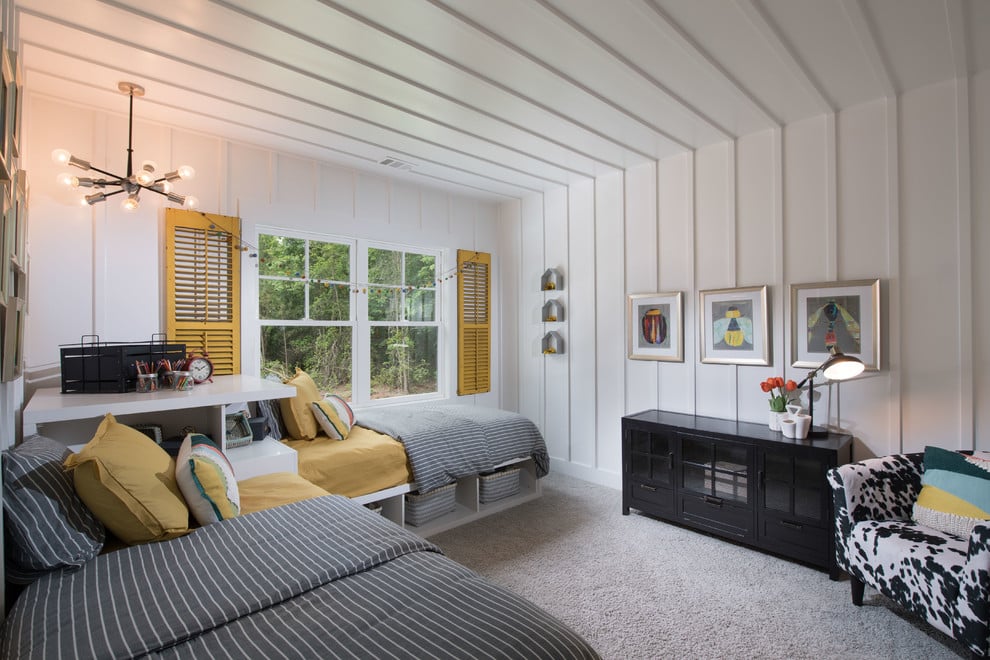 This room interior combines colors that create a lively ambience. Look how yellow window frames stand out on white wall. The unique light fixture enhances its modern mood.
Transitional Farmhouse Bedroom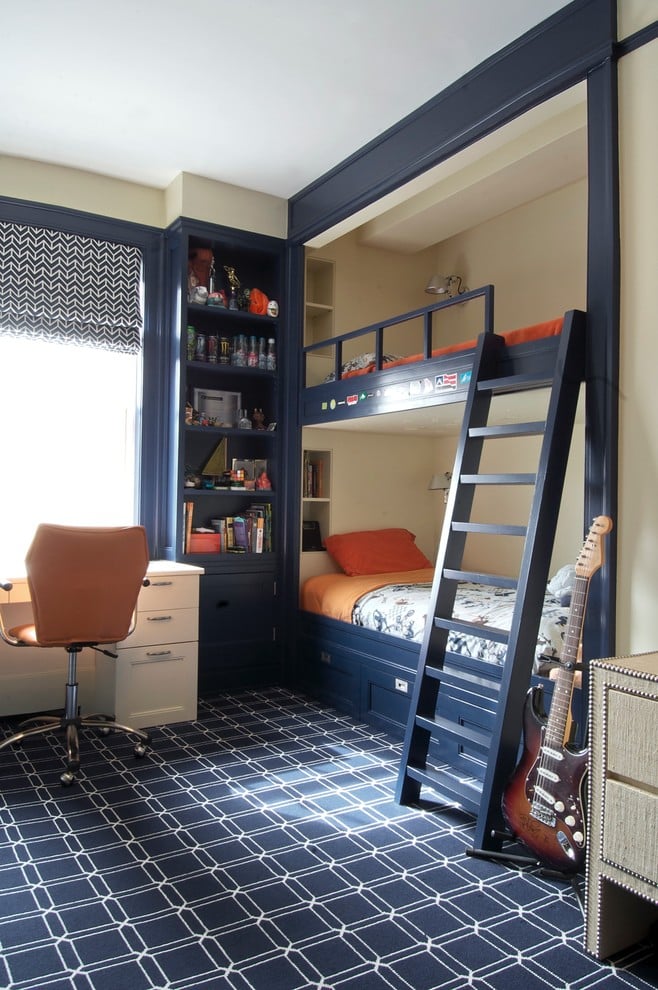 This dark concept bedroom is one idea you can inspire when it comes to boy bedroom. The carpeted flooring with its unique pattern match the whole design. And, this dark bedroom accentuates the yellow and white colors of its details.
Casual Look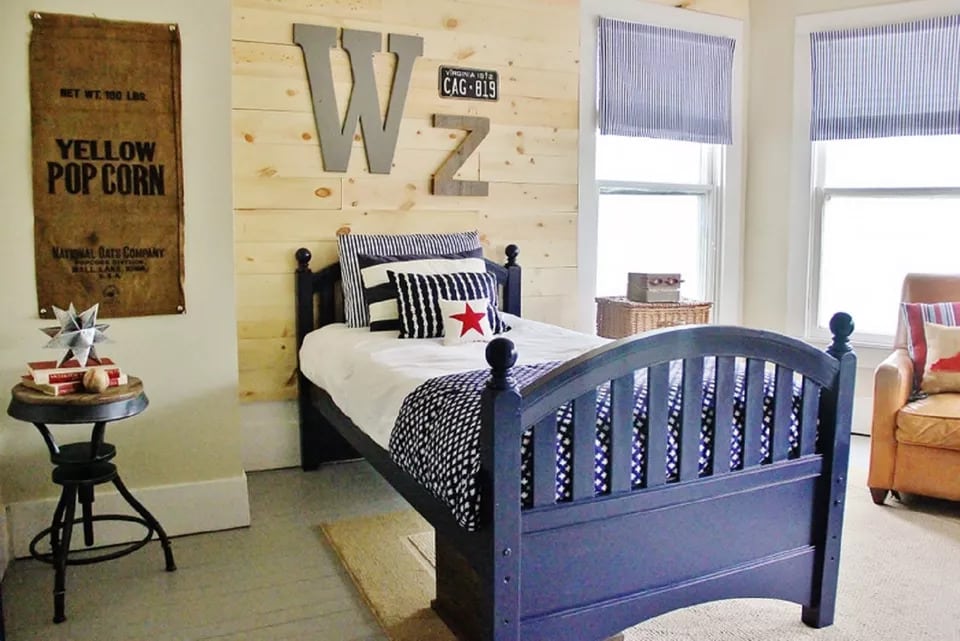 If you aim to get a casual look of farmhouse bedroom, this decor is a great inspiration. A solid dark wooden bed frame and knotty wood wall create a farmhouse charm boys would love.
Super Cozy Farmhouse Bedroom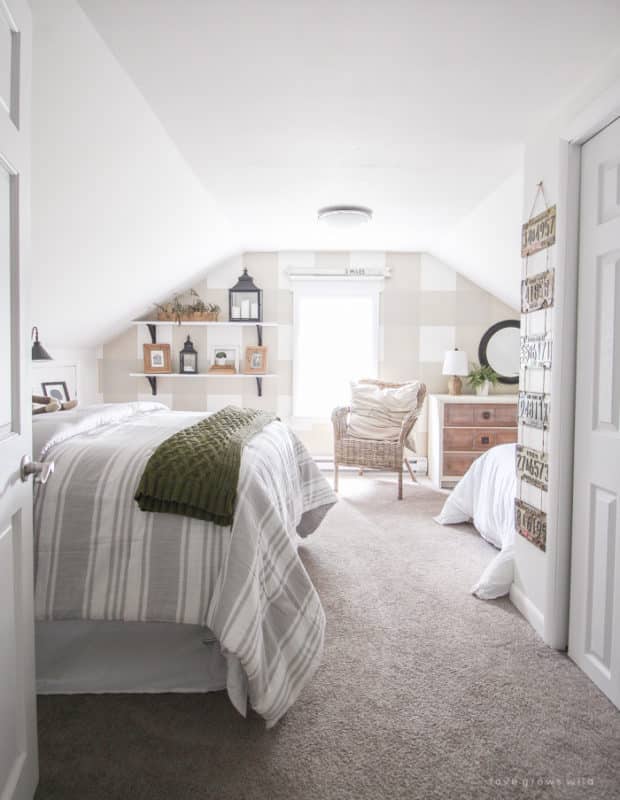 Look how comfy this bedroom is! The combination of fluffy bedding in soft colors and rug is great. To add, the gallery wall and patterned wall level up the design of this boy farmhouse bedroom.
Related : Simple Pallet Bed Designs
Farmhouse Guest Bedroom Ideas
A guest bedroom is the best way to welcome your friends or relatives who might want to stay overnight. Your guest bedrooms should be as warm and inviting as other bedrooms as it reflects your personality. Here are some ideas to amaze your guests and make them feel at home.
Twin Feels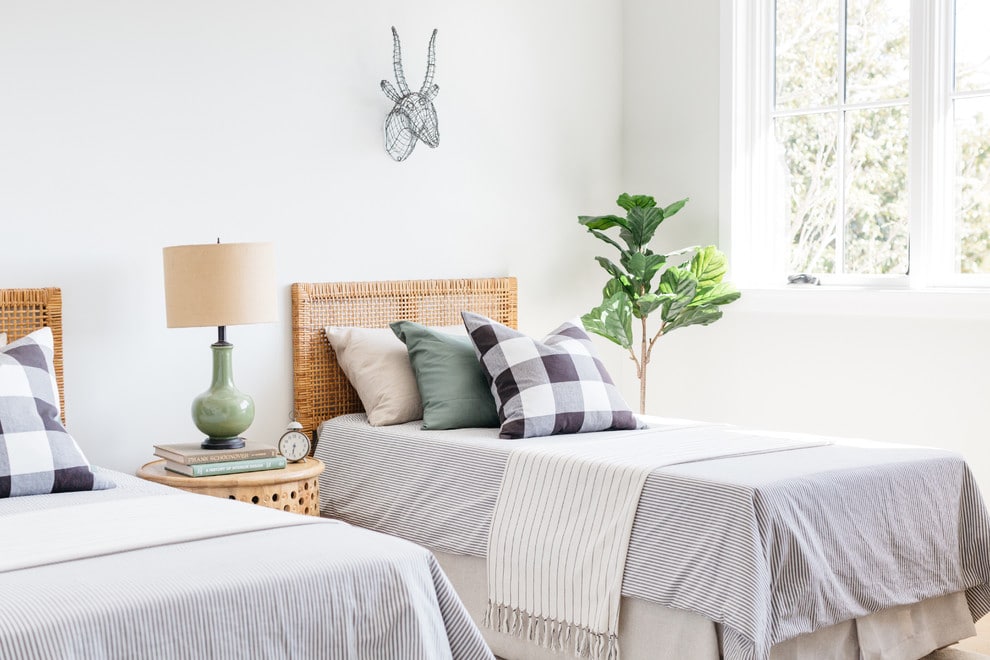 You may opt for a twin bedroom to serve your guests and this design suits the best. The farmhouse features seen here are the antler and wicker headboard. Therefore, combining this with soft neutral colors, your guest rooms will look clean and airy.
Countryside Bedroom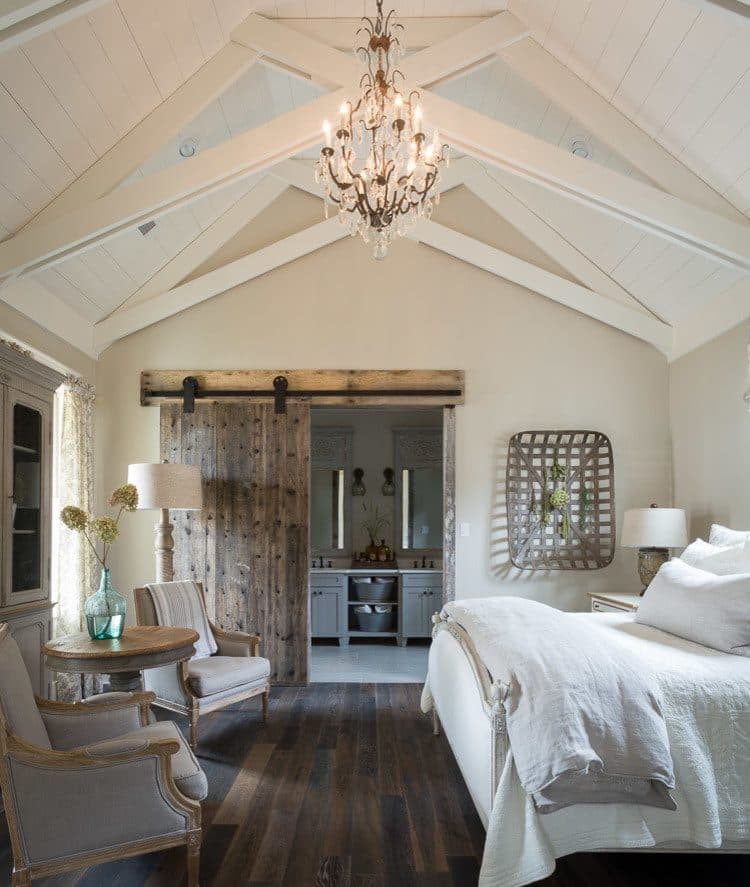 This guest room design is the best you can have if you want to make your guests feel living in a barn. The barn sliding door and wood floor fits the beige wall and ceiling.
Simple and Airy Bedroom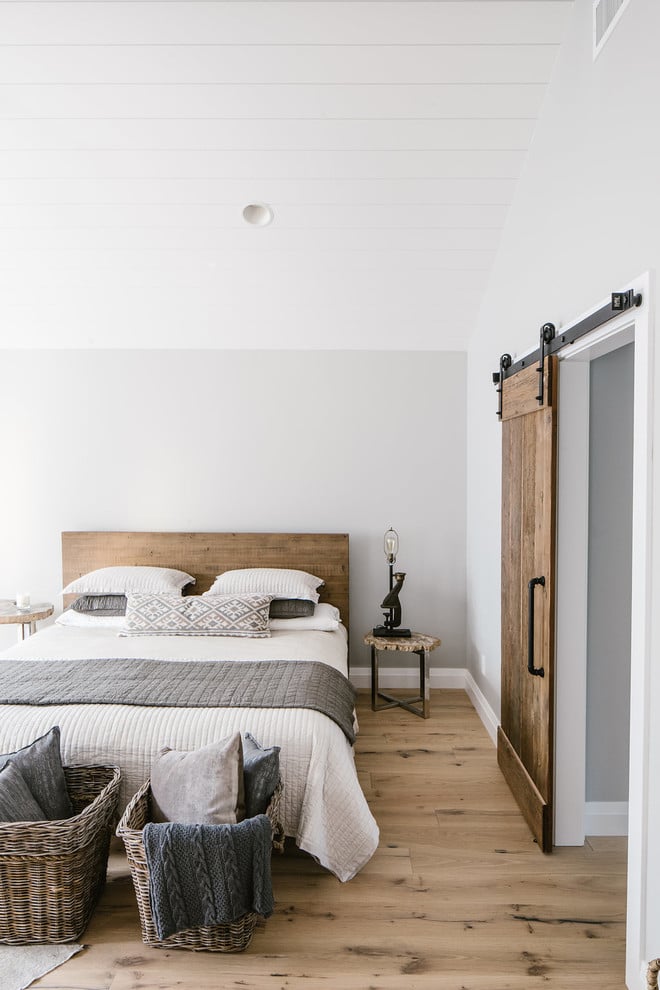 This bedroom looks so simple, yet giving a full sense of farm life. In addition, it features more farmhouse details through its sliding door, wicker baskets, and wood flooring.
Guest Room of Gray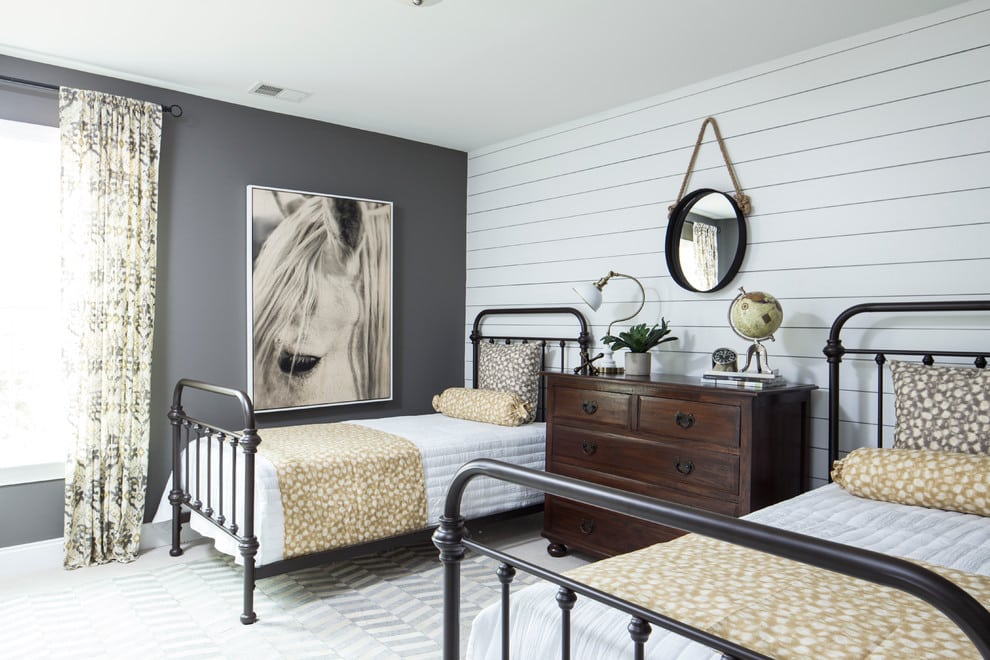 This guest room looks simply adorable. The gray wall matches perfectly with shiplap wall, and black metal bed frames. In addition, the yellow floral bedding adds playful sense to this decor.
Elegant Guest Room Revamp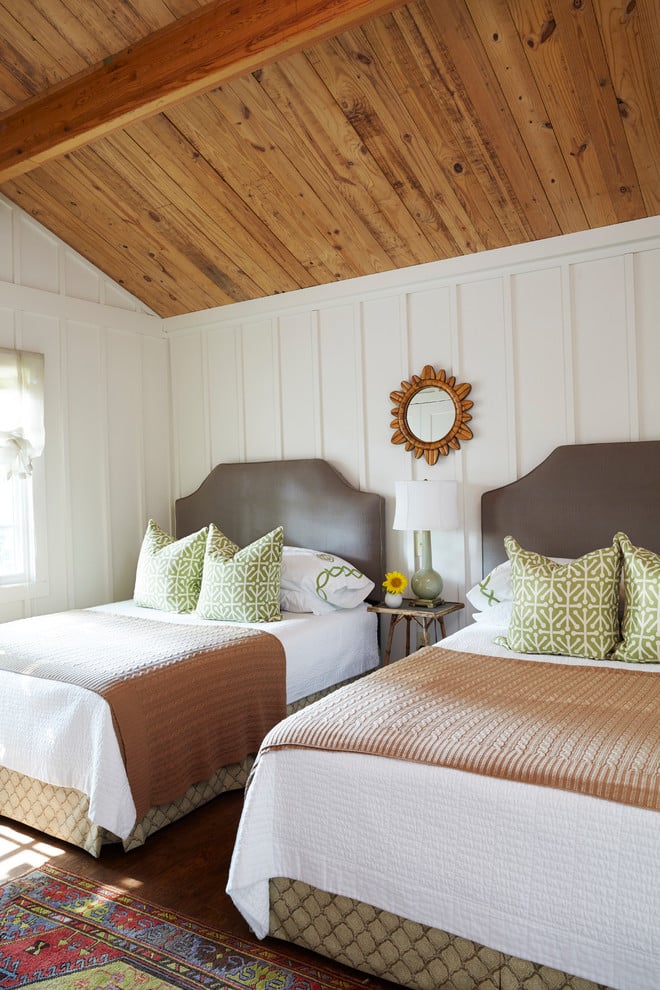 This design plays colors and patterns which make the room look charming. Look how elegant the colors combination on its bedding with the white walls and wood ceilings.
Country Guest Bedroom
White walls never fail to give a farmhouse charm to a room. For example, the simple bed frames are covered with popping and bright orange that comes with patterns on its bedding.
Custom Farmhouse Bedroom Ideas
If a classic farmhouse design bores you, you might need to be inspired with more custom farmhouse bedroom ideas. Subsequently, they can make you think of combining more room styles into your farmhouse basic interior. Or, thinking of custom made on one of your large furniture? Here are some of the ideas.
Industrial Farmhouse with Custom Bed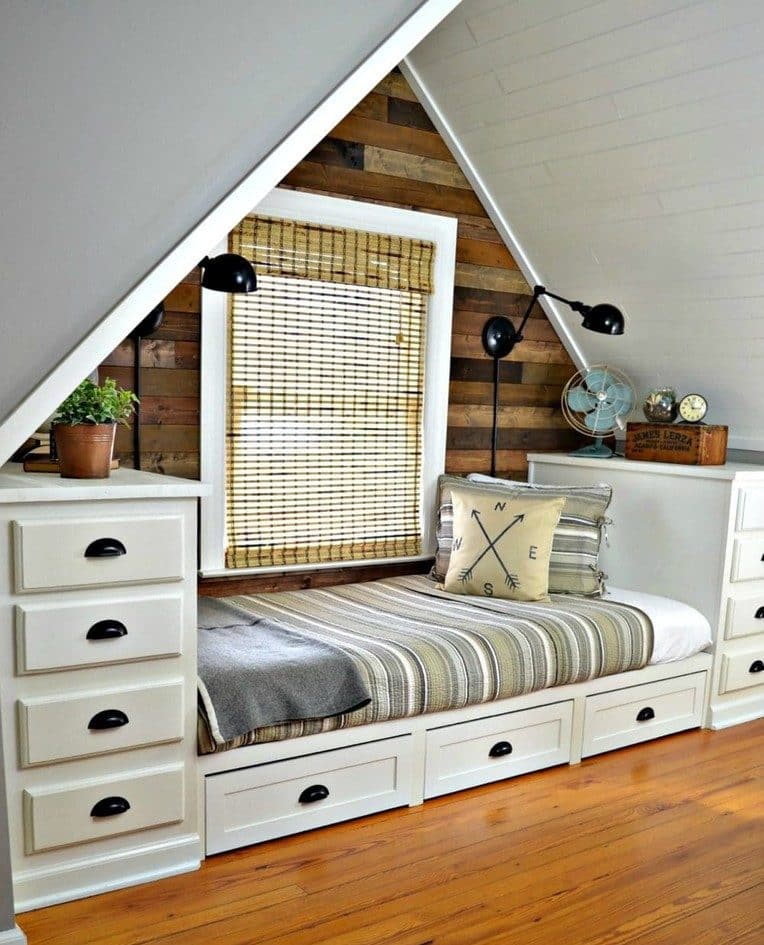 This small yet cozy bedroom is a combination of rustic and industrial styles to create a comfy single bedroom. Meanwhile, what makes it look even inviting is its built-in bed fitted with drawers and wall.
Above, you can see they've added a yellow blind for a pop of color. If you're looking for blinds for your bedroom, take a look at Reynolds Blinds- Made to measure blinds. Here, you can choose from a wide range of blinds made from high-quality materials!
Red Wall Farmhouse Bedroom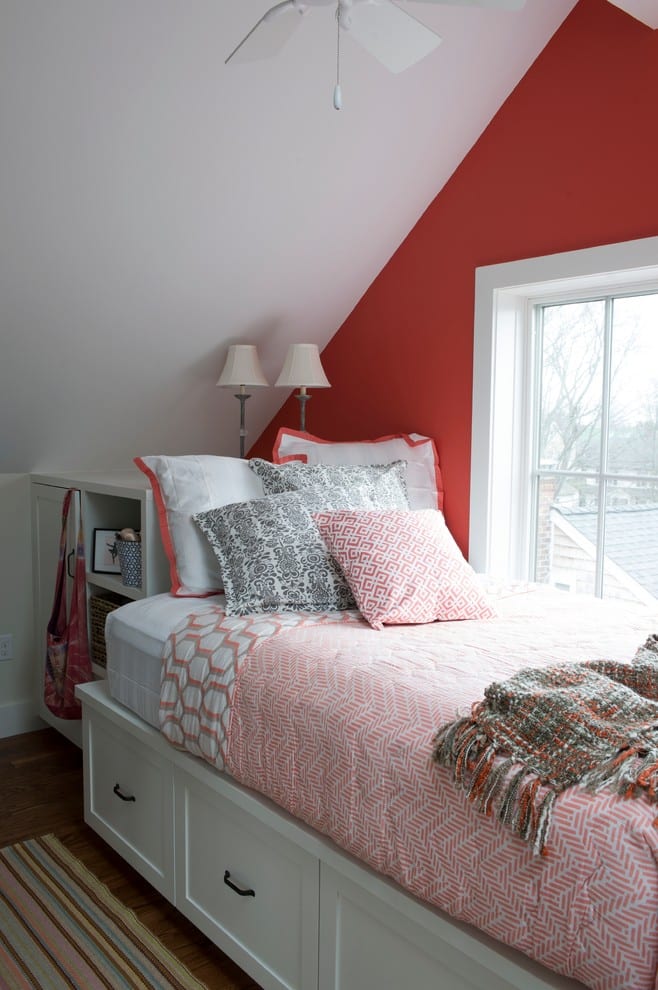 The combination of bright red and white colors creates an interesting and lively ambience. Certainly, the built-in bed helps you unclutter your stuff, making the room look cleaner and nicer.
Small Bedroom with Built-in Bed and Storage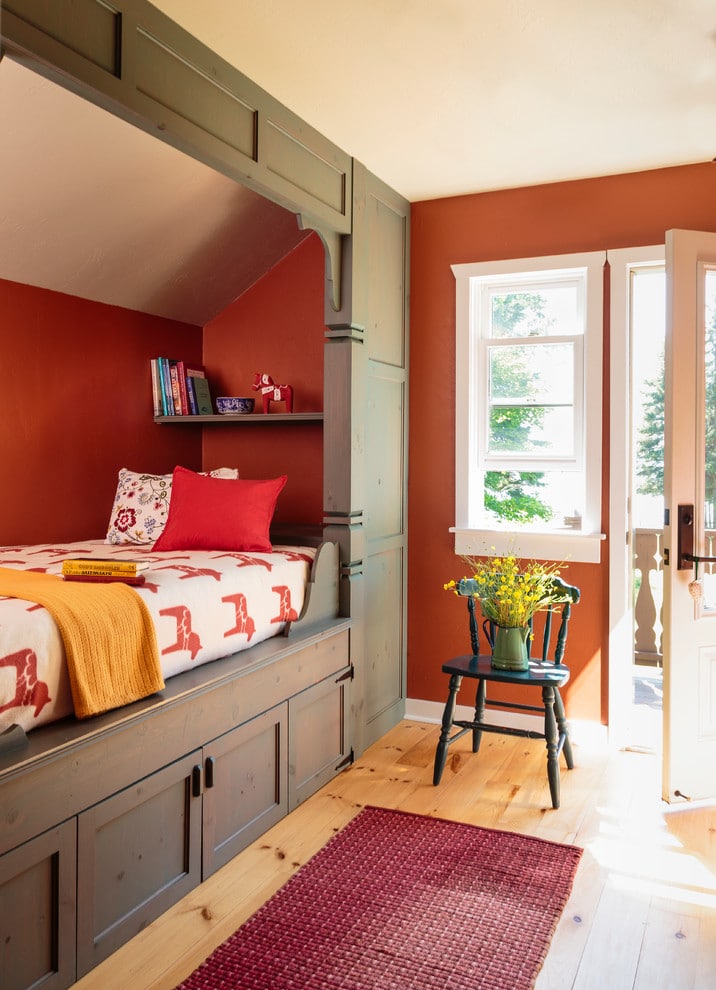 This room looks super comfy, yet the red walls seem to spark energy. Moreover, the custom bed and storage in dark tone wood is a perfect look to match with a bright farmhouse bedroom.
Featured Wall in A Farmhouse Bedroom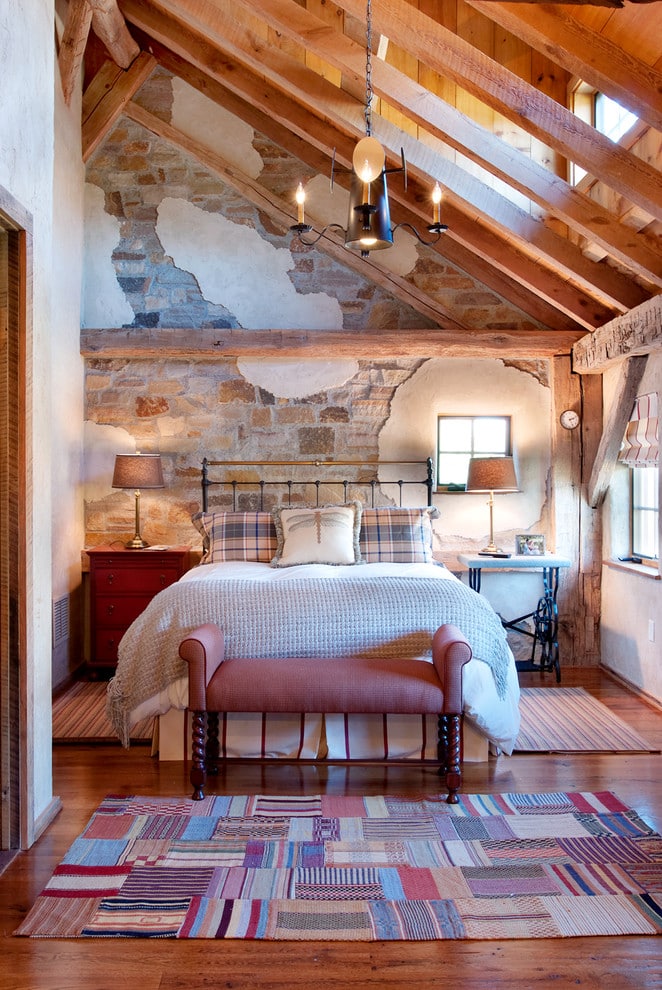 Be inspired with this country bedroom! The exposed wooden beam ceilings and featured wall created on one side of the wall make this farmhouse bedroom look far from boredom.
Related : Extra Room Ideas
Conclusion
Certainly, this style is simple on its color and material choice. It brings out little popping and accents, only to make the space look less strict classic. Being functional, as this puts forward clean lines on its details. Practicality comes together with being functional. That is to say, in a farmhouse decor, vintage furniture – bed, drawers, wardrobe, is to match with rustic finds wrapped in a neutral wall.

Finally, a farmhouse style has its own charms. Compared to other room designs, this countryside home inspiration can transform any boring bedrooms into warm and inviting ones. Basically, what you need to do is to think of what a barn house looks like and apply its concept to your room design. This includes rustic wood furniture, sliding barn door, shiplap walls and wood flooring. Add a touch of old time memorabilia – and voila! Your farmhouse bedroom is ready to indulge your desire to rest and relax.
Sources :
houzz.com
morningchores.com
thespruce.com