Mid-century Modern Bathroom – Don't rule out the benefit of having a well-designed bathroom in your house. As your body gets all freshened up, a pretty bathroom would be refreshing to your spirit correspondingly.
Some would go for luxury, while others find more thrills in simplicity. After all, it is all about interest and functionality.
Some ideas of bathroom styles are eternal. In general, people opt for clean, fresh, bright decor.
However, it just gets boring sometimes. Searching for bathroom looks that are timeless and vary in choice? It's only right to take a shot on mid-century modern bathroom style.
What is mid-century modern style?
To understand Mid-century Modern style properly, let's take a look back to post World War II. While the people were getting over the gloomy period, they however made way for something new. In the United States, that meant for expansion in cities and suburbanization. Demand for modern and quickly-built houses was emerging. Advances in technology allowed it to process new materials, produce new textures and shapes.
Bauhaus architecture influenced this a lot, as Bauhaus architects migrated from Germany to the U.S. due to post-war effects. In this case, organic and geometric shapes are easily distinguishable in the Mid-century Modern style.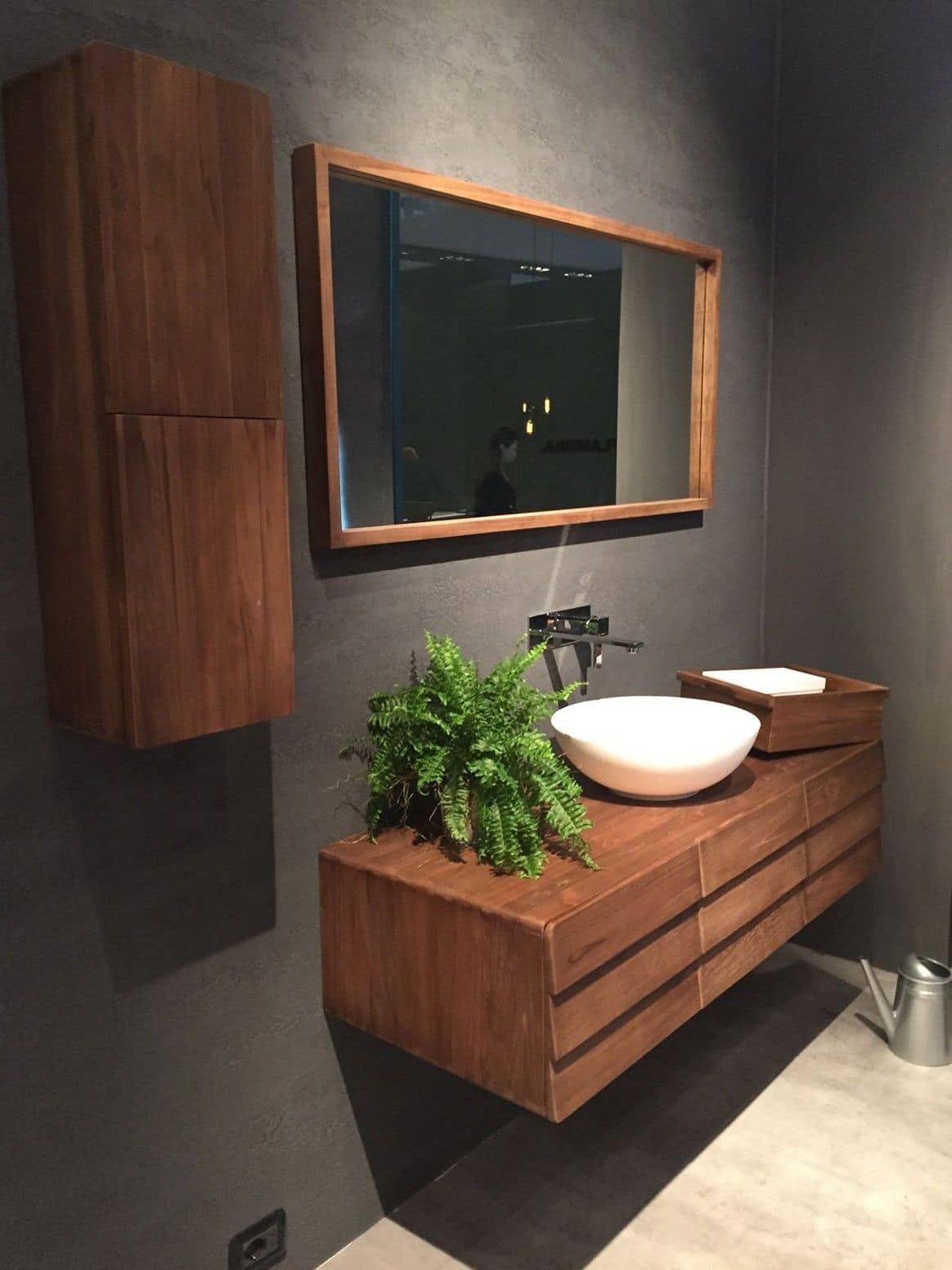 Applicable colour is wide-ranged, following from neutral tones to bold. A mix of wooden furnishings and non-traditional materials such as vinyl, metal, glass are in use. This style is all for minimalism and simplicity yet emphasizing on functionality. Therefore, expect minimal ornaments and uncluttered details. It is perfect for a small area such as the bathroom to get a spacious look.
Mid-century modern bathroom ideas
These ideas below give you some sense of mid-century modern bathroom in several views. Some might entice you with the traditional, natural appeal while modest contemporary being prominent in others. Check out some original mid-century modern bathroom looks below.
1. Glazy Single Color Mid-century Modern Bathroom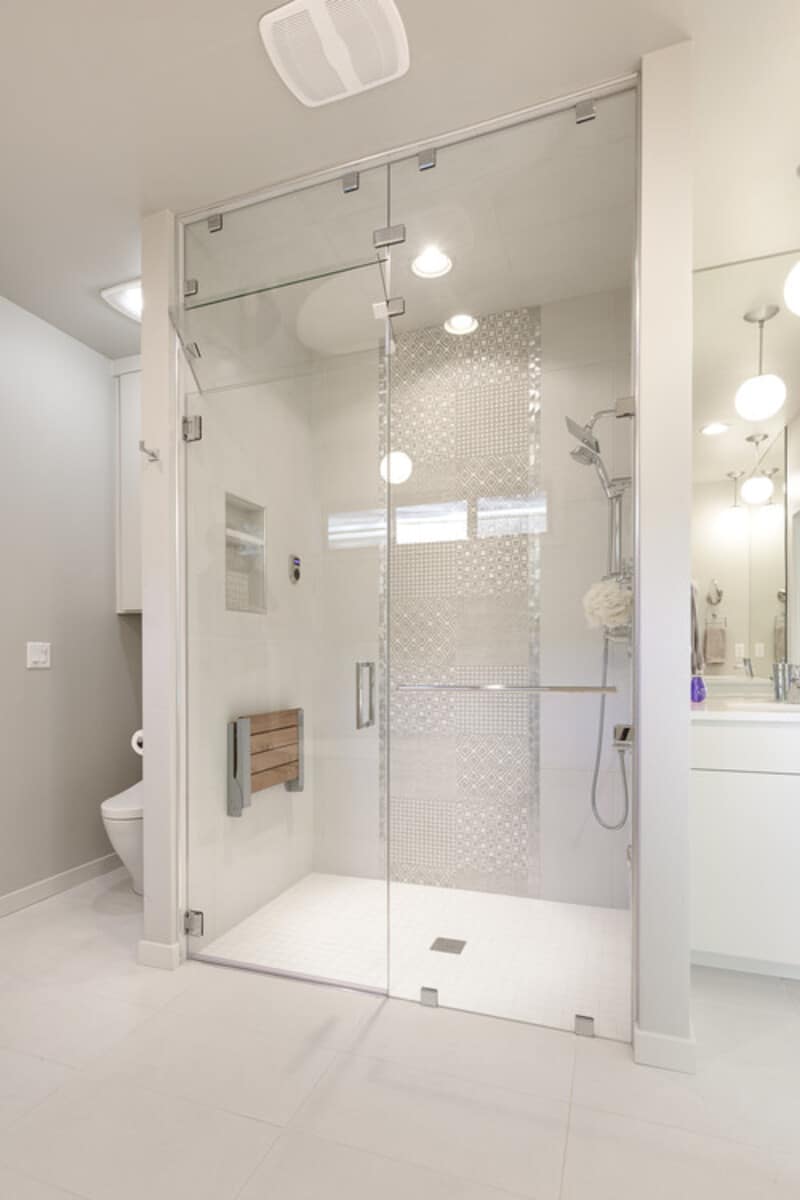 Simplicity is at its finest when you can rely on a single colour to decorate your enclosed space. Pearl grey porcelain tile and walls around the bathroom create a clean and shiny environment. Important to realize that the use of proper lighting would give a perfect glow for some more luxurious feel.
2. Space-inspired Bathroom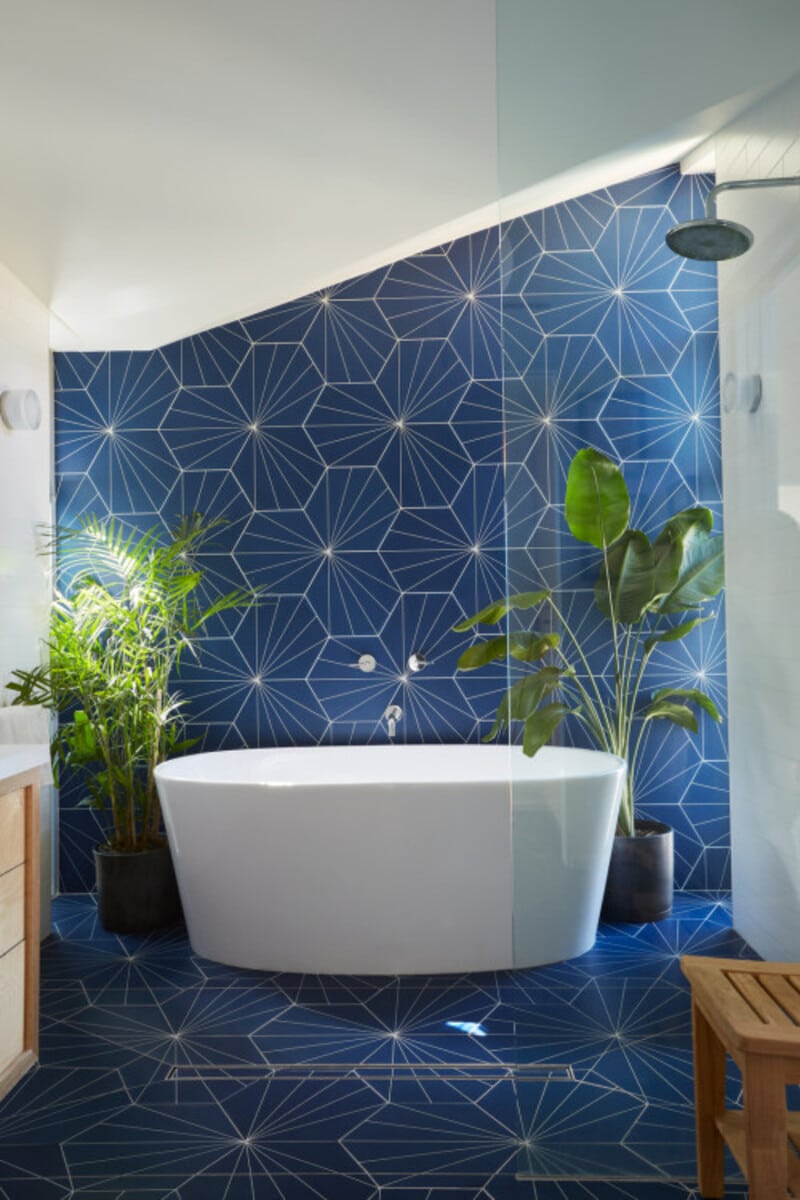 Polygonal pattern puts the best interest for the original mid-century modern bathroom tile. Constellation-like design on the bathroom tile in electric blue decorates as well as shows the focal point of this bathroom. All in all, there's always something about the vast space that awakens you in a peaceful way.
3. Dark Wood Embellished Bathroom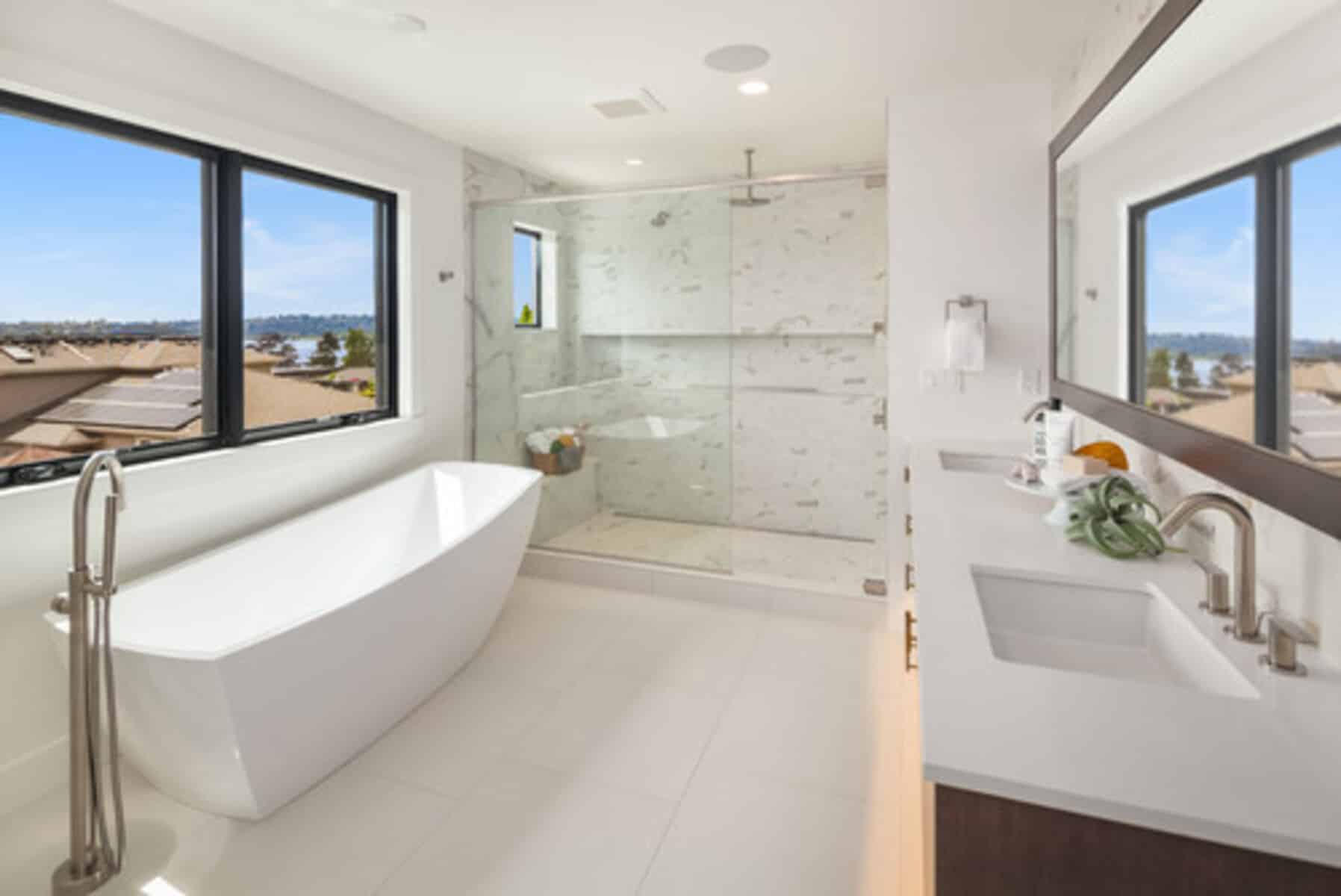 You can always create some picturesque contrast between the room and its embellishments. Significantly, dark wood panels work just right among the prevalence of sleek white interiors. The modest fusion between the traditional and the non-traditional materials, in fact, makes it more elegant.
4. A Mid-century Bathroom with the Shade of Autumn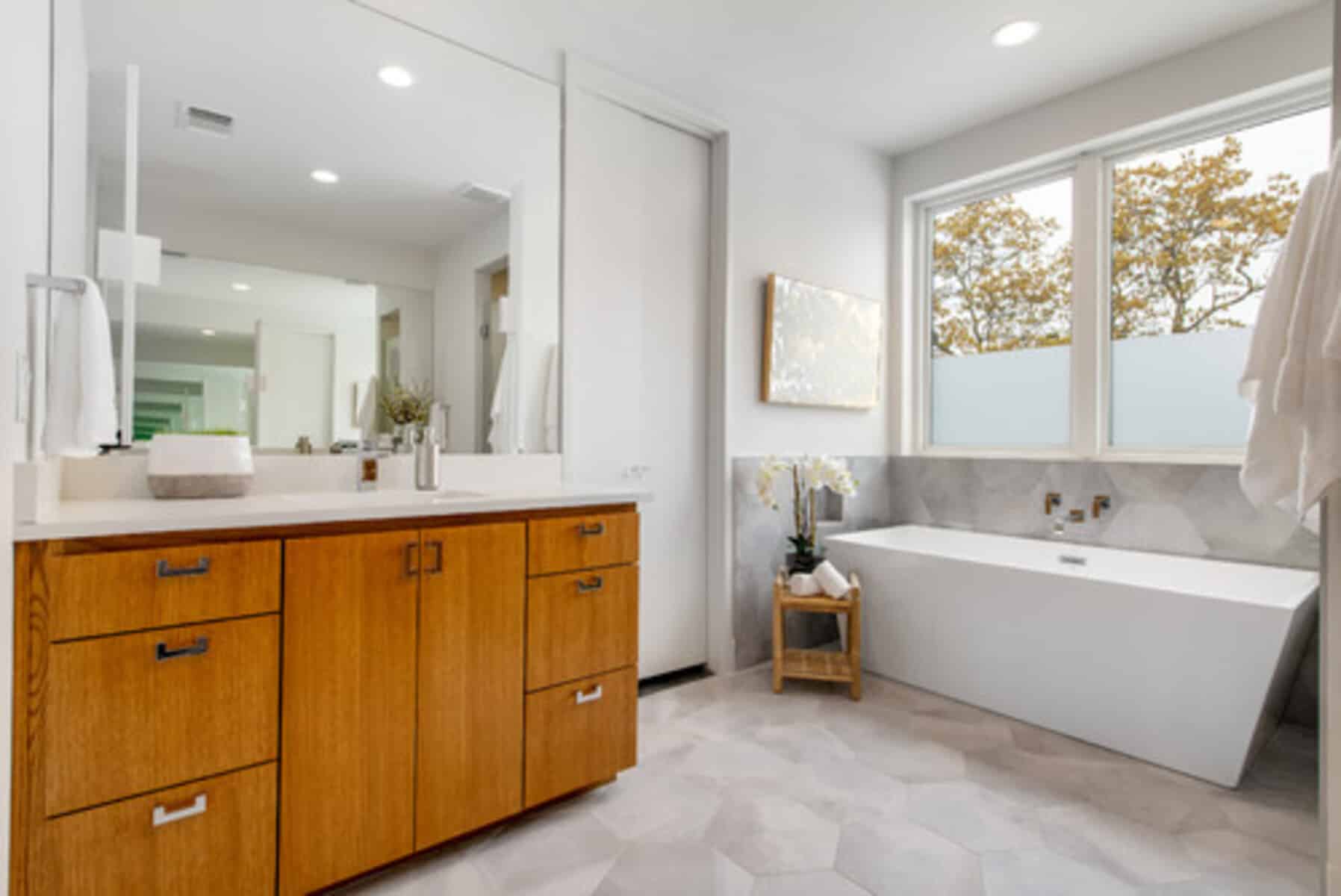 Medium-tone wood cabinet in your bathroom may invite autumn breeze to your bathroom. Moreover, the light grey surroundings help build the airy feels. What's worthy of attention in this bathroom is the mid-century modern tile as a clear-cut feature. Stone-like effect of the tile decorates the bathroom in a neat polygonal pattern.
5. Marble and Mosaic Bathroom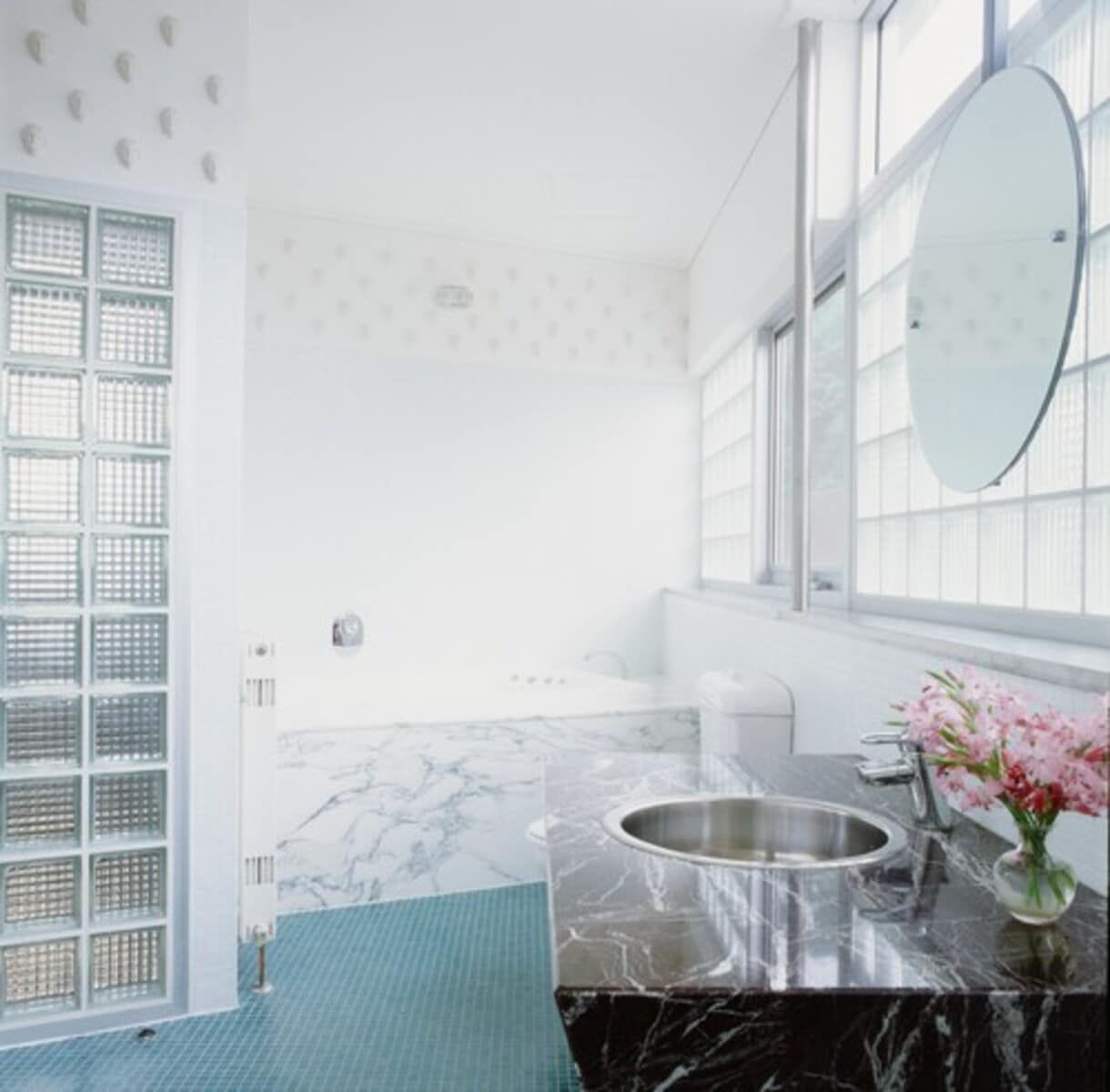 This idea contains several patterns you can infuse within an enclosed area. Firstly, you can spot mosaic tiles and clear glass with their vivid lines. Thus secondly, the randomness of gentle curves in the marble countertop and alcove bathtub. Lastly, the seamless obovate dots which are symmetrical on the upper wall, on the whole, makes a sweet bathroom look.
6. Spotless Stainless Steel Mid-century Modern Bathroom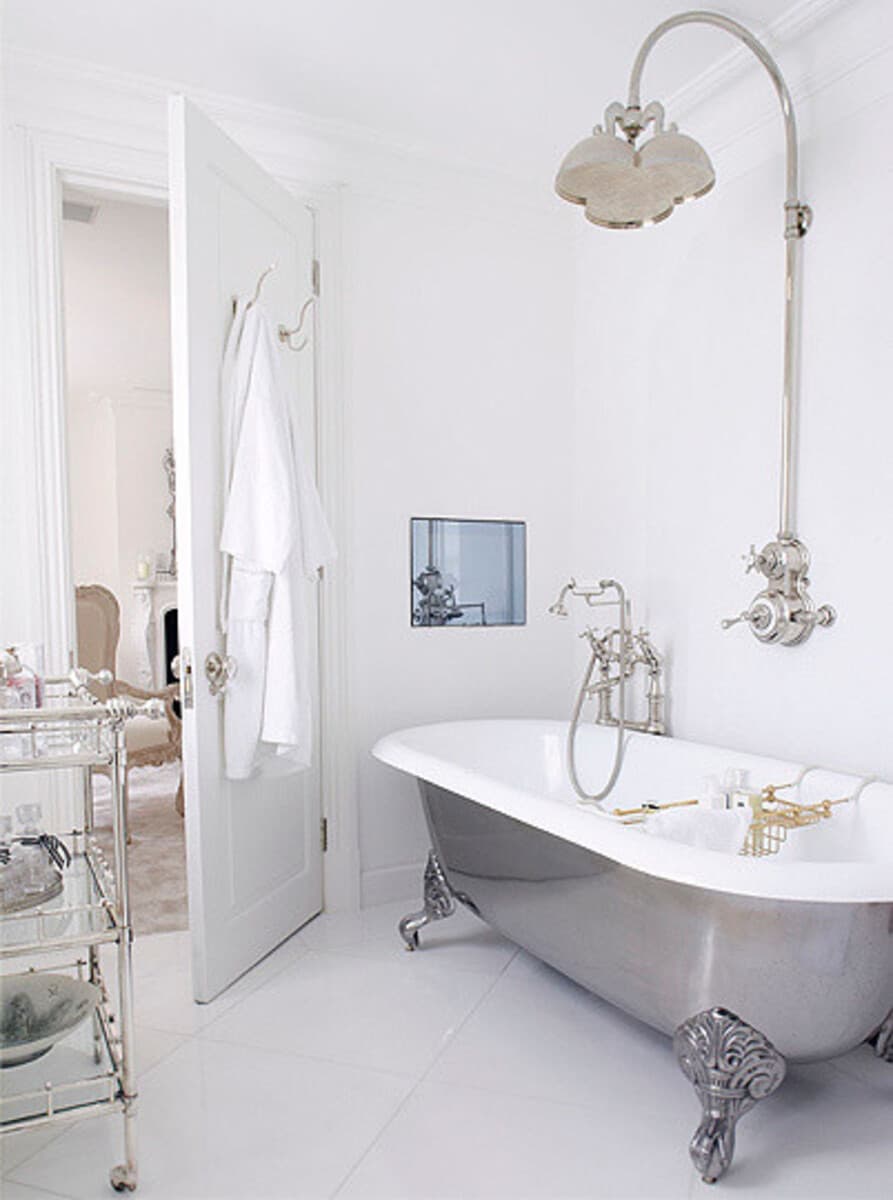 Stainless steel indeed is a way to go for a shiny, spotless bathroom look. Get the perfect eclectic style to combine them here. You can look for pieces of stainless bathroom furniture with a shade of Victorian feature. That includes a Victorian stainless tub and the curved-arm stainless shower, for instance, which are luxurious.
7. Separate Compartment Bathroom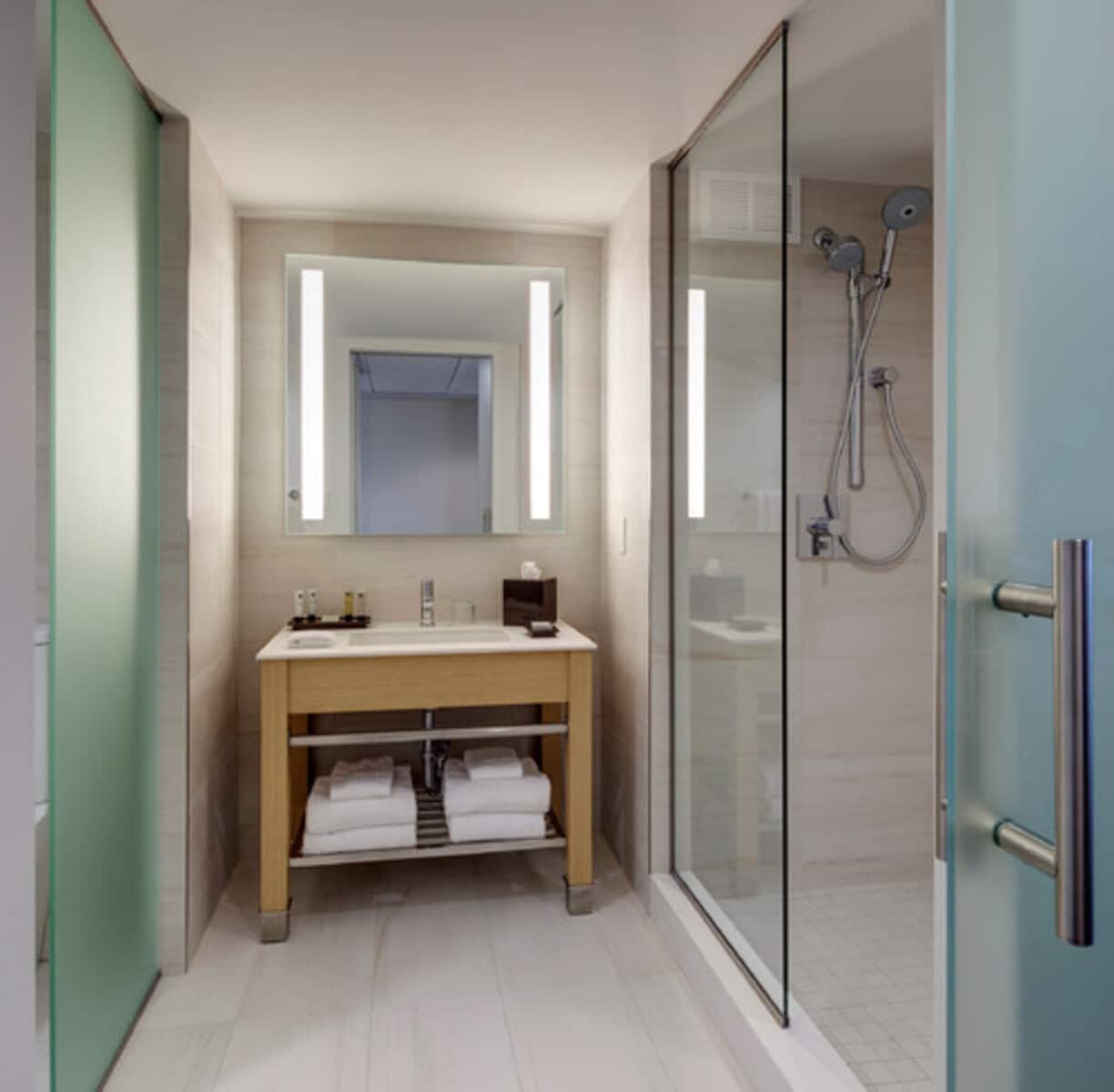 The open cabinet is in the center between the toilet and shower compartment. The simplicity of the light wood tone cabinet is in sync with the beige porcelain floor. Indeed, the modern vibes stick to the clean lines and sleek texture of the furniture.
8. Sweet Tender Bathroom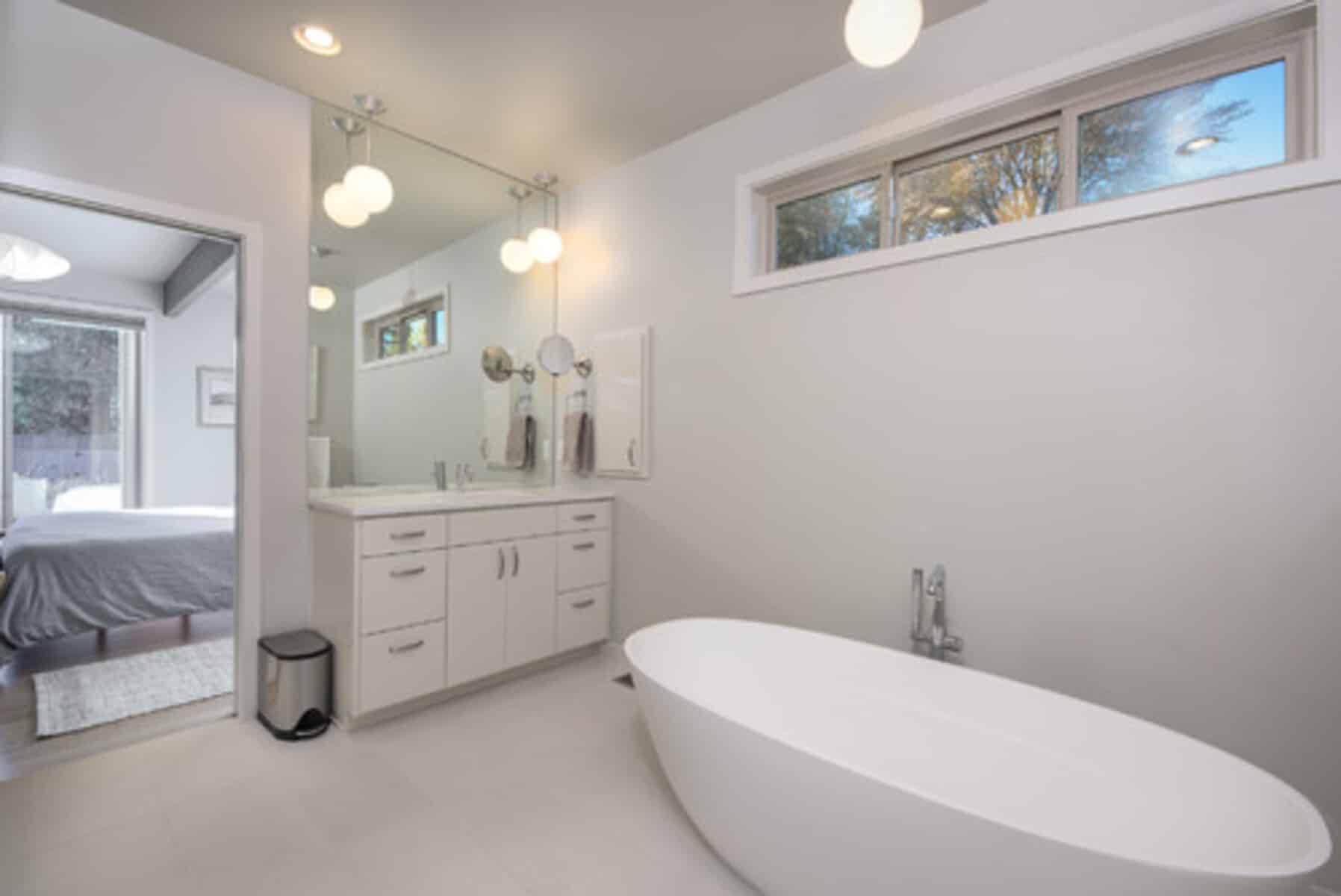 mid-century modern fixtures such as a freestanding tub is a sweet reference to achieve an appealing look. Furthermore, a modest beige cabinet with full mirror makes the corner functional. To emphasize on the tender mood, round lighting fixtures by the vanity mirror add soft yellow reflections to the room.
9. In-wall Cabinets Mid-century Modern Bathroom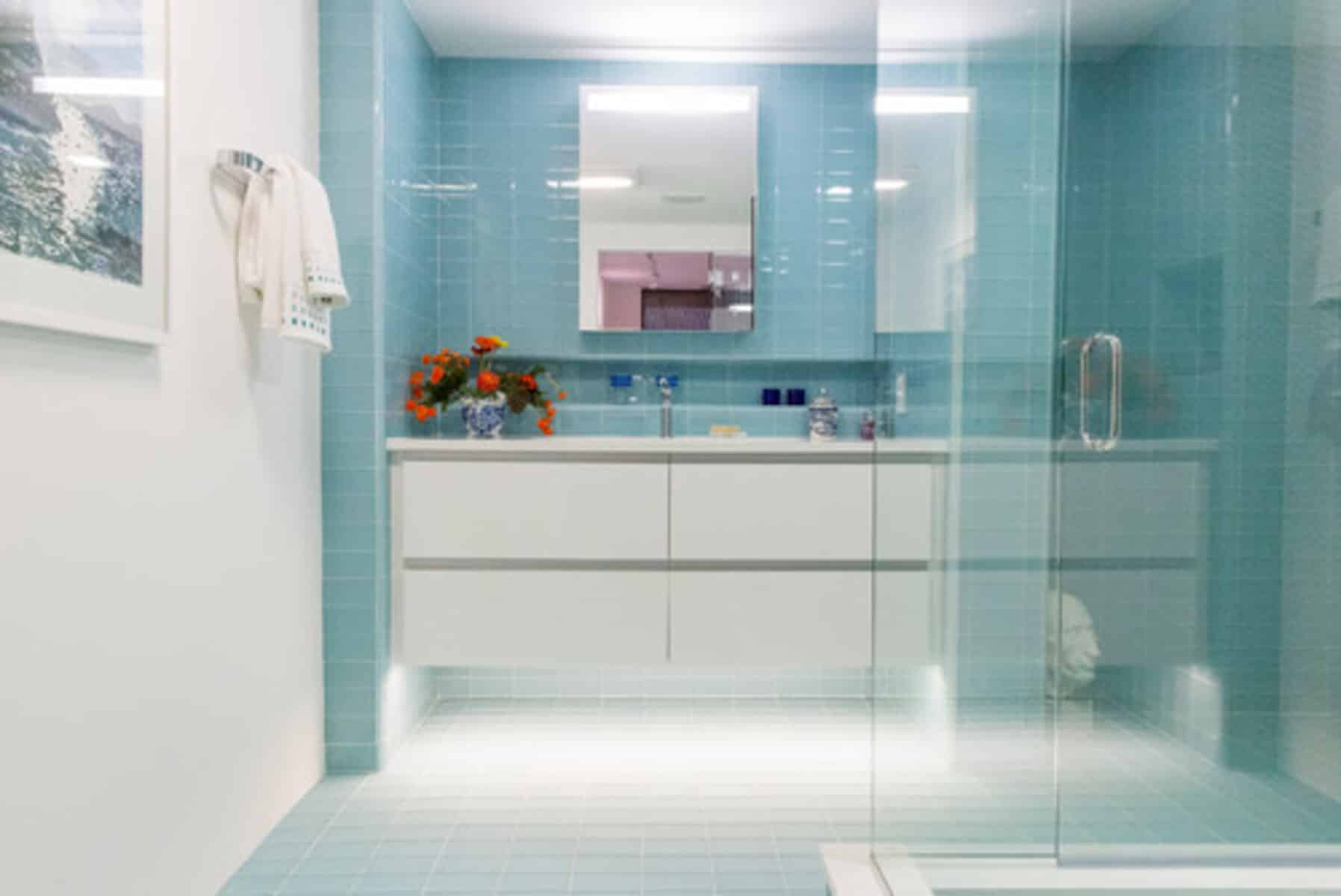 Aqua blue for modern bathroom tiles is a perfect match to white and silver-grey furniture. The bathroom has a floating wall-mounted cabinet with a soft bright white glow on the bottom hollow. Indeed, smooth and solid are the notable features of this bathroom's furniture.
10. Ginger-Mahogany Tone Bathroom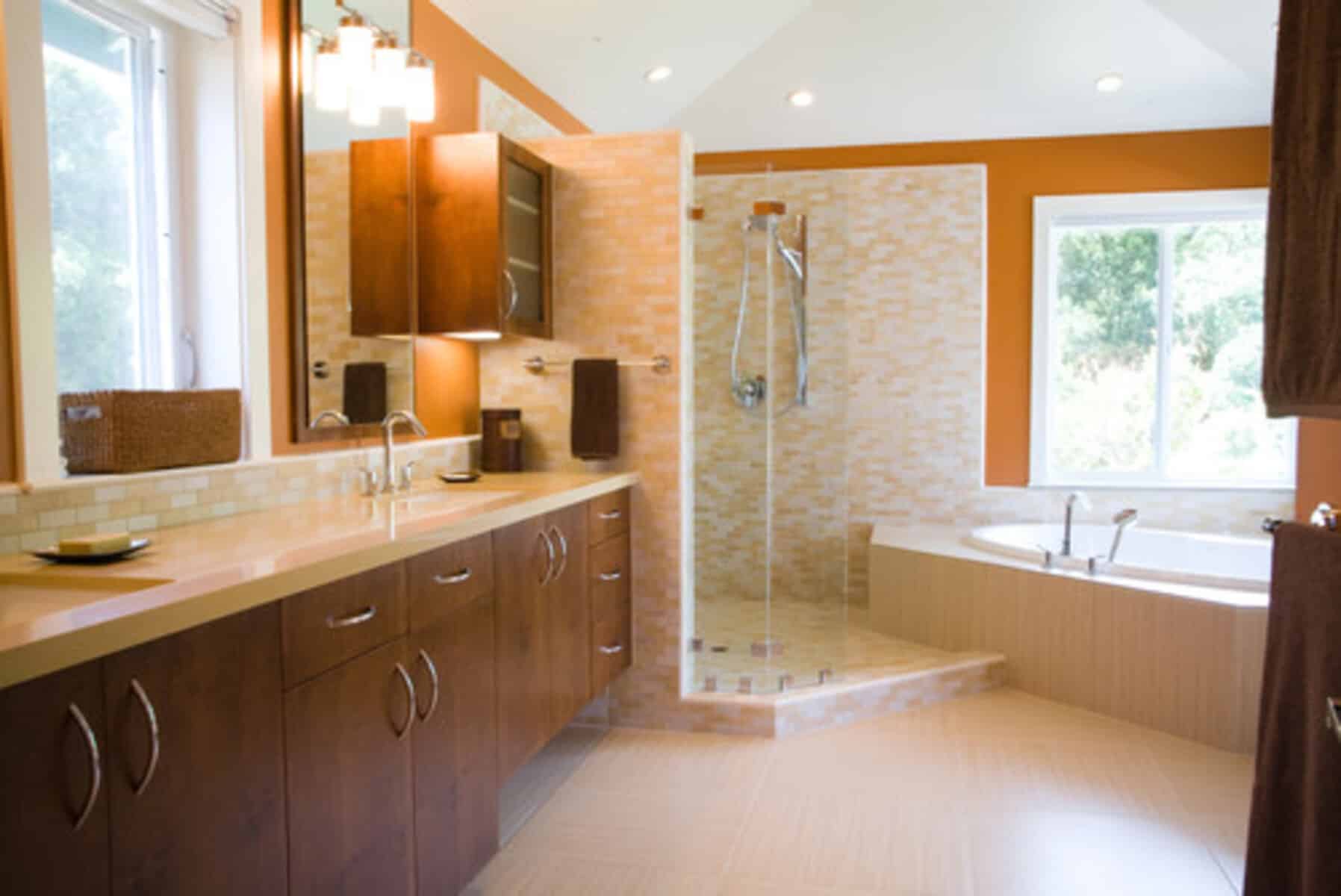 What's nice about this bathroom should be about how the colour feels natural and welcoming. The warmth of the ginger wall complements the yellow tiles and beige floor. Aside from that, the mahogany flat-panel cabinets with curved handles give a natural charm to the bathroom.
Mid-century modern bathroom remodel ideas
Do you need a new bathroom look? These ideas of mid-century modern inspired bathrooms are various from the vibes, contents, and sizes. So, see which one that probably meets your personal wish.
1. Full-wall Vanity Mirror of Mid-century Modern Bathroom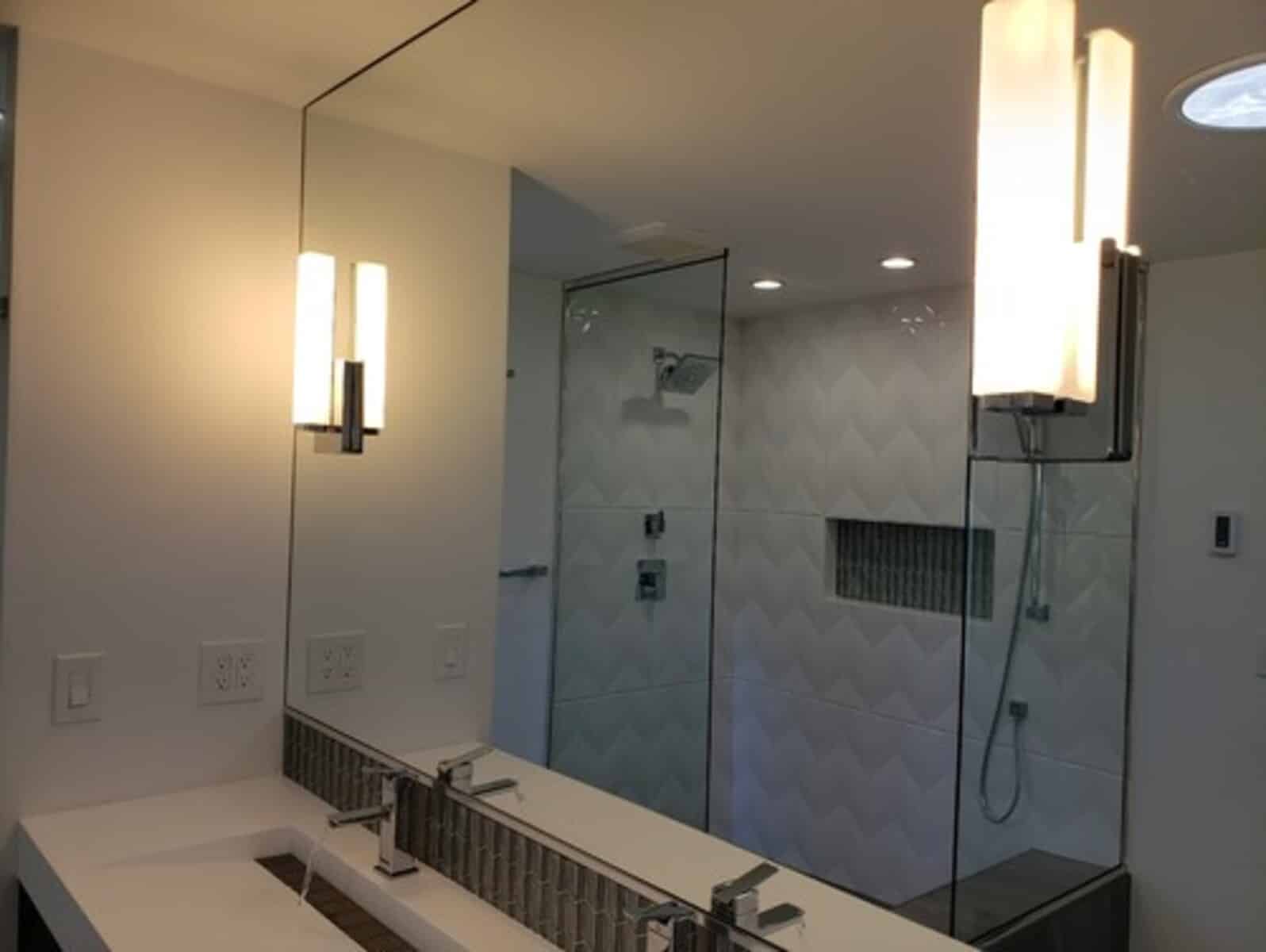 Mirror, mirror, on the bathroom wall. You can make your wall fully functional by installing a wide vanity mirror over the cabinet. Thus, the mid-century bathroom vanity comes alive with the aid of yellow-glow lighting sconce on it.
2. Black and White Bathroom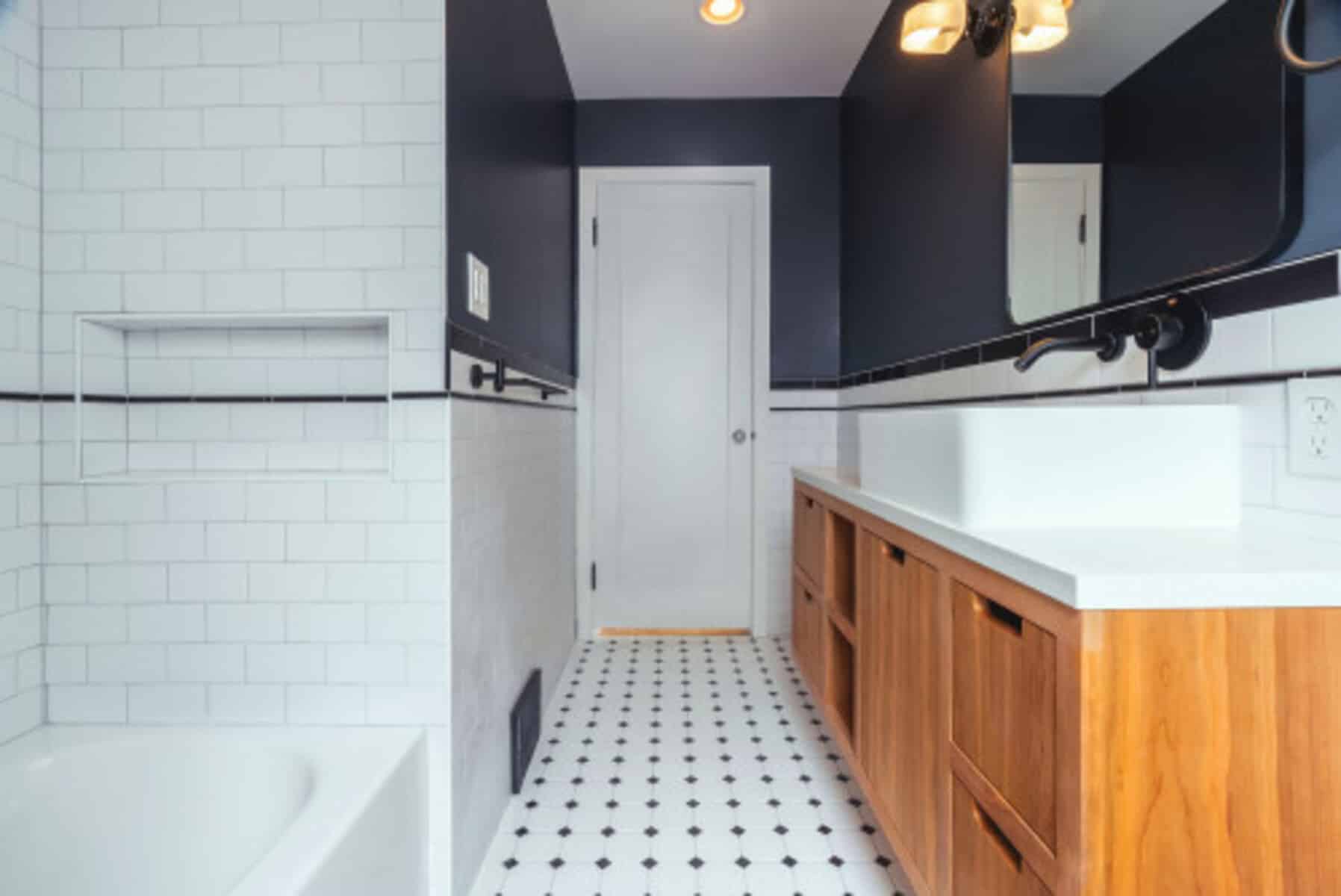 The contrast between black and white is pure bliss of harmony in your bathroom. The plain white porcelain tiles and glossy black wall seem to work it. Small mid-century modern black-white floorings also come in addition. What's more, the medium-tone cabinets set the deal and neutralize the vibe.
3. Elegant and Solid Bathroom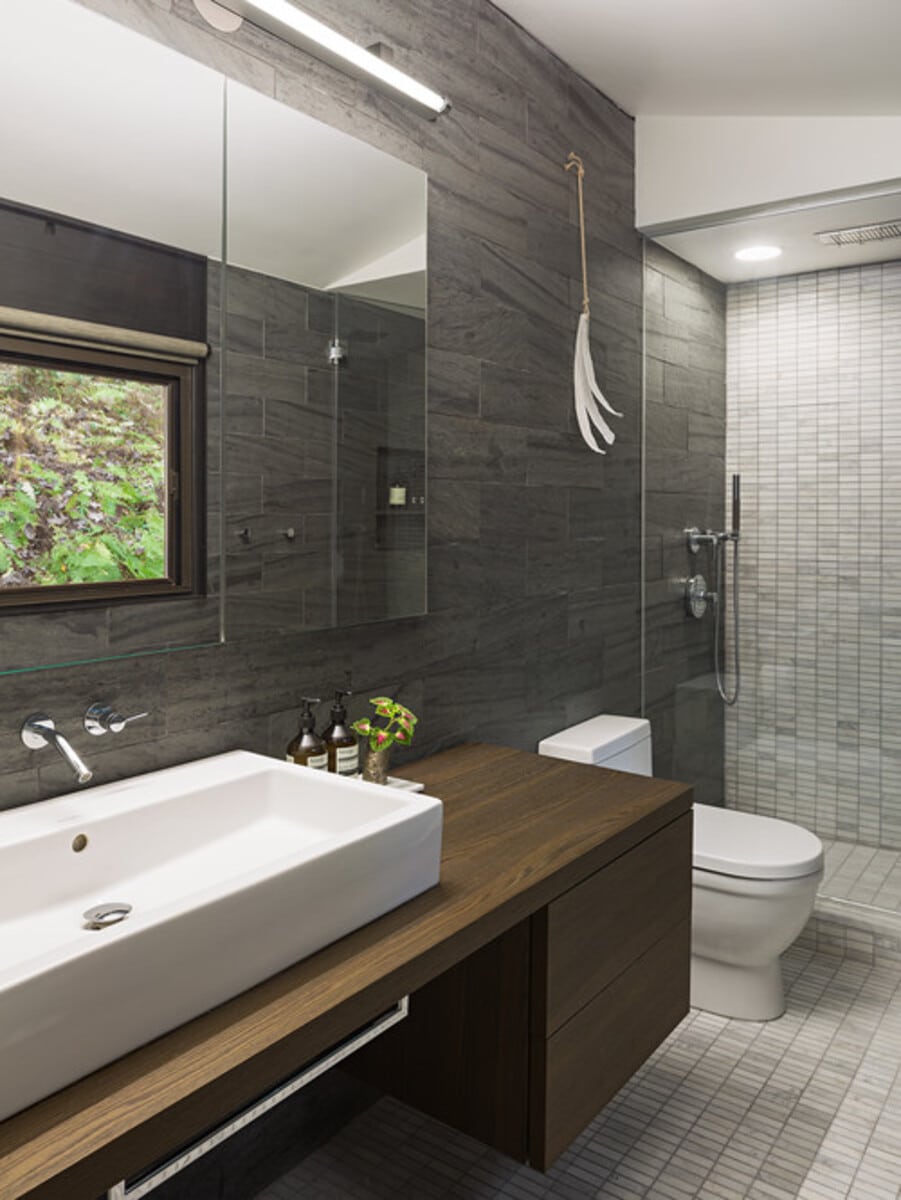 Stepping up the interior using grey nuances gets you the elegant, refined look of mid-century modern bathroom. You can get the most out of design simplicity by seeing how it complements one another. In this case, modern grey vinyl tiles on the wall, vintage grey flooring and white surrounding surely make the hit.
4. Relaxing and Romantic Mid-century Modern Bathroom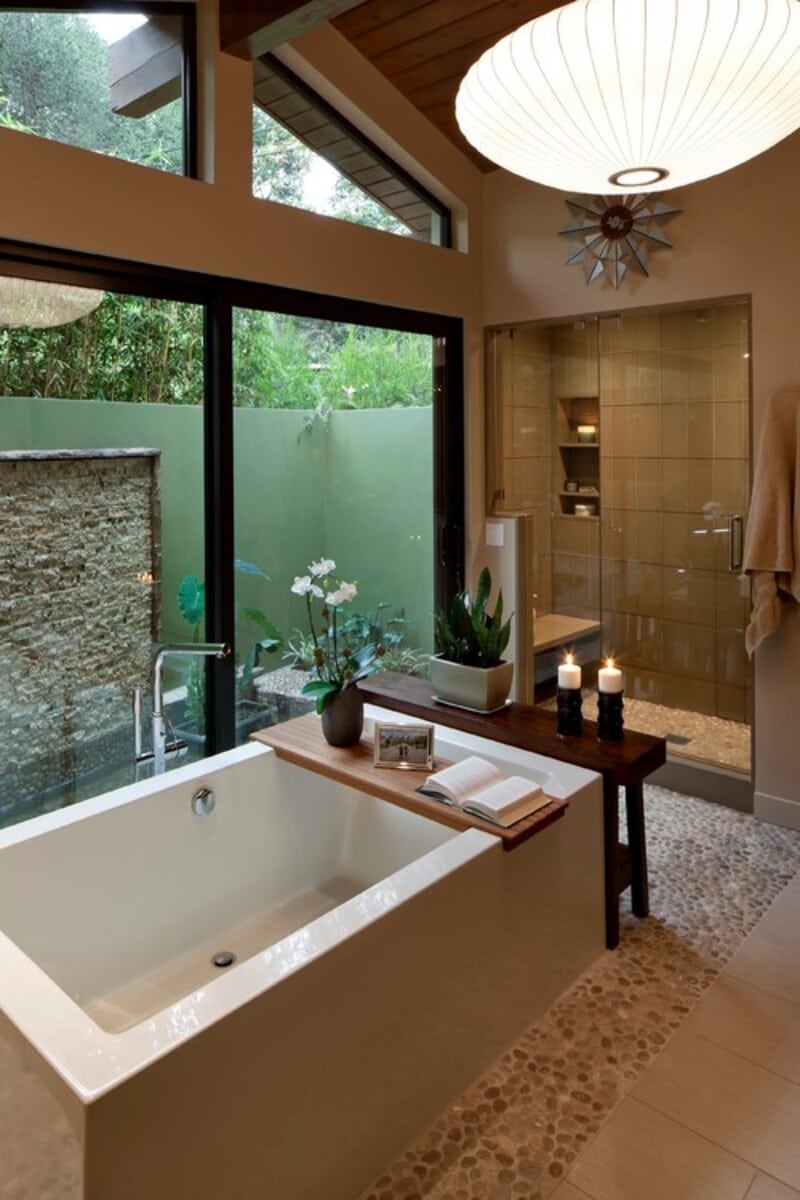 You should always treat yourself well, therefore create the perfect ambience where you can feel relaxed and calm. The romantic bathtub is in the middle of the room. While you're freshening up, you can also stare across the window for a natural scene. The mid-century modern overhead lighting fixture sets the mood over beige and dark wood tones.
5. Nonchalant White Bathroom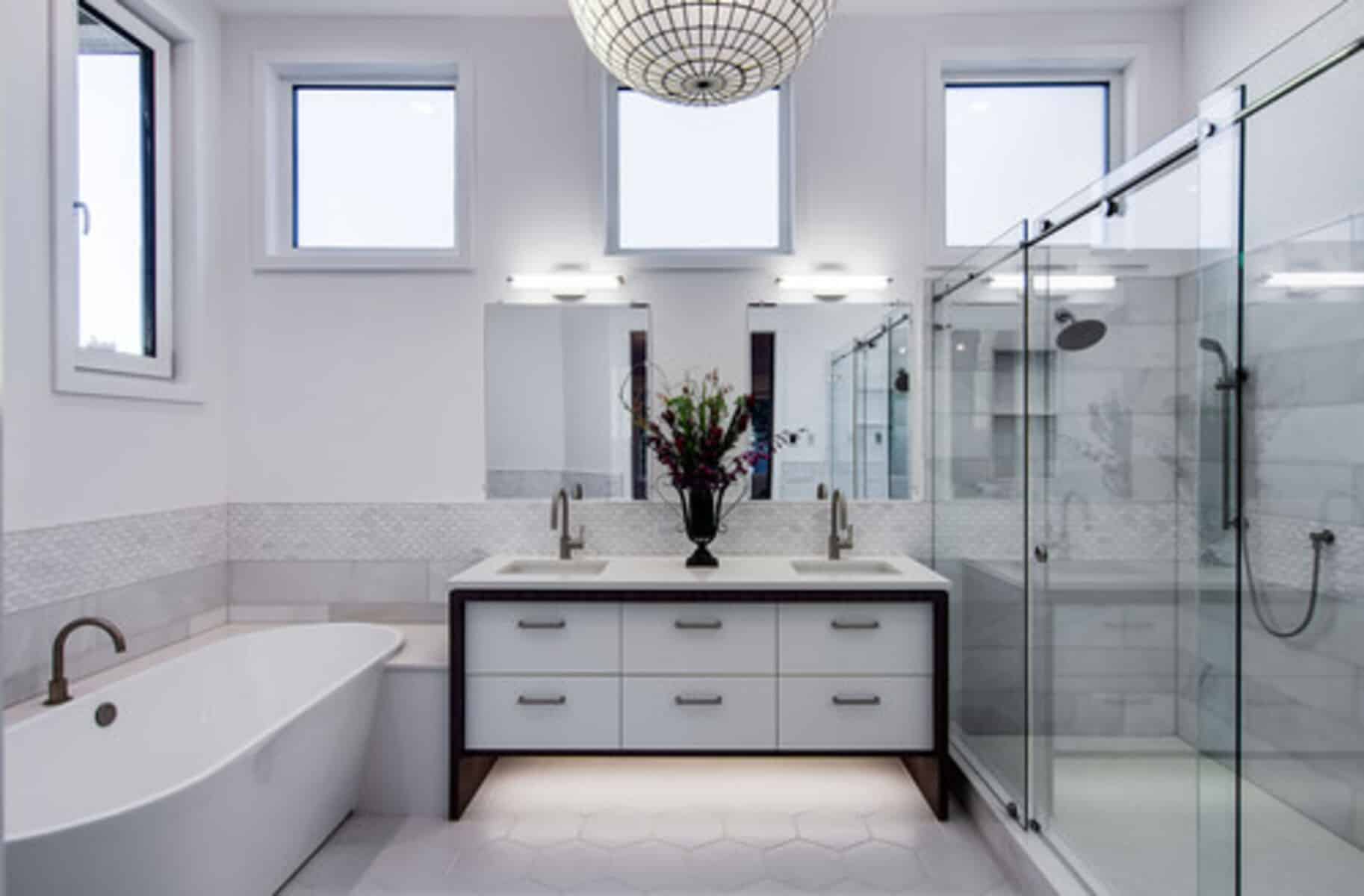 The thought of white bathroom might sound dull but not with this one. With attention to the details of the textures and patterns used, it can be lively and remarkable. You can let a couple of the furniture in sync by the colour, and it creates a prominent feature to the room. Some features such as the cabinets and the lighting fixture both have a shade of dark tone to them.
6. Vibrant Spark Bathroom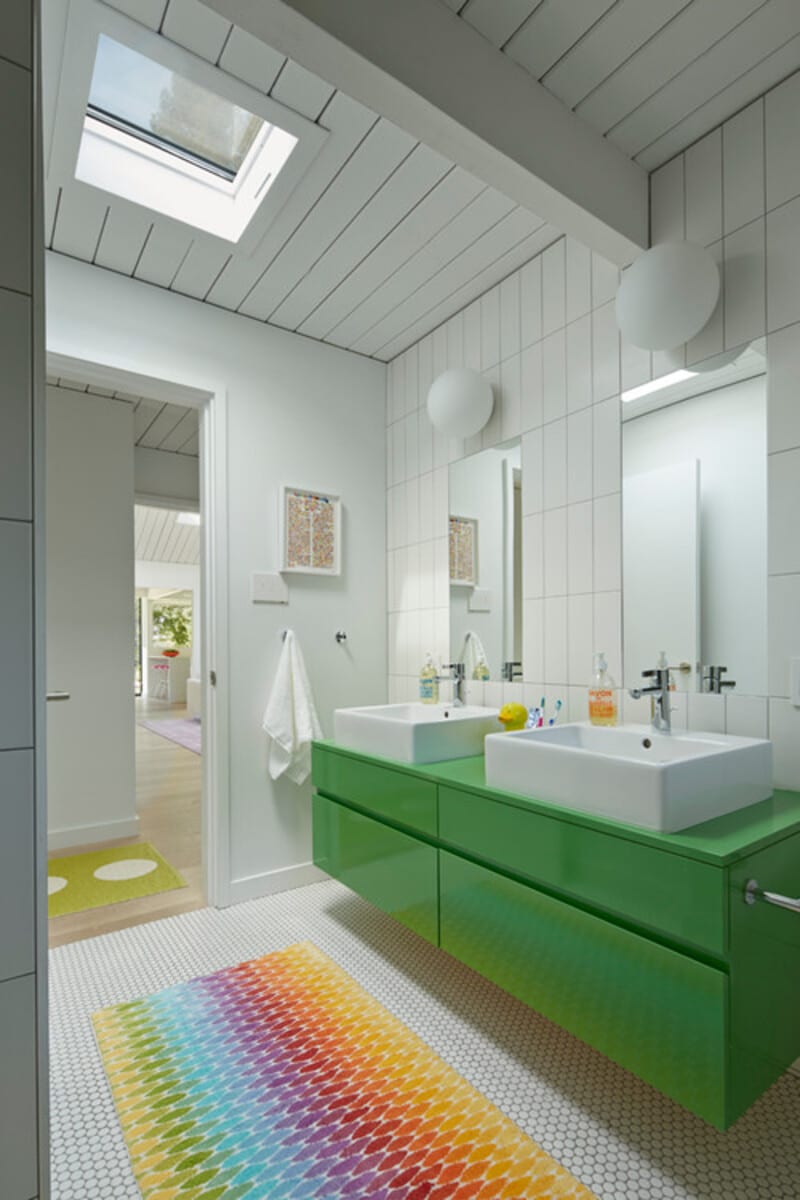 You can set up a little playful mood with a spark of vibrant colors. The peripheral of the bathroom is white ceramic tiles, plain white wall, and a white wooden ceiling. The fun part would be the center, with the colorful mosaic flooring and bright green cabinets. Then, ornamental spots are minimalist in style.
7. Natural Neoteric Bathroom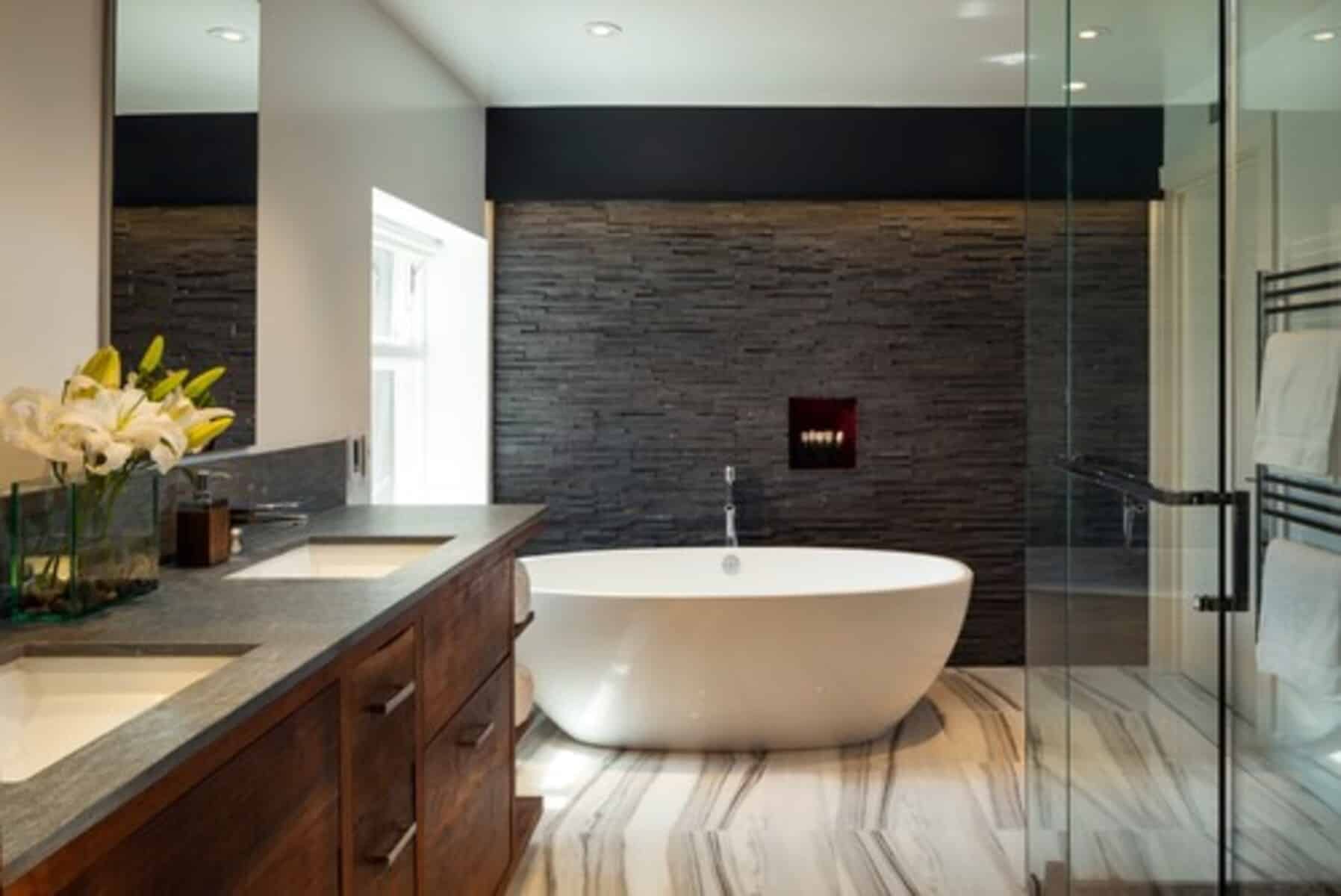 The natural from the stone cladding wall over the sleek porcelain bathtub shows texture and bold color. It works best against the cold, gentle vibes of the marble tiles on the floor. The bathtub is just by the window. So, you can get relaxed with natural daylight beaming through your bathroom.
8. Masculine Aegean Bathroom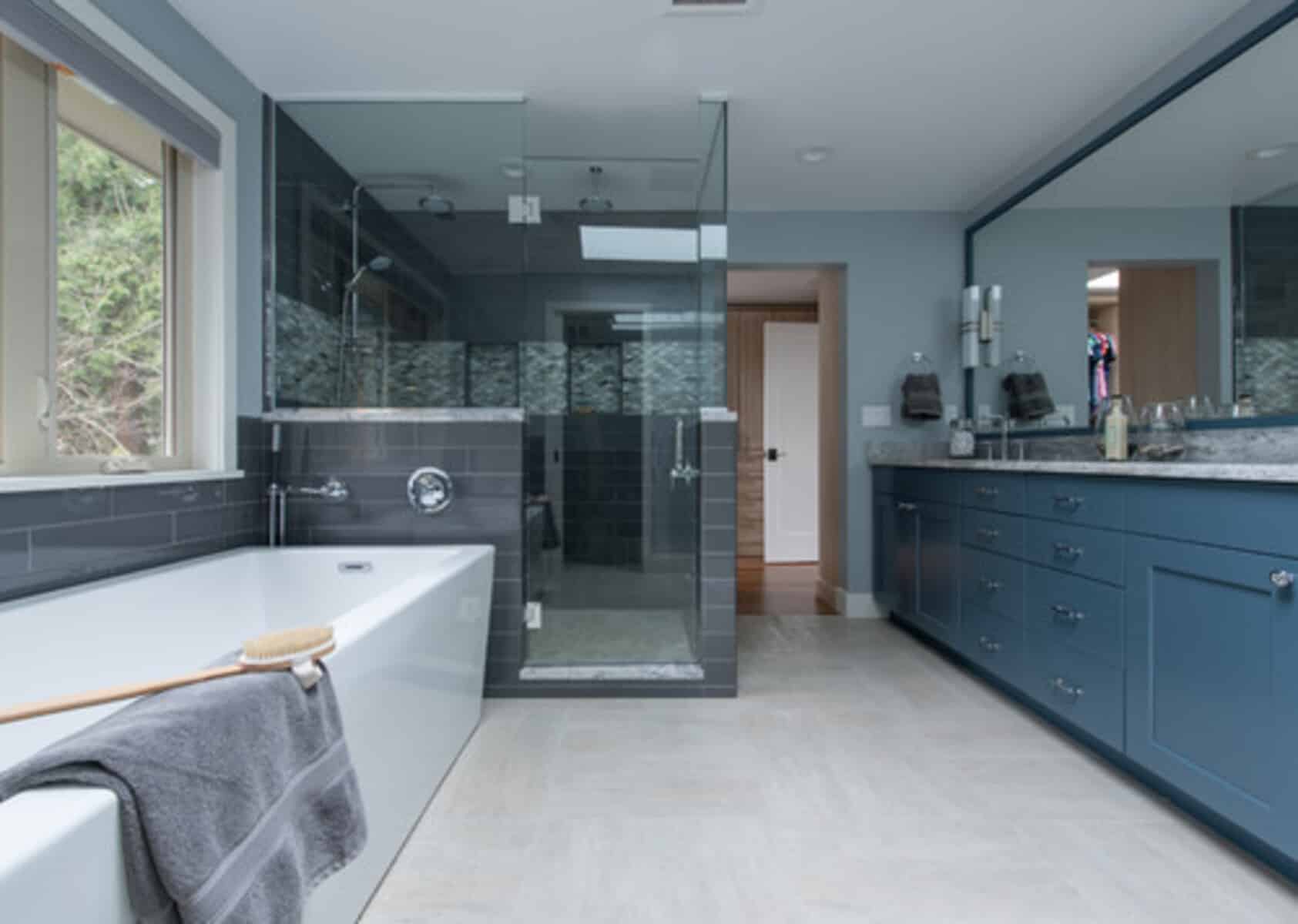 Now try not to fall in love with this scene. The perfect balance of warm and cold tone is harmonious. The wall tiles have a simple grey pattern with a hint of smaller details. Further, the warmth of Aegean blue of the cabinets balances out the other tones.
9. Spacious Beige Bathroom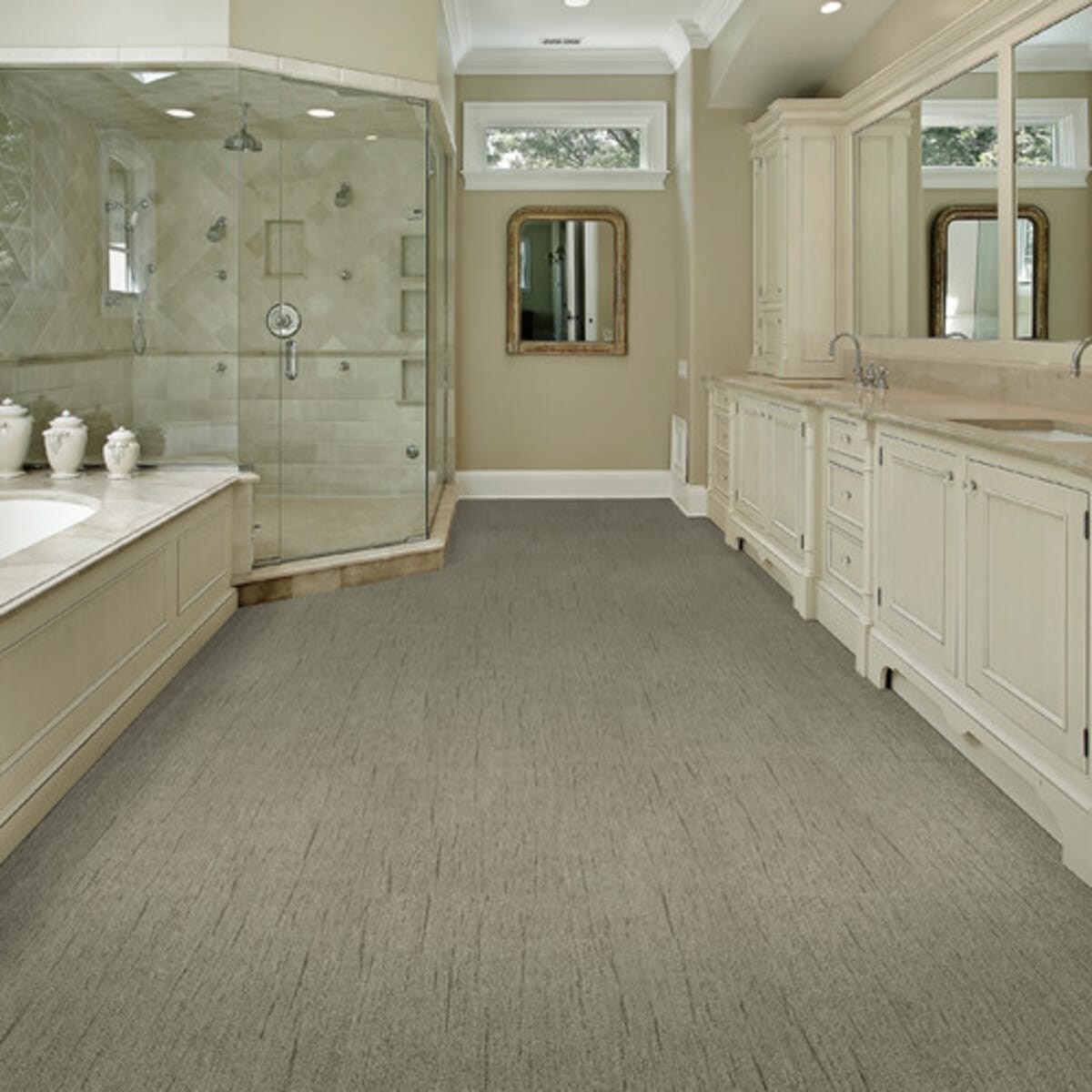 If you have a spacious bathroom, you can go for this luxurious look. Beige is just the perfect colour to get the posh. Furthermore, the vinyl floor of the 1960s in light grey gives more highlight to the beige.
10. Lustrous Black Bathroom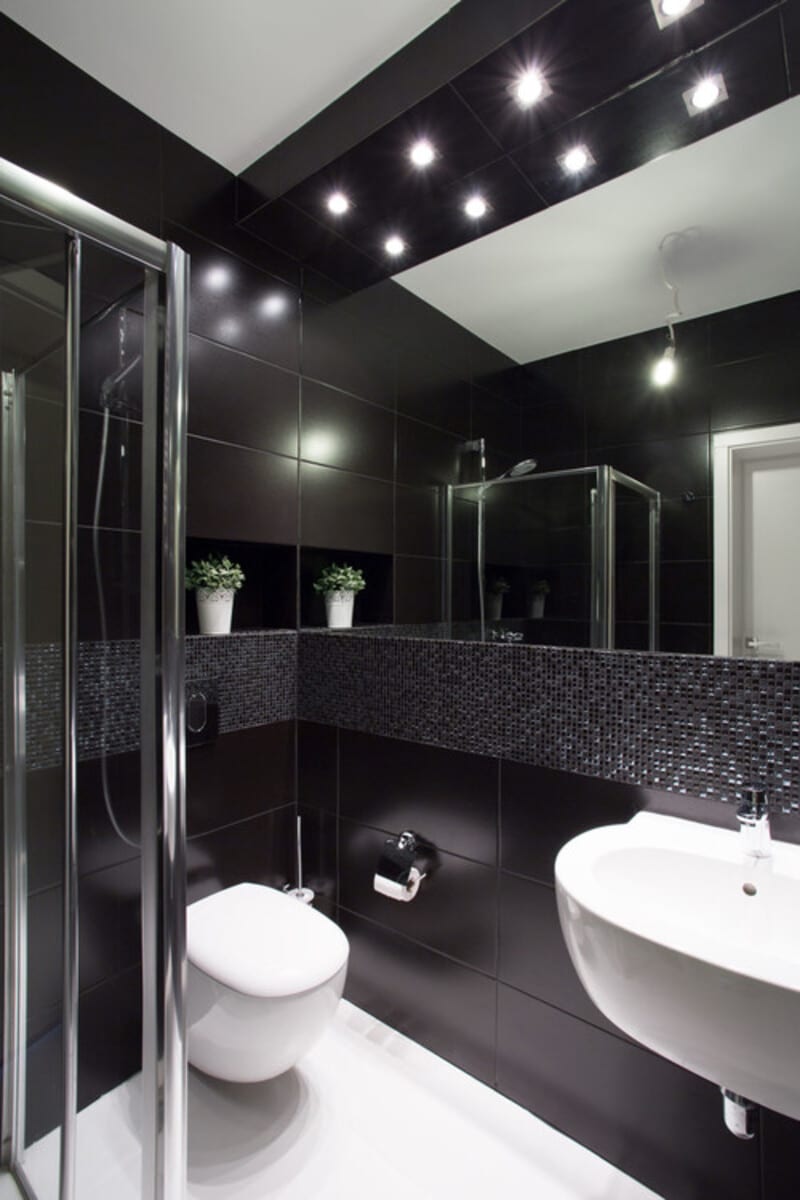 Black is mysterious yet elegant. This small bathroom takes us to have a great interest in simplicity. There's a hint of white, and also a lustrous light that reflects on the glossy polished black tile. Fewer ornaments are what it takes to adorn this scene.
Small mid-century bathroom makeovers
Makeovers for a small bathroom should not be a big challenge. As mid-century modern relies on simple patterns, it is going to be easy to find something to work with. You can give the highlight on the tiles, walls, or the furniture. So, see ideas below to figure out some interesting catches.
1. Rose Gold Bathroom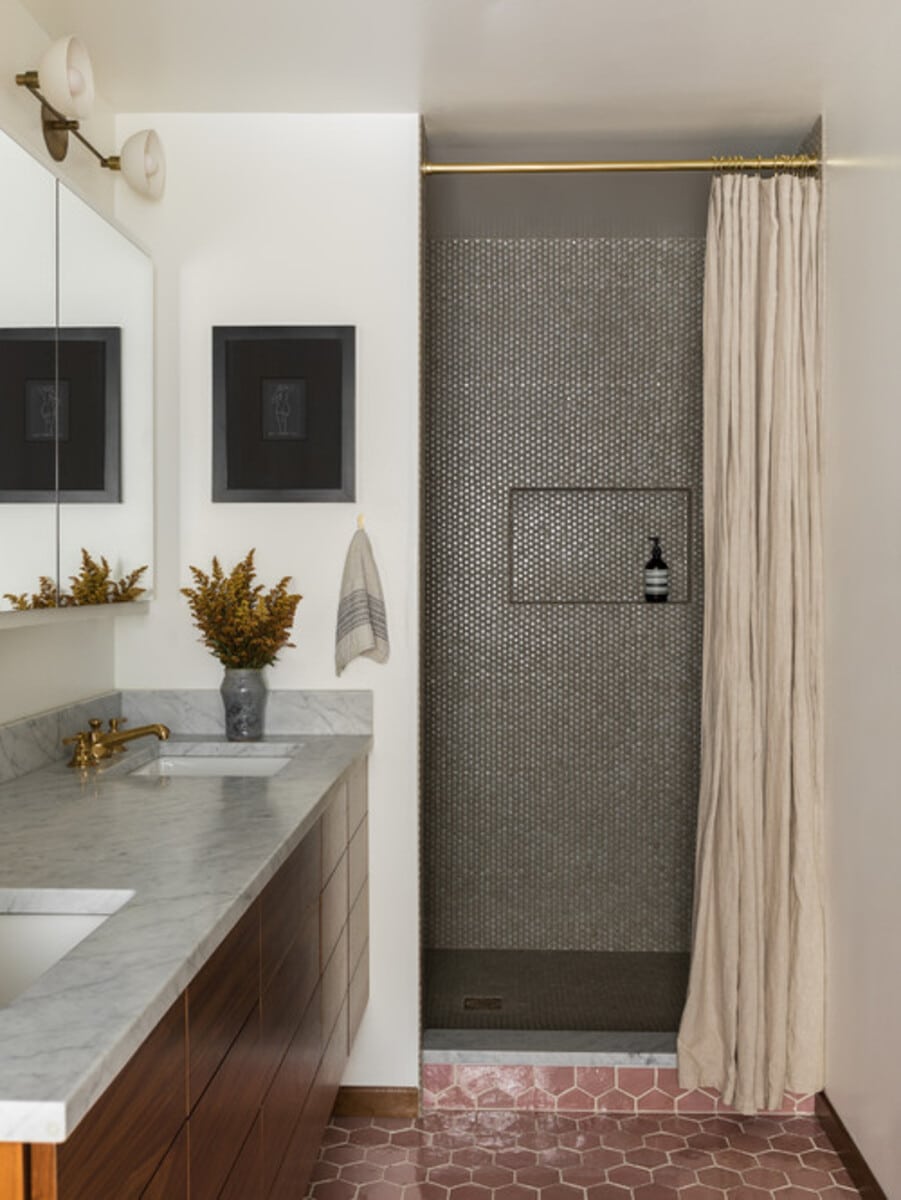 Seamless pattern flooring in blushing pink makes it sweet in an instant. Let alone the hanging rose gold shower curtain that is not only separating the space but also decorates the bathroom. Accentuate it more with a small potted plant in the same colour with a wooden cabinet in medium-tone.
2. Elegant Minimalism Bathroom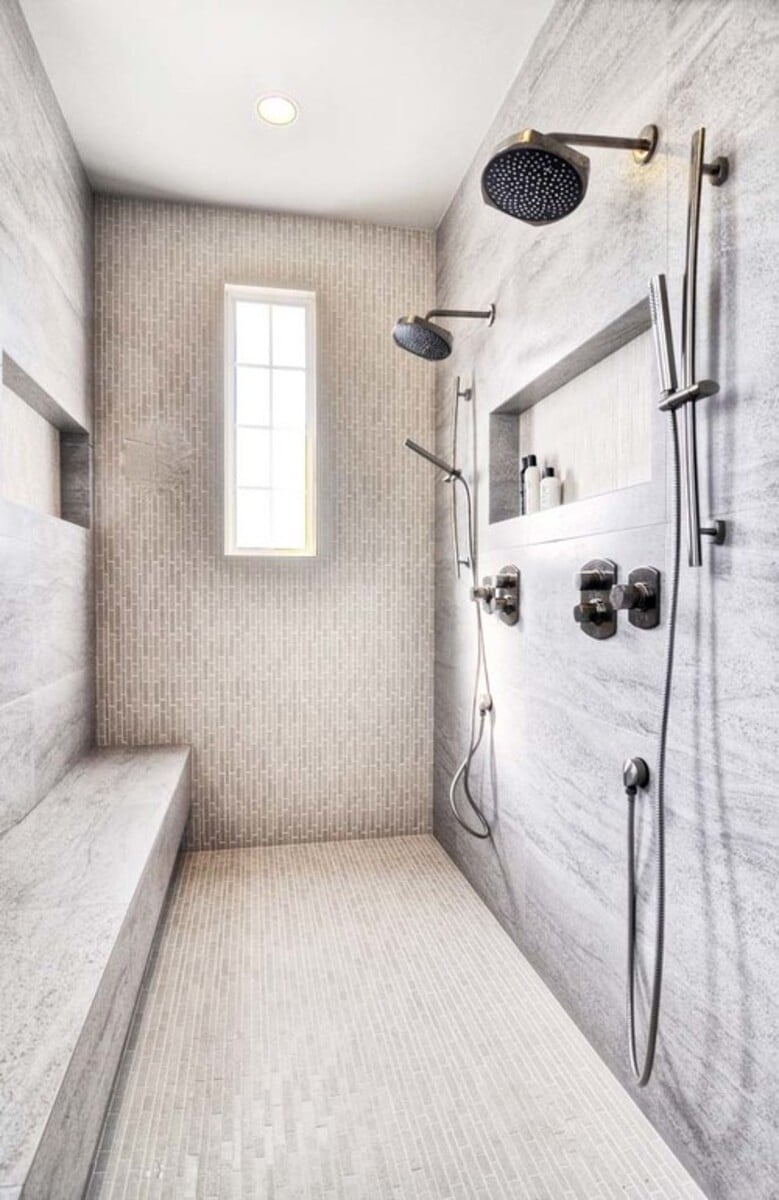 Indeed, you can always make the most out of the grey marble wall to step up the elegance of your bathroom. The small pattern of the floor tiles adds an exciting detail to the area. Moreover, maximize functionality with in-wall toiletry space and a long bench across the showerhead.
3. Aligning Bathroom Hardware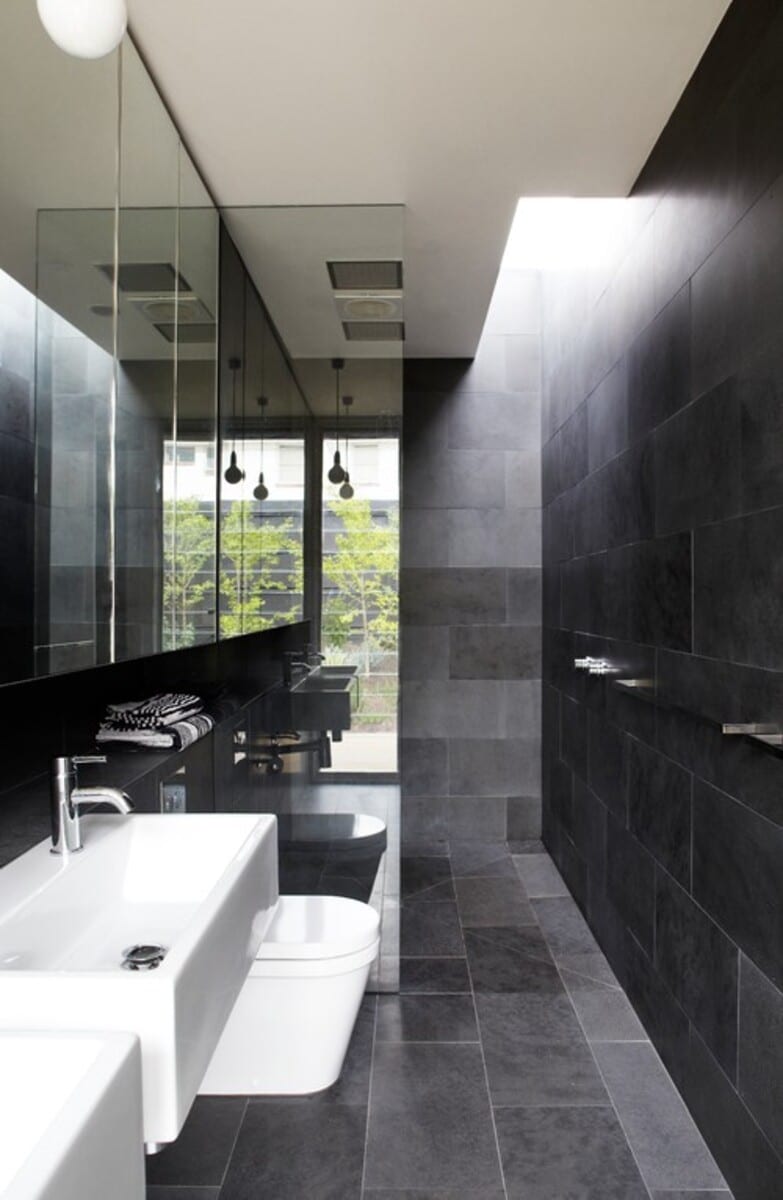 This is an example of a long space proposed for the bathroom. Here, you can choose to align the hardware such as the sink, toilet and the shower. Furthermore, the mid-century modern tiles all over the place make it elegant at the modest.
4. Bathroom Accessories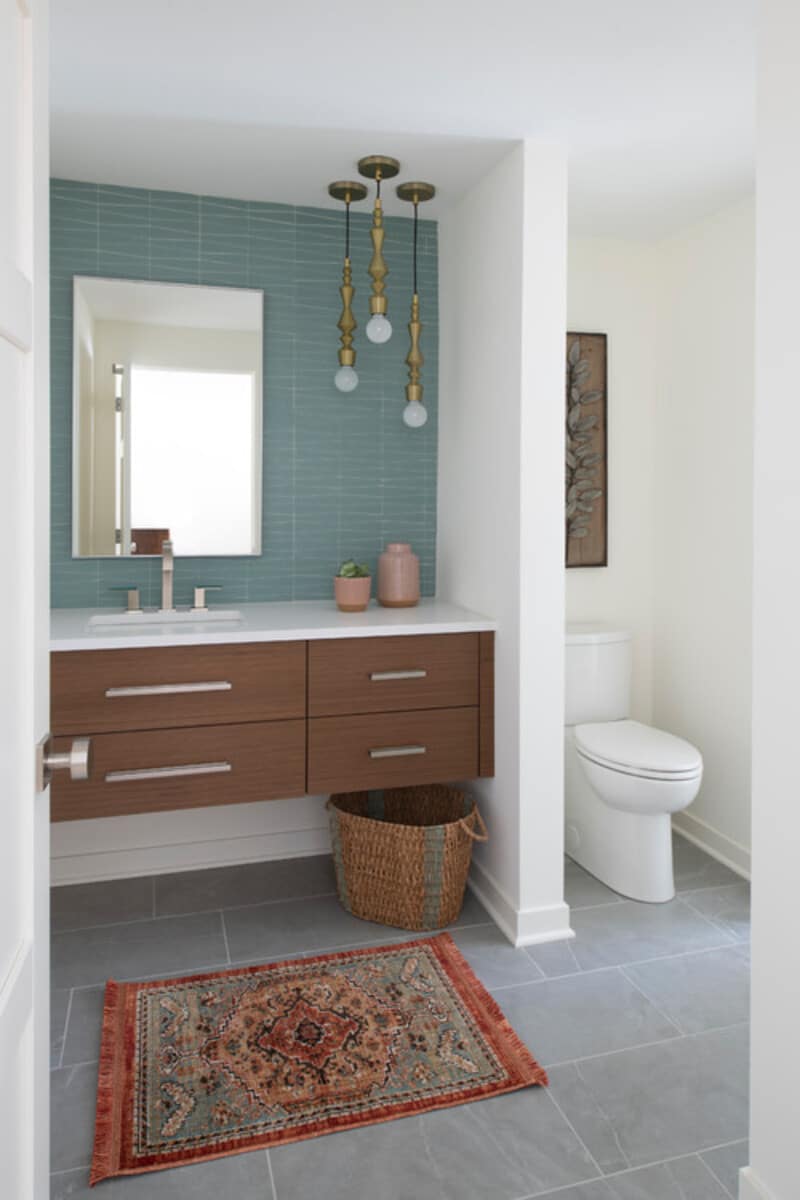 Overall, there's nothing fresher than a glint of bright colours in your bathroom. This mid-century modern bathroom wall cabinet is simple yet intriguing. Floating vanity, sky blue tiles, and dangling blue light are the flawless combination. Additionally, another shade of medium-tone wood cabinets stealsl our attention along with the vintage brown rug.
5. Vintage Shade Bathroom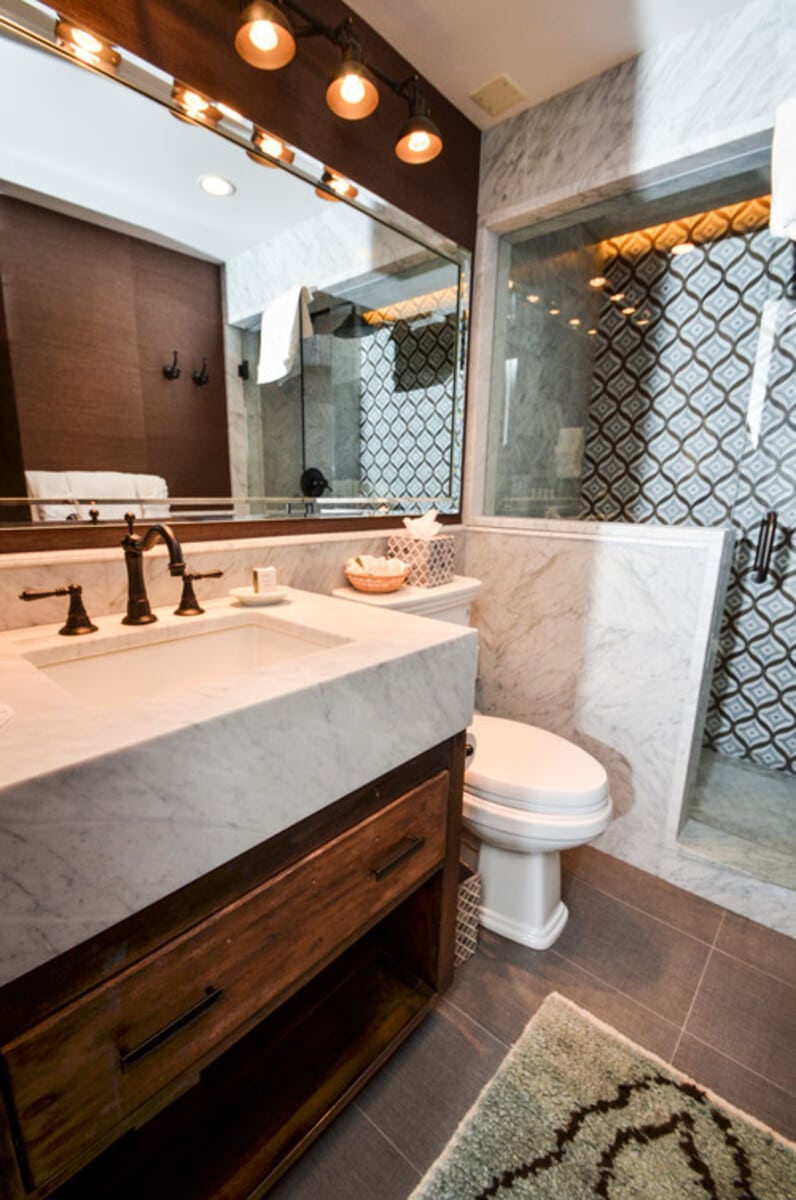 Firstly, a hint of vintage in a mid-century modern bathroom is always welcomed. The vintage mid-century modern bathroom has a cabinet and vanity set inspired from rustic style. Then, to combine it with the marble countertop and wall is the perfect bathroom vibes.
6. Olive Green Bathroom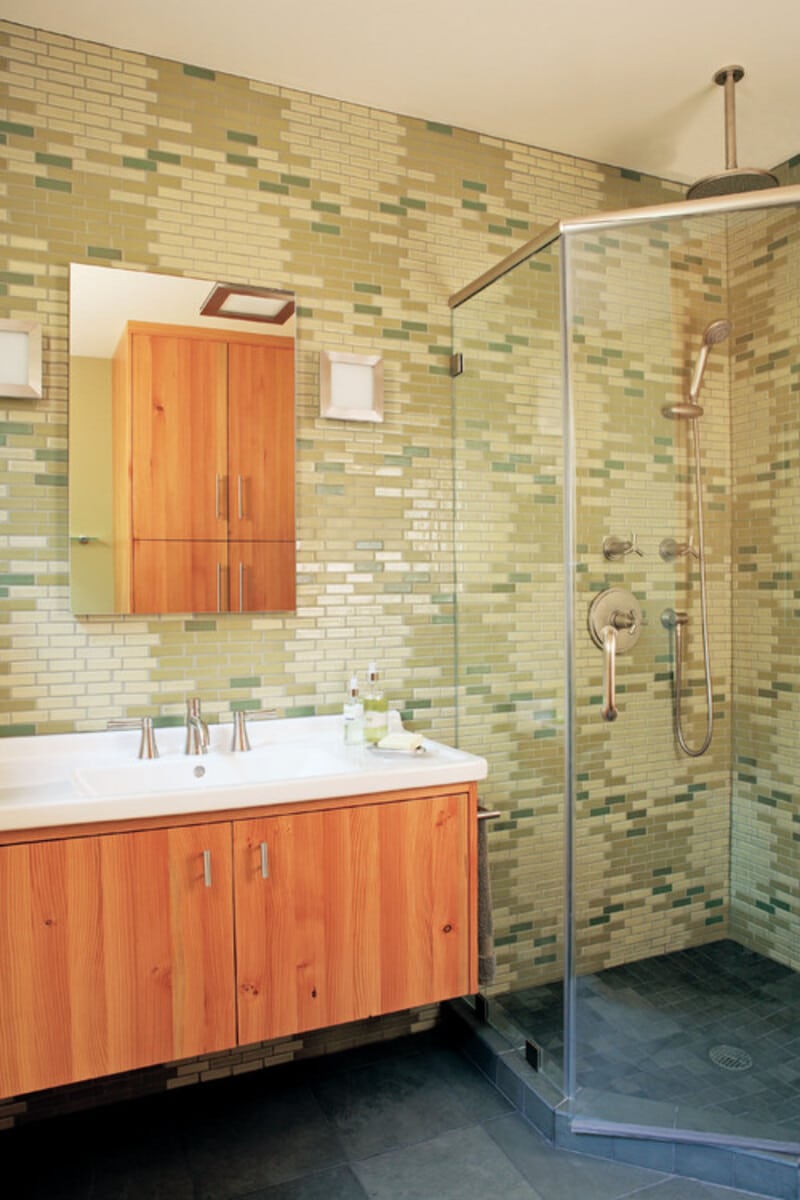 The mid-century matchstick pattern tiles on the wall in olive green color seem cozy and unique. It complements the modern cabinet with sleek countertop but still with the utmost importance of simply aesthetic. The shower is placed in the corner. Further, it has its polygonal glass pane for a quirky layout styling.
7. Lively Orange Bathroom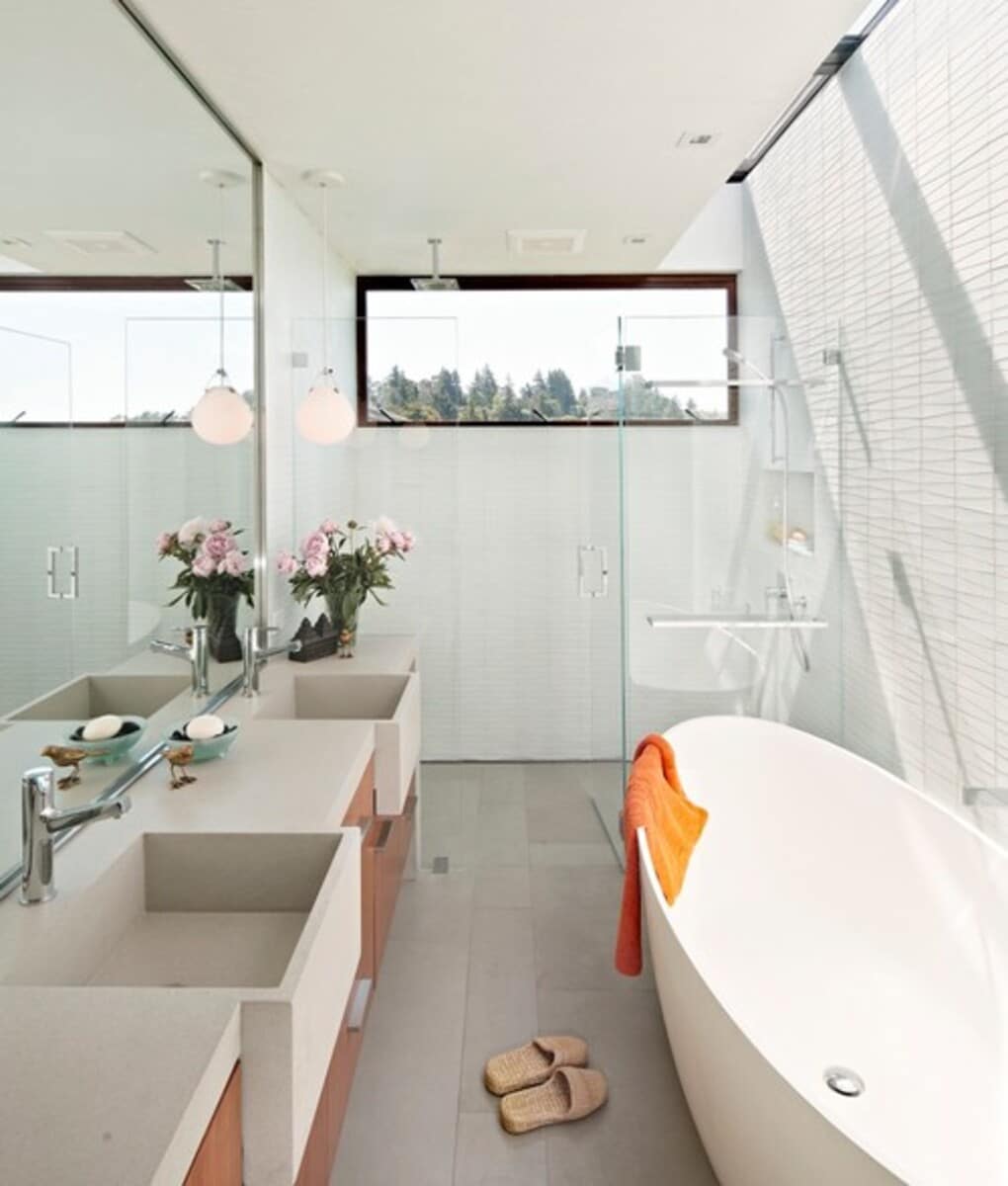 As for a smaller but long layout bathroom, you can divide it into two sides. Put showers and the bathtub on one side while the vanity set is on the other. While you are in love with the white surrounding as it is looking clean, give a spark of lively color. Something such as orange works well to give a neat mid-century modern look.
8. Traditional and Modern Bathroom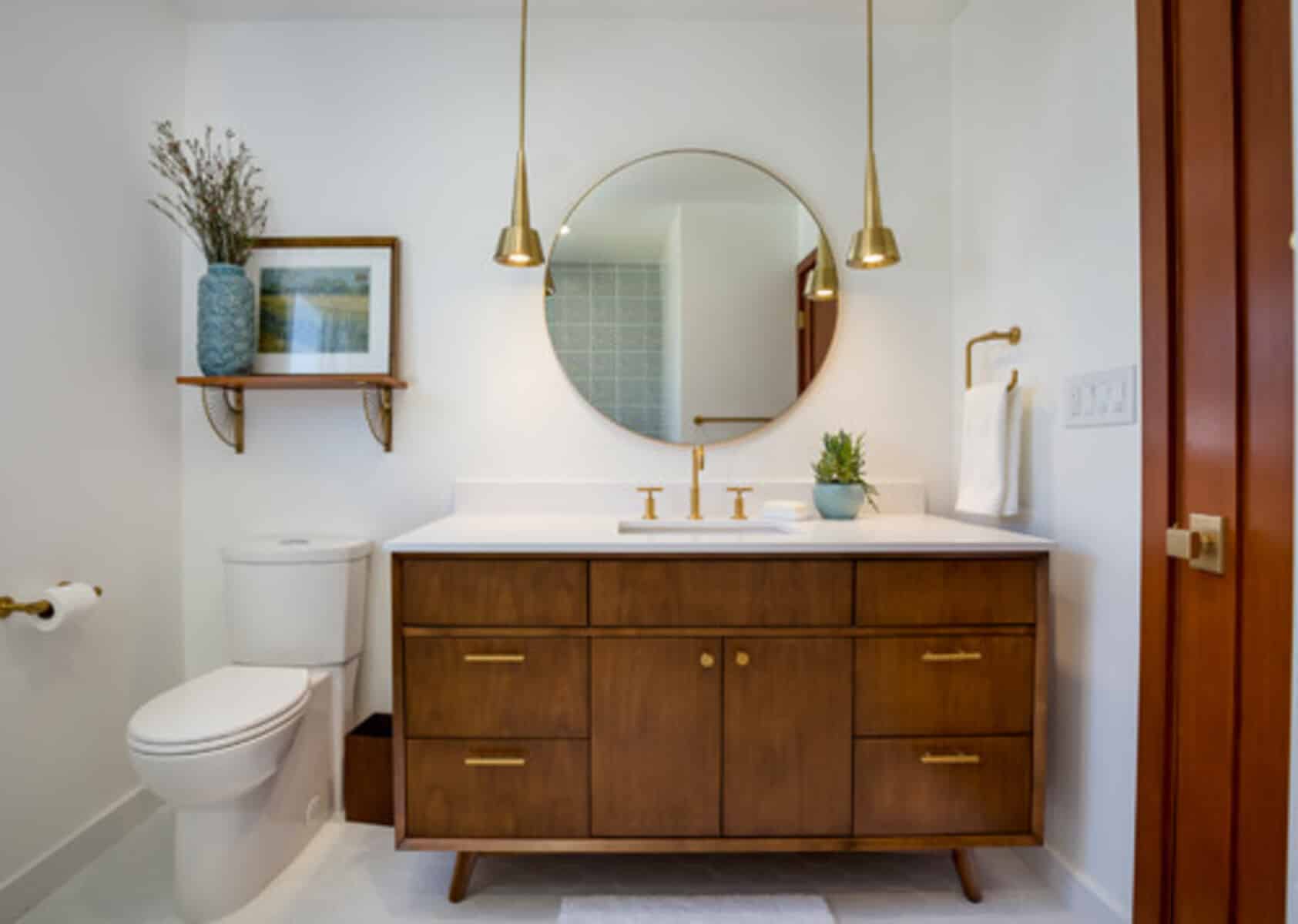 With mid-century modern vanity in medium-tone wood, it gives a shade of vintage to the refined white surrounding. Moreover, the addition of hanging stainless lighting that shines in gold colour accentuates the spot in elegance. If we look closely, the flooring has a polygonal pattern, the feature of mid-century modern. Then, alongside with the ornaments, every tiny detail of this bathroom is impeccable.
Conclusion
In summary, mid-century modern is all for the elegance of modesty. The predominant color is neutral, such as grey, beige, warm tone, black and white. The patterns tend to be geometrical. Thus, as for textures, you can play with soft, sleek, polished texture to coarse ones. There's no right or wrong in decorating. However, the key is to keep it to the minimum and simple.