Bathroom Door Ideas – Most people are often neglecting the bathroom door when it comes to the decorations. The bathroom entry doors play an essential role in room design and interior. Further, the bathroom door can make a particular feeling for the bathroom style.
You have to realize that a room like a bathroom is focused on functionality. But by the door, you can have the function and an aesthetic item at the same time. So, which door is suitable for the bathroom?
As I know that door has many types, the suitable one must match with the bathroom style. In getting the best result, the aesthetic aspect and function must blend beautifully. Then, the material used also plays an important role.
Because bathroom doors play a significant role, most homeowners choose it based on the cost. The average bathroom doors prices are $180 to $600 per door. The price might not include the cost of installation.
That price's range is affected by the material, design, and other stuff that sticks on the door. So, choose the best one that suits your taste and budget. Here, we will show you some incredible bathroom door ideas.
Bathroom Barn Door Ideas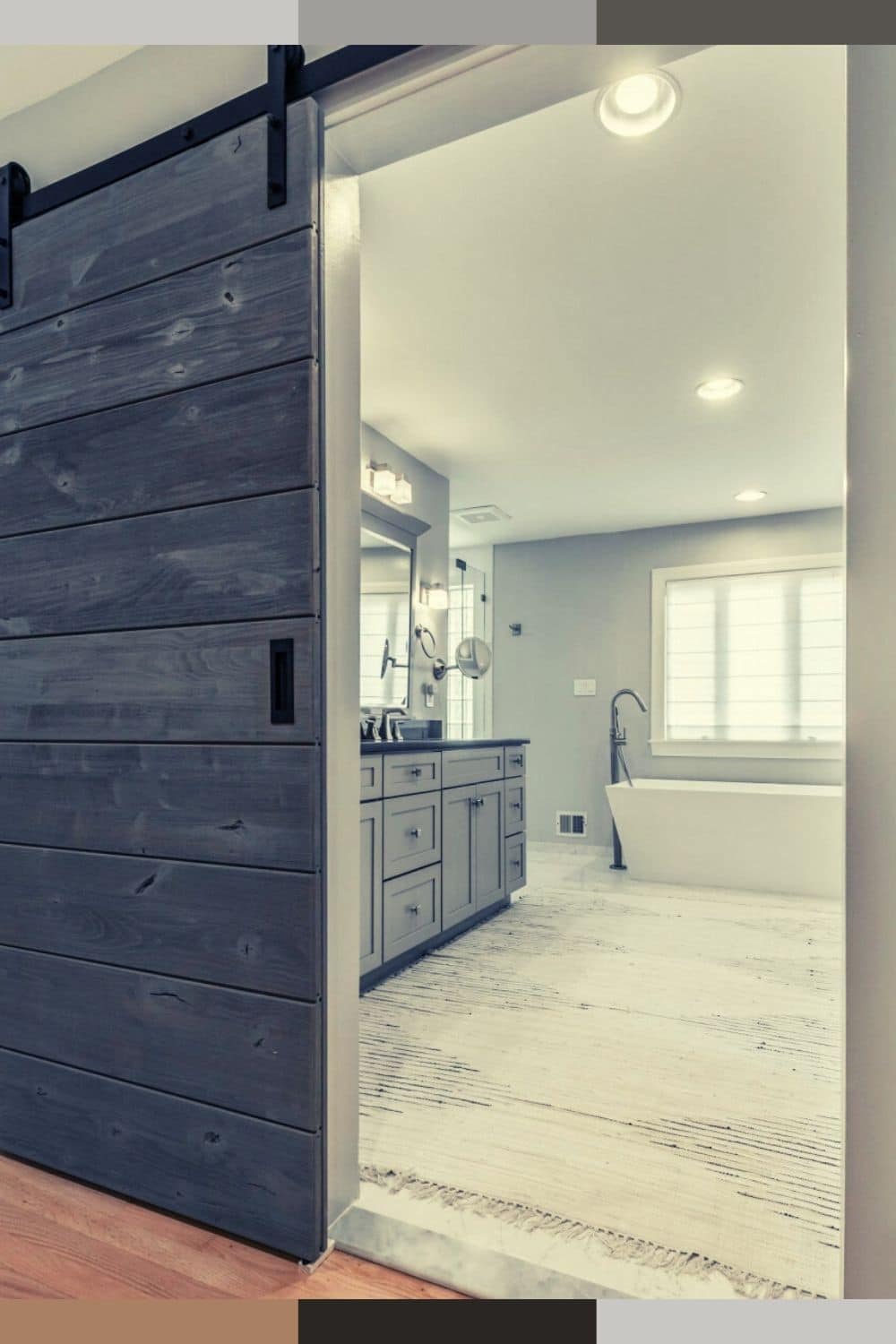 A barn door is the right choice for a bathroom because of the cozy feeling. Just like this grey barn door, it suits a big bathroom with a rustic or vintage style. Just combine it with white or soft color; no one will know if it is a bathroom.
Sliding Door Ideas For Bathroom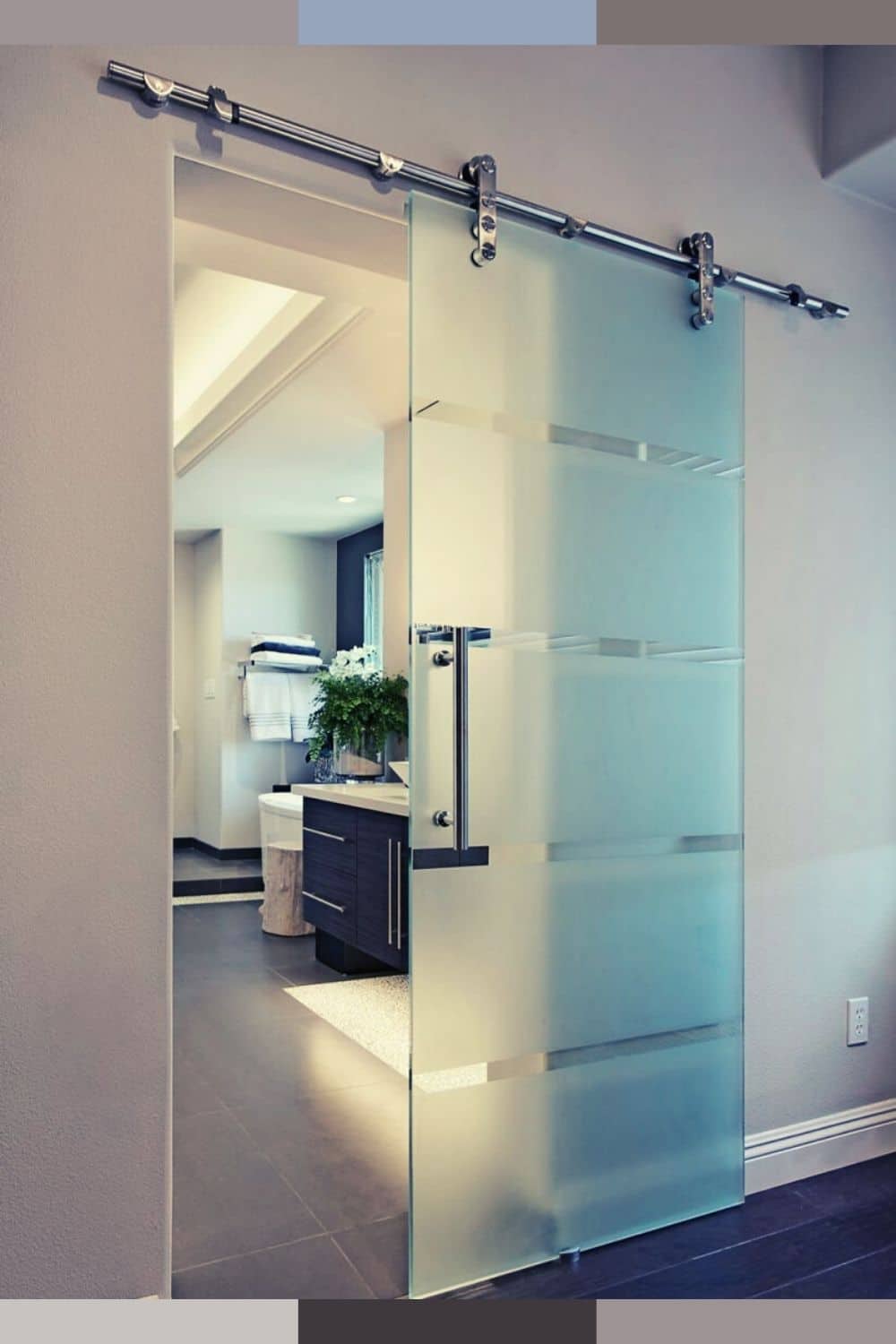 The glass sliding door is a good idea for a clean and modern look of the bathroom door. Because the door doesn't swing, you can use more space for other functional stuff. So, this type is great space-saving bathroom door ideas.
Furthermore, you can combine some styles to use in sliding bathroom door ideas, for example, a barn sliding door. Just use white and gray colors, make it suitable for surrounding.
Related: Barn Door Ideas
Pocket Bathroom Door Ideas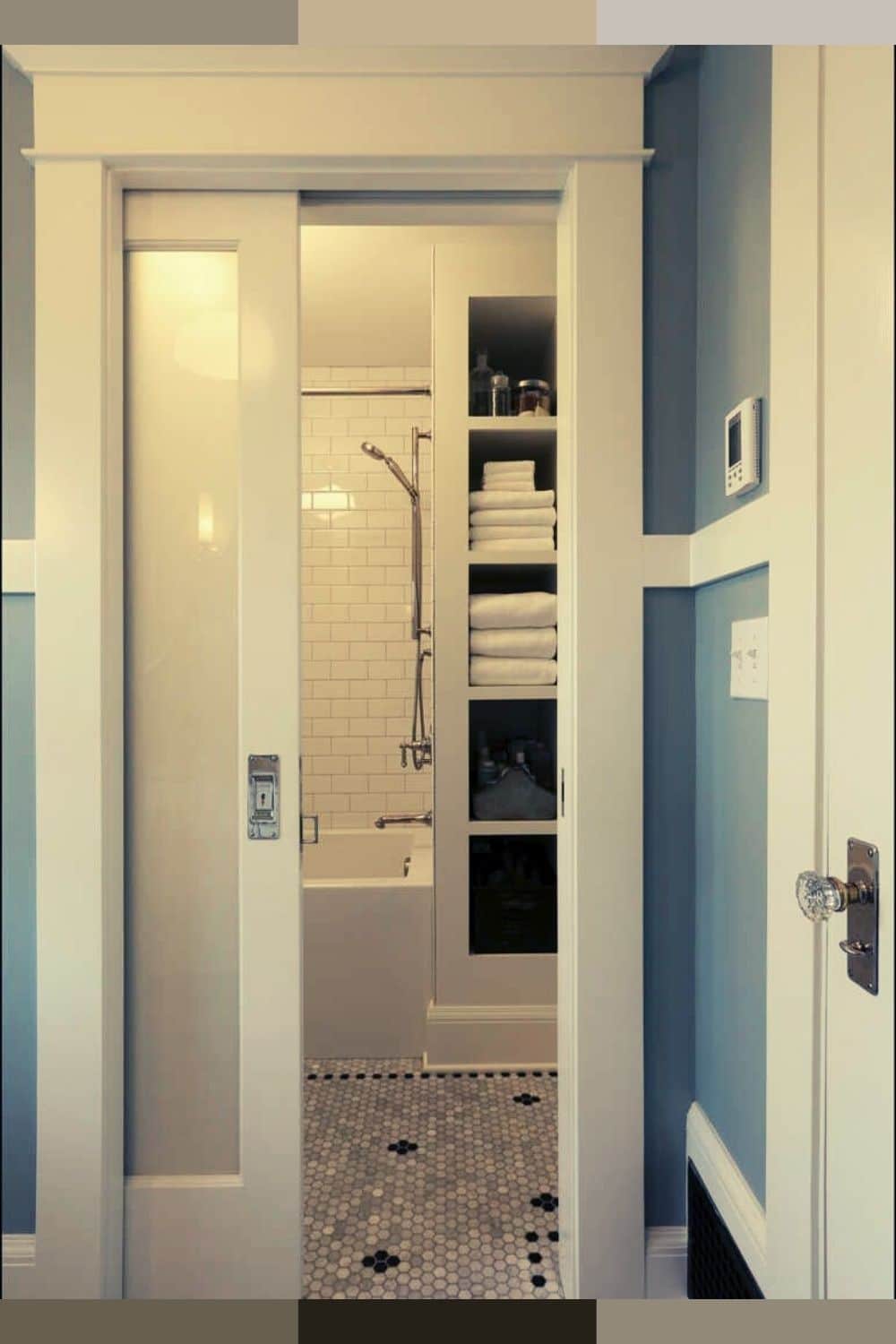 A pocket door style will suit if you don't have a big bathroom. It is a simple door, with glass domination. You just need to find the right color that matches the bathroom style.
The white frame suits the tile flooring. Then, using a hazy glass door is an excellent choice to make privacy on it. Overall, the soft and calm color will dominate and create a nice bathroom.
Master Bathroom Door Ideas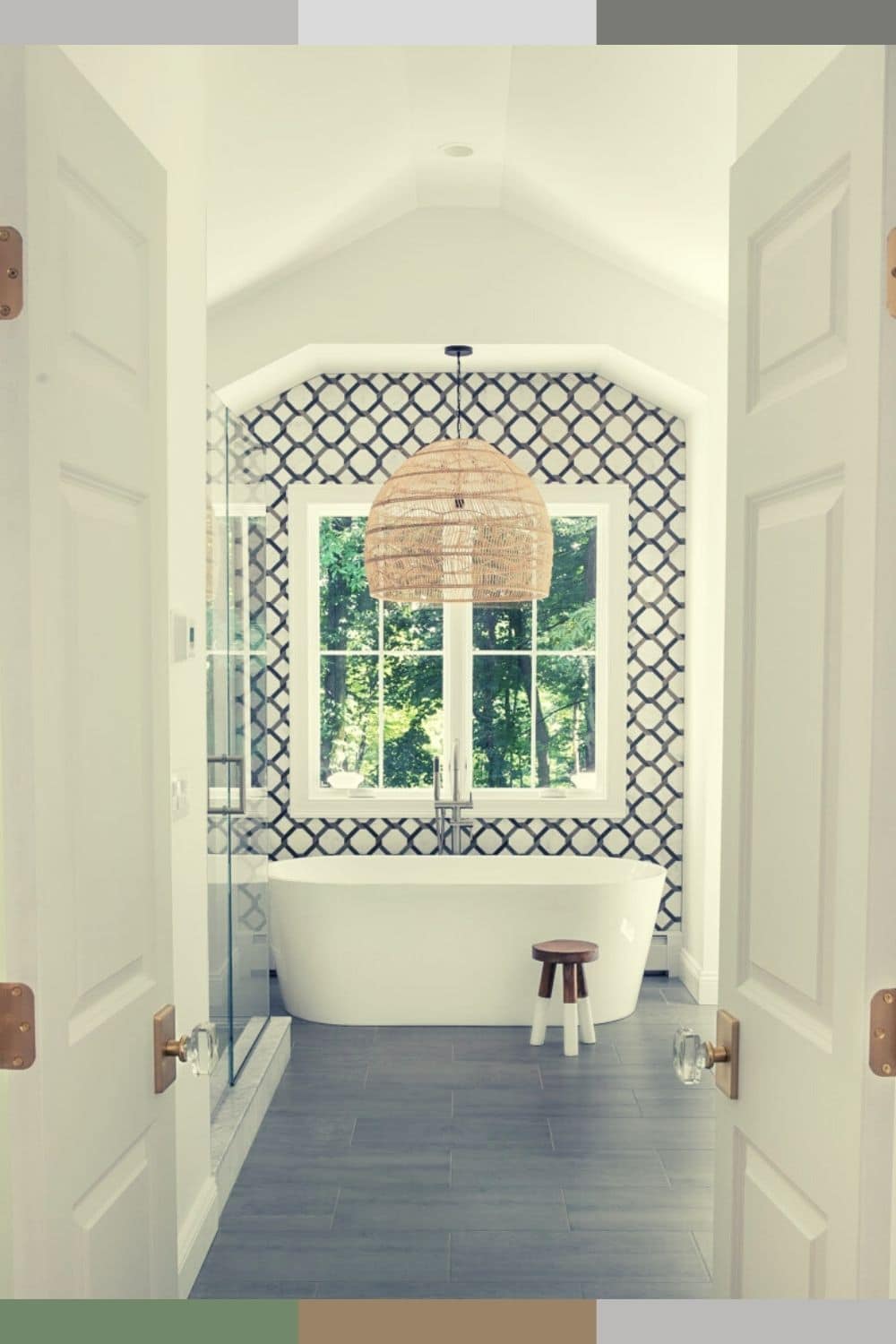 You can use this beautiful white with a gold-touch door for your master bathroom. The door only has some carving and a minimalist handle, but it is enough to show the bathroom's deep and cozy feeling.
It might be a perfect example of bathroom double door ideas. Then, in the bathroom itself, you can have a shower part with glass around. This idea is a friendly and rich bathroom design.
Small Bathroom Entry Door Ideas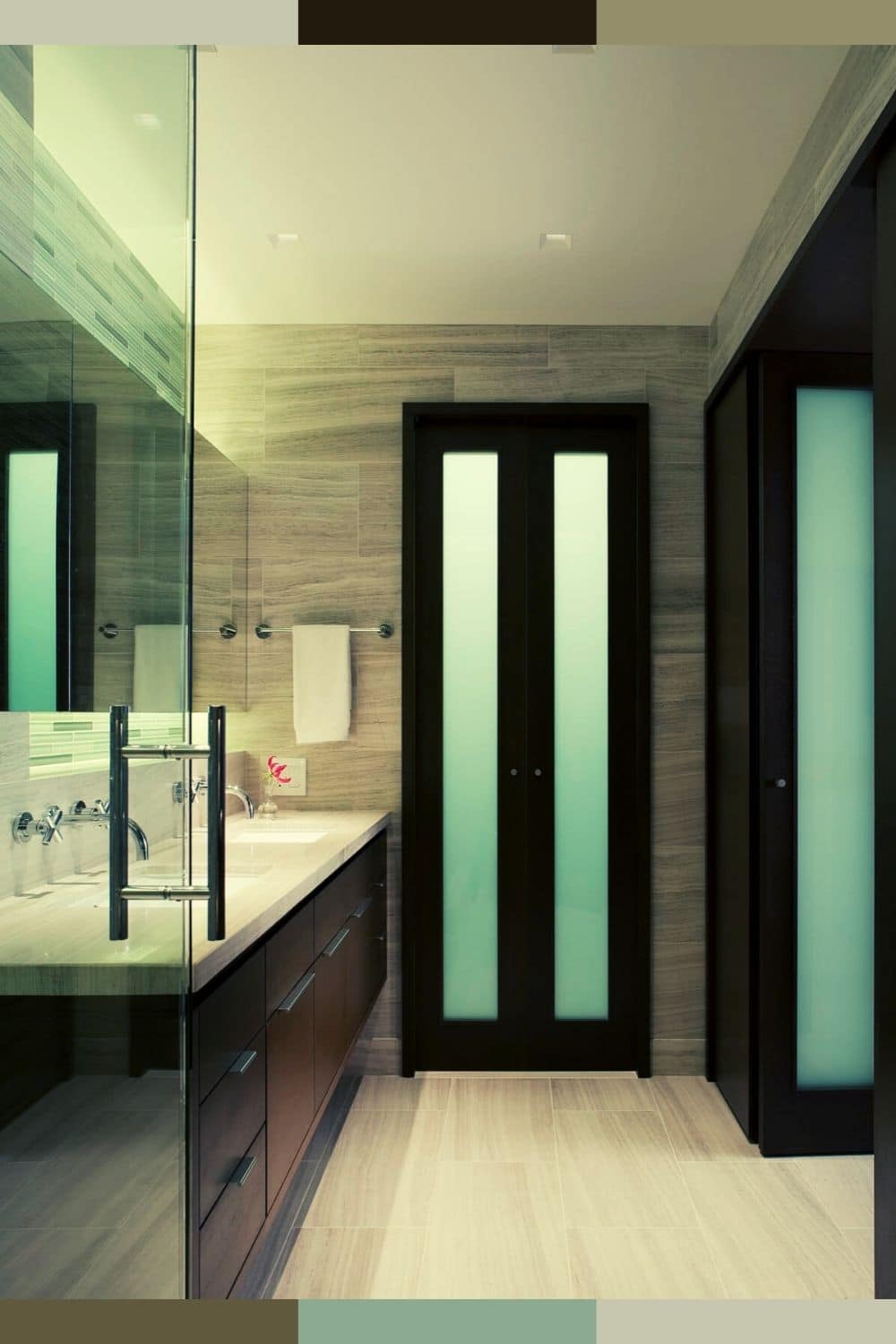 You might only have a small entry door but still can have two-leafed doors. It is exciting and shows a natural look. A dark color should be a great choice for it.
Even if it is a small-sized door, this style can suit a modern and luxury bathroom design. The flooring and wall can be gray or brown color. It makes a great view of the dark door.
Narrow Bathroom Door Ideas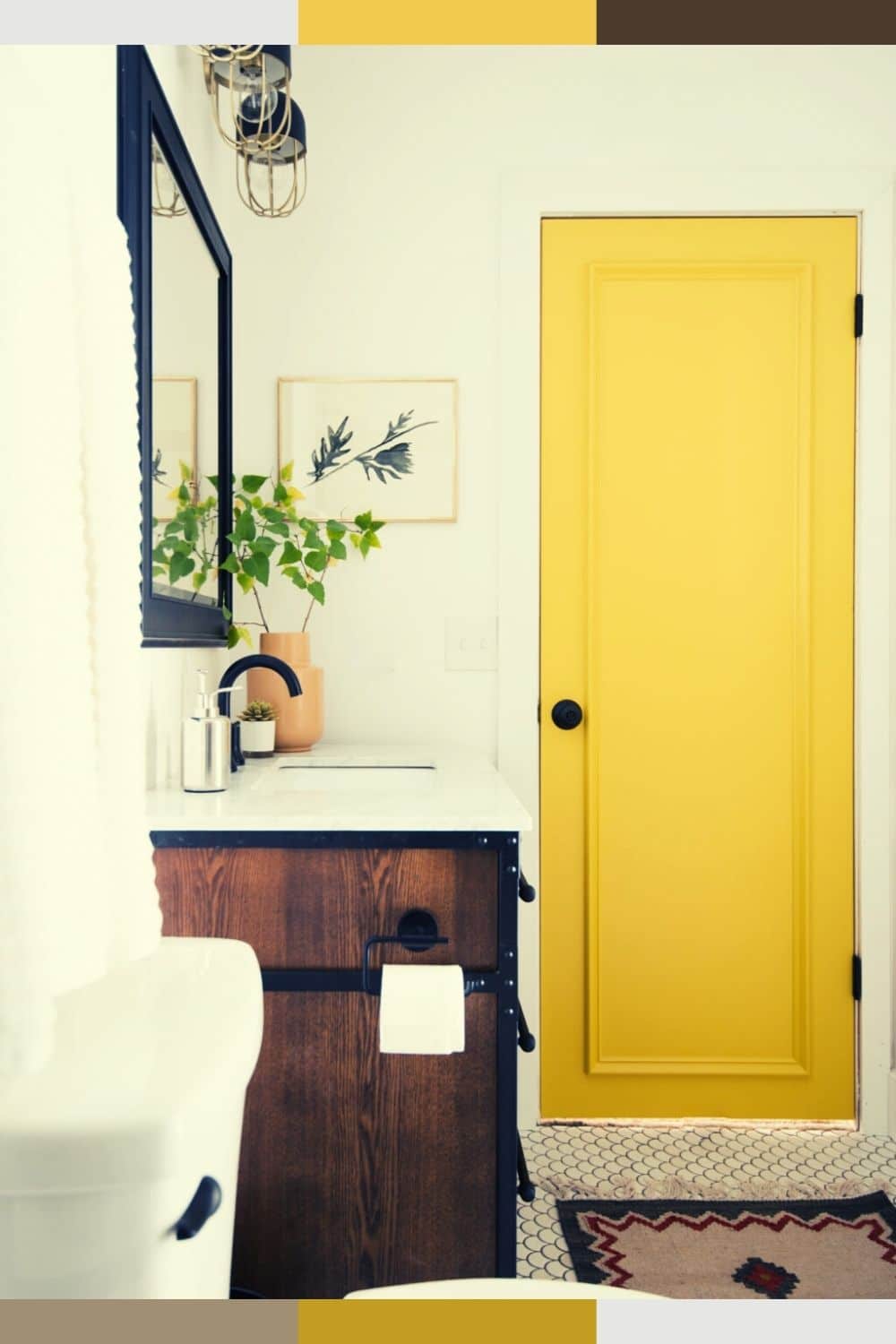 For a narrow space entry door, having a bright door bathroom is a great option. It is better than using natural wood color because it can make a monotonous feeling. Other color options might be pastel colors that can suit any style.
Folding Bathroom Door Ideas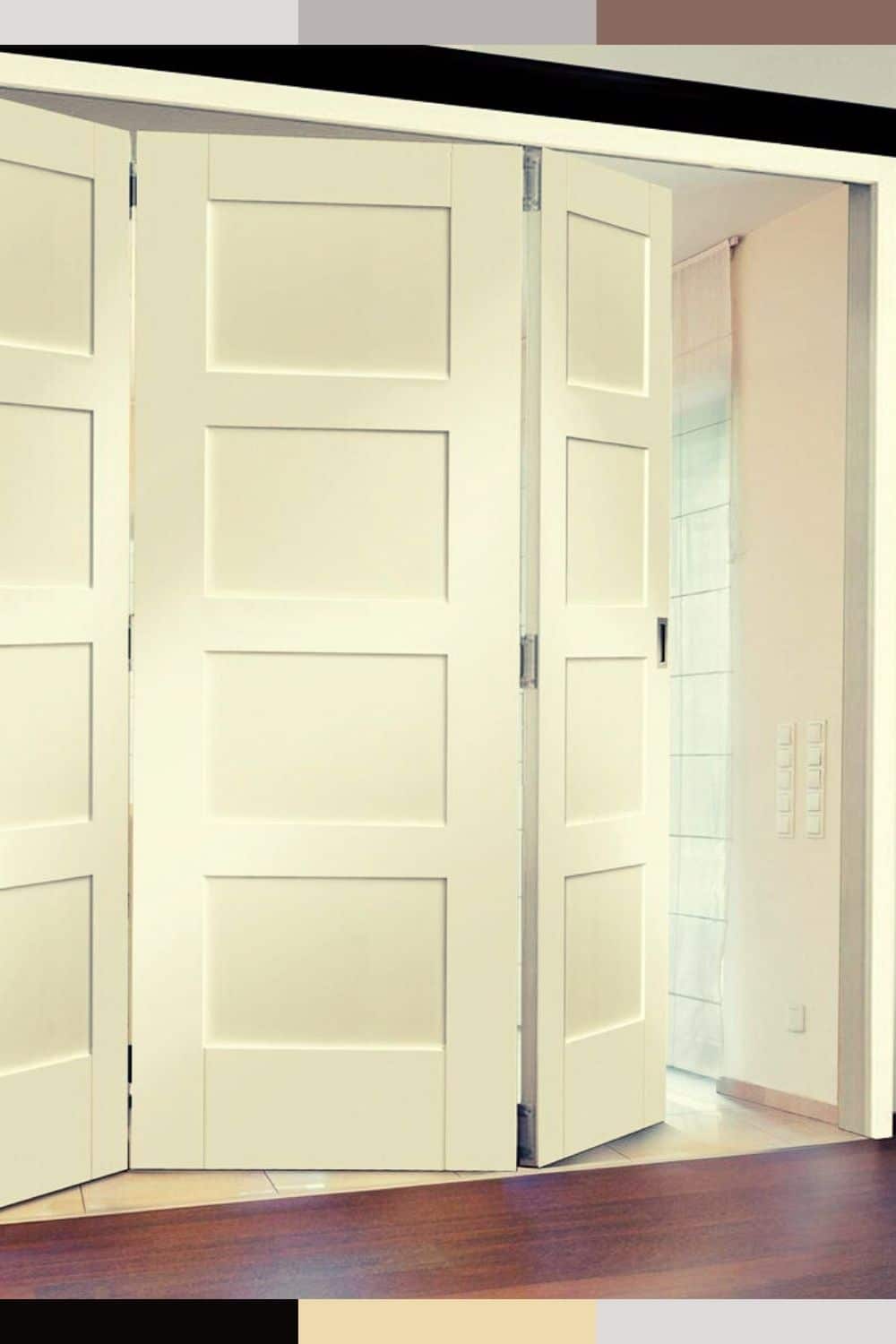 Folding doors is interesting even for bathroom use. Just choose the minimalist design and color. It is enough for a great bathroom. The uniqueness is the value of this door.
Having a big space entryway will be beautiful with the folding door. You can set 3 small doors to be folding doors. Give it a different color, and each must be a great touch.
Folding Doors For Small Spaces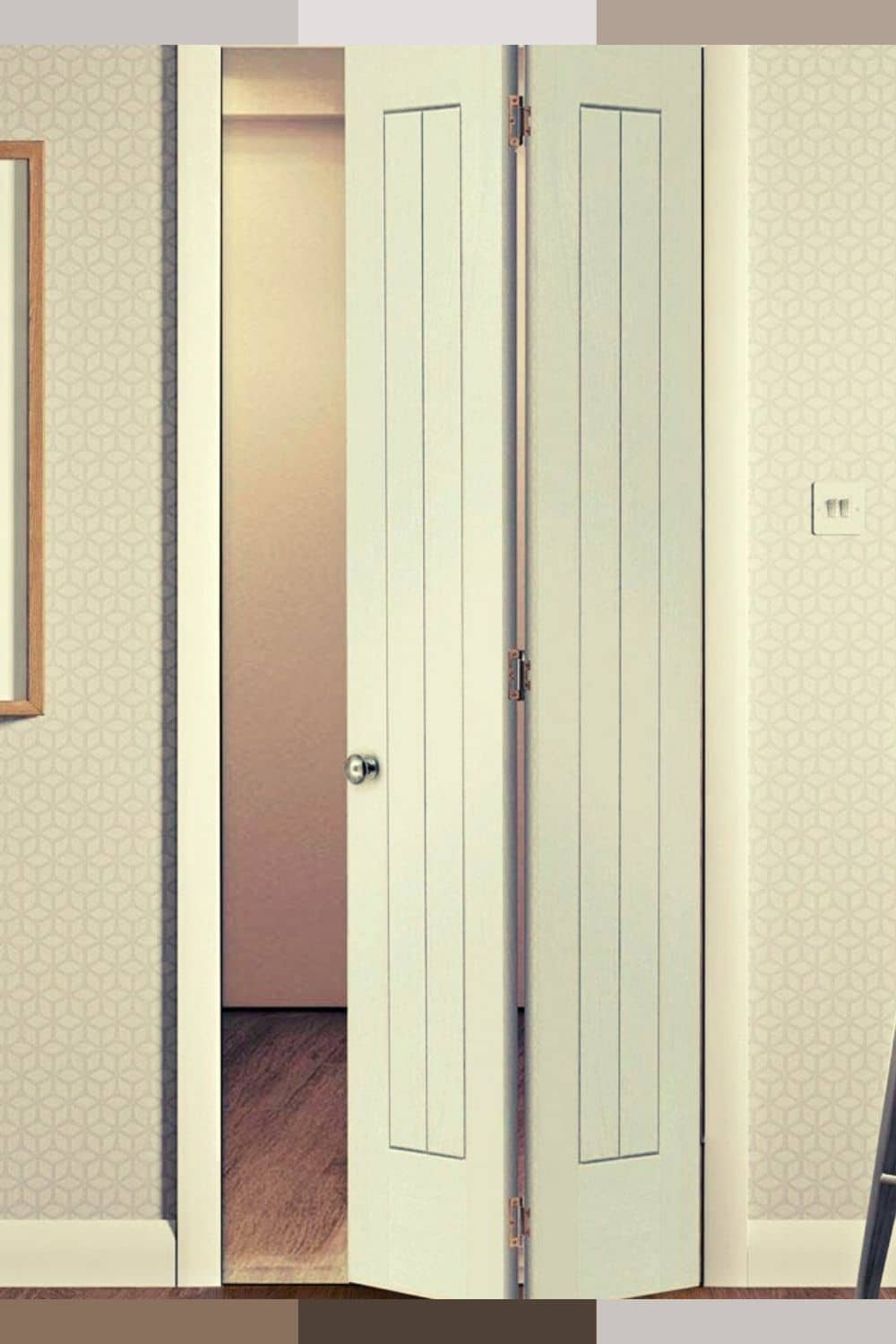 If you don't have a big entryway but want a folding door, this space-saving door can help. So, you can come to this style to show a unique style. Further, if you have a vintage style bathroom, you can use this door.
Bifold Bathroom Door Ideas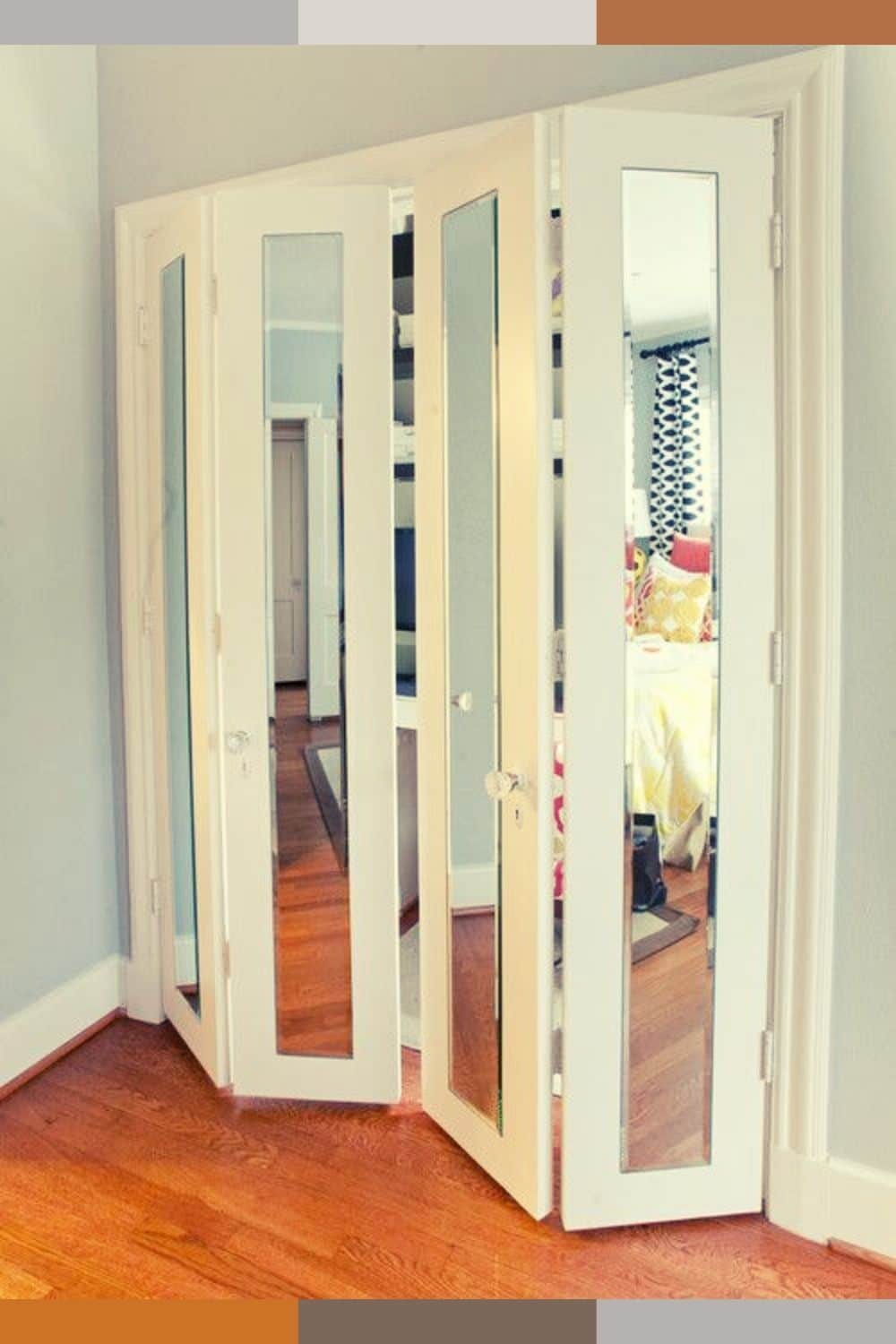 Still in folding bathroom ideas, this bifold give another touch to the bathroom. It will be like a typical door, but you can fold it. Just need an additional mirror as door decoration, and it will be perfect.
Creative Bathroom Door Ideas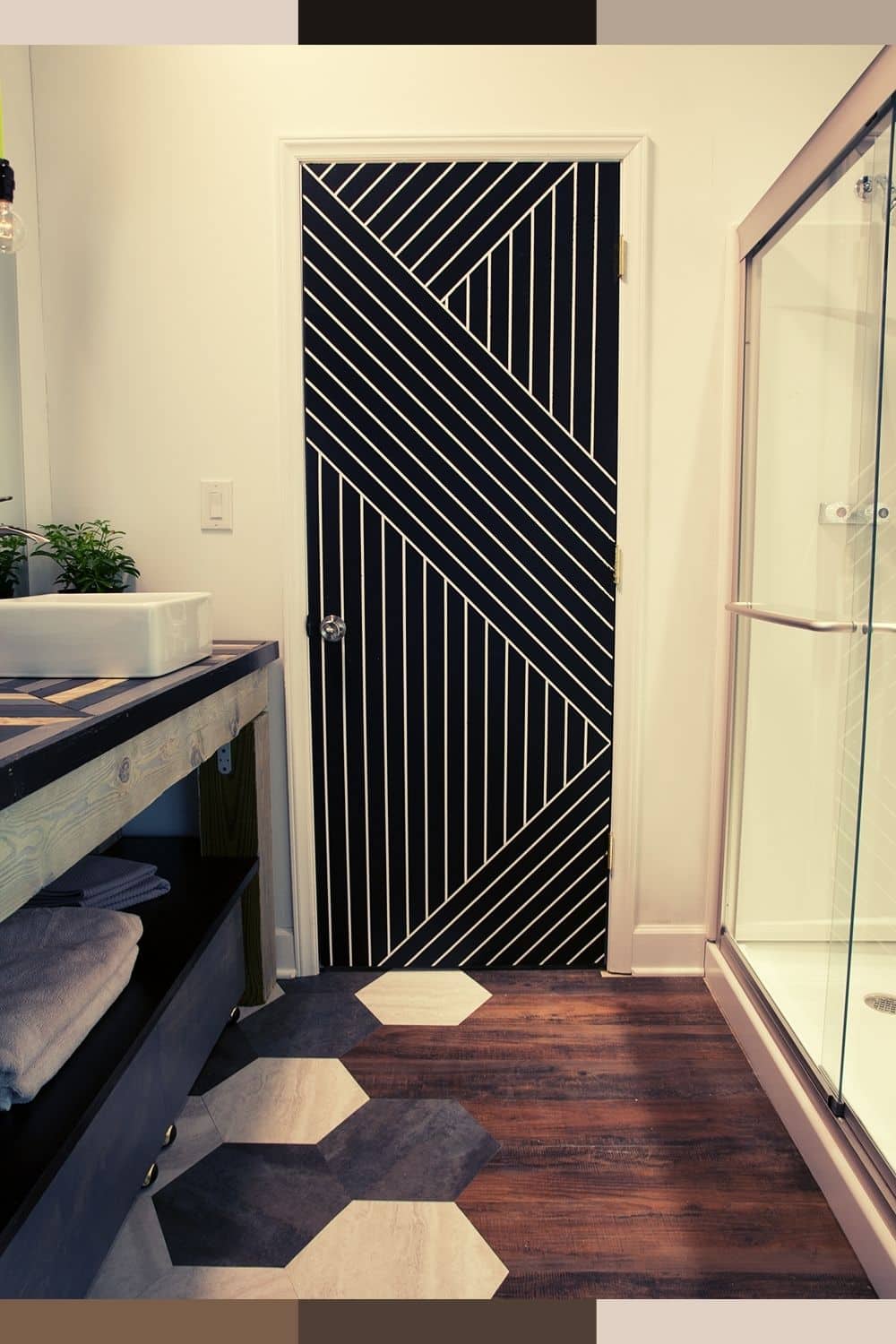 The painting style on the door is eye-catching. Your guest will not expect that the room will be a bathroom. The style suits contemporary bathroom ideas.
Further, to have an entry like this, you have to check your bathroom design. Using a wood floor and some wooden bathroom elements will be a good pair for the door. The wall is just enough with white color.
Modern Bathroom Door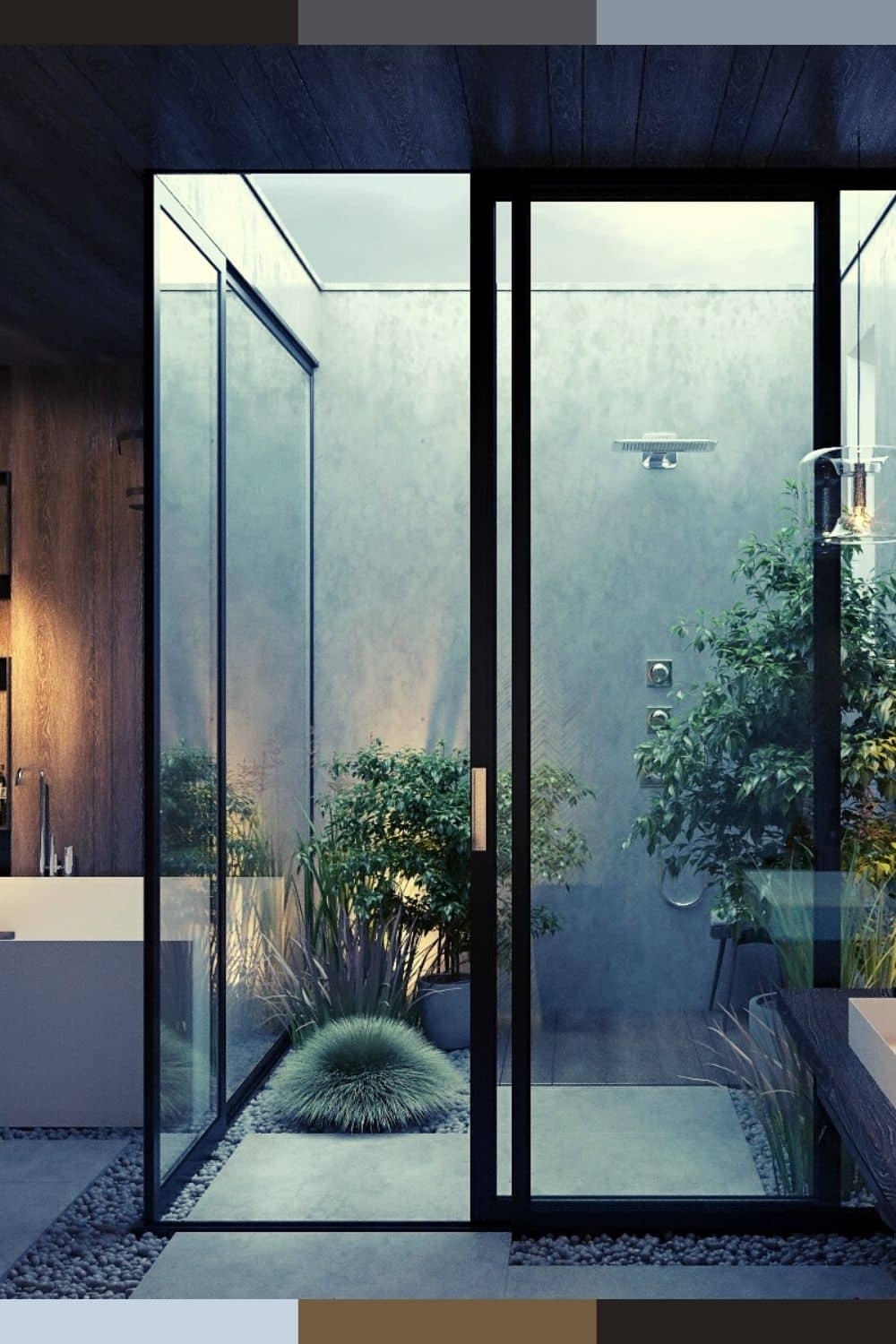 In modern bathroom ideas, you can find that the bathroom door will be transparent. It gives a sleek look in the bathroom. Furthermore, you can add some plant decorations for a natural feeling.
Because of the glass's light touch, you can add a dark side to the bathroom wall. Adding other natural action like gravel flooring will be much better.
Unique Bathroom Door Ideas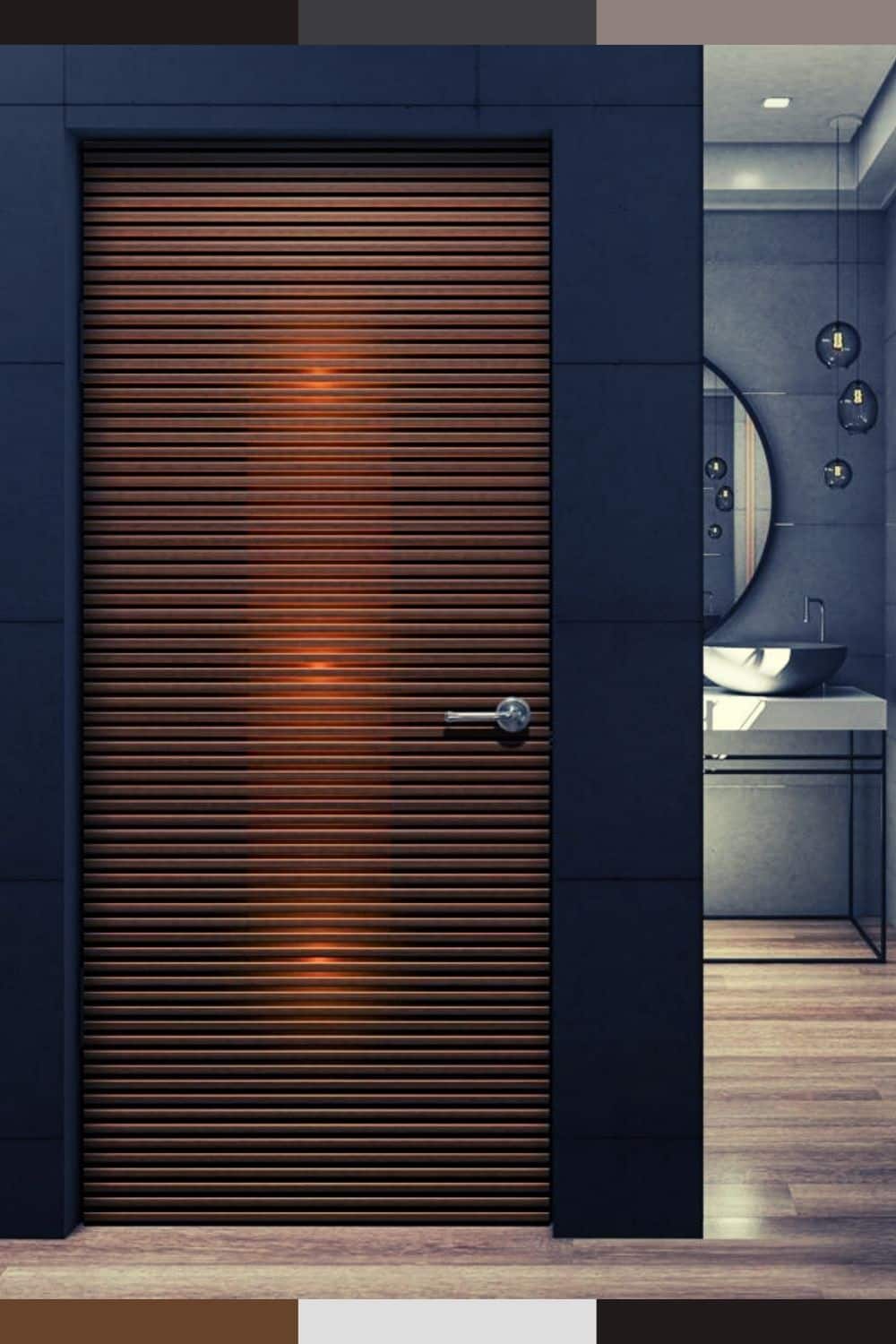 The way how it is crafted is the uniqueness of this bathroom door. You can use the door in the modern or contemporary bathroom style. No need for more ornament. Just a simple handle is enough to show a cozy touch.
Bathroom French Doors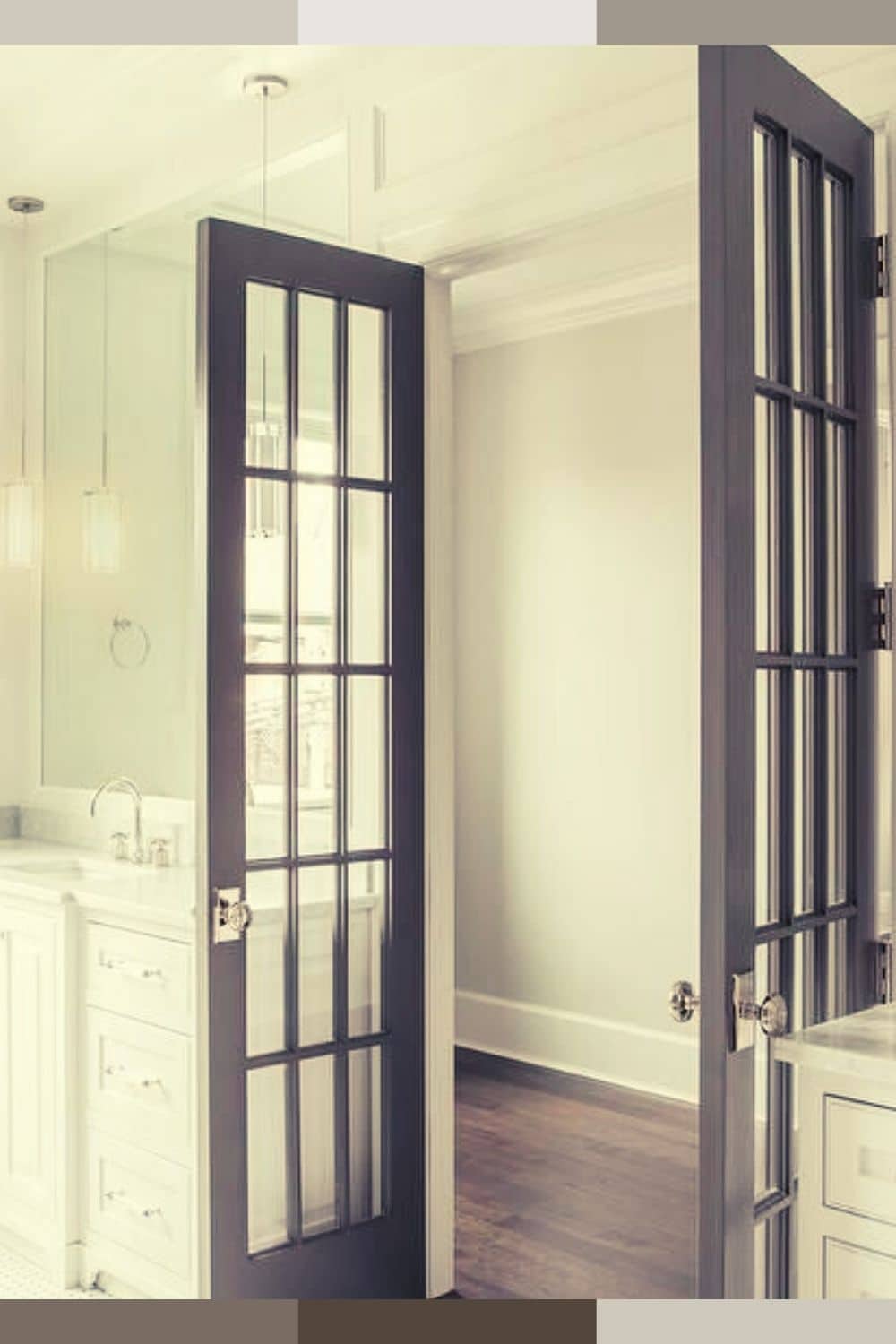 The french door might not be familiar with the bathroom door, but it can give another touch. It can be a focal point of the bathroom decoration. Then, the classy door shows the expensive feeling.
The dark brown color still can suit with white bathroom. Then, the transparent glass is a great choice to put in the french style door. For a simple, classy touch, the gold and sparkling handle is just a nice touch.
Swinging Bathroom Doors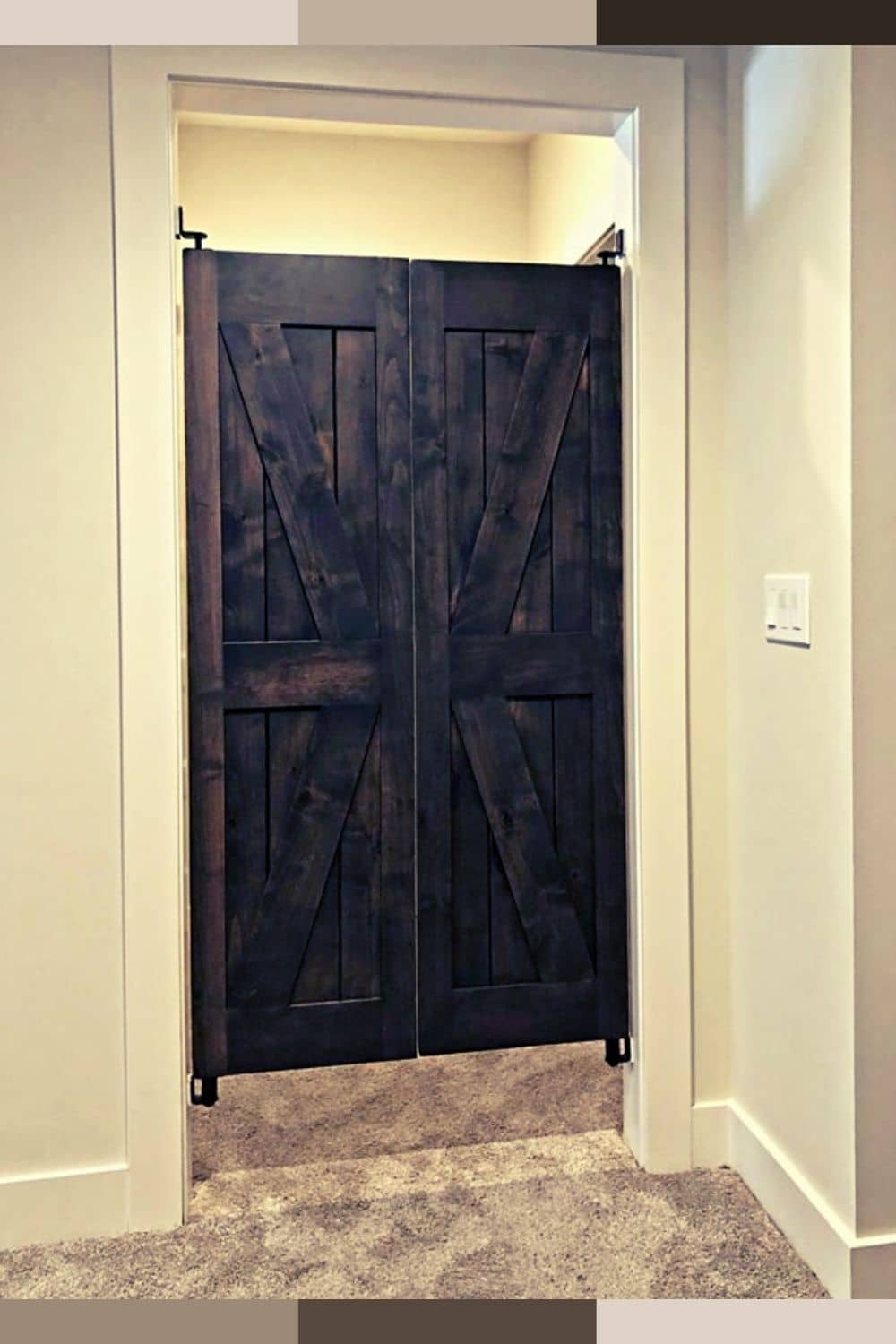 You might find this type of door in the public toilet, but not a bad idea for a private bathroom door. You can change the color and style used. With wooden material, a vintage style will come up.
If you have a cafe or bar, having this bathroom door will be nice. Your customers will think you have put much effort to satisfy them.
Aluminum Bathroom Door Designs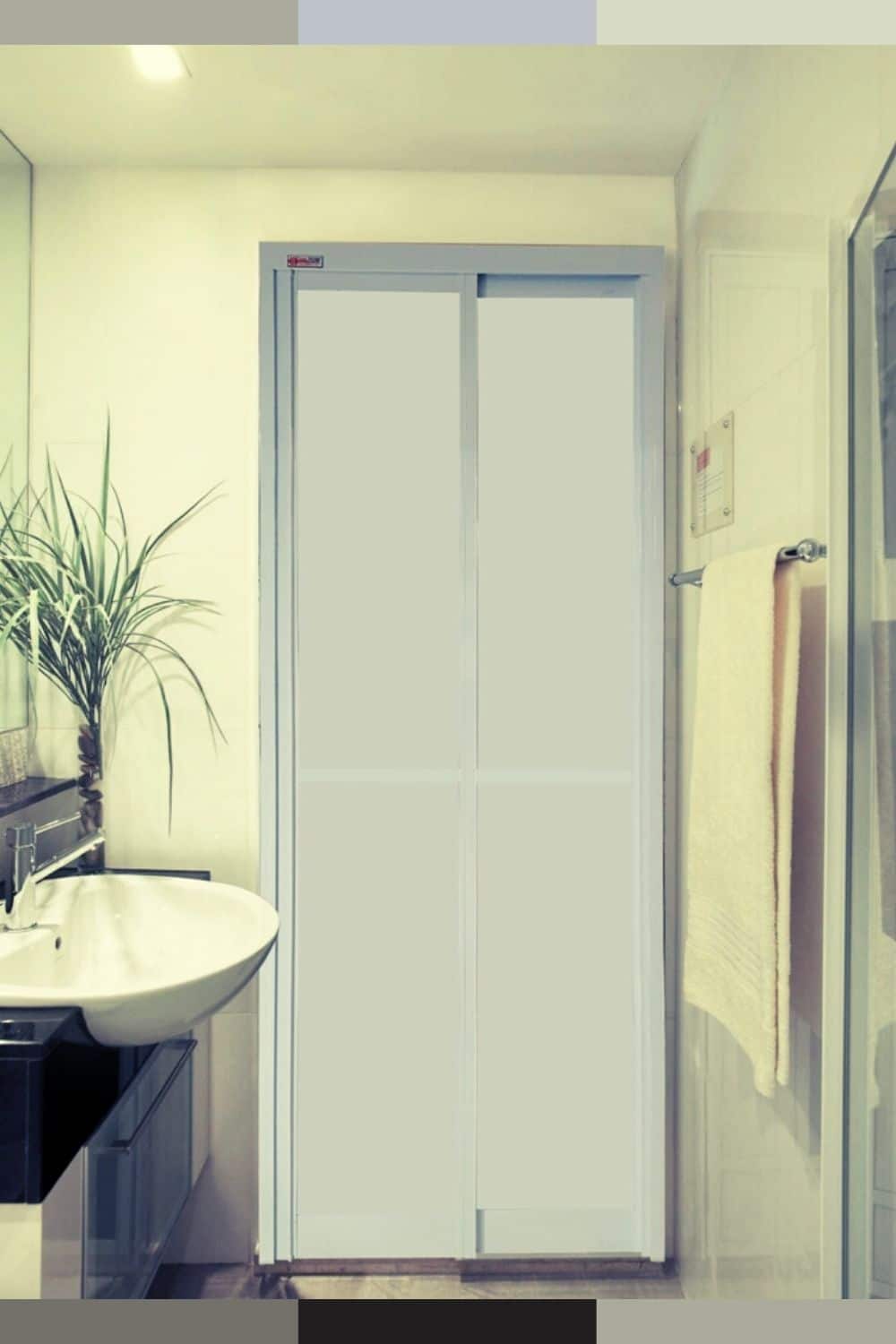 Nowadays, you can find many variants of door material. One of them is aluminum. For this type, you have to choose the right model that suits the bathroom style. Then, with a modern touch, it will be stunning.
The aluminum door has a soft feeling because of the wall. Then, you can pair it with tile flooring and a modern washbowl.
Glass Bathroom Doors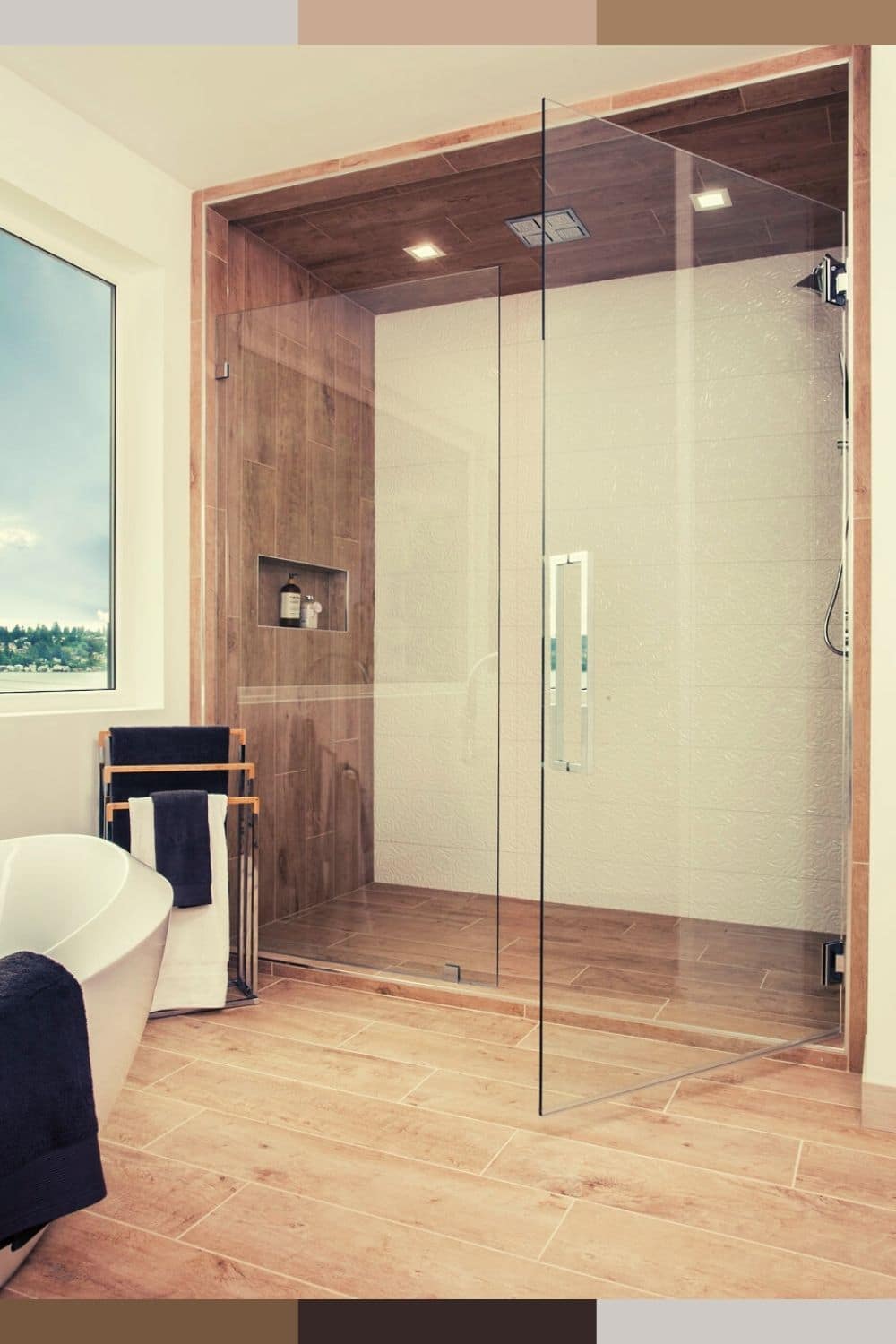 In modern style, a transparent bathroom door is a great move. The glass bathroom can be a sign that there are a separate shower area and bathtub. It is interesting to apply in quite big bathroom areas.
In the glass door, you can have some options of glass you can use. You can install a half-transparent or even hazy glass door. It depends on your preference for privacy.
Frosted Glass Bathroom Door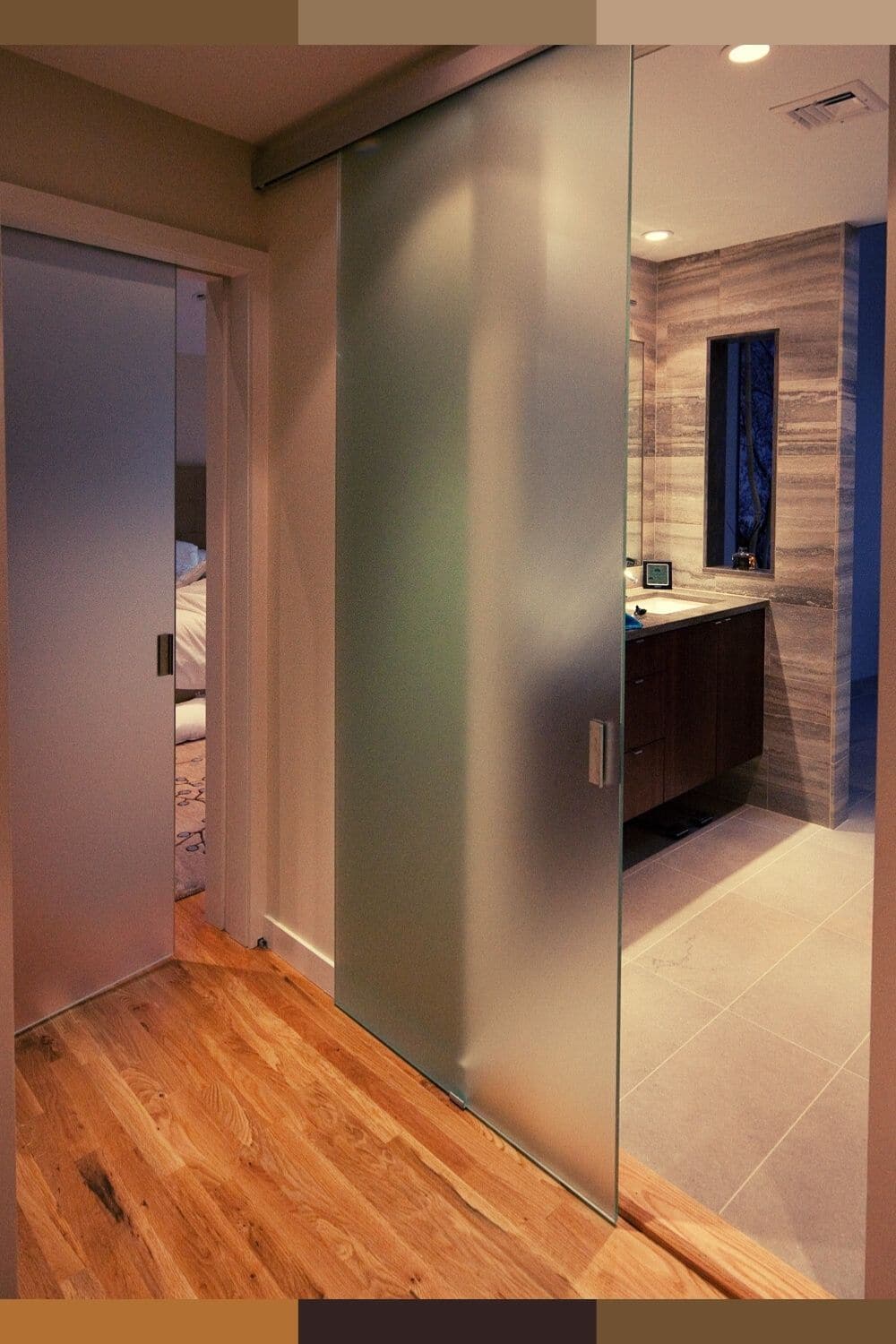 The frosted glass bathroom door is usually used in the shower bathroom. The glass gives a comprehensive look, and texture can keep the private look. Further, the frosted glass bathroom door can be in any form of style.
Bathroom Tub Glass Door Ideas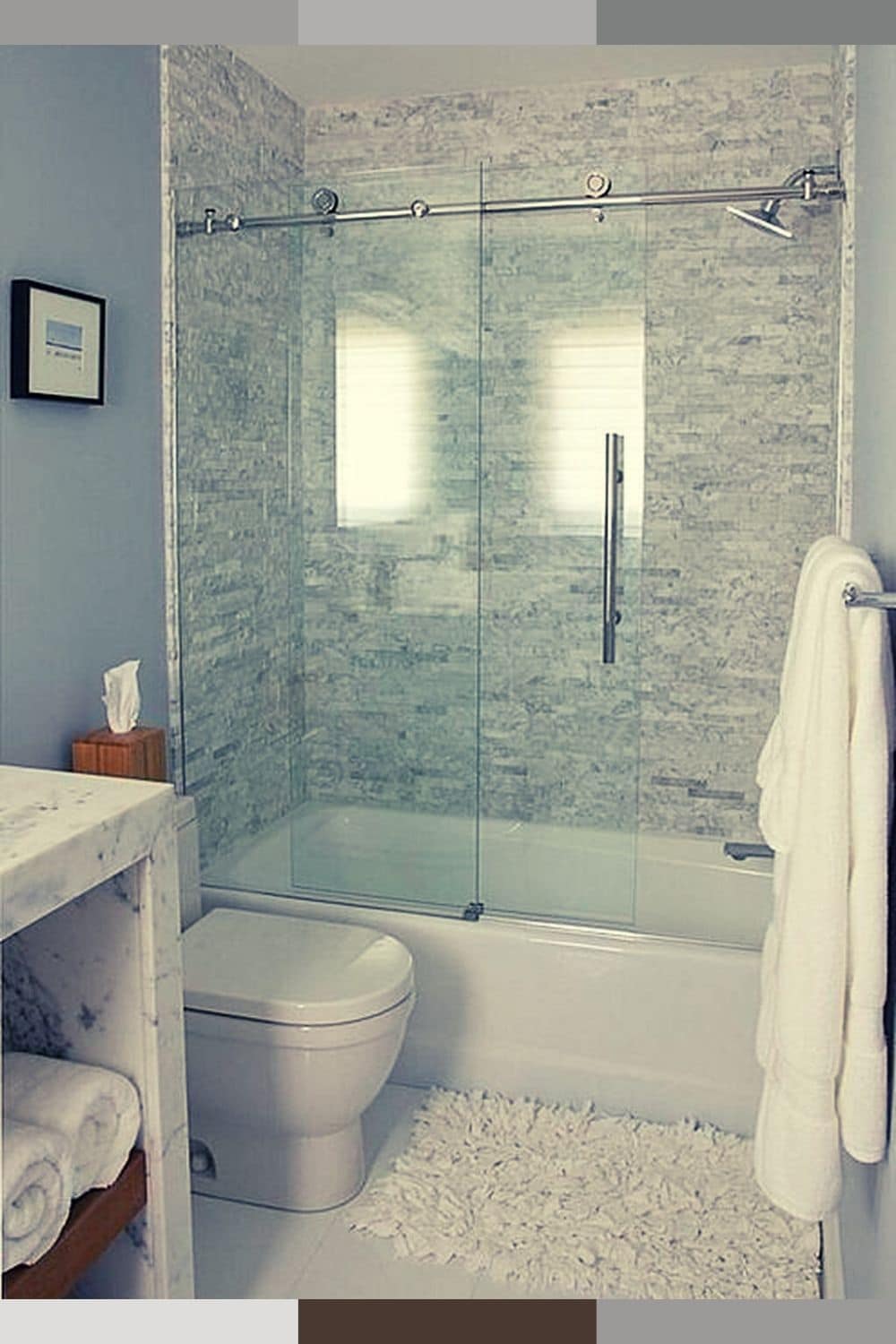 The shower part can have a door, but the bathtub can have it as well. You can install a glass door for the tub for a spacious look. The glass door also can suit any bathroom style.
Related: Beach Bathroom Decor Ideas
Wooden Bathroom Door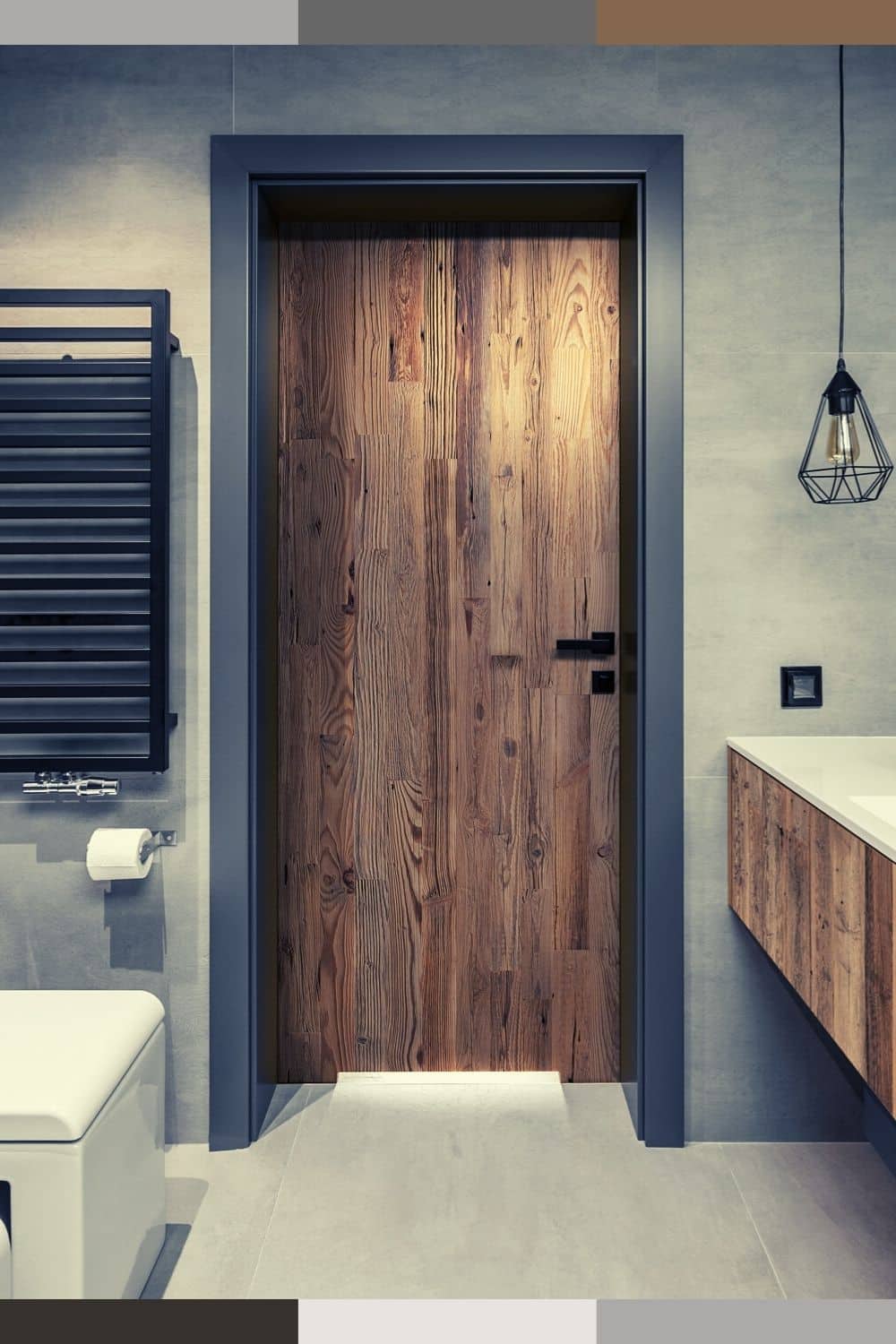 For a natural theme bathroom, having a wooden door is a must. You can use reclaimed wood for the door. Further, you can save money from using reusable material.
PVC Bathroom Door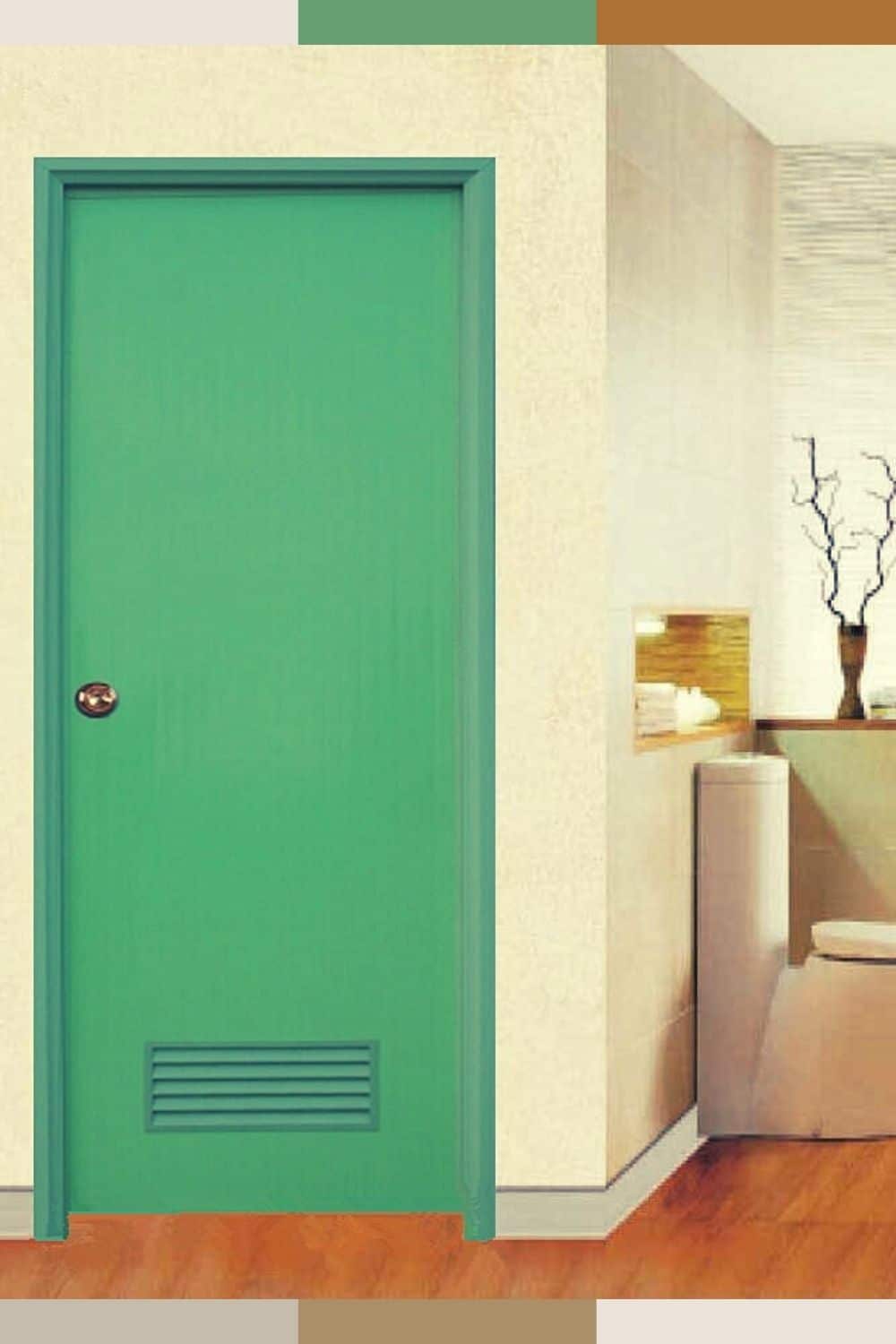 A simple and common use bathroom door is the PVC material door. It is simple, easy to find, and can come in any color. Even it is simple but still worth putting because of its beauty.
Most people use this type of door if they have a bathroom in their bedroom. This type is one of the cheap bedroom doors.
RV Bathroom Door Ideas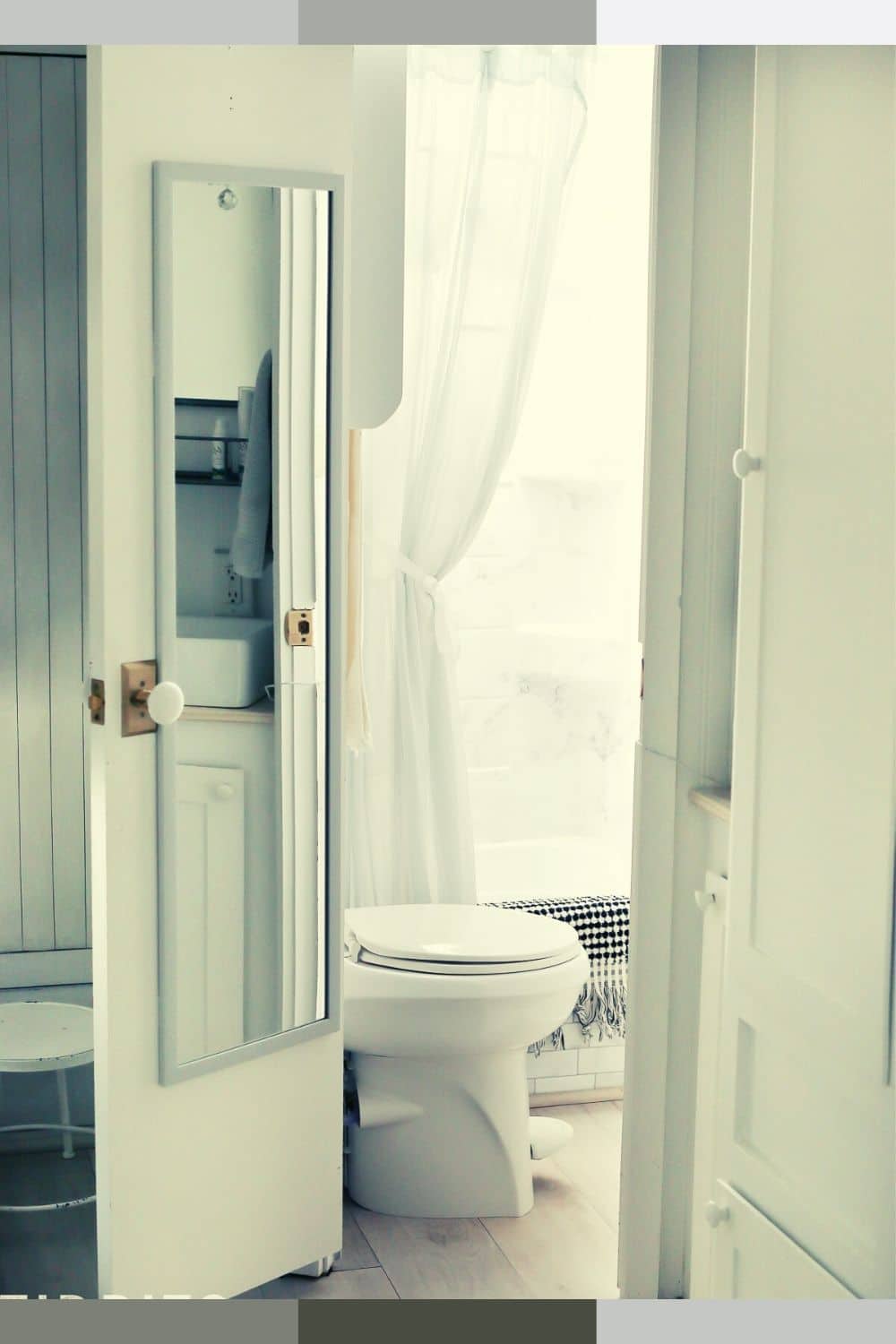 For those who have RV, this styled door can be your reference. It is a simple yet rich door for an RV bathroom. For saving places, you can still put a mirror on the back of the door.
White color might always be dominant in this idea, but it is lovely. With wooden style flooring, it can blend perfectly.
Ensuite Bathroom Door Ideas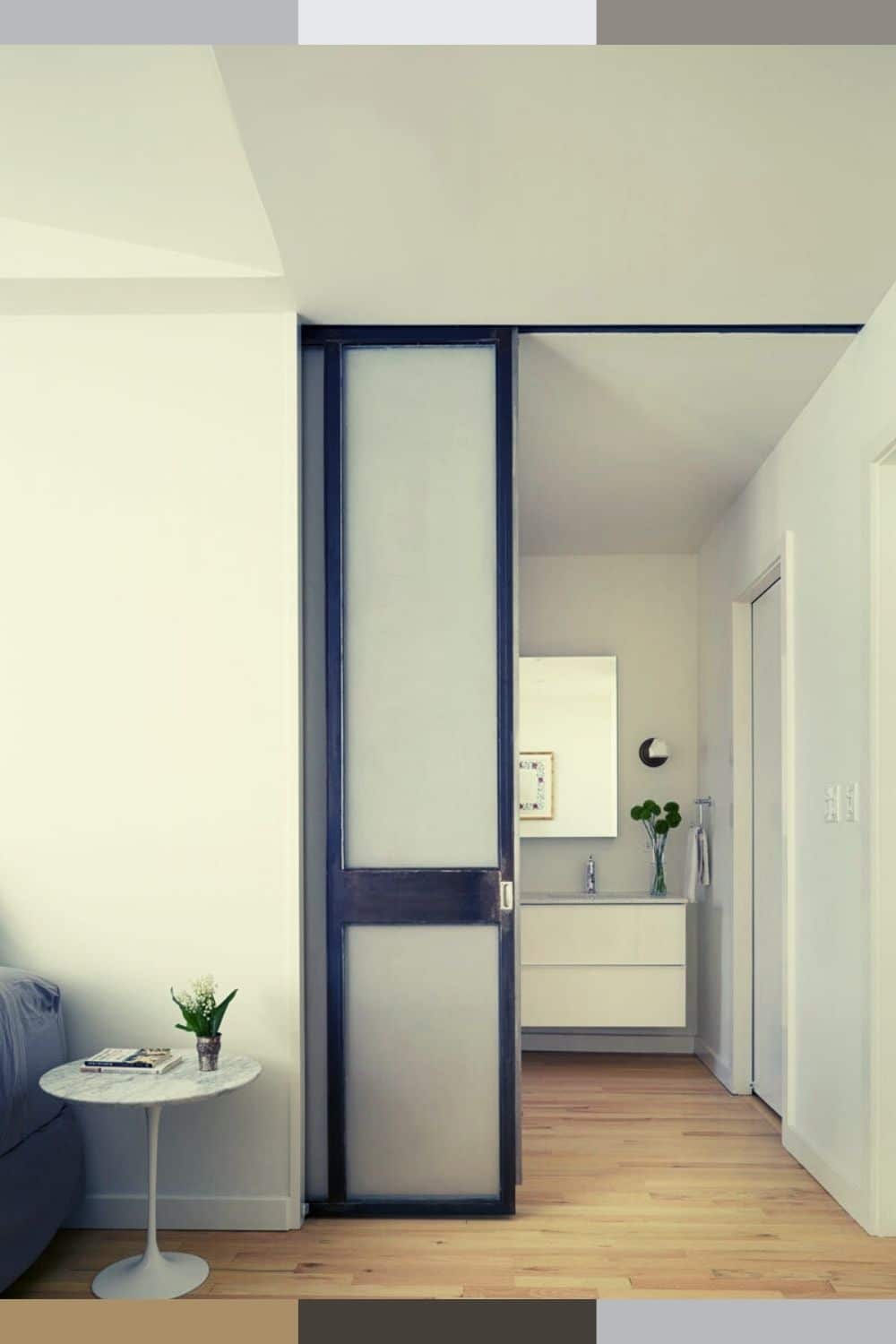 For a comfortable access bathroom, you can use this type of door. The style and model of the door can give a beautiful look. Be brave in choosing and combining the color.
Bathroom Shower Door Ideas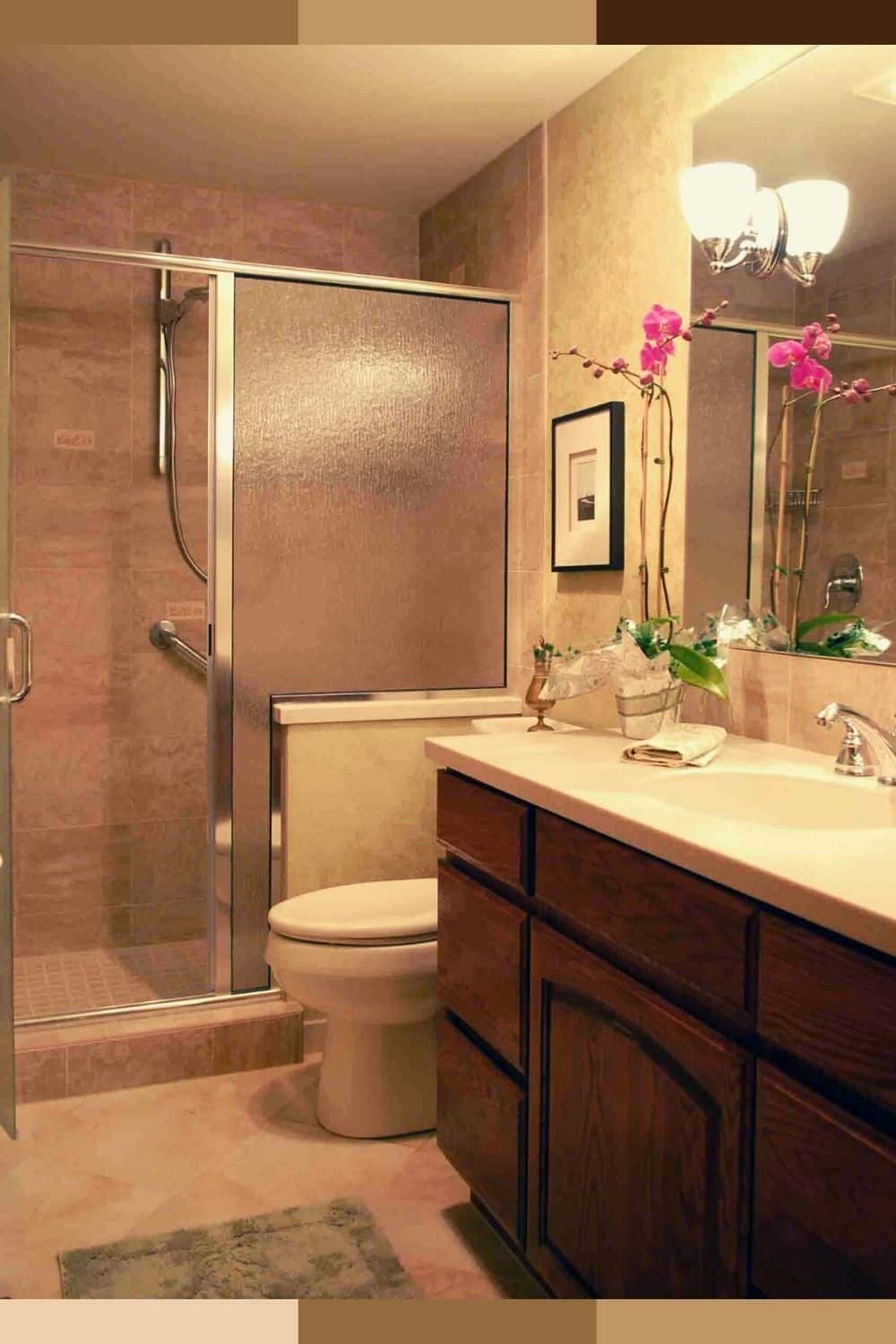 For a more private space in the bathroom, you can install a door to enclose the shower area. A glass door is the best option. You can choose a transparent or frosted one.
If you want this style, you don't need to cover all the shower parts. Just having half or ¾ part of the height will be the right style. Furthermore, a simple and natural design bathroom can be a good pair for bathroom shower doors.
Related : 55 Must-See Farmhouse Bedroom Ideas
Outdoor Bathroom Ideas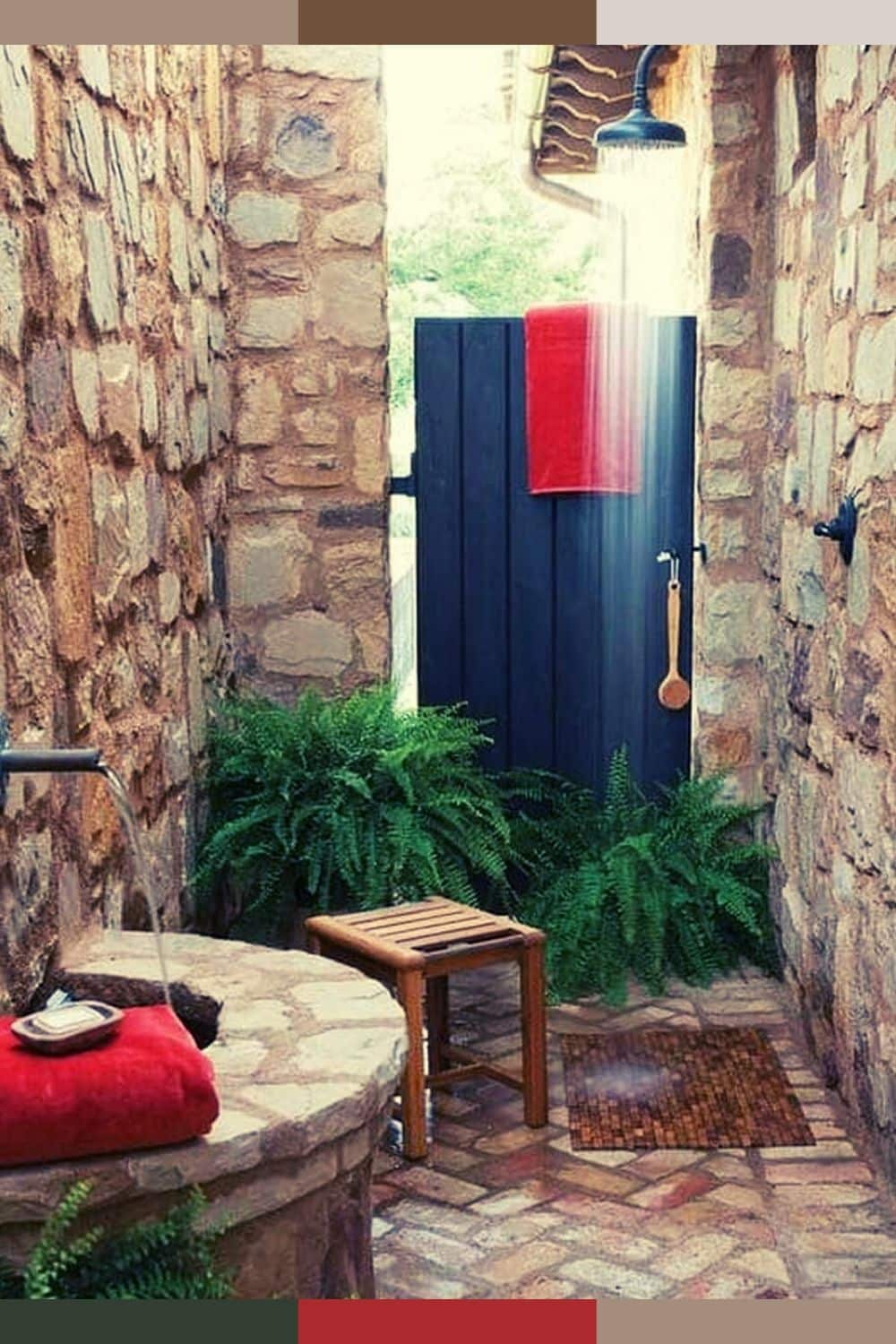 You might have an outdoor bathroom for a shower after swimming, and a wooden door can be the best choice. A natural point comes from the wooden material. So, it suits an open outdoor natural bathroom.
Then, you can design the bathroom with rock and have plant decorating. You might feel like having a shower in nature.
Bathroom Cabinet Door Ideas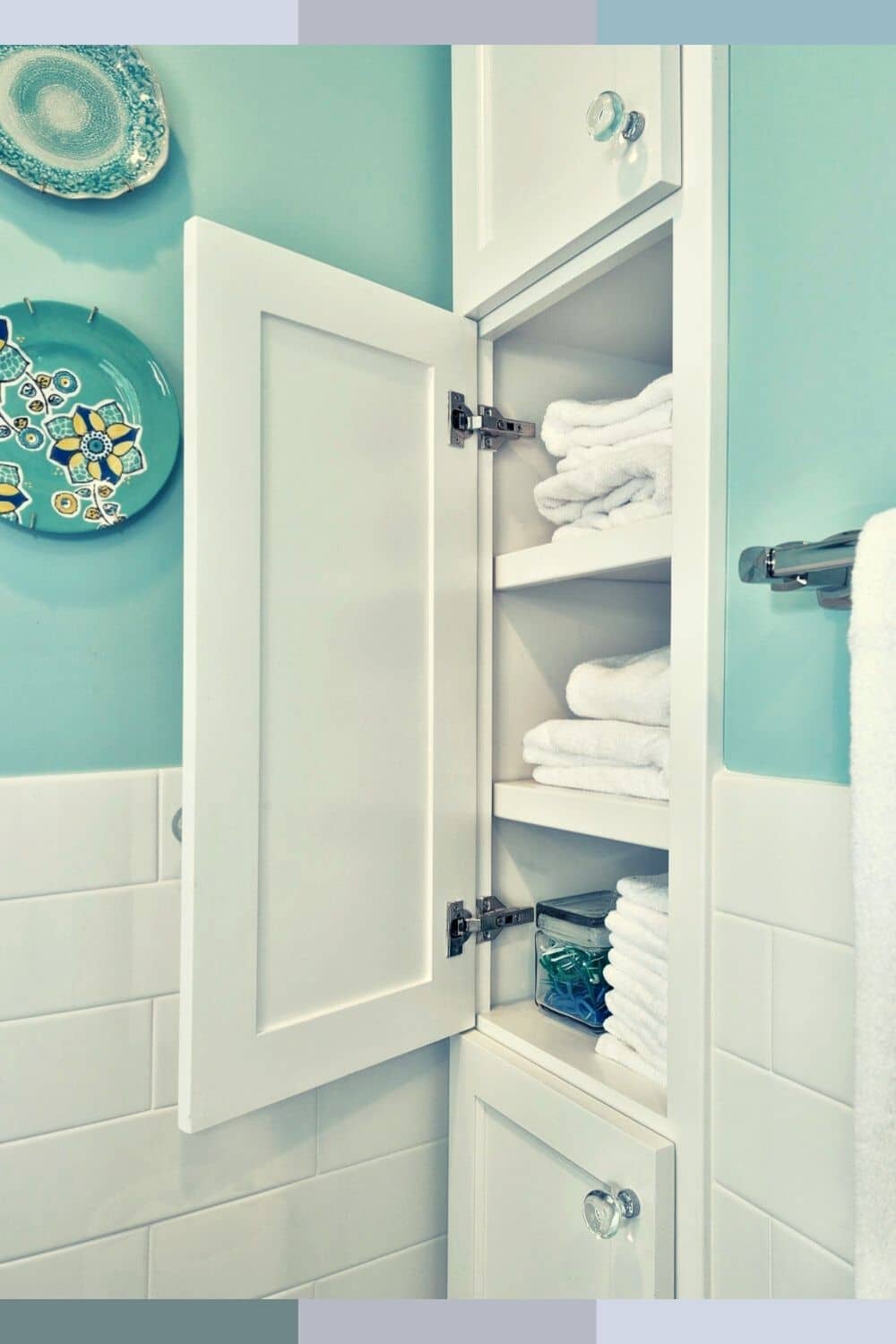 In this part, we move to the cabinet door that used to be in the bathroom. A simple design can be a great option. You can paint it with white or pallet color that suits your bathroom theme.
For handles, you can choose transparent handles. It will not ruin the bathroom style. The blue wall color is also an excellent choice.
Bathroom Linen Closet Door Ideas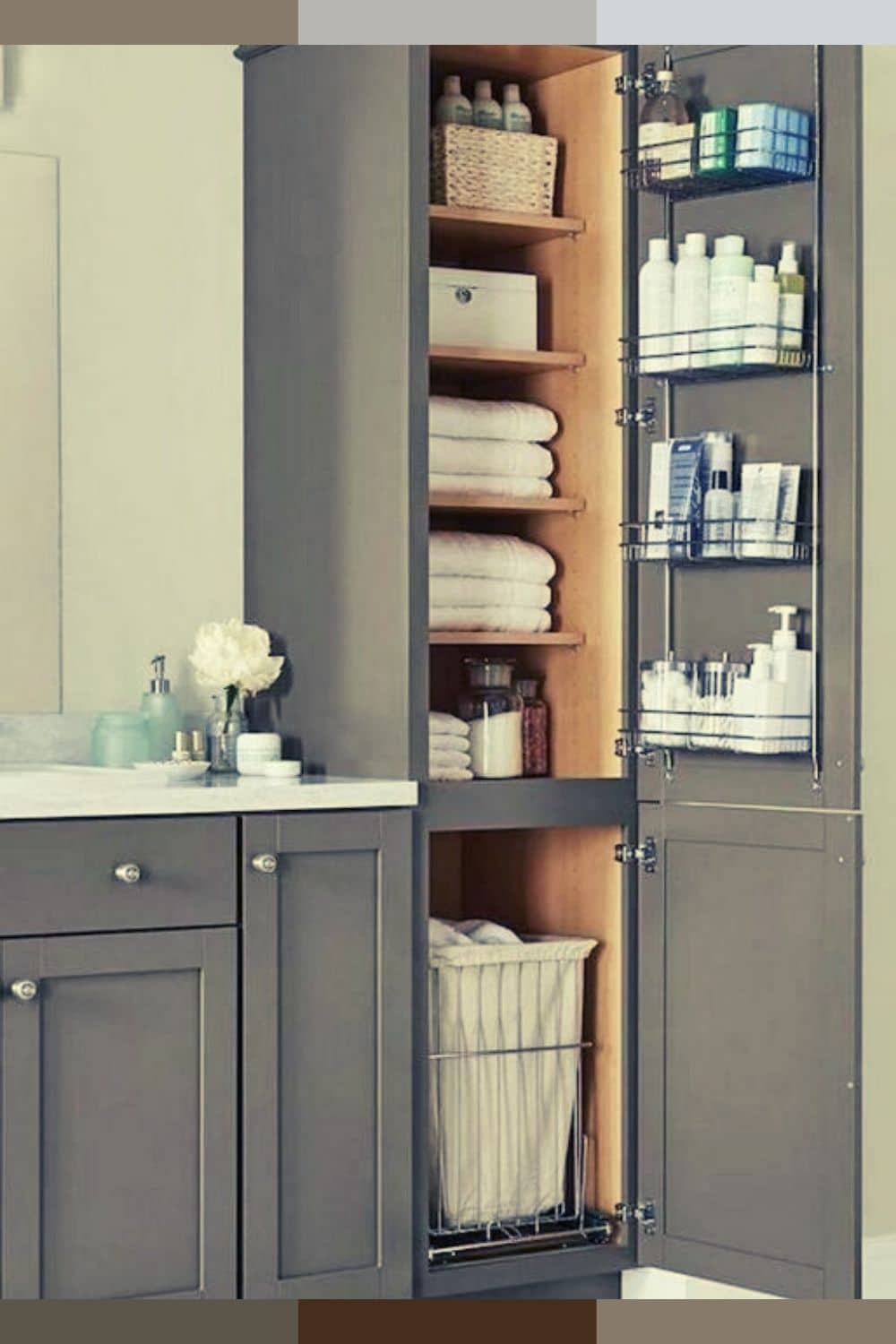 If you have storage in the bathroom, the style and storage door must not ruin the style. With a small door in every storage part, it will be good enough.
Further, you don't need much decoration, just a simple door handle.
Metal Bathroom Folding Door Ideas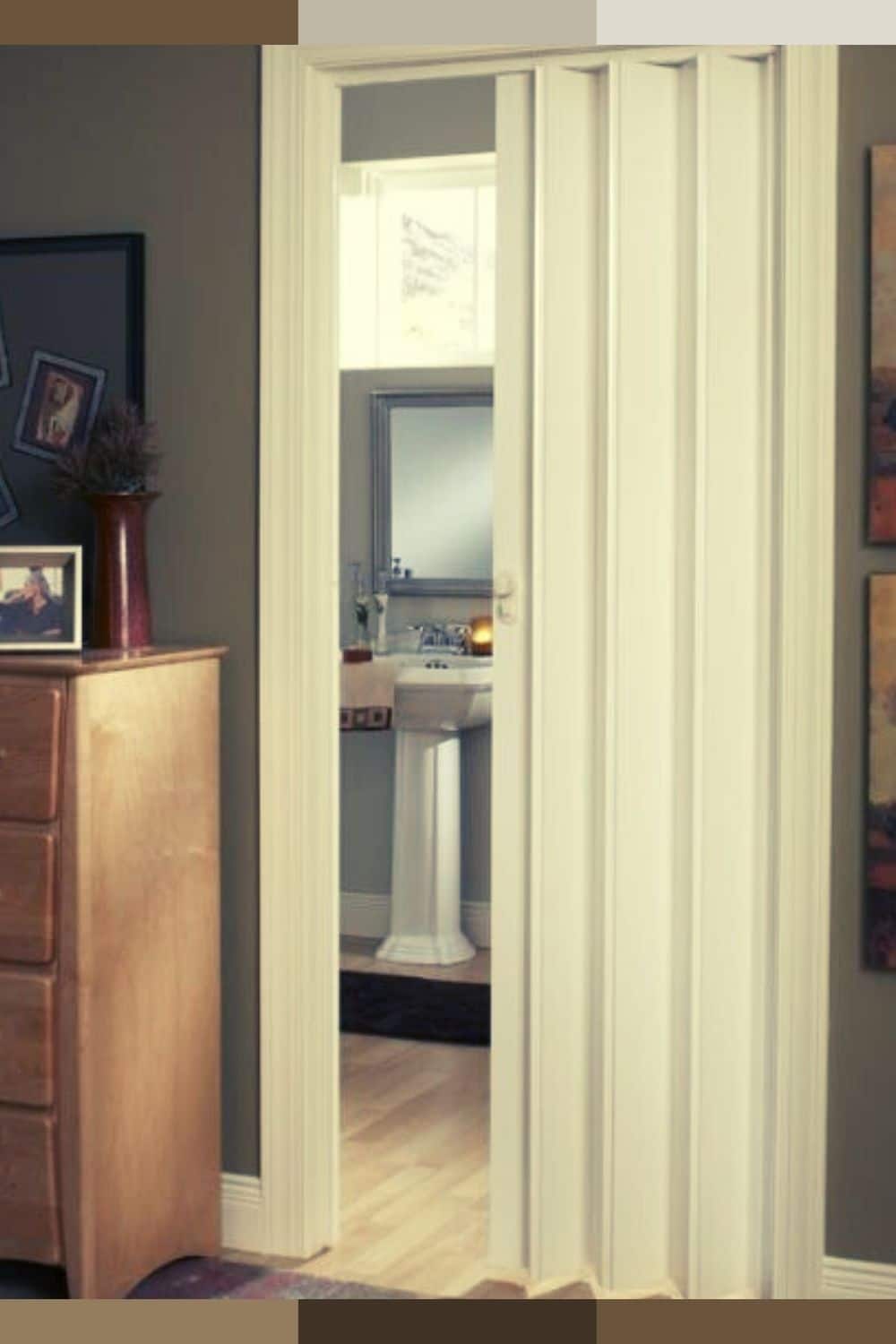 Another great door option is a metal folding door. It is unique because, just like moving the garage into the bathroom. Yet, you can use the door style as a focal point in your bathroom decoration.
Don't put much decoration on it. Just painting it with soft and neutral color will be enough.
Modern Vibe French Glass Door Ideas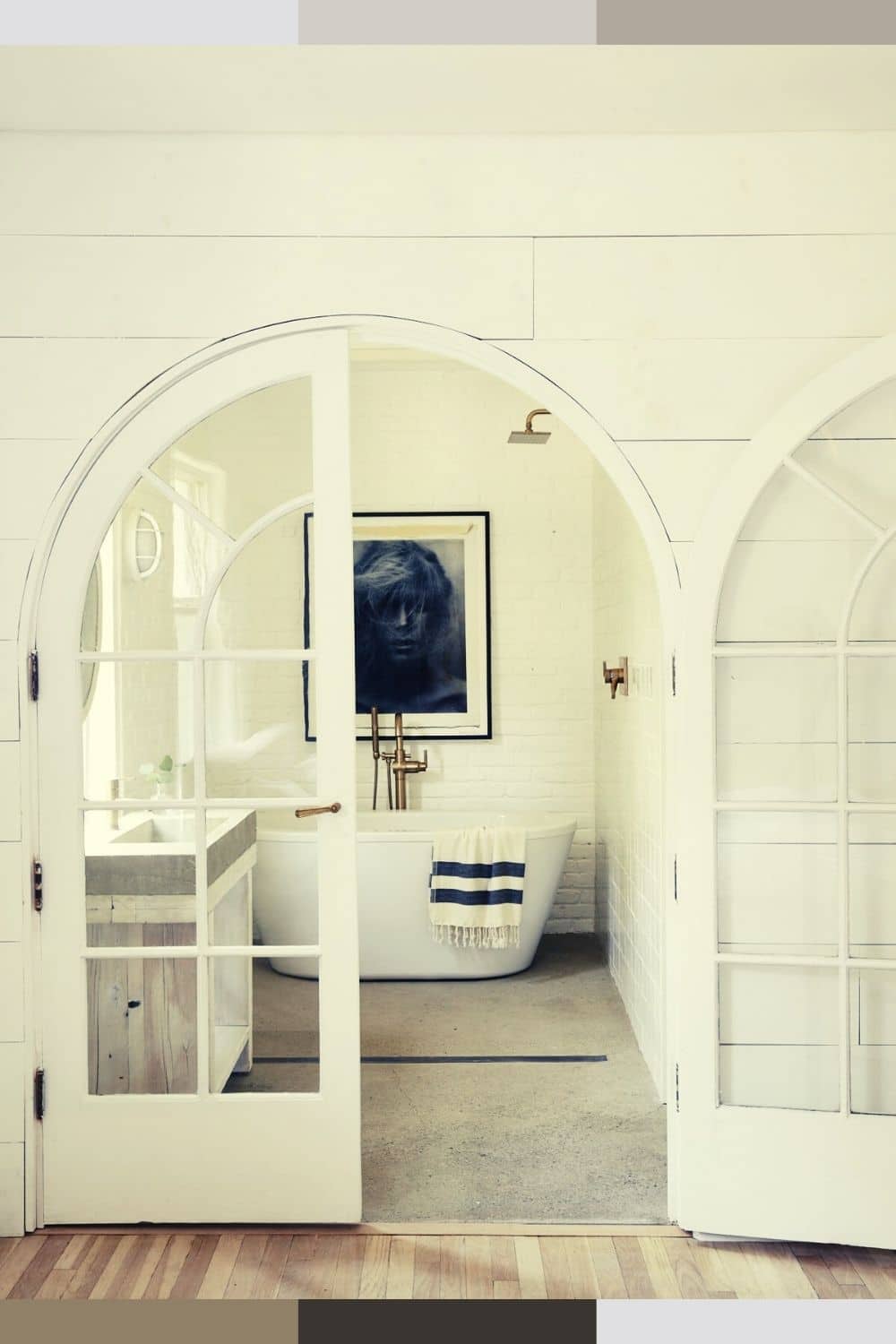 You can experiment by changing the entryway bathroom shape into a curved one. The curved can show a rich and expensive touch. Just need simple white painting; the bathroom door is stunning.
Bathroom Door Alternatives
As the bathroom door plays a significant role, you must pay attention to the material chosen for it. The bathroom humidity can damage certain types. So, here we will share some other alternative bathrooms that are certainly nice and functional.
Bead Doors
A beaded door might not be a common choice for a bathroom door because it won't give you enough privacy. On the other hand, this door can work functionally and be the alternative because it is not expensive. If you live with many people, this is a bad idea, yet, for couples, it is nice to try.
The bead door still can make a border with other rooms. Then, come in a variety of colors and textures. Indeed, it gives a certain feeling for the bathroom.
Curtain
A simple door like a curtain can work better because it still gives you privacy. Most people like to use curtains as doors because it is easy to set up. Furthermore, if you decide to use a curtain for the bathroom door, it is better to choose mildew resistance.
Besides, the curtain is an imposing door and an easily accessible thing to the bathroom. One thing to consider, choose the right curtain material that has water resistance so you can use it for a long time.
Shoji Doors
The shoji door is made of a wooden frame and hard fiber paper; it is tough enough to be in the bathroom. If you install this on the bathroom door, the bathroom will have a traditional easter feeling. It is worth enough for a decorative bathroom door.
Further, a shoji door, it can change the atmosphere in the house. This door option is undoubtedly a unique way of the bathroom door.
Related: Teal Bedroom Style Ideas
Bathroom Door Decorating Ideas
After having many options for a lovely bathroom door, let's try to decorate it. You can put some decoration on the door, but better not to put much on it. Even though it is small, it can have a significant impact on the bathroom.
Bathroom Door Storage Ideas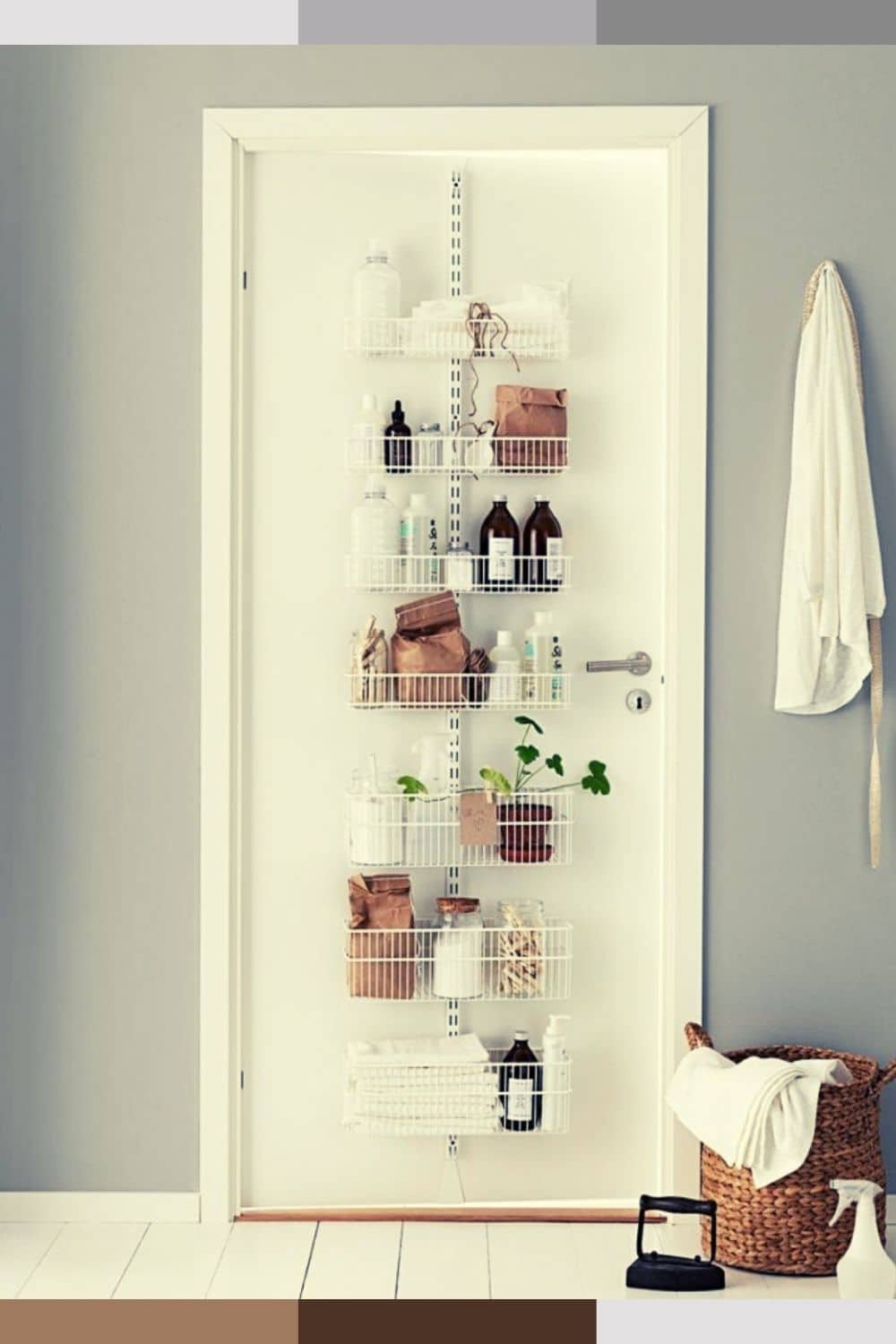 The first item to put on the bathroom door is storage. You can put it on the back of the door. We suggest having long and simple storage like above. You can put some toiletries on it.
Then, the towel or even cleaning supplies also can be on the rack. Placing a rack near the door for a towel or dirty cloth is another great touch.
Bathroom Door Curtain Ideas
If you have a glass door bathroom, using a curtain to cover is a great idea. Put the curtain on while using the bathroom, and open it for a sleek and wide look in the bathroom. Indeed, this is one of the best bathroom door covering ideas.
Bathroom Door Color Ideas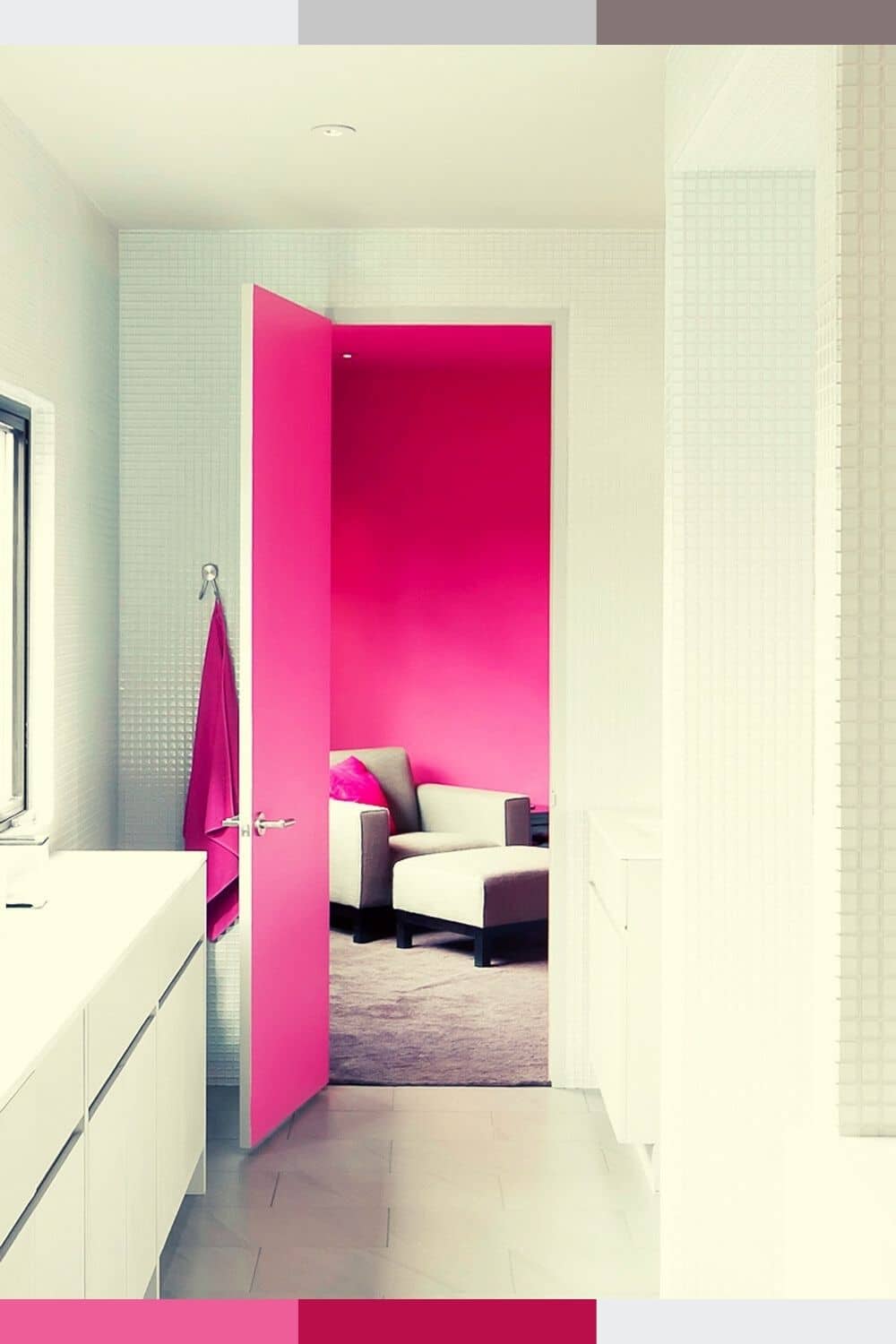 If you don't want to put anything on the door, you can decorate it by having a lovely color. Just like this, a bright color can be a sign for the bathroom. With a soft or bright color is what we suggest to try.
White Bathroom Door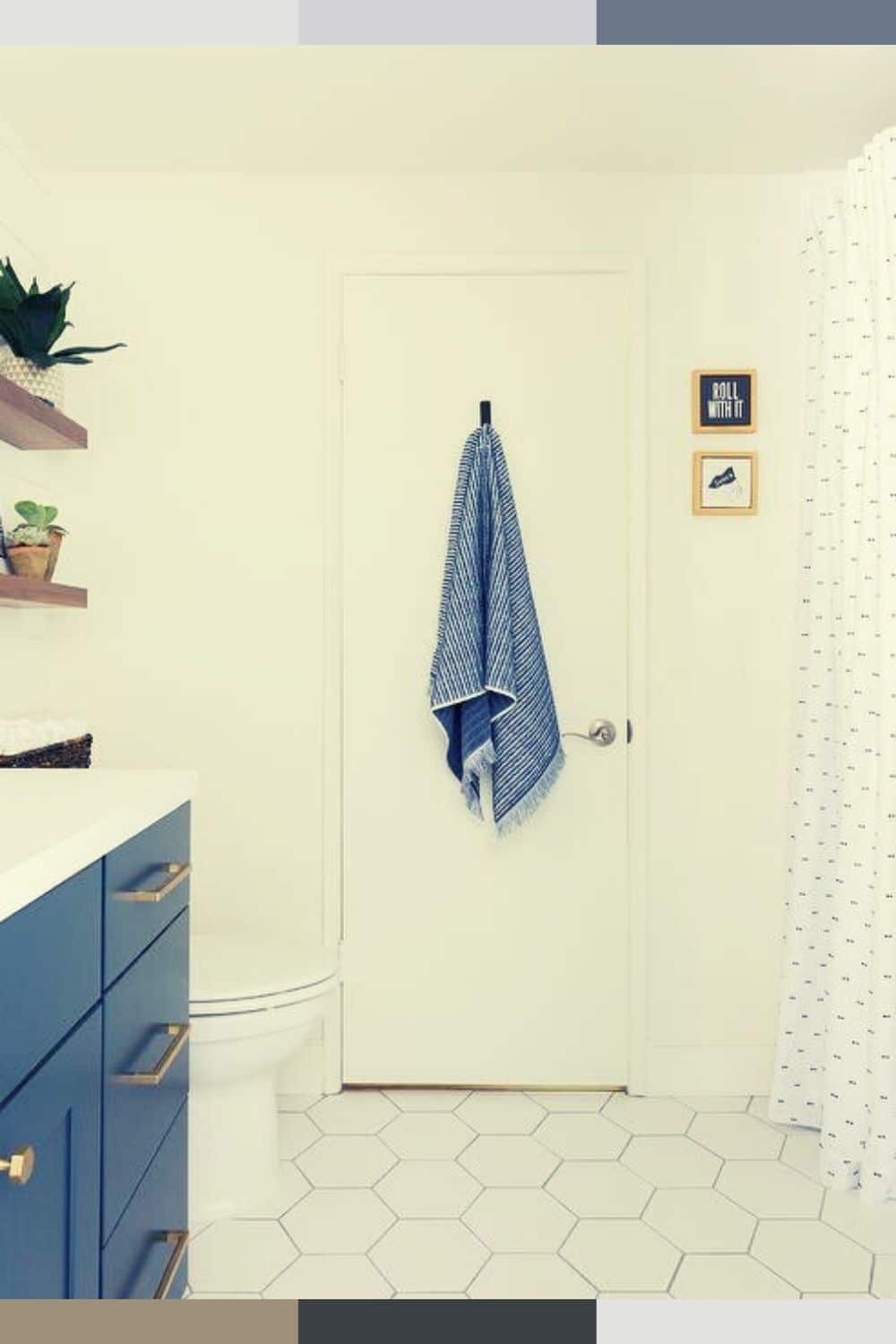 In coloring the bathroom door, going with a simple and neutral color is fine as well. White color can work in every style. This choice is a safe choice for colored bathroom doors.
Bathroom Door Painting Ideas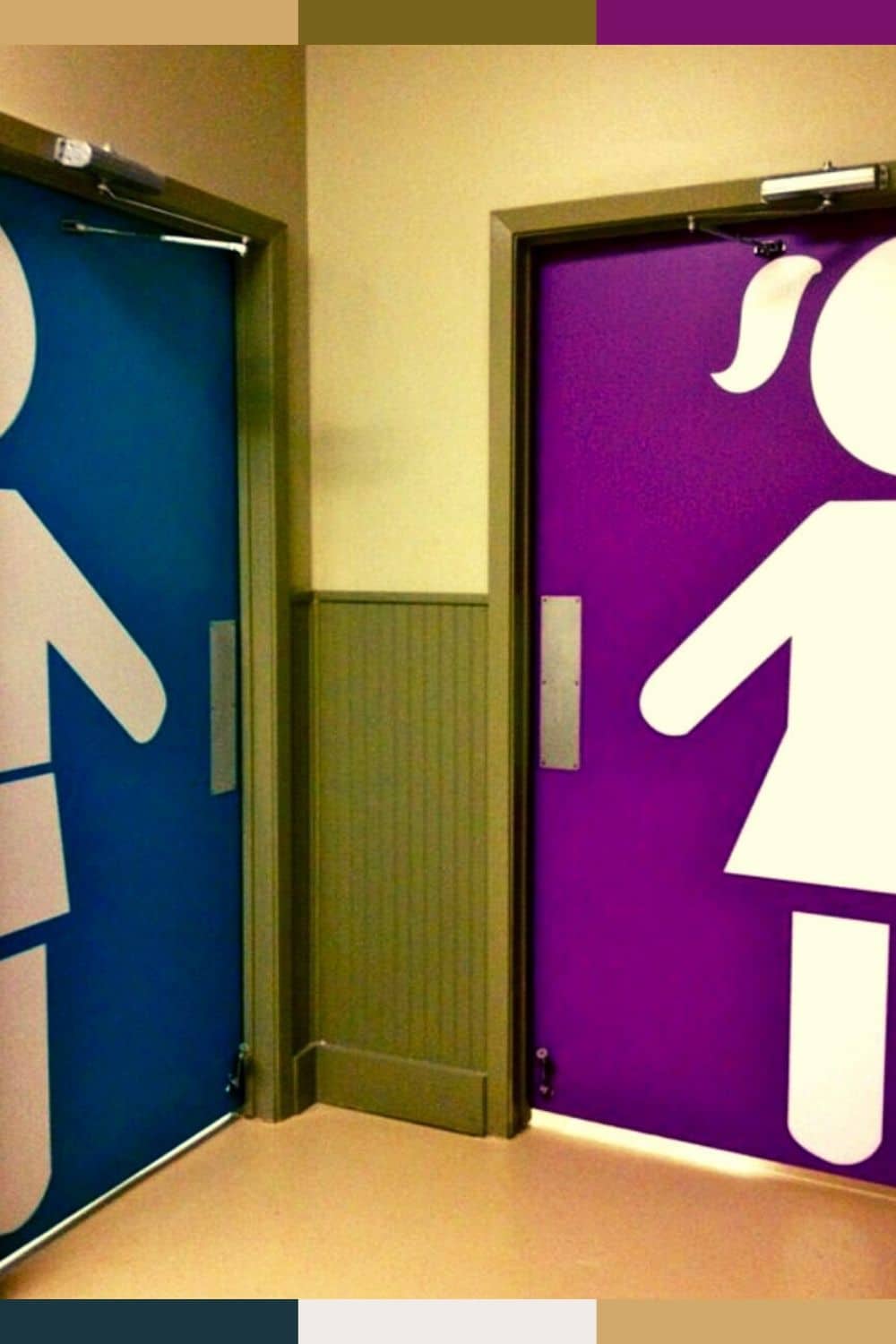 Besides a colored door, you can also have some painting for your bathroom door. You can use the painting as a sign. You can find a painted door in the public bathroom for signing men and women.
Bathroom Door Sign Ideas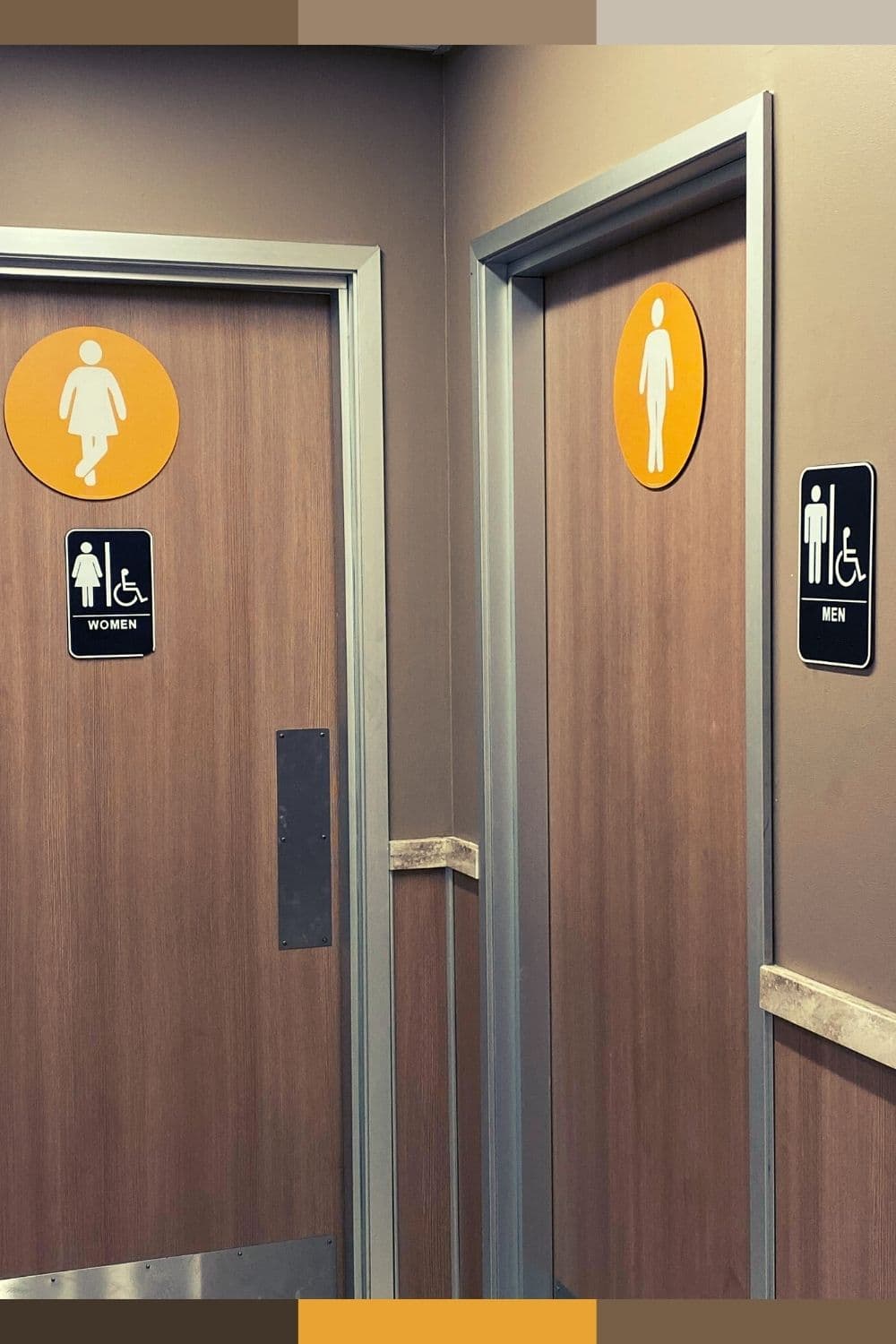 If you have a dark-colored bathroom door, having something bright in the front is not a bad idea. You can put a nice sign on the door.
A common thing we can find in the public bathroom or restroom doors is the sign. The sign for separated men and women or special person use. However, you can put a sign on the home bathroom, like a written sign, to tell the bathroom position.
Bathroom Door Mirror Ideas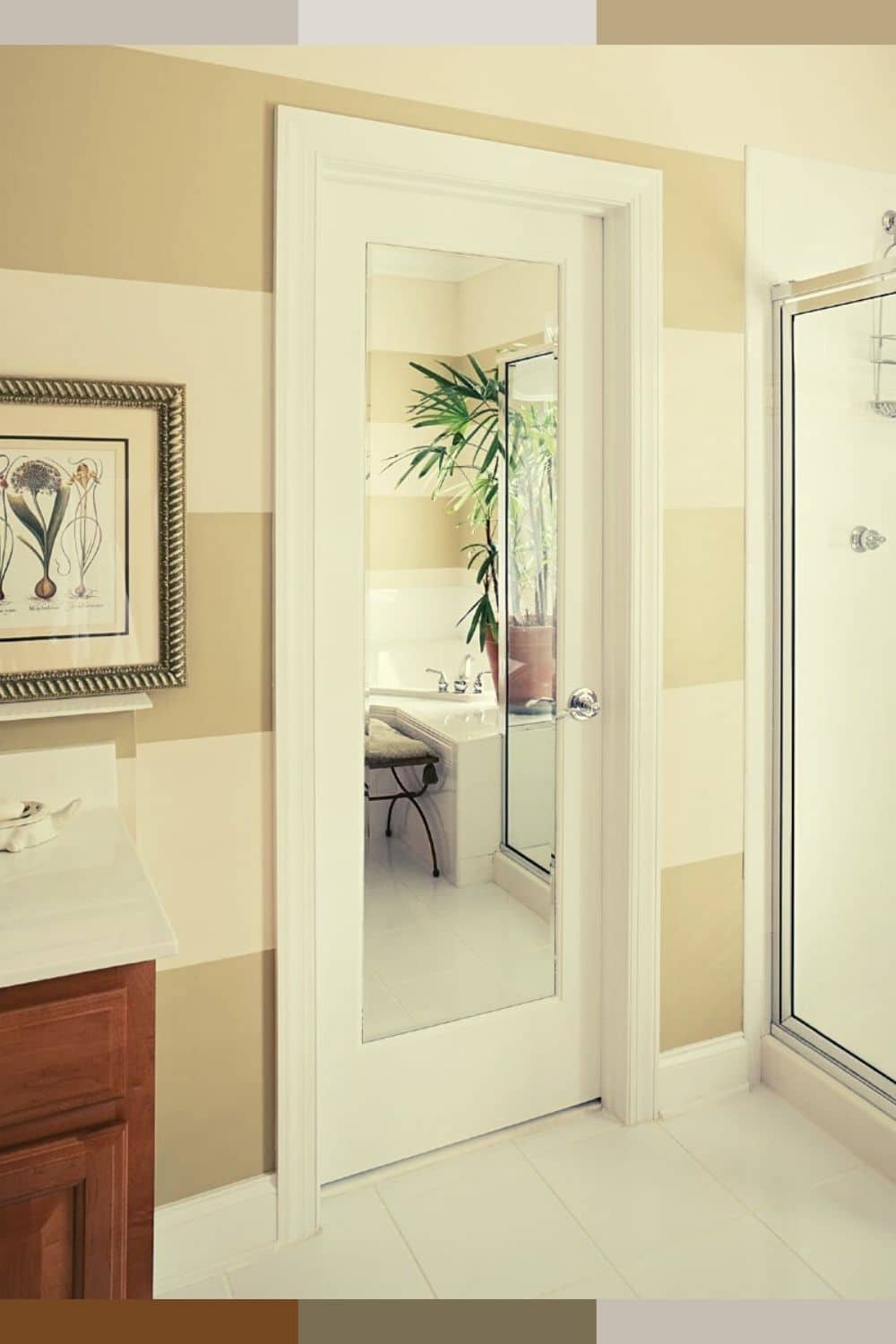 Besides storage, you can also put a mirror on the backside of the door. The door ideas for small bathrooms are helpful.
For having a mirror door, your bathroom must be bright enough. You can set it in a light color. Then, having great lighting will help you a lot.
Bathroom Door Decals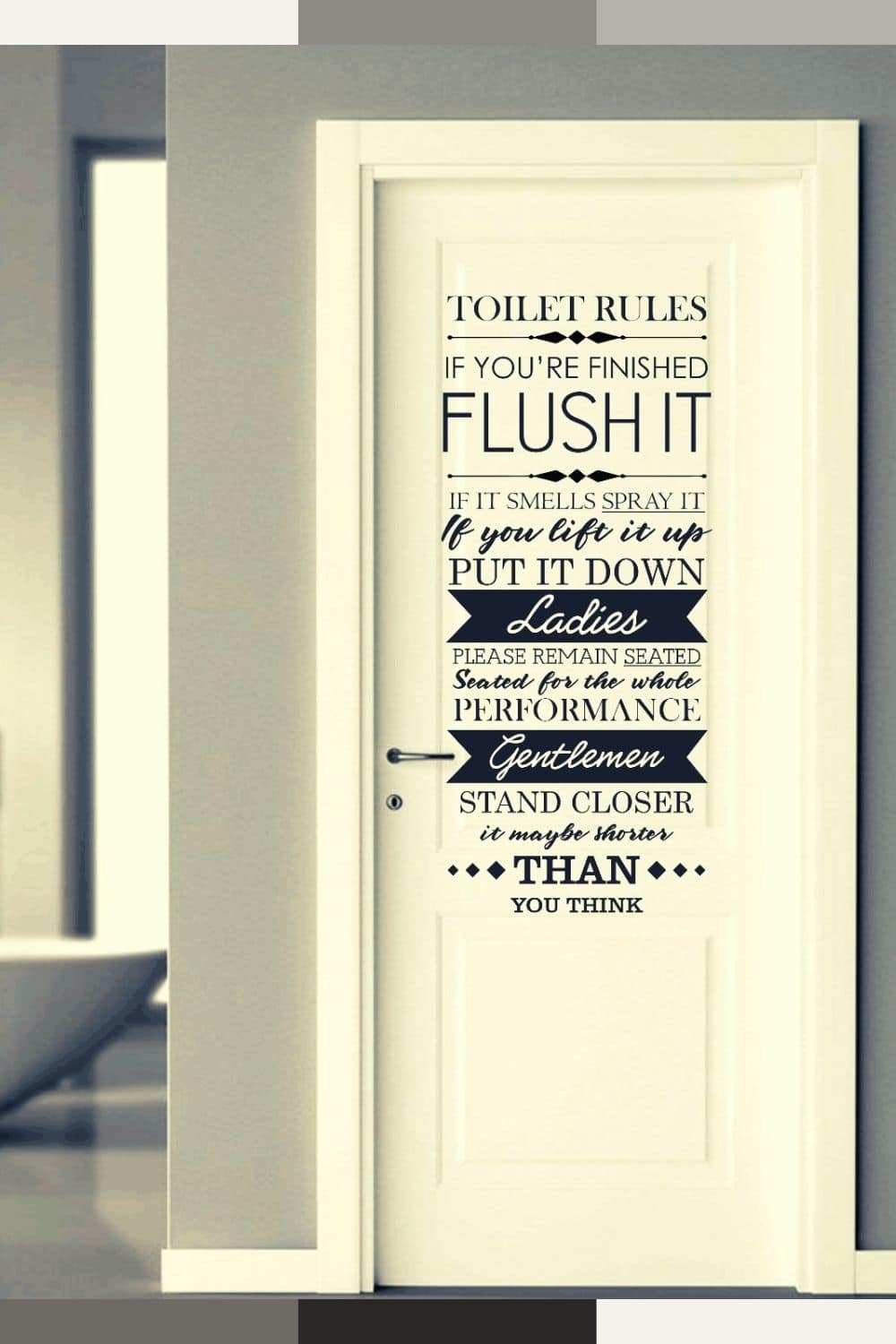 We have talked about back door decoration items, but the front also can have a decorative thing. Putting an aesthetic sticker will be great. Or maybe, a wordy sticker can be a great sign in front of the bathroom.
Related: 33 Modern Farmhouse Kitchen Ideas
Conclusion
Since today, you have realized that a simple area like a door can be significant in the bathroom. If you're in the middle of the bathroom renovation now, it is a must to take a look for a lovely bathroom door. However, you should not forget about the practical side of the door.

The function and aesthetic sides must keep balance in making stylish bathroom doors. So, be motivated and take some inspiration here.